Steal the Look – Dress Like Emily Cooper from Emily in Paris
Add a touch of cinematic magic to your wardrobe with our roundup of daring and hip movie-inspired outfits. We'll show you how to dress like Emily Cooper from Emily in Paris with our selection of chic and stylish pieces. Slip them on and step into the spotlight like a star with these iconic looks from Emily in Paris.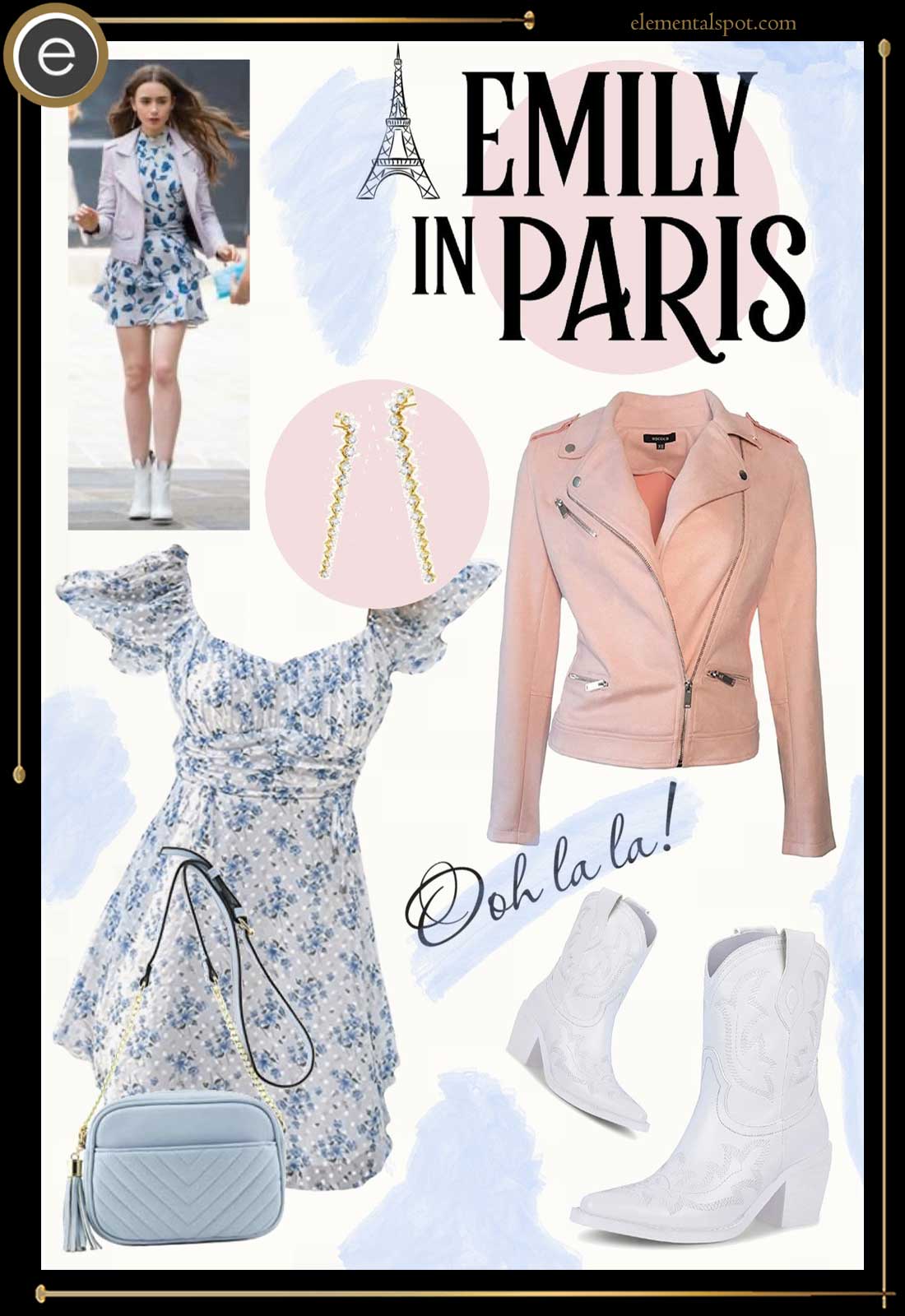 Shopping List for Emily Cooper from Emily in Paris Outfit
Emily in Paris (2020–running) is one of the most popular TV shows Netflix has ever broadcasted, and not only because of all the inspiring Emily in Paris outfits! Darren Star (yes, the man who made Sex and the City!) put all his genius into this exciting, fun, and quirky show, which is also true eye candy for fashionistas.
Meet Emily – she's a marketing executive from America, and she just landed a job she couldn't imagine even in her wildest dreams. Besides changing her job, Emily has to change her environment, her friends, her lifestyle, and her love interest. How exciting is that?
Paris, as we all know, is "the city of love", but also the city of luxurious fashion – that's the part we are most interested in, for sure. How does one learn to adapt to a completely new culture while remaining fashionable? Well, ask Emily Cooper or, even better, Marlyin Fitoussi, the woman behind all her outfits.
How Do I Dress Like Emily Cooper from Emily in Paris?
Before we begin talking about specific clothing items, we really want to analyze what makes these Emily in Paris outfits so fabulous! Emily is young, optimistic, adventurous, and emotional – all of that shows perfectly through her dynamic outfits.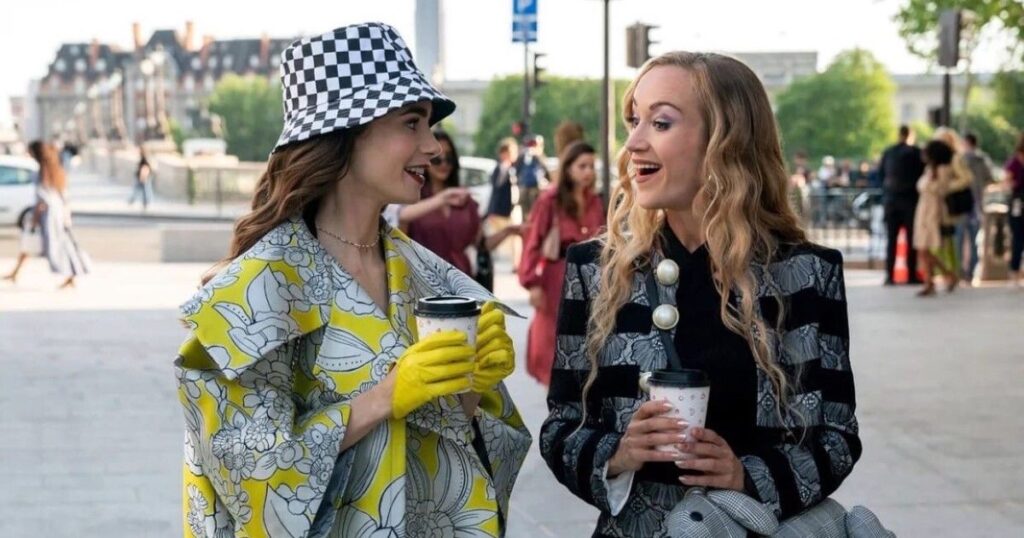 Emily Cooper does not shy away from colors, so if you're inspired by her fashion style, it's good to know that you won't have to throw things out of your closet. Red, green, blue, yellow, pink (look at this Emily's pink outfit inspo)… Youthful colors are in, as well as stripes, speckles, and the famous houndstooth.
When we started to do our Emily in Paris research on shoes, we fully understood why this show is such a staple in the fashion community – the princess of marketing truly does wear some adventurous pieces. Colorful boots, knee-high boots with ruffles, famous Louboutin pieces, but also running sneakers, and stilettos… Each episode is a surprise. Once again, you really don't have to limit your imagination.
Emily doesn't really have a consistent style. It seems like she gets up in the morning, decides how she feels, and wears clothes according to that feeling. She is unpredictable, which is one of the reasons why everybody pays attention to her the moment she enters the room – it's like everyone's excited to see what she's up to today.
Hair and Makeup: A Study of Emily Cooper's Alluring Style"
Emily is famous for her long, brunette, voluptuous hair. She often wears it curled, bouncy and flowing around her shoulders. When she doesn't find the time to style it properly, she doesn't shy away from berets, head scarfs, and other fashionable accessories. The key to replicating Emily's look is to take excellent care of your long hair.
Missing an Outfit Inspo? Submit your idea and we'll make it happen!
When it comes to makeup, you'll very quickly notice that Emily doesn't overdo it. However, that might just be because Lily Collins, the actress that plays Emily, is so beautiful even without any touch ups!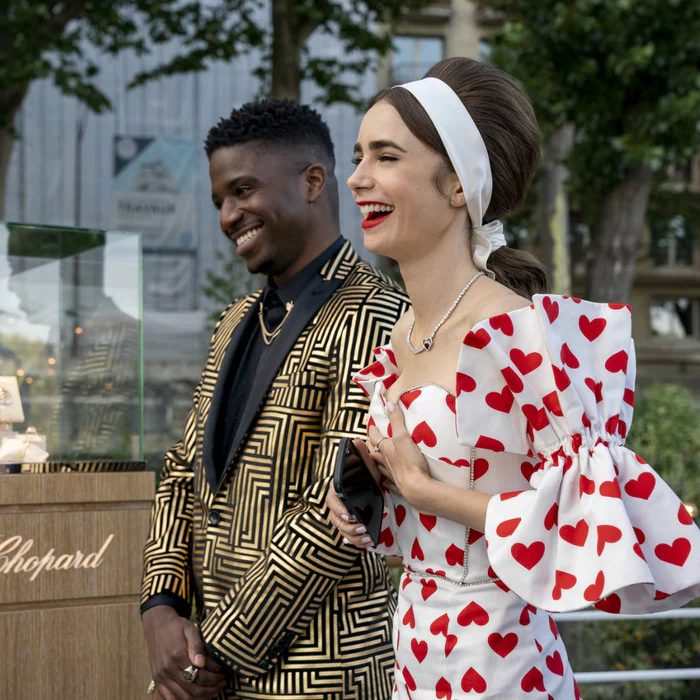 If you want to replicate her look, make sure to go natural. You can use some light foundation, red or maroon lipstick, some neutral eyeshadow, and of course, some brow products to frame the face. Only in formal occasions, such as when she visits the opera, does Emily put on more products.
You can use slightly shimmery choices as well, but make sure not to overdo it. If you're curious about the accessories – the good news is, you can use these to bring simple makeup to another level. Emily likes earrings, necklaces, and sunglasses the most. Our pro-tip is that you should always have your nails painted in white or beige!
Steal The Look – Dress Like Emily in Paris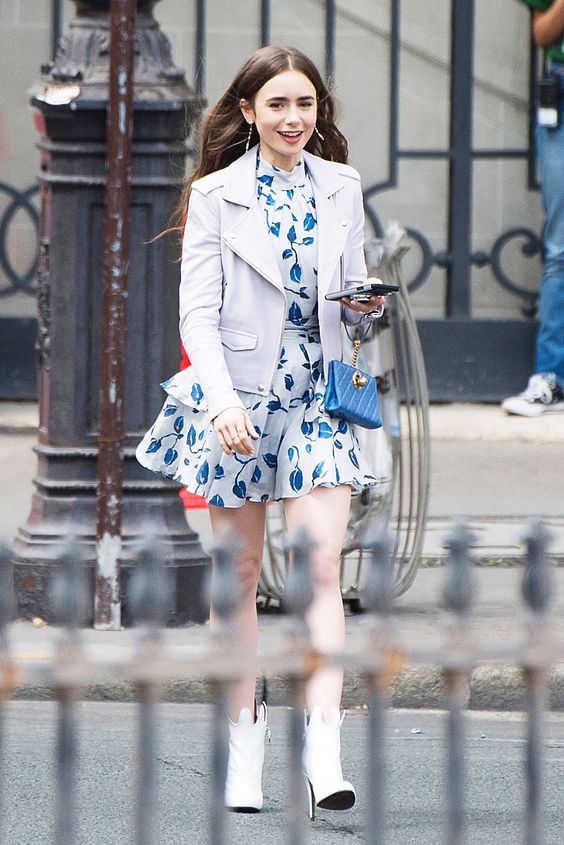 Finally, we're going to take a look at a complete outfit from the TV show – the outfit shown in our collage.
It's feminine, chic, and fits the Paris vibes perfectly. Who knows, maybe you'll manifest a trip to France with these fashion choices?
Just like we mentioned before, Emily doesn't shy away from colors. This short, feminine white dress with blue flowers is a great example of youthful fashion, but when combined with the rest of the outfit, it surely does look like she's meant to be there!
The biker jacket gives the outfit some rebellious vibes, but the classy earrings and the simple baby blue bag bring it back to classy.
Our favorite piece of this outfit is most definitely the white cowboy boots – who said you can't be a biker and a cowgirl at the same time?
Emily in Paris outfits are dynamic, fun, and youthful – if you're inspired by Emily's quirky life story, you can most definitely easily recreate her outfits. Visit your local trendy store, and combine some of the pieces with things from your chic aunt's closet, and you're good to go! 
Monthly Newsletter
Add some spice to your style with movie set-inspired designs.