Steal the Look – Dress Like Emily Cooper 2 from Emily in Paris
Add a touch of cinematic magic to your wardrobe with our roundup of daring and hip movie-inspired outfits. We'll show you how to dress like Emily Cooper 2 from Emily in Paris with our selection of chic and stylish pieces. Slip them on and step into the spotlight like a star with these iconic looks from Emily in Paris.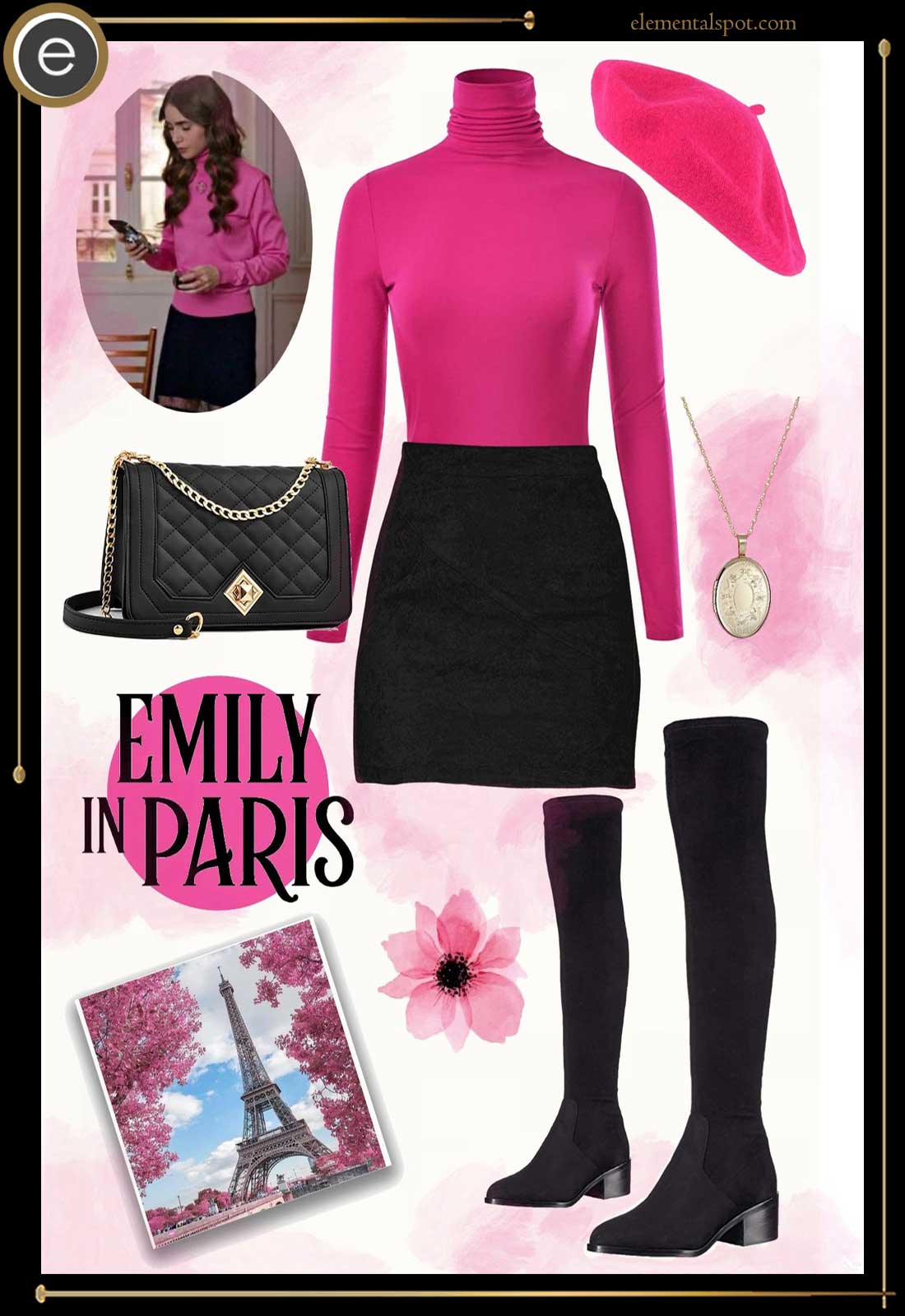 Shopping List for Emily Cooper 2 from Emily in Paris Outfit
Emily in Paris (2020-running) is a TV show by Darren Star that caught our eye very quickly – how would it not? It's a fun TV show with some great fashion inspiration. It follows Emily Cooper, a young American girl with big dreams, as she builds a new life in Paris. This is a huge change for her, and although she might struggle with her personal life, her Emily in Paris outfits remain superb.
If you want to find out more about the romantic and dramatic adventure of Emily Cooper as she moves to Paris to pursue her dreams, you might want to check the show out – we'll simply cover her personal style today. However, we bet that many people could find out a lot about Emily simply through her clothes. Let's investigate it.
How To Dress Like Emily from Emily in Paris
Emily might have a career in marketing, but many say that her one true love is fashion. Marylin Fitoussi is the costume designer on set, and she decided to have lots of fun experimenting with colorful textures and patterns. That's definitely what Emily loves the most – it's almost as if she picks out pieces from her closet randomly, and she makes them work together so well. Although there are many shades to her outfits, her favorite choices are pink, green, blue, and green.
She is youthful and quirky, and doesn't limit herself to simple fashion choices. She doesn't shy away from bold blazers, eye-catching blouses, and stylish jackets. Despite combining many different fashion styles, she remains chic and trendy.
If you want to dress more like Emily, we suggest you always pick a statement piece first, and then center the rest of your outfit around it. Don't be afraid to leave your comfort zone!
Emily Cooper's Hair and Makeup
Although many would say that Emily doesn't stand out when it comes to hair and makeup, we'd say that she appreciates the classic and timeless look. As we already mentioned here, in the analysis of her known outfits with a red plaid blazer and rustic white blouse, and jeans for the make up- most of the time she doesn't have that much (at least not visible to the naked eye) makeup. Lily Collins is a true beauty, and she doesn't need much makeup to portray beautiful, simple, and natural delicacy. We say you should invest in a good hair stylist to provide you with a timeless blowout, but if you're a DIY-kind-of-girl, you can most definitely do this on your own even with a curling iron.
Her makeup is simple, yet effective. Make sure to accentuate your eyebrows (which led to a discussion on Reddit) so they frame your face well, and don't shy away from neutral eyeshadow. Sometimes less is more, especially if you've already decided to wear a bold outfit. Some blush, a little bit of a nude on the lips… If you're experimenting with the clothes, dial it down with the makeup. You can always wear some Emily in Paris sunglasses to frame the face even further – makeup is not your only choice.
Missing an Outfit Inspo? Submit your idea and we'll make it happen!
Steal Emily Cooper's Pink Turtleneck Look
We have already introduced you to two of Emily's looks (look here and here). Today's look is one that we simply adore. Why? Well, it's a timeless classic. It speaks for itself, really, and represents what the classic Paris look is about.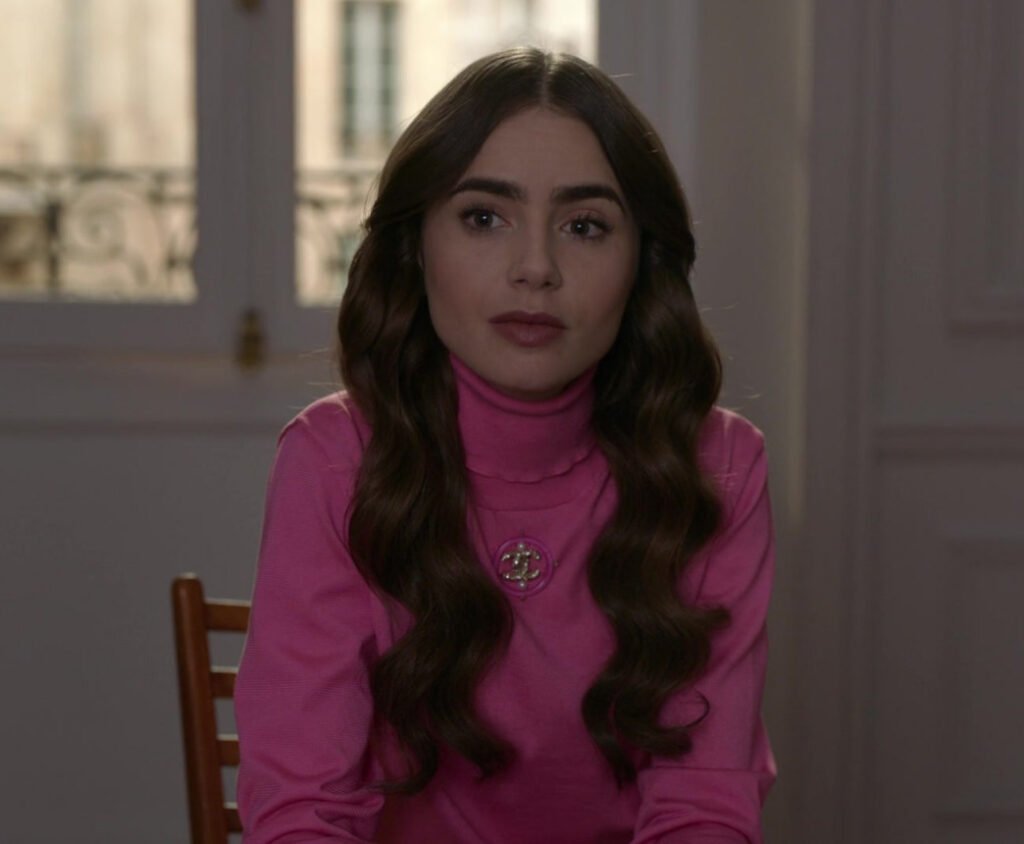 To begin with, we have two colors that compliment each other very well – pink is youthful, but the black is elegant and tones the outfit down.
A pink turtleneck is what you want to start with, and you wear it with a black suede skirt. This is a classic combination that simply asks to be paired with some knee-high black boots and a fashionable pink beret. You can transform this outfit by replacing pink with any other bright color such as blue, green or red – we're sure Emily would love those as well.
The outfit looks youthful, romantic, and gentle, but it still gives the "put together" vibe, which is very necessary when you're working your way up as a new girl in Paris. The golden necklace fills up the void created by the turtleneck, and a little black bag is what you always need by your side. Even Coco Chanel, the true French fashionista, has said that "simplicity is the keynote of all true elegance". That's why black accessories work so well, don't you think?
We hope you've enjoyed our rant on the Emily in Paris outfits, and that you've found what you were looking for. If all of this seems a little too colorful and youthful to you, and you'd prefer a more mature look, we definitely suggest you check out the fashion style of Emily's bossy character Sylvie.
Monthly Newsletter
Add some spice to your style with movie set-inspired designs.