Steal the Look – Dress Like Olivia Baker from All American
Add a touch of cinematic magic to your wardrobe with our roundup of daring and hip movie-inspired outfits. We'll show you how to dress like Olivia Baker from All American with our selection of chic and stylish pieces. Slip them on and step into the spotlight like a star with these iconic looks from All American.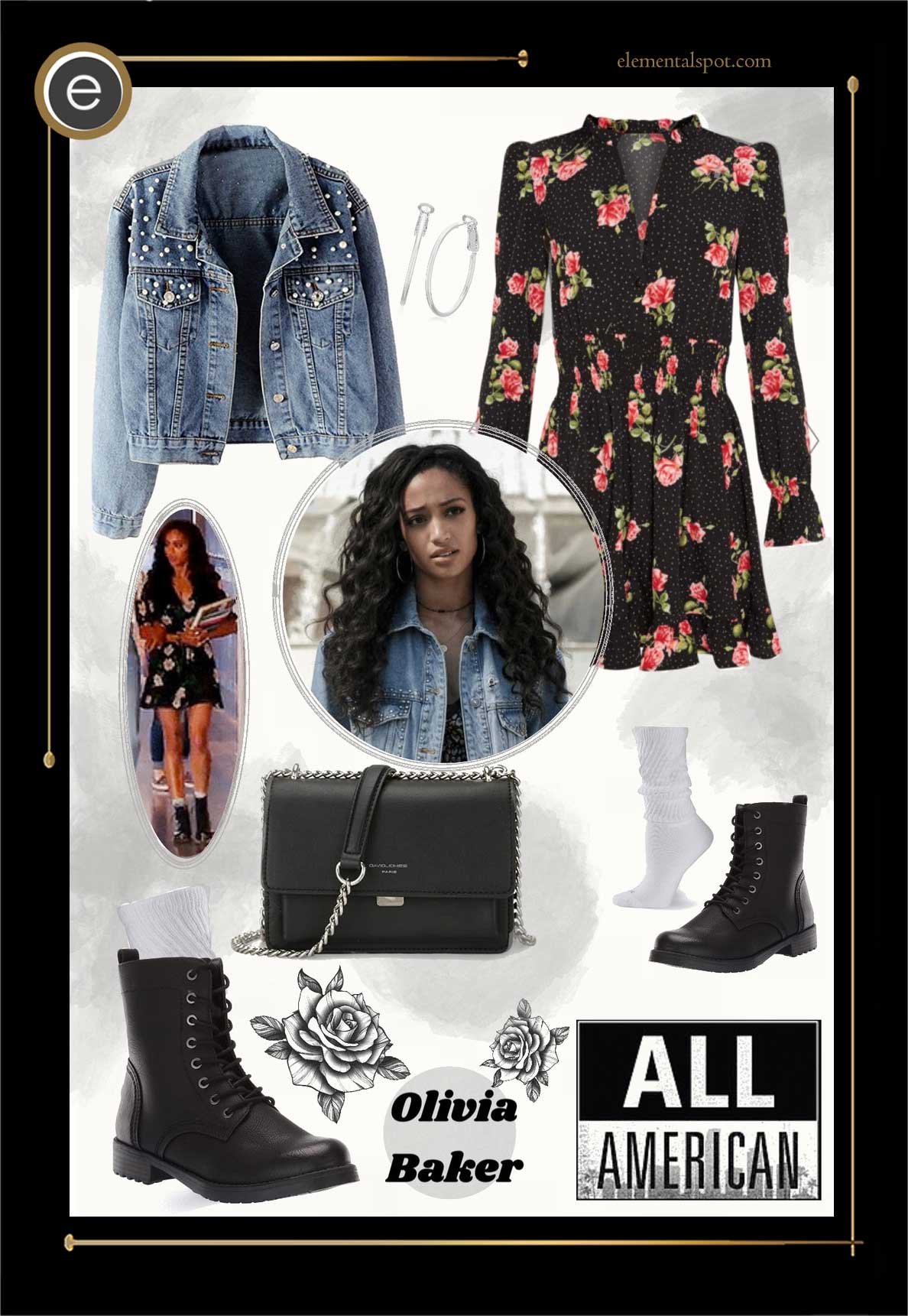 Shopping List for Olivia Baker from All American Outfit
When looking for a show that has some serious fashion credentials, the first choice on your list probably wouldn't be The CW sports drama All American (2018 – Present). Inspired by the story of American football player Spencer Paysinger, April Blair created a show that focuses on the lives of our protagonists' as much off the pitch as on it. With the result, a show that has a wardrobe department full of stylish costumes, and none more so than the Olivia Baker All American outfits.
Unlike her twin brother Jordan (here more about his style), when we first meet Olivia she is much more welcoming to her fathers star football player Spencer, who is moving into the family's Beverly Hills home.
Becoming Spencer's first real friend at the wealthy Beverly High, viewers can't help but notice the romantic sparks flying. However like all dramas their potential relationship isn't plain sailing, but will they be each other's endgame? Only time will tell.
Olivia Bakers All American Wardrobe
Olivia, portrayed in the show by Samantha Logan, might be from a rich Beverly Hills family but it hasn't stopped her falling into trouble. Being in and out of rehab for drug and alcohol addiction has meant the relationships she has with her family and friends have been strained, with her often being misunderstood.
Costume designer Olivia Miles took this on board, with her troubled character image resulting in the Olivia Baker All American outfit typically being in dark and moody colors. Although it isn't out of the question to see her dressed in a bold yellow or bright pink, it is more common for her clothes to be in colors like olive green, brown or even black.
Even with her dark colored wardrobe Olivia is a big fan of prints. From abstract to florals, it is her love for animal prints that she is most recognised for. With cheetah and leopard print being two which she is seen wearing regularly throughout the show.
Missing an Outfit Inspo? Submit your idea and we'll make it happen!
With her favored colors and prints for her clothes, the actual garments have no consistency and her wardrobe has a little bit of everything. Skirts and dresses make just as many appearances as jeans and t-shirts, so shopping Olivia's style will be a dream, you might even find you own some suitable pieces already.
Olivia Bakers Hair and Make-up Tricks
Our dark eyed, dark haired beauty always styles her hair and make-up to enhance her look, keeping it simple and making them the final piece to finish off any of her outfits.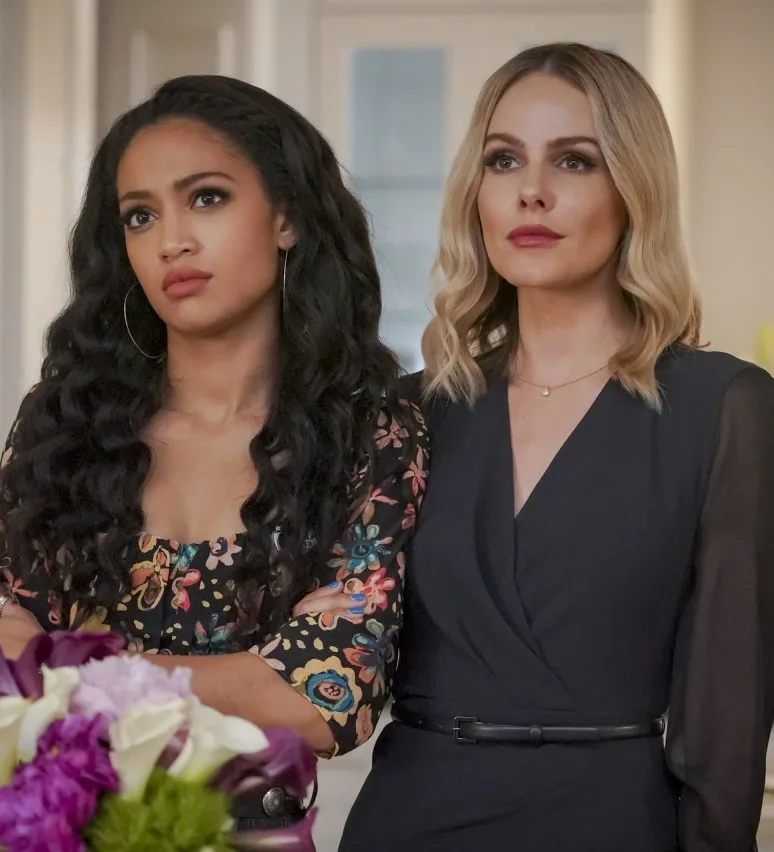 Olivia is known for wearing her long dark hair curled and down loose around her shoulders. But no matter how she wears her hair, the simplicity of the look comes from the time and care she has spent on it. Whether curled tightly or with a more brushed out effect, the curls give her thick hair volume and bounce. Allowing her to style her look with just a simple ponytail or by sweeping the front into a top knot.
Her make-up again uses only a handful of products. With soft brown eyeshadows, black eyeliner and mascara to highlight her beautiful wide eyes, while keeping them subtle and natural. Her perfectly groomed brows and a little bit of a deep maroon red lipstick are all a typical Olivia Baker, All American outfit needs.
Steal Olivia's Floral Dress and Denim Jacket Look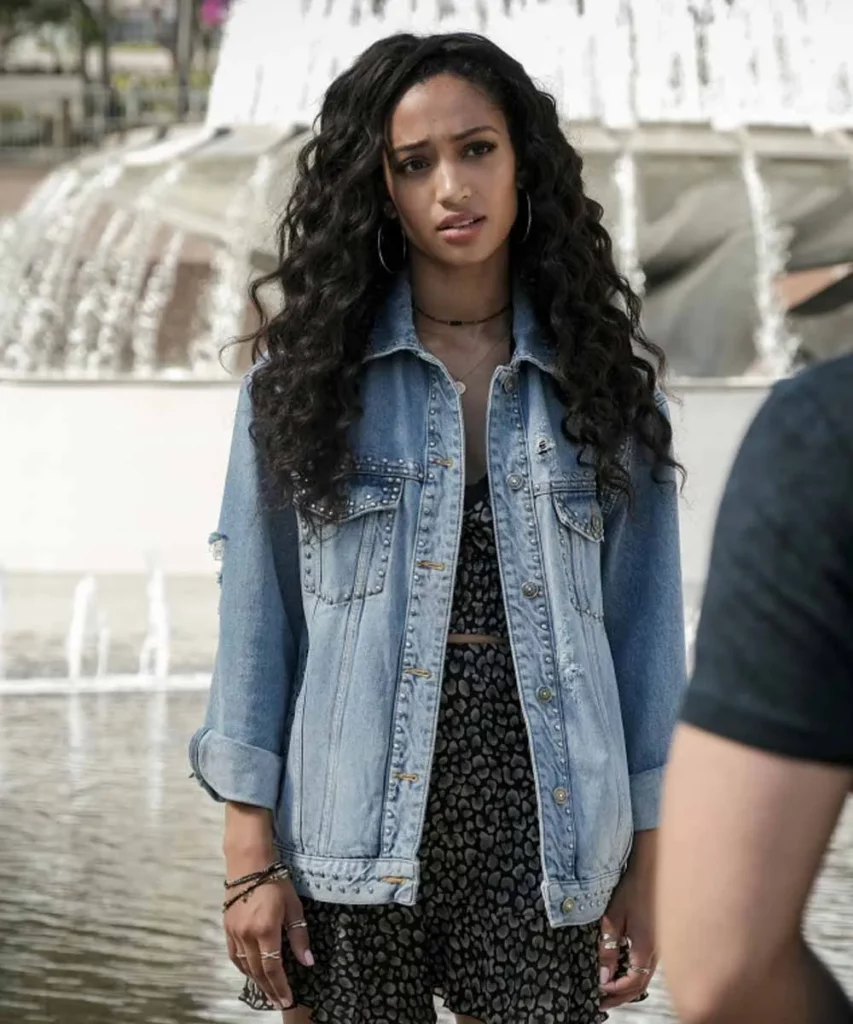 When looking for the perfect Olivia Baker All American outfit to steal the answer is to find one that brings in her love of prints and dark colors, just like the look from our collage above.
Sticking to what she knows suits her, and that troubled personality of hers, Olivia has chosen a black floral print dress to wear.
Styling the dark flowery dress with a pair of chunky black combat boots and white slouch socks, to satisfy her moody demeanor.
Even throwing on a matching black over the shoulder chain strap bag, and silver hoop earrings before adding a light blue denim jacket. The oversized jacket, which features some stitched on pearls around the front and hem, softens Olivia's overall look and also adds a pop of muted color.
If after stealing this simple Olivia Baker All American outfit, you think maybe her dark, moody and modern style is what your wardrobe needs, then why not check out another of our Olivia Baker looks right here (Olivia's jeans and suede jacket outfit)
Monthly Newsletter
Add some spice to your style with movie set-inspired designs.