Steal the Look – Dress Like Olivia Baker from All American 2
Add a touch of cinematic magic to your wardrobe with our roundup of daring and hip movie-inspired outfits. We'll show you how to dress like Olivia Baker 2 from All American with our selection of chic and stylish pieces. Slip them on and step into the spotlight like a star with these iconic looks from All American.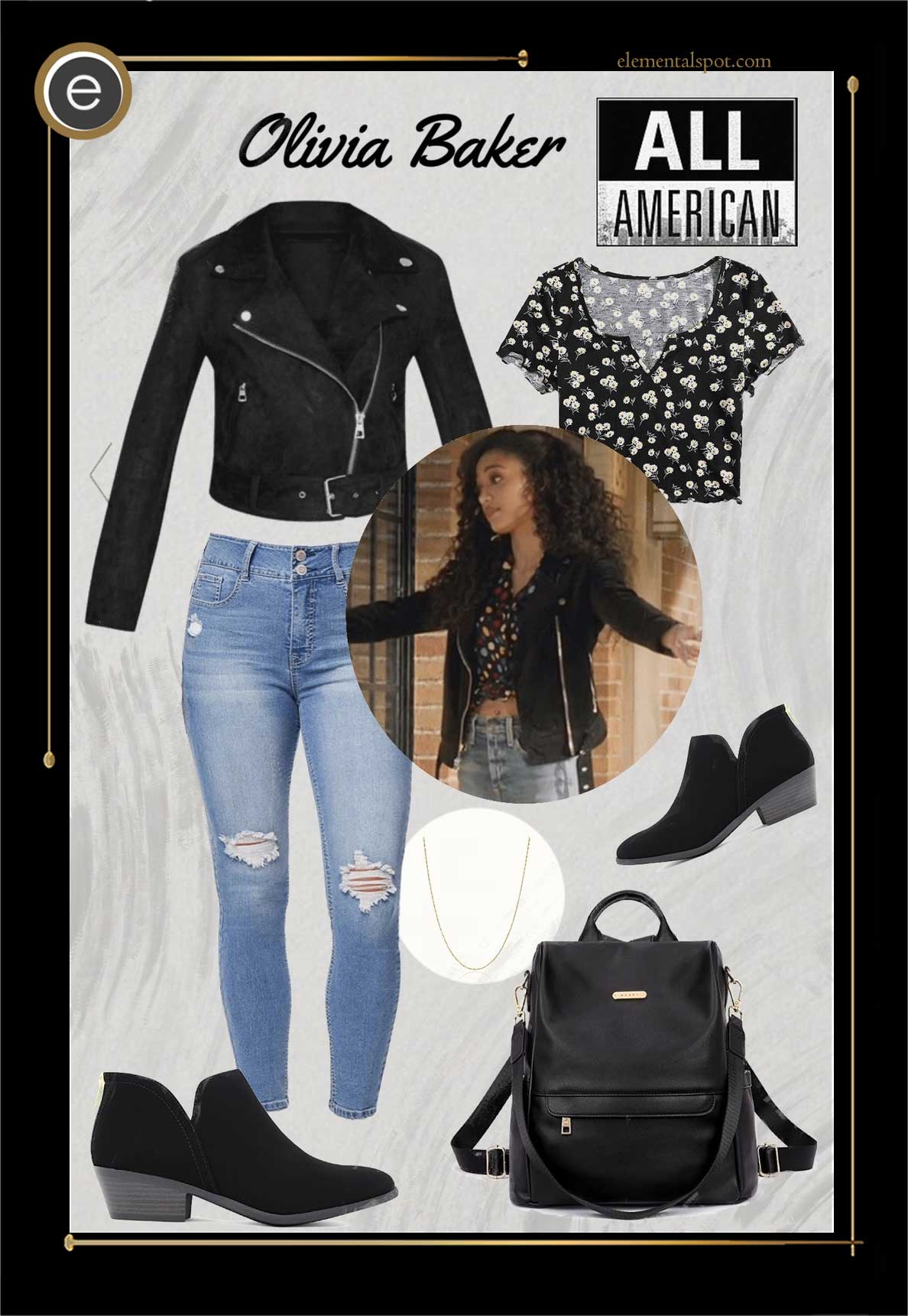 Shopping List for Olivia Baker 2 from All American Outfit
The CW sports drama All American (2018-Present) inspired by the life of football player Spencer Paysinger, is built around the colliding worlds of Crenshaw and Beverly Hills. From football to love lives, April Blair created the show with as much off pitch drama as on. While designing a fashionista's dream, with a wardrobe department full of stylish clothes and an Olivia Baker All American Outfit to suit every viewer's style.
The daughter of football coach Billy and wife Laura, as well as twin sister to Jordan, Olivia comes from the wealthy Beverly Hills Baker family. When her fathers new star football player, Spencer, has to move into the family home, there is an instant connection between the pair. With romantic sparks flying, their relationship grows but like all television dramas it isn't all plain sailing.
Even with her own demons to battle, Olivia Like her mother, hates the injustice of the world. Particularly when she realizes that for her being rich and from the right family, changes everything and makes her life easier. With the topical issue of racism a big part of All American, it is no surprise to see Samantha Logan's Olivia empowering the black community by starting Beverly Hills own Black lives Matters movement, along with her podcast 'Liv the Truth.'
Black and Bold: A Peek into Olivia Baker's All American Outfit Choices
Before we can show you how to steal an Olivia Baker All American Outfit, first we need to look at the style and wardrobe created for her by the show's costume designer, Olivia Miles.
With the show's setting of Beverly Hills and its famous shopping district of Rodeo Drive, it isn't hard to see the influence on Olivia's wardrobe. With plenty of designer label garments, that could be from any fashion boutique, mixed with affordable trendy pieces.
Once having said black was her favorite color, one look at her clothes would seem to confirm this as true. Although she doesn't shy away from color, most of Olivia's wardrobe staples and accessories are in black. With her jackets, bags and shoes usually in her preferred tone, but when she does go for color she goes bright with yellows and blues, and even a few pinks.
Missing an Outfit Inspo? Submit your idea and we'll make it happen!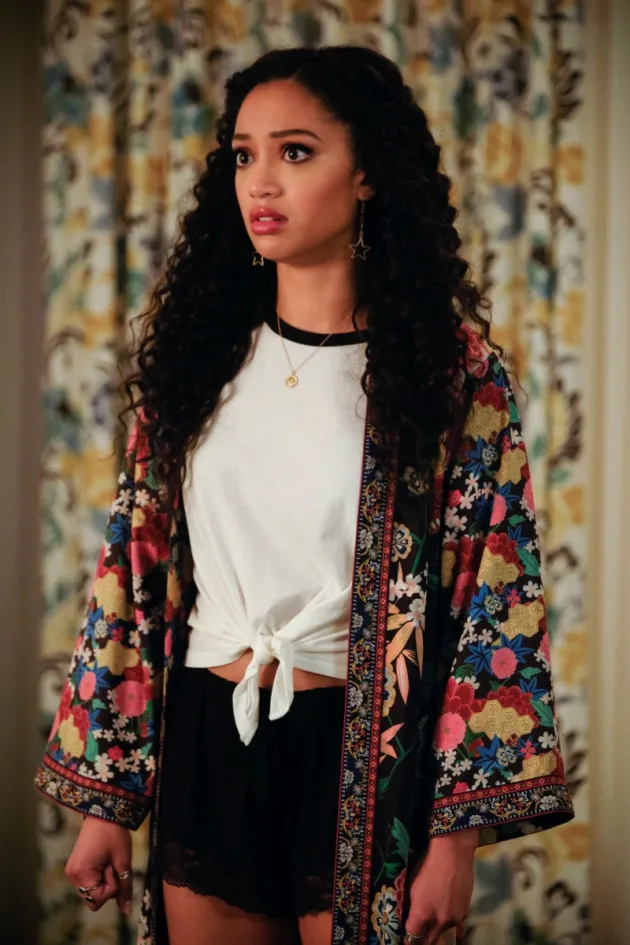 Olivia is not quite he mothers daughter though when it comes to fashion, with Laura Baker favoring a modern tailored look, which we have shown you how to steal here with her pencil dress and trench coat outfit. Instead her clothes play to her youthfulness and desire to be seen, after feeling invisible for so long, with plenty of flattering crop tops and mini-skirts.
Braids, Bling, and the Dictaphone: Olivia Baker's Signature Style on All American
Olivia might be known for wearing her dark naturally curled hair down loose around her shoulders, but throughout the seasons of All American she has tried quite a few different styles. Including having her hair fully straightened on a couple of occasions.
But a look that she often goes back to, other than a simple ponytail, is braids. An important part of her black heritage she shows her connection to her culture by proudly wearing her long hair braided or by putting it in twist braids, even on occasion styling them into her favorite ponytail hairstyle.
An Olivia Baker All American outfit is never fully finished without some accessories. But not really known for any specific jewelry, she has been seen wearing a selection of different pieces throughout the show. Everything from large hoop earrings and chains, to a number of silver rings across her fingers.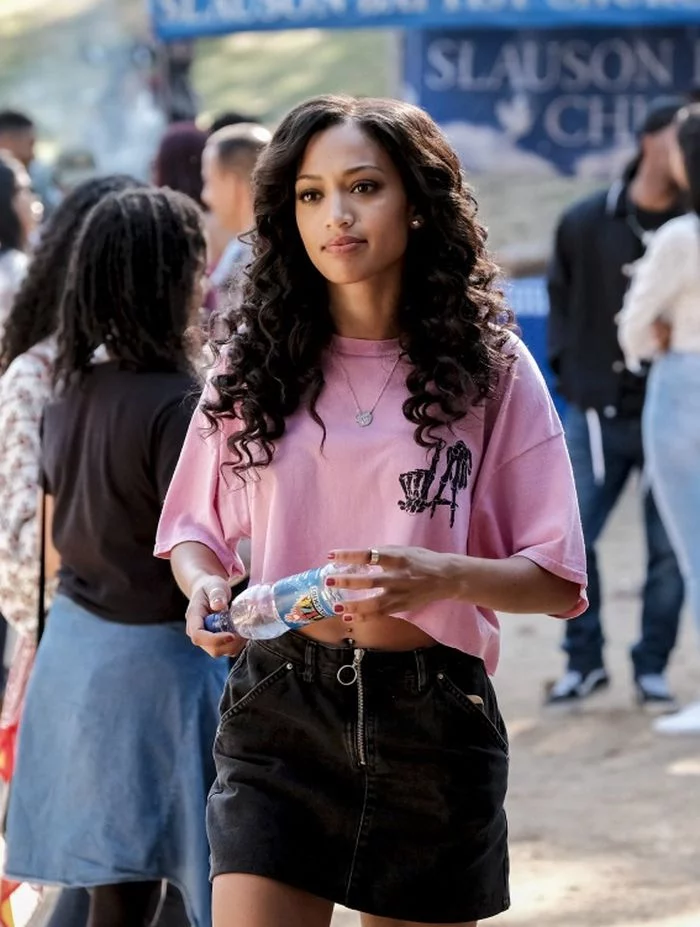 A little bit of everything works for our aspiring journalist, but a dictaphone in her bag is a must. Just in case the perfect opportunity arises for an interview, especially if she has an opportunity to inspire or expose an injustice.
A Pop of Color and a Biker Jacket: Steal Olivia Baker's Style
When it comes to picking an Olivia Baker All American outfit to steal, there are plenty of options, just like the one in our collage above.
Sticking to her favorite color when putting her look together Olivia has added a little bit of brightness to break up the black with some fitted light blue distressed jeans and a floral print crop top.
Adding to the look with a pair of black ankle booties, a matching black backpack and a delicate chain necklace. Before finishing her look with one of her most often worn accessories, a jacket.
From her looks throughout the show, it would seem like her wardrobe must be crammed full of jackets of all styles. But for this look she compliments the fit and distressed effect of her jeans with a biker jacket, in black suede.
If this simple Olivia Baker All American outfit fits the modern style you are looking for in your wardrobe, then why not check out another of our Olivia Baker looks right here: Olivia's floral dress and denim jacket outfit.
Monthly Newsletter
Add some spice to your style with movie set-inspired designs.