Steal the Look – Dress Like Maddie Townsend from Sweet Magnolias
Add a touch of cinematic magic to your wardrobe with our roundup of daring and hip movie-inspired outfits. We'll show you how to dress like Maddie Townsend from Sweet Magnolias with our selection of chic and stylish pieces. Slip them on and step into the spotlight like a star with these iconic looks from Sweet Magnolias.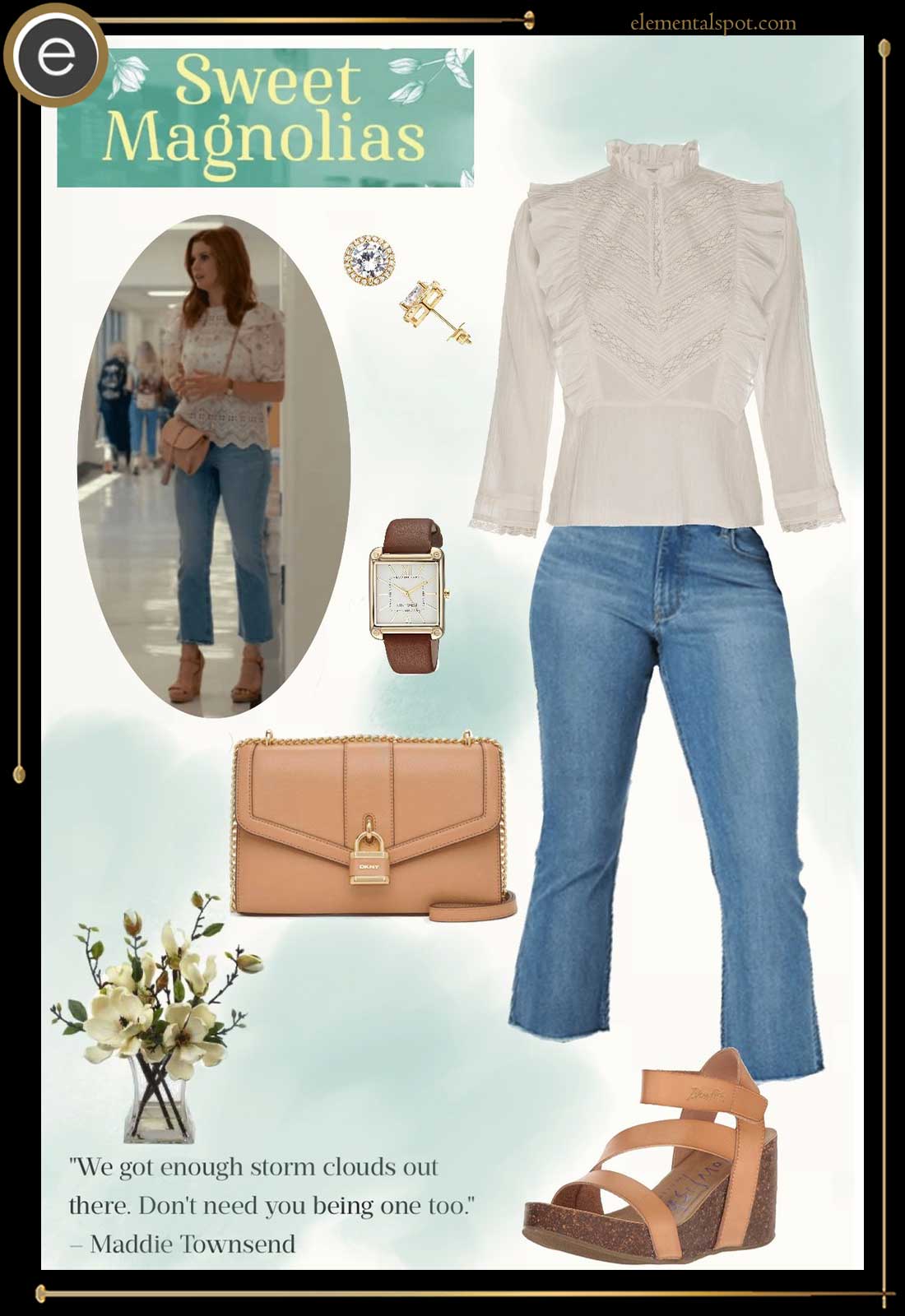 Shopping List for Maddie Townsend from Sweet Magnolias Outfit
Although we talk a lot about dramatic TV shows full of action, we are lovers of good romance plots too – that's why Sweet Magnolias (2020 – running) captured our hearts. This web TV series is based on novels Sherryl Woods wrote, which are often described as very calming and comforting. However, instead of giving you the key notes on the show, we want to present it through Maddie Townsend outfits, as she is one of the main characters.
If you truly want to understand Maddie Townsend, you also have to understand her best friends, as they have known each other since forever. Netflix.
Maddie Townsend's Fashion Style – Flowers, Dresses and Her Perfect Smile
The TV show follows three women from South Carolina, and they're not just random women – these girls have been best friends since forever. However, we're not talking about high school adventures here, as all three are grown women navigating their romantic lives, careers, family lives, and more. Maddie is divorced, but she isn't wearing black – it's almost as if she's finally discovering what life is all about.
Her friends and her form a group called "The Sweet Magnolias", and that's actually a pretty good way to describe Maddie's fashion style as well. As you'll see, most Maddie Townsend outfits are full of feminine (but not pink and girly!) dresses, as well as floral patterns. She loves a nice blouse, some dark jeans, and A-shaped skirts. It's interesting to see that she doesn't limit colors much, but she rarely wears pink and other girly shades – blue, white, red, black, and purple come as main colors and details.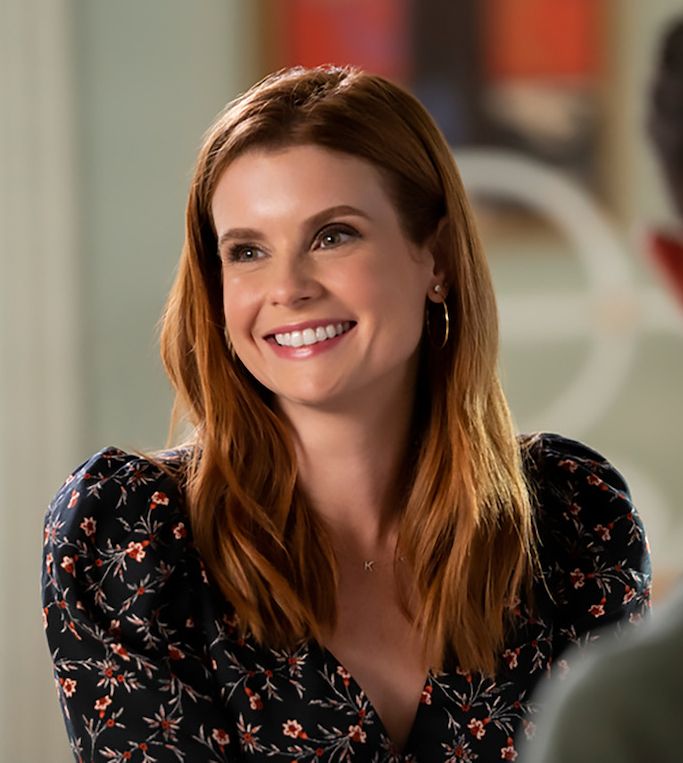 Maddie's style actually looks very comfortable. She loves some oversized sleeves, and we can often see her wearing ruffles, but we'd say small and detailed patterns are really her thing. Whatever you find and choose, make sure to keep your distance from the girly-girl style, as this is a grown woman trying to put her career back on the track. That's why we're very happy with the casting – JoAnna Garcia Swisher is actually an actress with just enough life experience to portray such a character.
The Accessories of Maddie Townsend – Minimal & Discreet
It's very interesting to dive into Maddie Townsend outfits because she has a superpower that we have figured out only after seeing enough of her looks… Her style is very feminine, but it's not the femme fatale type of feminine, yet the motherly, sweet type. She doesn't wear a lot of accessories, and when she does, she makes sure it's just some minimal earrings, a discreet necklace or a small ring – no wedding rings, though.
As she usually wears her hair down, but keeps one side behind her ear, we easily notice that she wears earrings most of the time. Small pearls, discreet zircons and small hoops are what she enjoys the most. It's almost as if she was never really used to wearing much jewelry, but she's enjoying herself in this era of life. We have to say that we're glad Cameron Dale, the costume designer, didn't push a girlie look on her – just because she's dating again doesn't mean she has to change much.
Missing an Outfit Inspo? Submit your idea and we'll make it happen!
Maddie Townsend's Hair & Makeup – The Timeless "Jolene" Look
When we saw Maddie, all we could think about was Jolene by Dolly Parton. Do you remember the lyrics to this masterpiece?
"Your beauty is beyond compare / With flaming locks of auburn hair / With ivory skin and eyes of emerald green / Your smile is like a breath of spring / Your voice is soft like summer rain / And I cannot compete with you, Jolene"

– Jolene by Dolly Parton
When we look at Maddie Townsend from Sweet Magnolias, we finally understand what Dolly meant. Maddie's beautiful, auburn hair really is her most significant accessory, so she mostly wears it let down. It just about reaches her armpits, and it's always just a bit wavy, so if that's what you're going for, these are the instructions to give to your hairdresser.
Give this hit another listen and let us know whether you agree with us on Maddie being a Jolene type of a girl. YouTube.
As for her makeup, she does wear it, but it's pretty discreet. All of her style and accessories somehow exude confidence, as she is truly comfortable in her skin. She wears some light foundation, fills in her eyebrows just slightly, and mostly accentuates her green eyes with some brown shades. A soft lip shade is also a must-have, as well as some light blush for the plump look. Don't go overboard if you're trying to imitate the pale beauty – less is more in this case.
Our Favorite Maddie Townsend Look From Sweet Magnolias
If we had to choose one Maddie Townsend look from Sweet Magnolias, it would be this one. It perfectly captures the elegant and feminine, secure style she most often rocks. As previously mentioned, Maddie loves ruffles, so she wears a white, ruffled blouse that is the centerpiece of this particular outfit. She pairs them with some flared jeans that flatter her figure, and some nice, flesh-colored sandals to make the look a little more formal.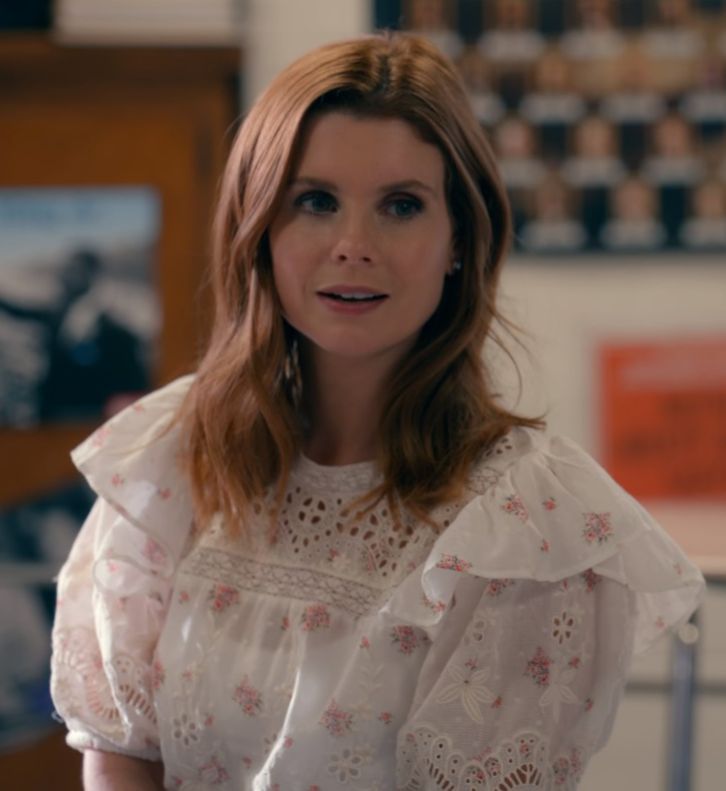 To make this a true Maddie Townsend look, we need some minimal jewelry – a slim watch and some discreet stud earrings will do. When we talk about bags, Maddie mostly wears small cross-body bags that it just the usual necessities one might wear outside. However, her biggest accessory truly is her smile. Most of the time, she's cheery and seems like a very warm person. She is soft-spoken, caring, and honest – really, a true Jolene.
If you're more about feisty characters, but you still enjoy feminine looks, you have several other choices. You could go totally overboard and channel your inner Chanel Oberlin, but you could also start with a character that's just a bit more modest, like Elena Gilbert from The Vampire Diaries.
Monthly Newsletter
Add some spice to your style with movie set-inspired designs.