Sweet Magnolias Season 3: Steal the Leading Ladies Fashionable Styles
A high standard to keep up with after the beautiful fashions that we became accustomed to in the first two seasons, the Sweet Magnolias Season 3 outfits didn't let us fashionistas down. With some of the ladies best looks yet.    
After just over a year of waiting it was finally time to head back to South Carolina and our 'Sweet Magnolias' Maddie, Dana Sue and Helen in July 2023, when Netflix eventually added the third season of our favorite romantic drama to the platform. They might be a long way from where they started when we first met them, but the three best friends' lives are still a work in progress.
With new love, career and family dramas to navigate, the three high-school friends' lives in Serenity are never dull. But if handling these latest dilemma's wasn't hard enough, doing so while flawlessly dressed is just the cherry on top of the cake.
Maddie Townsend's Sweet Magnolias Season 3 Outfits
The show's main protagonist, and the leader of the 'Sweet Magnolias', Maddie Townsend was just starting to find her way in life again after her divorce. But Season three started on a tense note for the kind and compassionate mother of three, with the delicate and feminine wardrobe.
Maddie Townsend and Her Many Statement Sleeves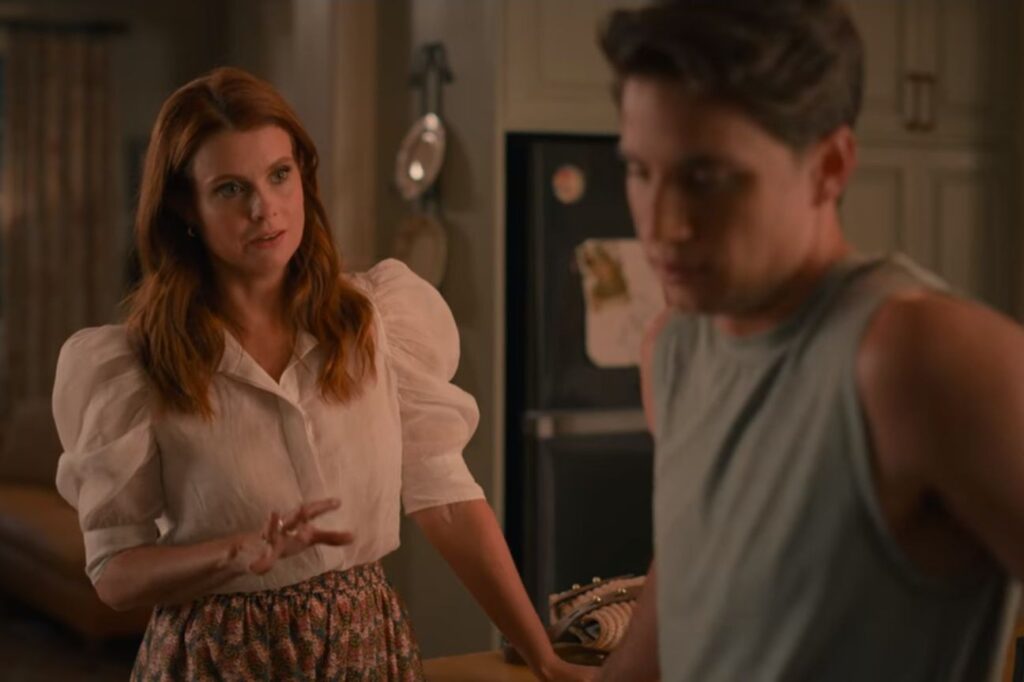 Maddie's wardrobe, and not just her Sweet Magnolia Season 3 outfits, is full of feminine blouses and tops. Something we discussed when we broke down her character's style in our 'steal the look' article, which you can find here. 
But although Maddie's looks come across as sweet and innocent, she uses delicate floral patterns, ruffles and even statement sleeves, rather than pink and girly clothes for her grown-up outfits.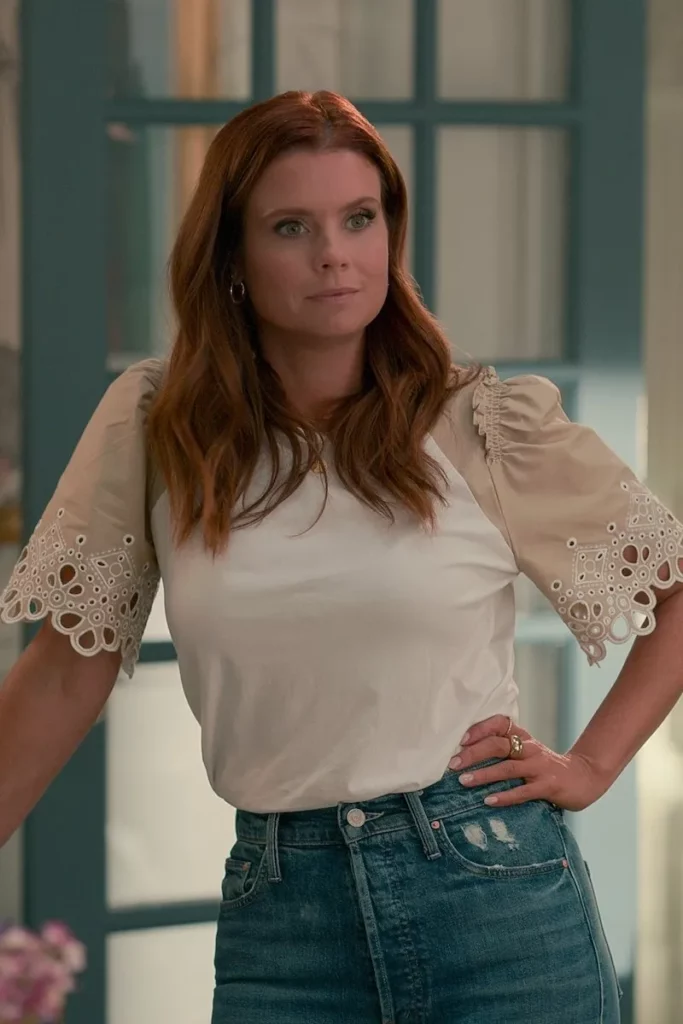 Instead sticking with her soft, lighter color palette of whites and blues, in luxurious silky satins and crisp linen fabrics. That gives her statement sleeve blouses a real impact in her flawless wardrobe of stylish looks.
Simple Striped T-shirts Worn by Maddie in Sweet Magnolias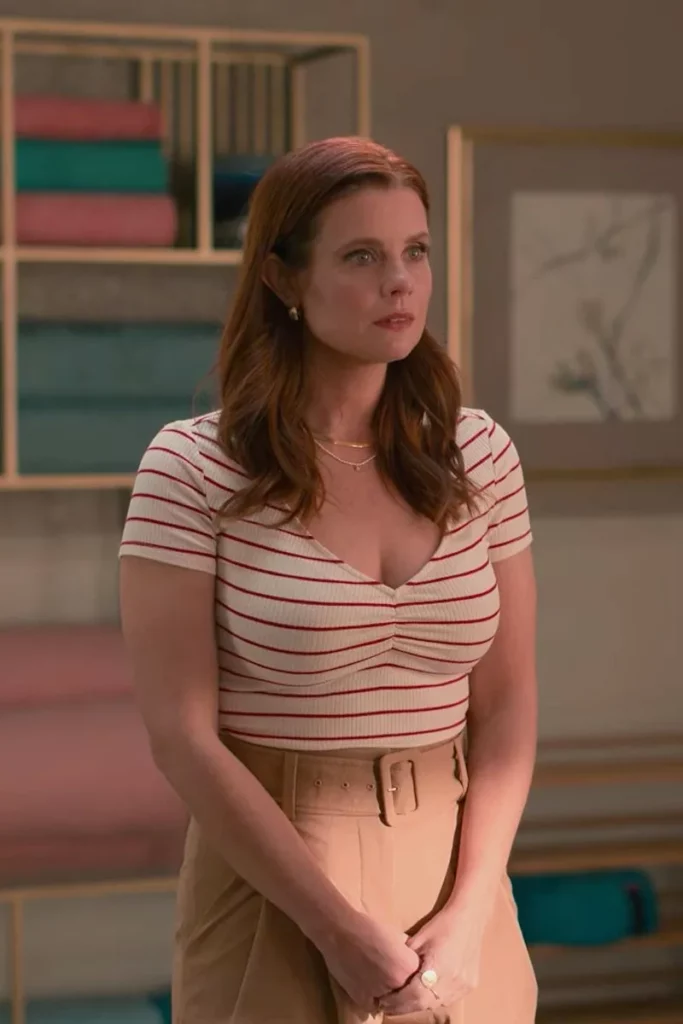 Portrayed by JoAnna Garcia Swisher, Maddie Townsend's looks stay true to her age without trying to make the character dowdy, or too young. Particularly when it comes to wardrobe staples like the simple white t-shirt.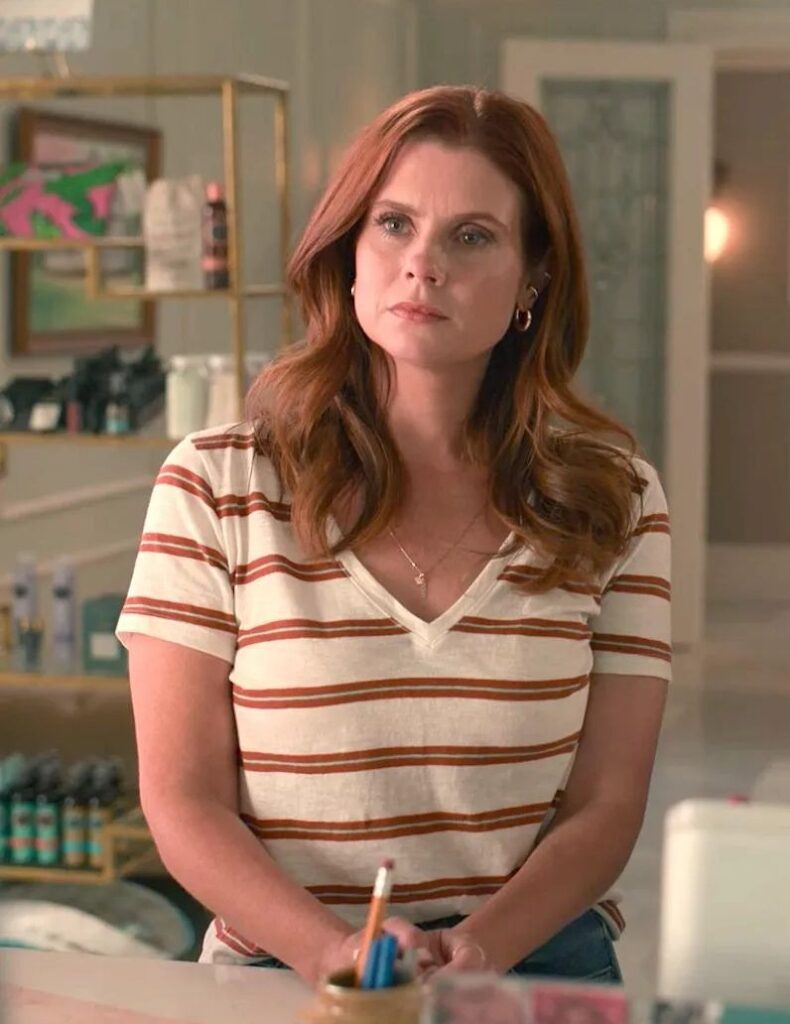 Everyone has them in their wardrobe, but Maddie goes for figure flattering v-necks over basic crew necks. Even adding some extra little details to her season 3 looks with effortless horizontal stripes, mostly seen as thin red lines wrapping around the body.
Maddies Pink Belted Jumpsuit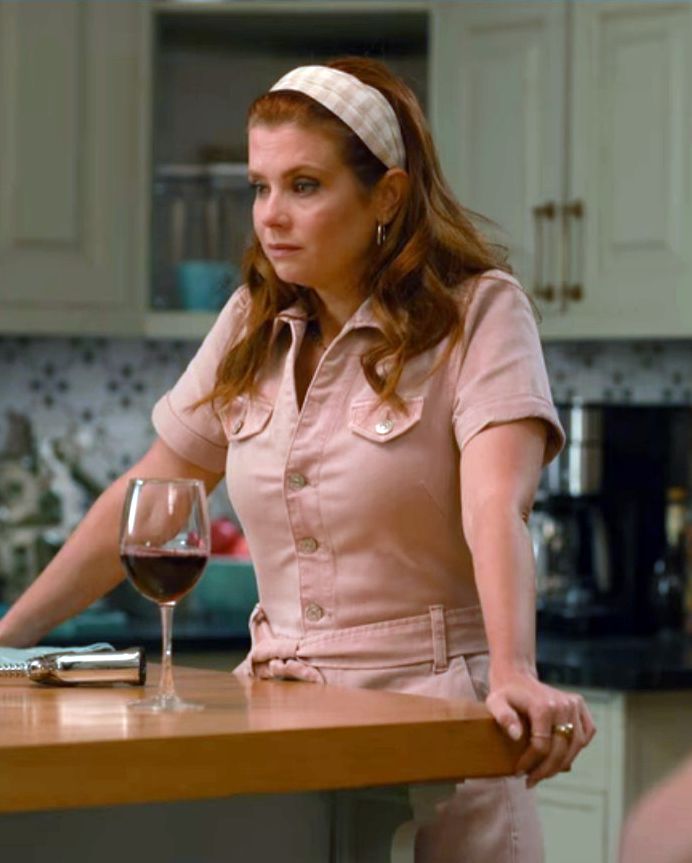 Although Maddie rarely wears the color pink in her Sweet Magnolias wardrobe, when she does pick the girlie shade it is always part of one of her most fashionable and stand out looks. Just like this pink belted jumpsuit that she wears in season three. The short sleeves and utilitarian feel with front button-up fastening and covetable pockets has enough edge to fit into her relaxed, comfortable style.
The Maddie Townsend Floral Dress Obsession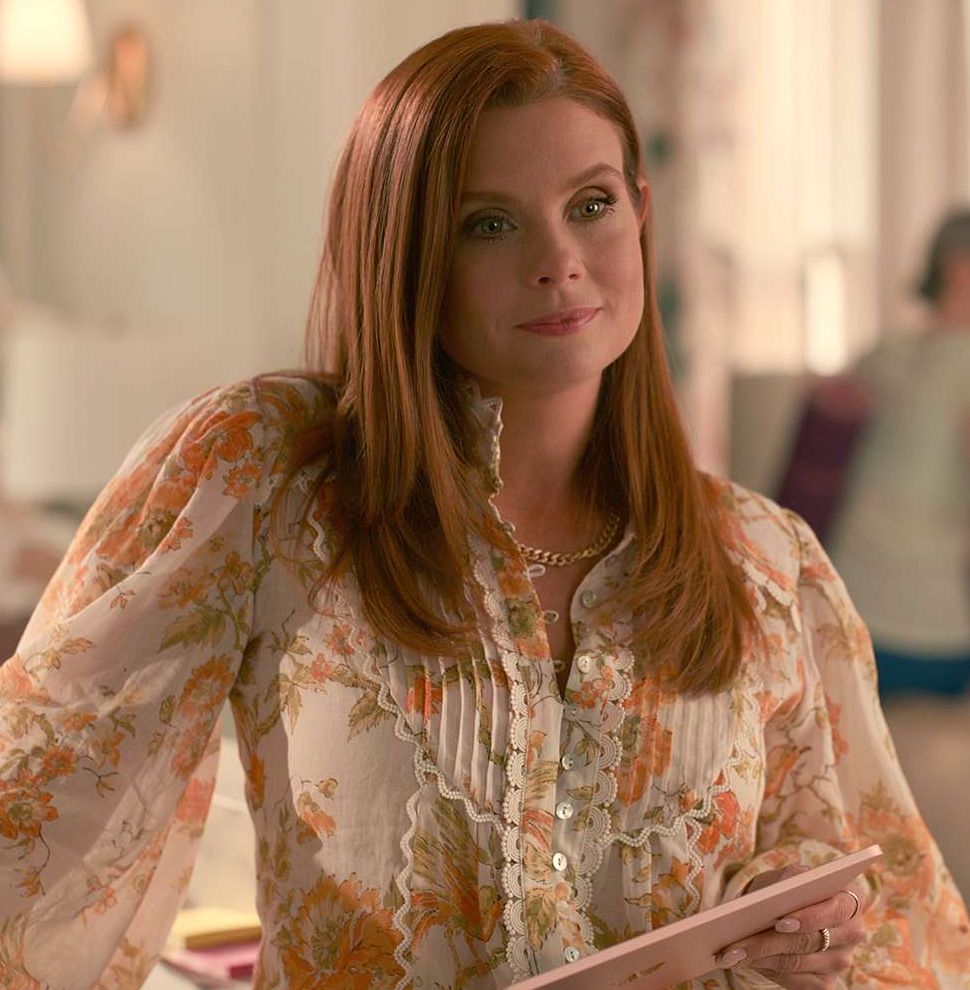 With Maddie's bright floral print dresses being another one of her wardrobe staples, her long auburn hair, understated make-up and delicate accessories complement rather than out-shine her bold fashion choices. With sweet details like touches of lace and simple ruffles adding texture to the looks. Especially this white floral midi-dress with its pearlescent buttons and summery orange flowers.
Maddie's Use of Gingham in her Sweet Magnolia Season 3 Outfits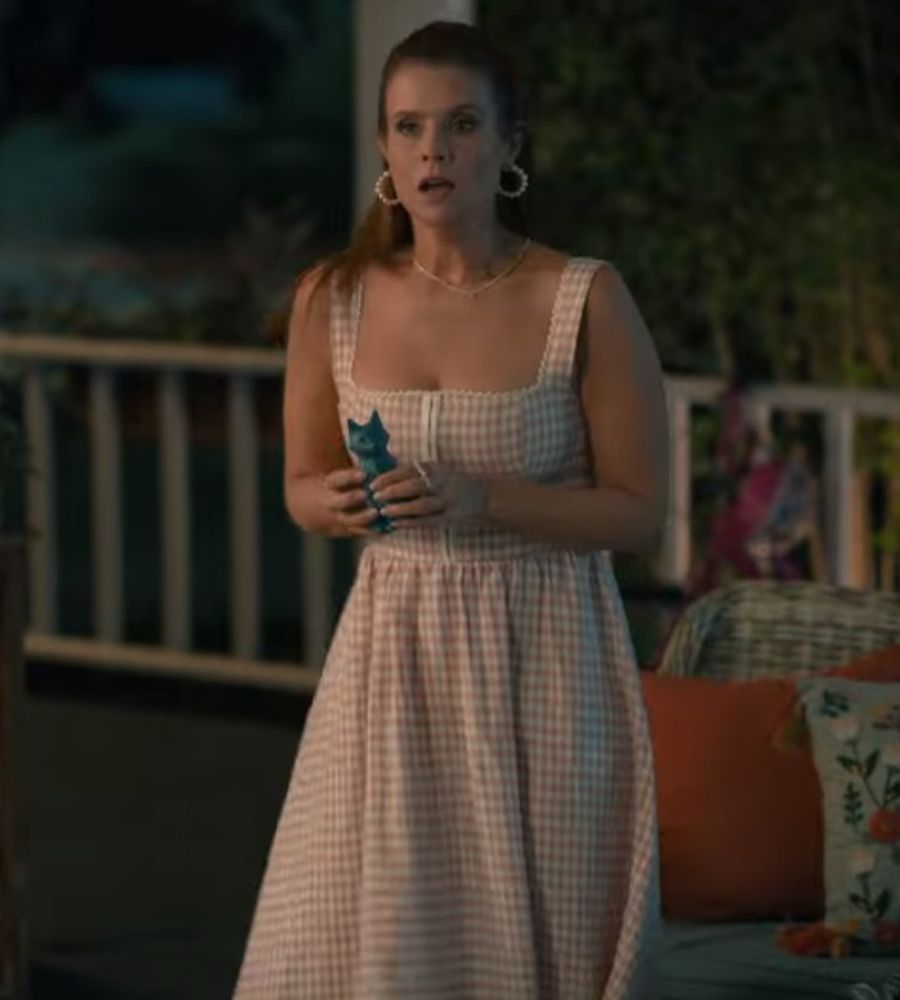 Maddie doesn't restrict her Sweet Magnolia season 3 outfits to only the delicate and feminine patterns of florals, with a number of her other looks from this season showcasing a love for gingham. From her soft pink and cream linen dress, with square neckline and flared midi-skirt. To her blue and white gingham button-up blouse, that has a relaxed loose fit and another pair of statement full sleeves.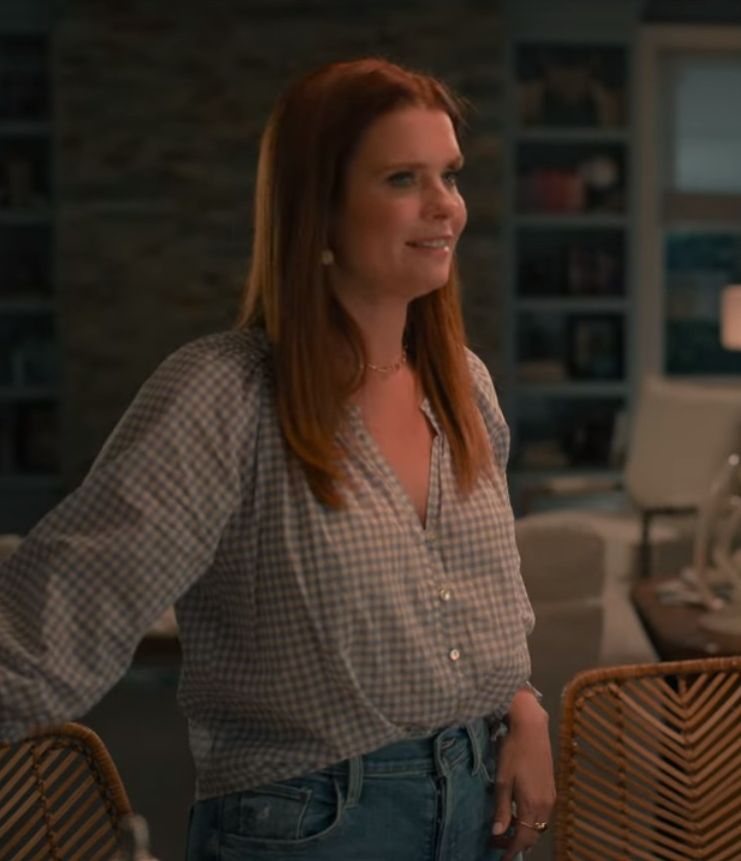 Lady in Pink: Maddie's Alice + Olivia Smocked Dress in Sweet Magnolias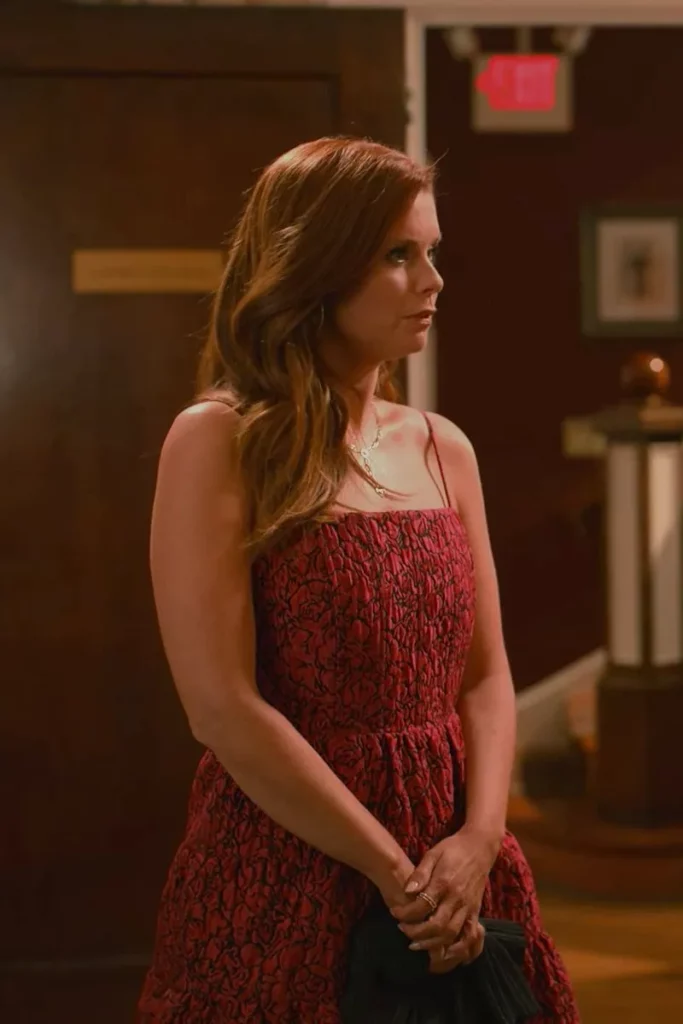 When we first met Maddie she was trying to put her life back together after her divorce and working on finding herself again. A running theme throughout the show, however if this Sweet Magnolias season 3 outfit isn't the culmination of all that work on herself then i don't know what is. With the sweet femme fatale in her rose patterned wild pink mini-dress looking every bit a romantic lead.
Dana Sue's Sweet Magnolias Season 3 Outfits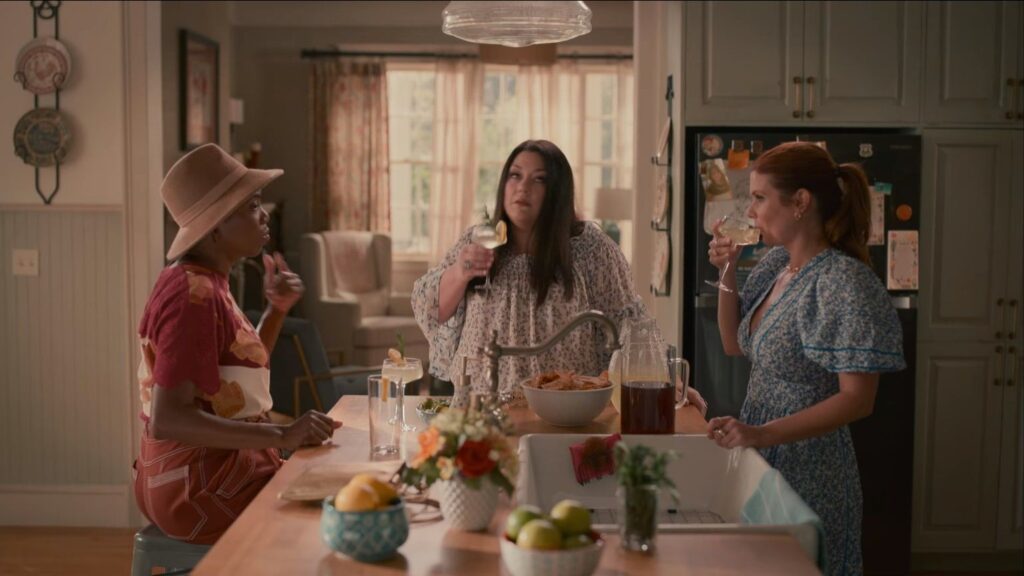 The second of the 'Sweet Magnolias', Dana Sue Sullivan has her own list of problems. Between her job as a chef at her restaurant Sullivans, her estranged husband Ronnie and daughter Annie, it's surprising that she has time to think about fashion. But her Sweet Magnolias season 3 outfits say otherwise.
Dana Sue's Black and Red Floral Blouse in Sweet Magnolias
Just like her best friend Maddie, Dana Sue also wears a lot of clothes with prints and has a number of outfits that include the use of floral patterns on them. However, unlike Maddie with her light and breezy color palette, her flowery tops and dresses are much darker. More often than not in black, like this red and white flower embellished square neck Draper James top with a black fabric base.    
Blue Abstract Print Midi-Skirt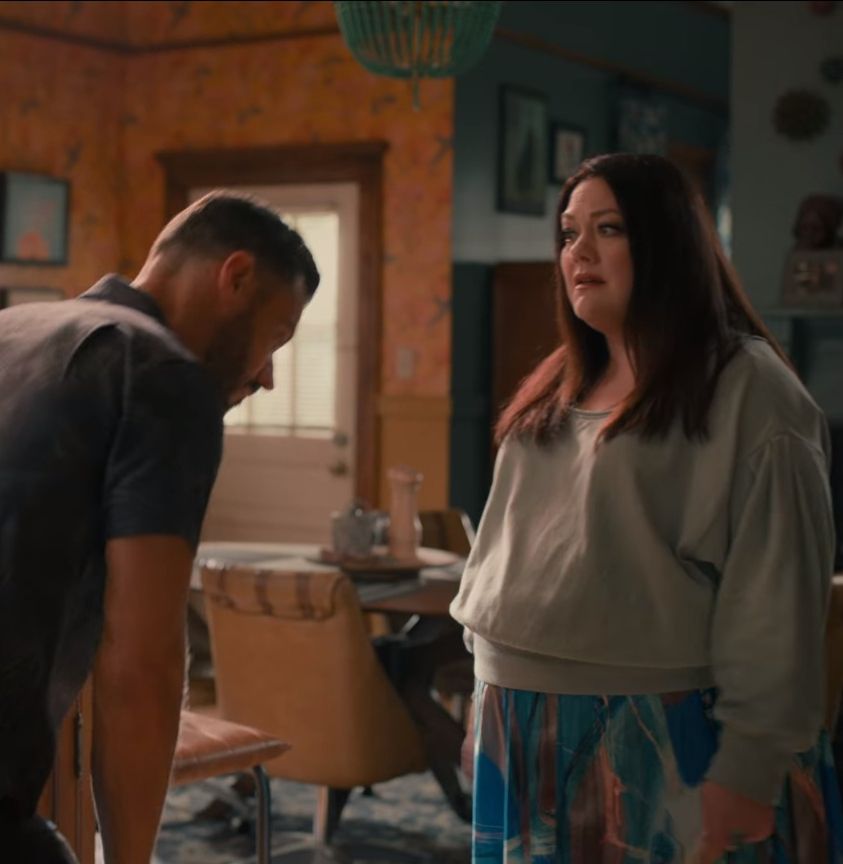 Although when Dana Sue does go for color in her Sweet Magnolia season 3 outfits, you can be sure that it will be bright and bold. Pulling in different shades of blue, white and even a hint of pinky brown her Anthropology abstract print midi-skirt is not for the faint of heart. Even when she does tone it down with a softer, lighter top, nobody will miss this striking colorful ensemble.
Dana Sue's Comfortable Green Zip Neck Sweatshirt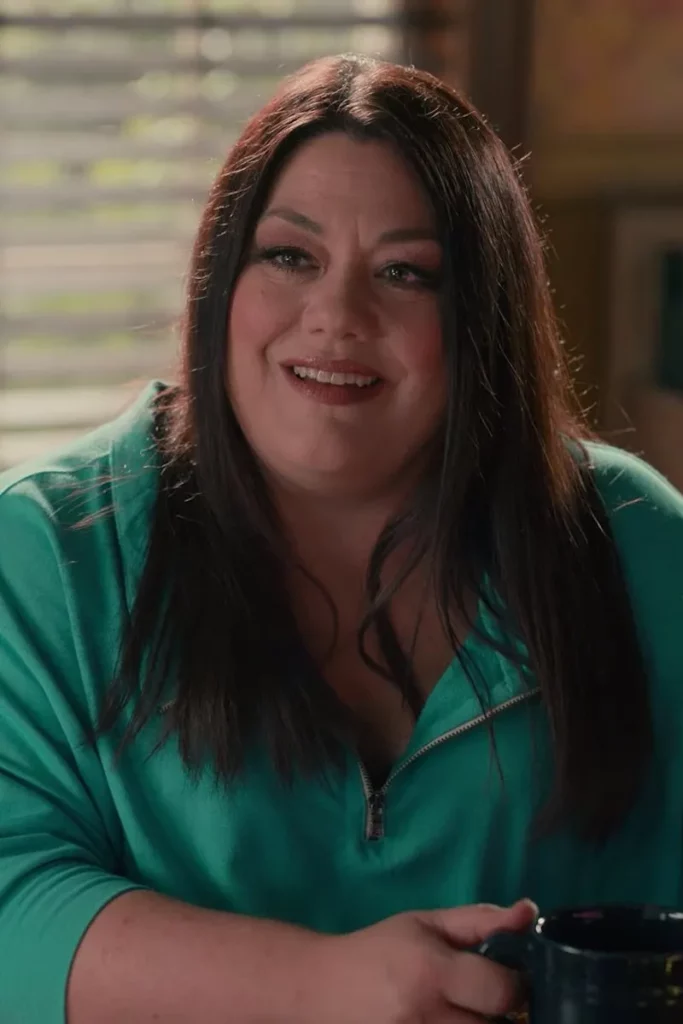 People have questioned whether or not Dana Sue's Sweet Magnolias wardrobe favors oversized and often loose fitting boxy garments because the show has no idea how to dress the plus-size character. However, maybe it is part of Dana Sue's developing story, and now that she has seeked forgiveness from herself she will choose bolder fashion choices. Either way her green zip neck sweatshirt works perfectly in her casual and relaxed wardrobe.
Old Navy Floral Maxi Tank Dress In Sweet Magnolias Season 3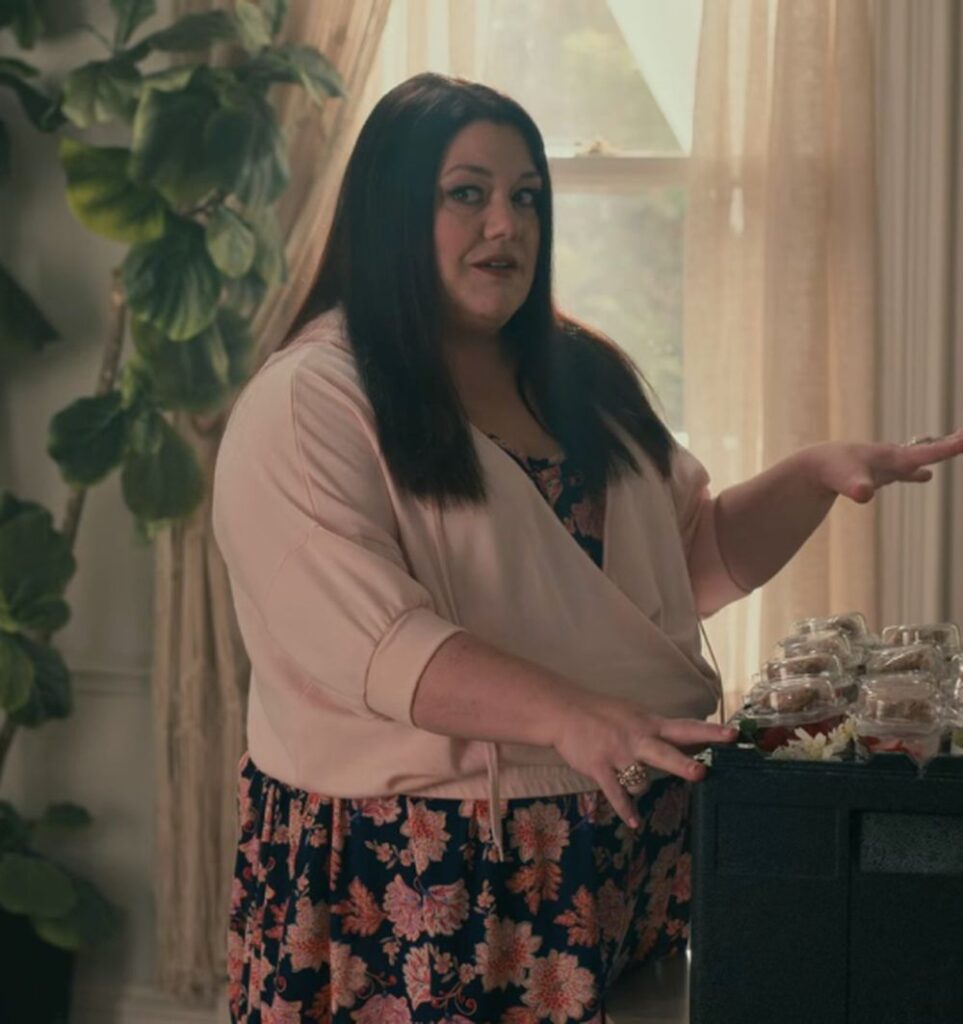 Another time that we see Dana Sue reaching for the flowery prints is when she wears this simple Old Navy floral tank maxi dress. Sticking with her dark base color, this time the flowers are a soft and pretty mix of pinks and white. That she has matched to her pink ballet wrap cover-up.
Dana Sue's Fiesty Leopard Print Top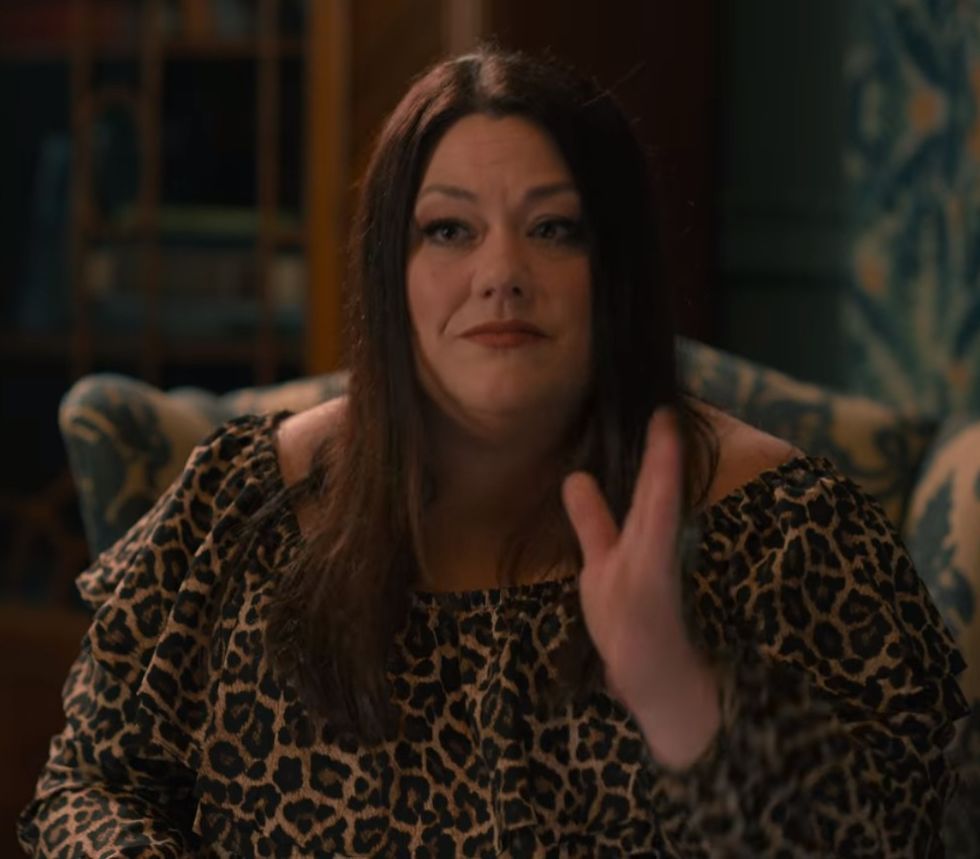 As one of the three 'Sweet Magnolias' Dana Sue has needed the support of her best friends, to help her get through her personal and professional troubles. But as season three showed the resilient chef, wife and mother has started to find her way again, and showed it off with some feisty fashion choices. Since, we all know it takes real confidence to pull off this leopard print off the shoulder ruffle top.
All of the Sparkles: The Pink Sequin Top worn by Dana Sue in Sweet Magnolias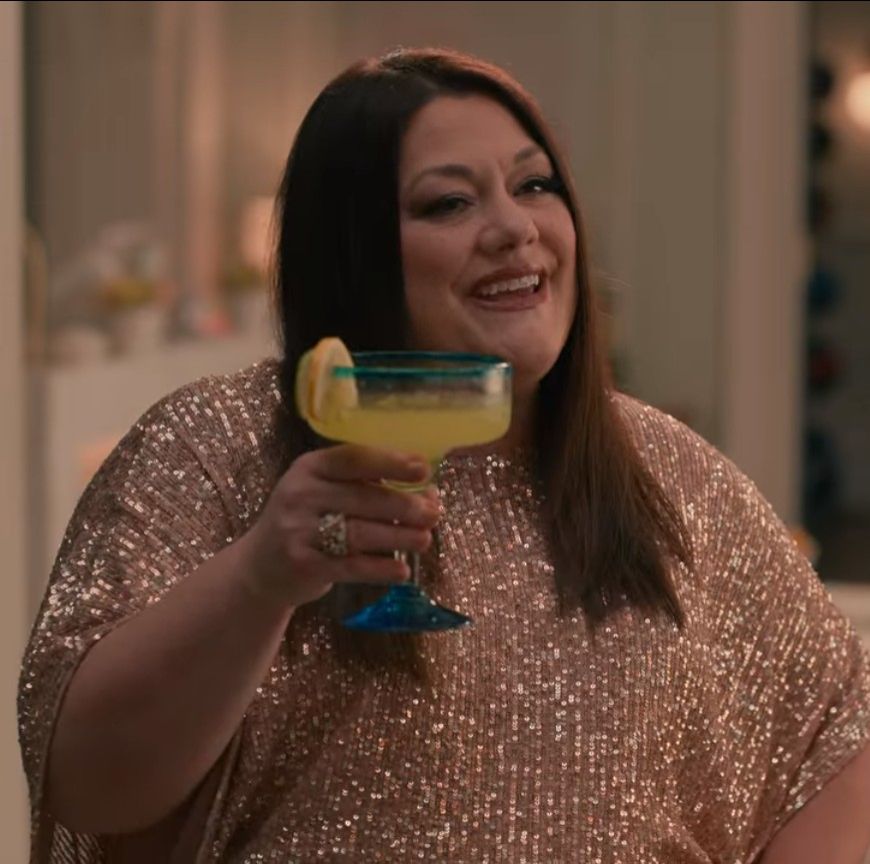 If you haven't watched Sweet Magnolias, and have only seen the trailer above you wouldn't be wrong for thinking that the trio of ladies spend a lot of time in each other's company drinking cocktails. It is one of the perks of having friends though, and Dana Sue makes sure she has plenty of show stopping looks perfect for any last minute drinks. With this pink sequined draped top being the perfect choice to make our dark haired beauty really shine.   
Helen Decatur's Sweet Magnolias Season 3 Outfits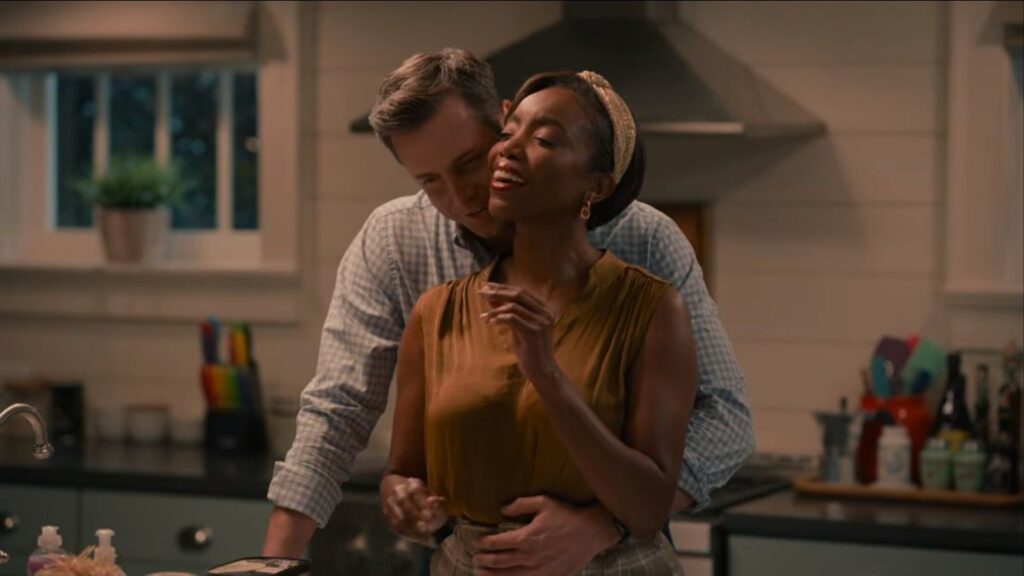 Last but not least, Helen Decatur, the third and final member of the 'Sweet Magnolias', and high flying accomplished attorney. Which will surprise nobody after they have caught, even the slightest glimpse of Helen's bold and powerful wardrobe and particularly her Sweet Magnolias season 3 outfits.
Helen's Leaf Print Shirt Dress in Sweet Magnolias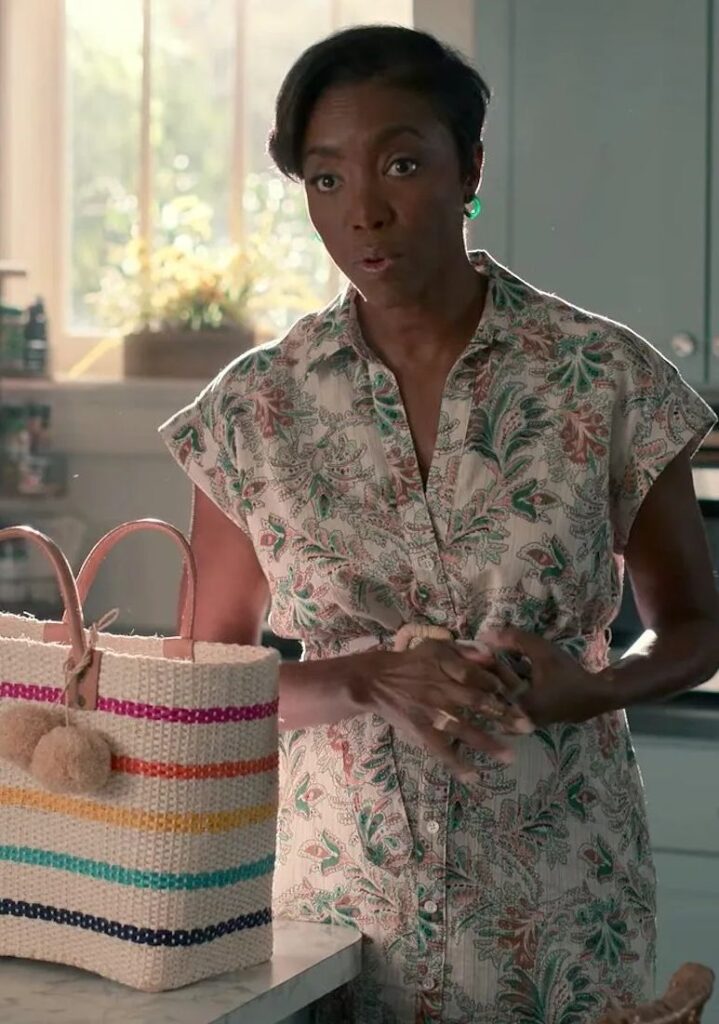 Maybe there is something in the water in Serenity that has all the residents choosing to wear bold patterned clothes, and being especially fond of floral prints. In Helen's case this 50's inspired belted shirt dress has more leaves than flowers, but there are still a few in there. More subtle than a lot of her Sweet Magnolia wardrobe, the cap sleeved, drop skirted dress is elegance personified especially on Helen.
Bold and Bright: The Yellow Polo Top Helen Wore in Season 3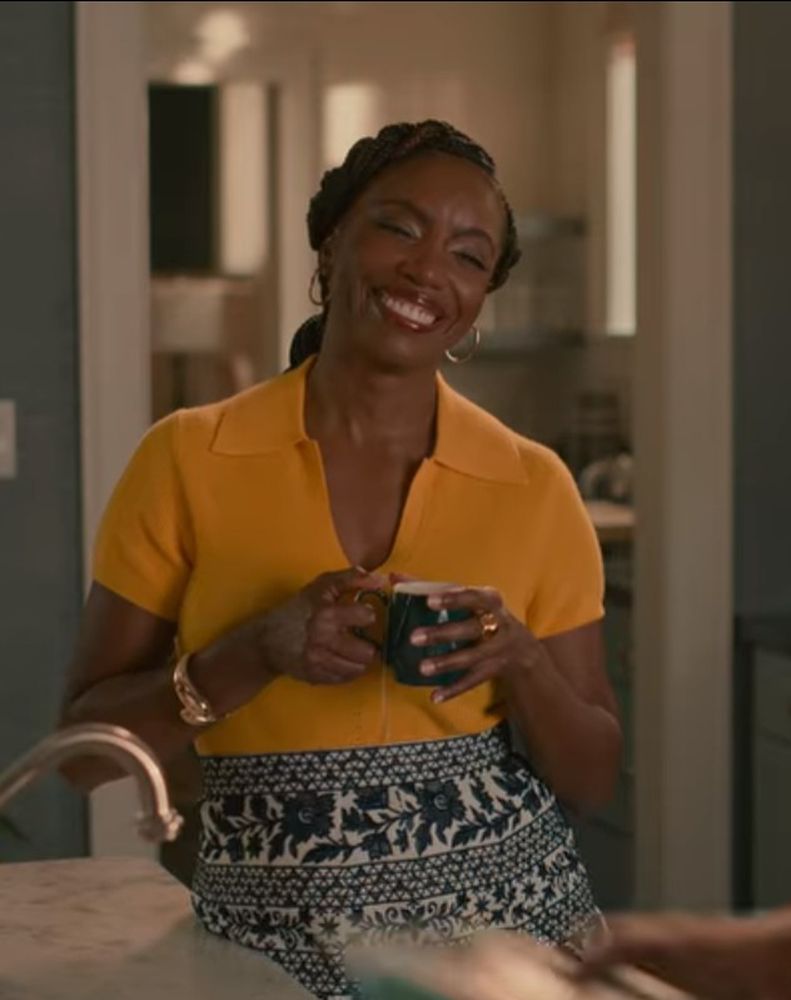 In complete contrast to her best friends, Helen's wardrobe is full of bold and bright colorful garments that give her an air of power. Not afraid of any color, with most looking complimentary on her, anything goes from orange, to blue to this eye-catching canary yellow. Who knew that a simple short sleeved knit polo top could look so fashionable.
Helen's Red Paperbag Pants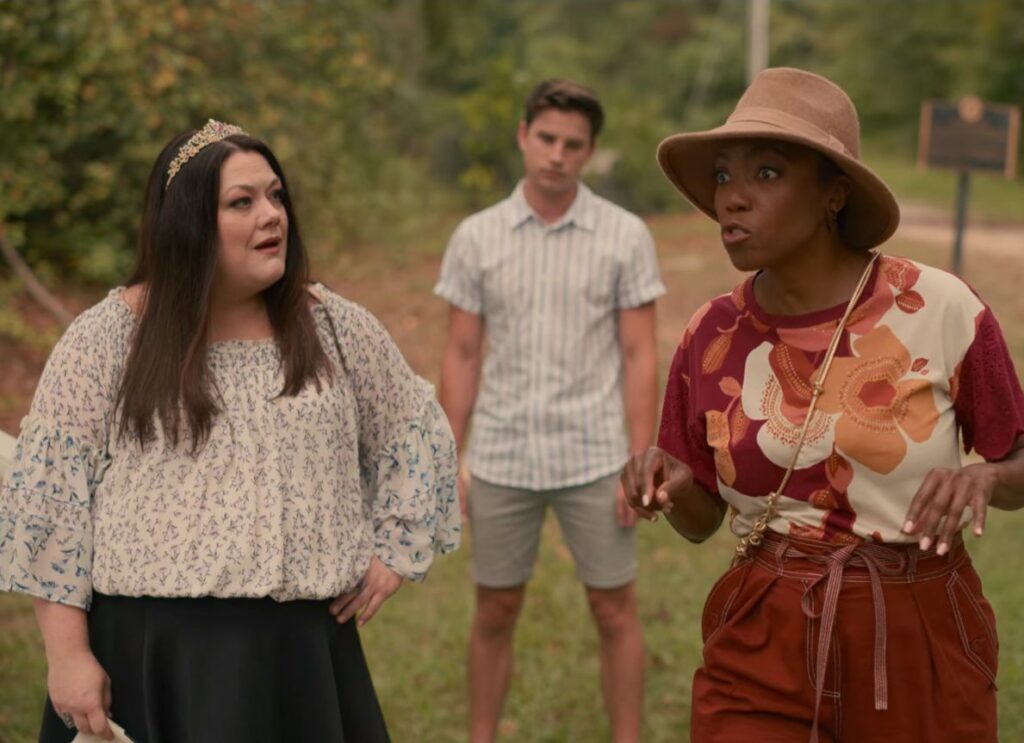 Not just adept at wearing bold colors, Helen is the queen of putting together perfectly matched looks, particularly with her Sweet Magnolias season 3 outfits. Taking care, like in this case, to make sure that not only do her burnt red paperbag pants match her floral embellished t-shirt, but that she has chosen the perfect accessories. With her Veja trainers, cross-body bag in gold and camel colored fedora elevating the ensemble flawlessly.
The Embroidered Crop Jacket from Sweet Magnolias Season 3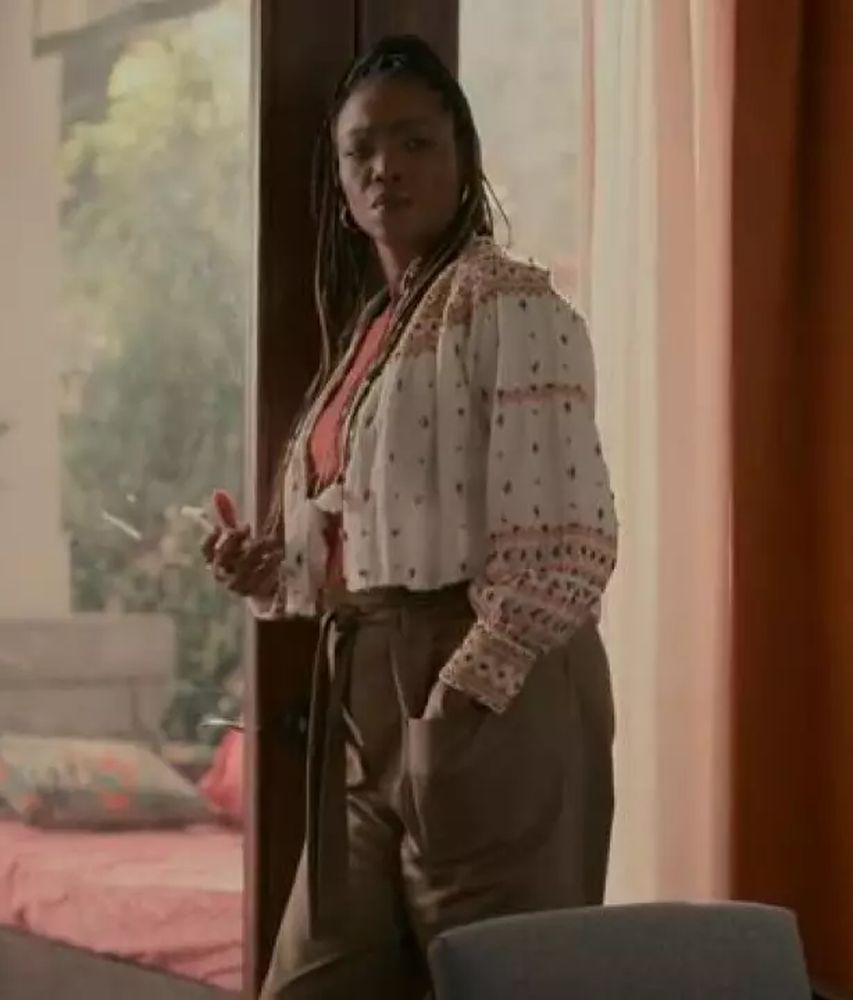 With Sweet Magnolias being set in South Carolina we don't get to see the characters wearing many coats or jackets, and especially not in heavy wintery fabrics. But Helen has found the perfect little summery cover-up in this light weight embroidered linen crop jacket. The simple light pink, orange and brown detailed embroidery standing out beautifully against the stark white of the linen jacket.
Helen's Belted Long Shirtdress Sweet Magnolias Season 3 Outfit
With so much going on in her life, you might start to wonder how Helen always manages to dress so flawlessly.
As well as always looking expertly put together, Helen also manages to pick the perfect bold intricate patterns that speak to her personality. Like this multi pattern paisley print Kobi Halperin midi-dress. With the flattering v-neckline and long sleeves, all in the blue print, for some this dress would overwhelm them but on Helen it looks like it was made for her.
Helen Decatur's Amazing African Print Maxi-Dress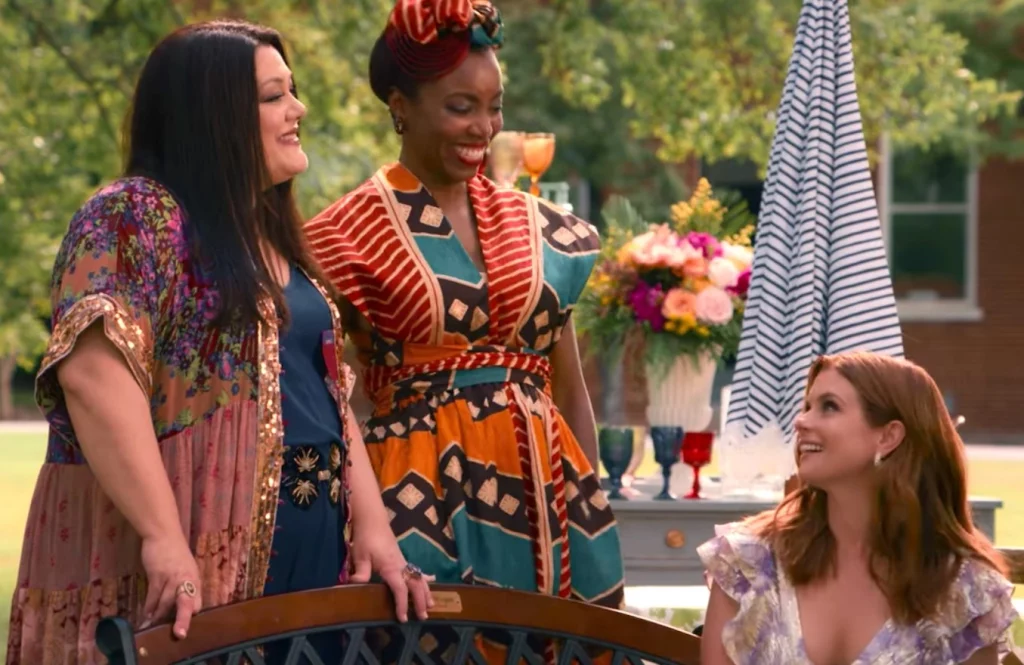 If you ask me Helen had the biggest life, and love, problems coming into season 3, because who really wants to have to choose between two men. It seems fun in principle, but the pressure even got to the unflappable attorney. Then again, who can blame men for falling at her feet, especially when she wears maxi-dresses as striking as this multi-colored African printed one.  
It is hard to choose who to look at first when watching Sweet Magnolias because all three of our leading ladies have the perfect stealable wardrobes. Whether you are more of a soft and neutral floral pattern girl, or a bold and bright eye-catching garment wearer there is something for every fashionista in the Sweet Magnolias season 3 outfits. But remember the show is way more than just fashion, it's about finding your group of best friends that will have your back "forever, and a day."