Steal the Look – Dress Like Love Quinn from You
Add a touch of cinematic magic to your wardrobe with our roundup of daring and hip movie-inspired outfits. We'll show you how to dress like Love Quinn from You with our selection of chic and stylish pieces. Slip them on and step into the spotlight like a star with these iconic looks from You.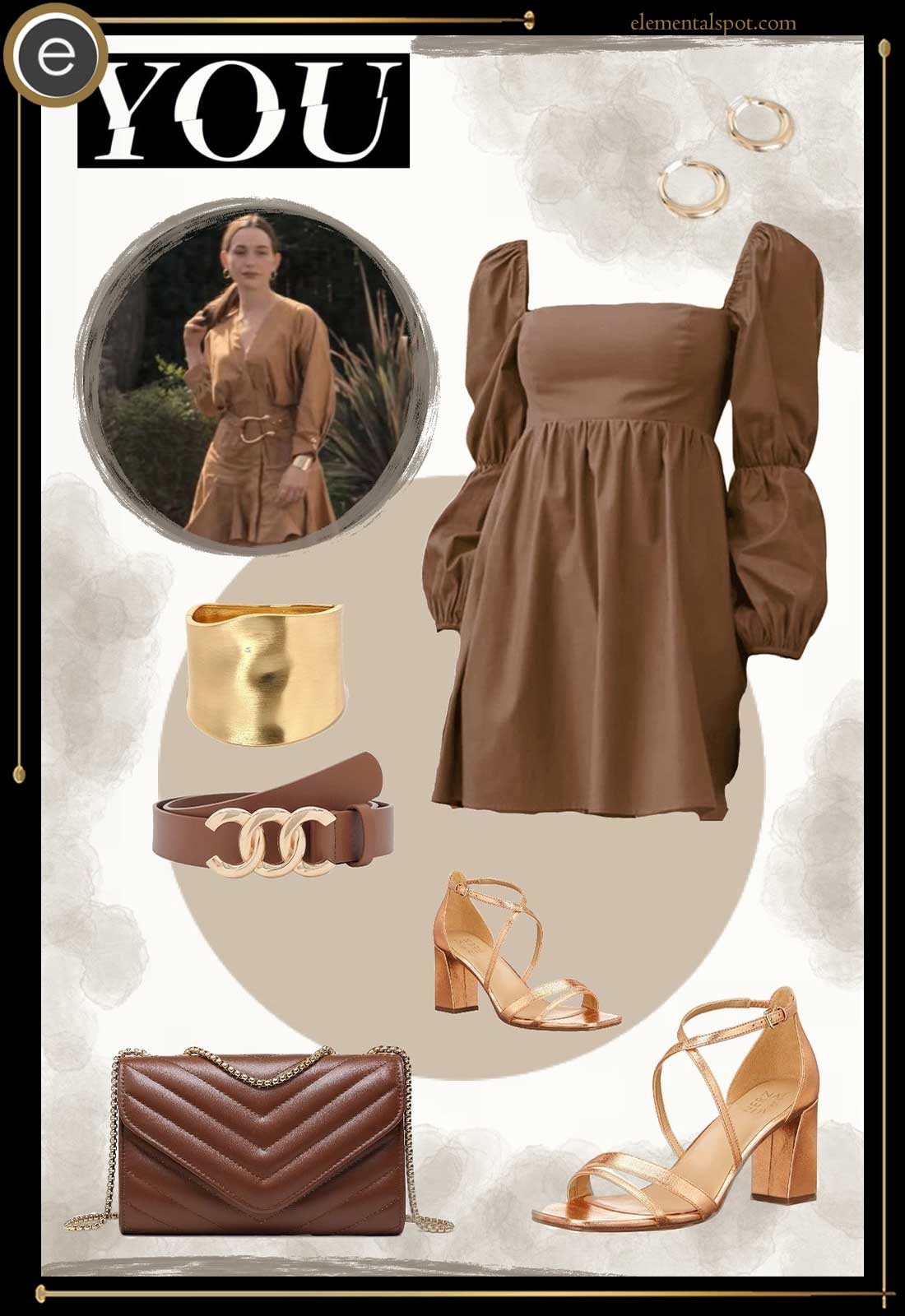 Shopping List for Love Quinn from You Outfit
If you're a fan of twisted minds and mysterious protagonists, the American TV show You (2018–running) might be a great choice for you. We've already talked about Joe Goldberg, the main character of the show, and now we're going to dive into the evil femme fatale, Love Quinn. If you're looking for a Love Quinn costume, you're at the right place! You know who she reminds us of? Jennifer from Jennifer's Body.
Although you might fall in love with the beautiful American actress Victoria Pedretti, don't fall in love with Love Quinn – she should not be messed with, for sure. She belongs to a rich family, but she didn't have a magical childhood because she was abused when she was very young. Would you be surprised to learn that her killing spree started when she wanted to protect her twin brother? Now that you know this, let's surprise you with how earthy and calm her fashion style is.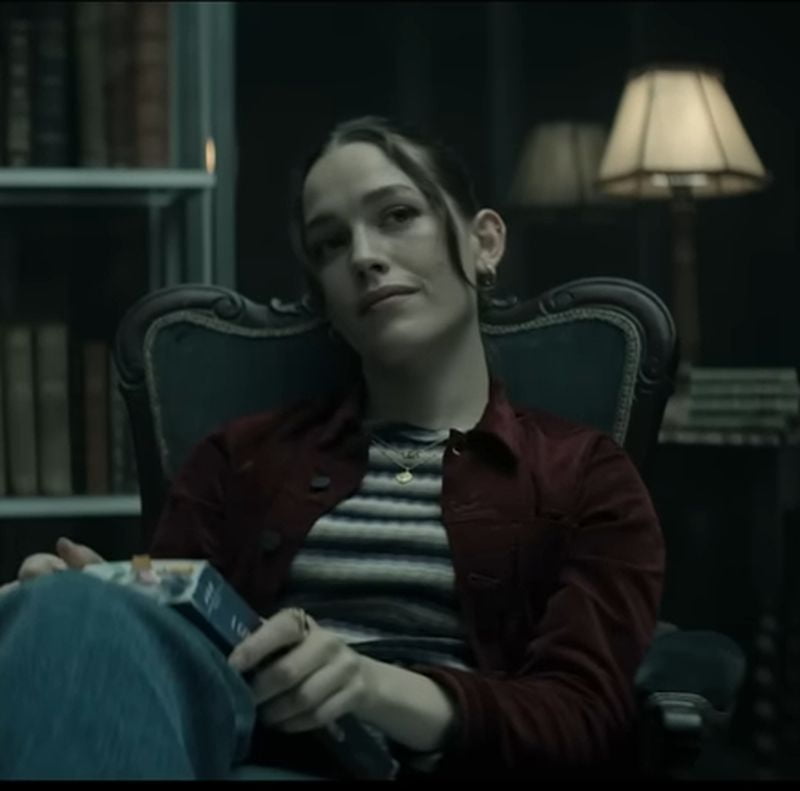 The Earthy, Yet Hellish Love Quinn Costume
Since we wanted our advice regarding a DIY Love Quinn costume to be very precise, we took a deep dive into the fashion world of Love Quinn. Boy, oh boy, were we surprised when we figured out what the costume designers did. If you look at Quinn's style, you will notice that most of her color palette is actually very earthy and calming.
It's feminine, and sometimes even has the element of "the damsel in distress" (especially in outfits with ruffled sleeves and flower dresses). Love is obviously no damsel in distress, and we are not fooled by her beige, golden, white, gray, and olive colored clothes. We are impressed, though, with how feminine and delicate she can look even though she is a serial killer as well as a kidnapper and an abuser. Notice the pattern? We guess that couples really do pair up according to their primary interests.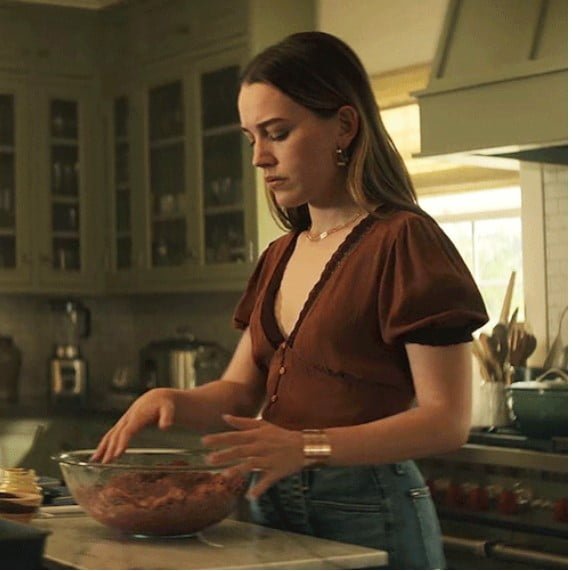 If you're looking to create a Love Quinn costume, go for flowy, ruffled, silky and feminine pieces in earthy colors. She also loves accessories, and her small hoops are probably her favorite piece. Necklaces and rings are a good choice as well, and she mostly opts for golden shades to better pair the jewelry with her clothes. When it comes to patterns, don't go too crazy – delicate flowers and some stripes are the most you can play with.
The other option is to choose a distinctive clothing item, not intended for everyday fashion, but perfect for a costume, such as the A Fresh Tart Bakery Distressed Tee, worn by Love Quinn (Victoria Pedretti), which is a recognizable piece.
Love Quinn's Natural Beauty Look
It almost feels as if the stylists went for an earthy, yet fierce look. Love Quinn is supposed to be a Leo, which further explains why her beauty catches the attention of everyone in the room. Pedretti is a natural beauty that doesn't need much makeup, and it's interesting that she brought her personal makeup artist to the set – Staci Witt was with her for 10 episodes in the year 2021.
So, how do we embrace the Love Quinn makeup look? In some scenes, she is bare faced, while in others, she has a bit of blush, some lip makeup, her brows are filled in, and she has neutral eyeshadow. However, we'd say that most of her signature look is actually just a byproduct of her good skincare routine. You can't fake that glow, can you?
Missing an Outfit Inspo? Submit your idea and we'll make it happen!
Love Quinn's hair is most often worn down or in a low ponytail. We can see she has a few shorter strings of hair at the front, and she very often tucks them behind her ear. It's also pretty commendable how she looks great both with a side part and a middle part, as she alternates them during the show.
The Love Quinn Costume – Hell on Earth
We decided to name this look "hell on Earth" simply because it looks so peaceful that it actually fools you into forgetting that Quinn is a villain. It's an innocent, almost boho-inspired outfit with many accessories, so let's just jump straight into the commentary.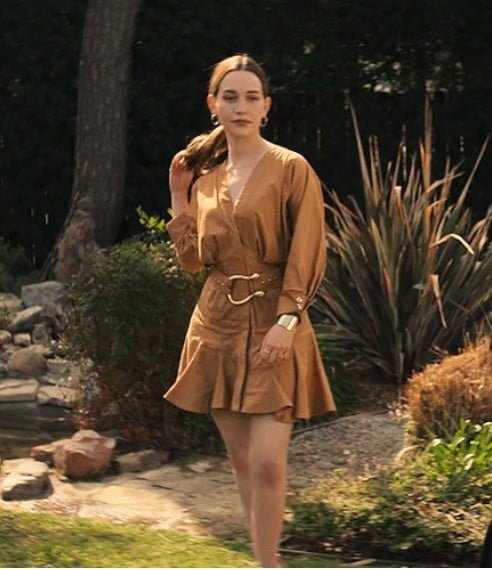 The most popular piece here is definitely the mustard dress by Acler. It's called the Bastor Poplin Mini Dress in Gold, and you can either get the original itself or a budget-friendly alternative that you add a brown belt to. The important part is the ruffled look! She pairs the look with a chunky gold bracelet, as well as her famous small hoops. Optionally, adding a brown bag ties the whole look and makes her seem more put together.
Her sandals are perfect for such a warm day, and don't forget to increase the level of elegance by styling the hair into a low ponytail. This reminds us of the clean girl trend that has been going around for the past few years, mostly inspired by models such as Gigi Hadid.
If you truly want to complete this look properly, we suggest you take a look at the clean girl makeup look. This one is done by Joanna Marie Kutkina.
In the end, we love how this Love Quinn costume actually doesn't reveal much about the character, unlike the costume Mazikeen from Lucifer wears. If you enjoy Love's fashion style, we'd also suggest you check out Laura Baker from All American, which is also a very feminine character that enjoys neutral shades.
Monthly Newsletter
Add some spice to your style with movie set-inspired designs.