Jennifer's Body: Clothes, Outfits, Style, and Looks
Jennifer's Body is a 2009 comedy horror movie that has been resurfacing a decade after it first reached the big screen. Why? The answer is simple – the spectacular Megan Fox and her Jennifer's Body outfits. Although he directed a very unconventional teen movie, Karyn Kusama managed to create an aesthetical masterpiece with the perfect cast in mind.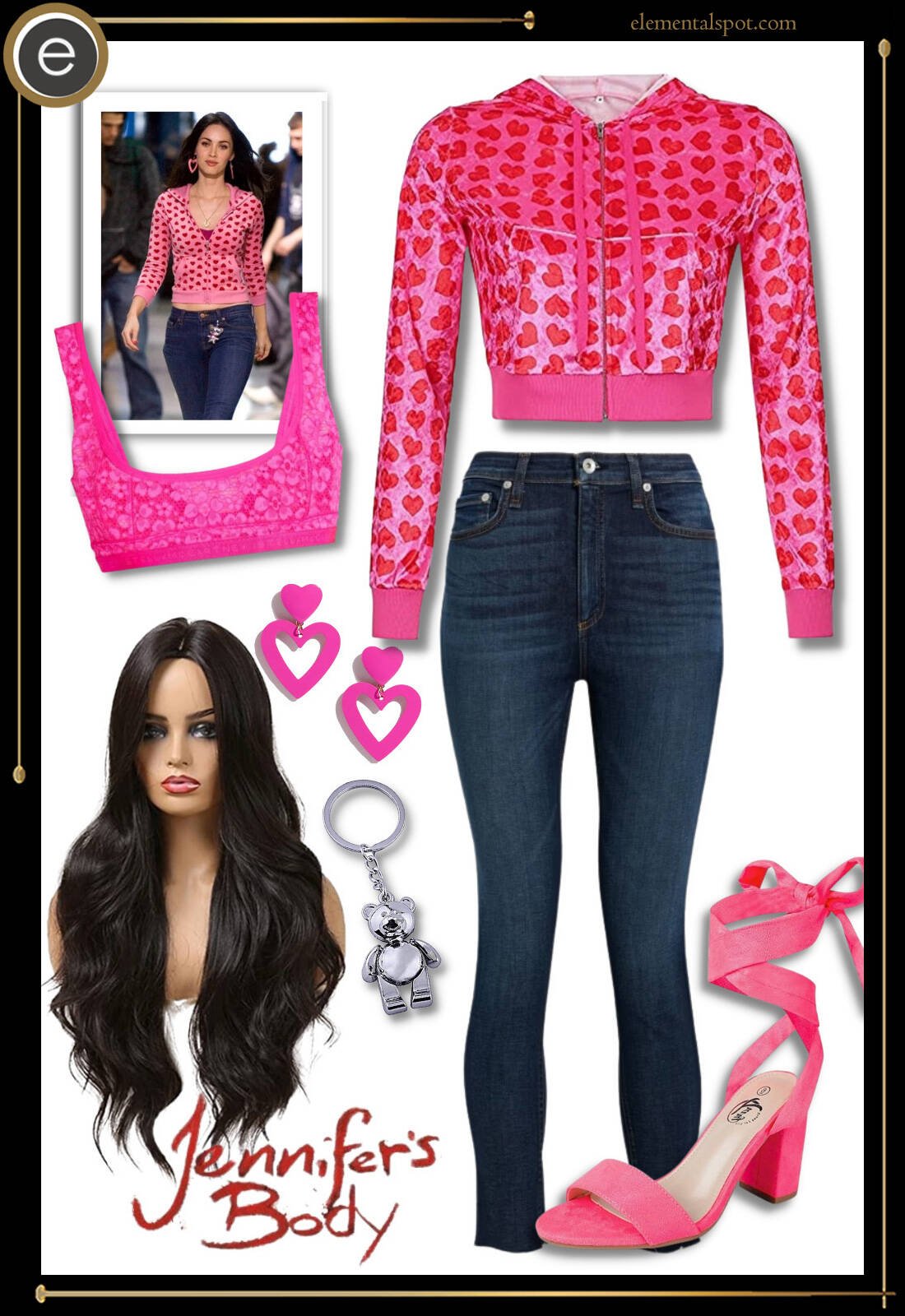 Get!
Get!
Get!
Get!
Get!
Get!
Get!
If you want to get a glimpse into the 2000's girly-girl, pink world, careless aesthetic, just take a look at one of the most famous quotes from the movie's deleted scene (which seems to remain in certain uncut versions of the film).
– You're killing people!
– No, I'm killing boys.

Needy (Amanda Seyfried) confronts Jennifer (Megan Fox).
Jennifer, played by Megan Fox, is a possessed high school student who kills her classmates to feed the demonic entity inside her. If that doesn't sound over-the-top enough, her best friend is a shy, nerdy girl named Anita (nicknamed Needy) who finds out about her friend's intentions and has to stop her.
Although the movie's filled with heinous crimes, no fashion crimes were committed by Katia Stano, the costume designer. Let's take a look.
Jennifer's body famous v-neck white top
As the femme fatale of the movie talks over her 2000s phone, we get a glimpse of her simple, yet very effective show of femininity – the white V-neck top frames the jewelry beautifully. Megan Fox AKA Jennifer is every boy's dream, but nobody knew she would become their biggest nightmare too.
Jennifer's heart pendant
No V-neck top is complete without a beautiful piece of jewelry. The chunky, dangly jewelry that represented the era of the 2000s is a must-have. Hearts, Hello Kitty, and zircons were the holy trinity of accessories in this cheeky style world.
Yellow striped jacket from Jennifer's body
Many of Jennifer's outfits were youthful, colorful, and kitschy. Low-rise jeans and striped patterns dominate most scenes, which is why I kept searching for the fabulous white & yellow jacket from Jennifer's Body. While it might not be currently available, it's an item so vintage you can only find it on Poshmark.
Jennifer's body gap pink sweatshirt with hearts
Finally, the most iconic (if we're staying true to the 2000s lingo) piece in the movie – the pink zip-up sweater Jennifer wears to high school. The red hearts, the velour, the belly button showing… It all just screams 2000s high school sweetheart.
The interesting story behind the zip-up, told by Stano, reveals that she went to Gap to search for clothing pieces for the movie, and then found this jacket in the kid's section. Well, now we know why it's so short! This vintage piece has been sold for thousands of dollars, which is why people have gotten crafty with pink sweatshirts and red sharpies.
High school cheerleader Jennifer's body outfit
Everyone knows that beautiful high school heartbreakers have to be cheerleaders as well, and Jennifer Check was no exception. Well, she was a cheerleader when she had the time and wasn't out there murdering boys.
The famous purple & yellow mini-skirt and sweatshirt have been recreated many times, but the initials on the outfit don't stand for Langley Secondary School in Langley or the University Hill Secondary School in Vancouver – these are the locations where the movie was shot.
white puffer jacket from Jennifer's body
When Jennifer and her best friend Needy go to a nearby concert by a not-so-popular band, things take a pretty bad turn… For the band members. However, we're sure they didn't see it coming as they asked the pretty, smiling dark haired beauty in a simple, white puffer jacket to enter their van.
This simple look accentuates Megan Fox's beauty, but don't be fooled – the movie's tagline is "She's evil… And not just high school evil."
THE FAMOUS PINK VELVET SWEATPANTS FROM JENNIFER'S BODY
Every 2000s star had to be seen in velvety sweatpants at some point, and Jennifer wears her dusty pink model without the matching top. The luxurious, yet casual look these give has inspired girls all over the world – even a decade after the movie was released.
Jennifer's Body is the perfect example of how different the protagonist's inner motives and outer appearance can be. Who would believe that a merciless murderer wears candy-colored cardigans and mini skirts as she walks down the high school hallway and flirts her way to her next bloody meal?
The iconic Jennifer's Body outfits will remain a vintage highlight of many girls' wishlists.