Steal the Look – Dress Like Carly Shay from Icarly
Add a touch of cinematic magic to your wardrobe with our roundup of daring and hip movie-inspired outfits. We'll show you how to dress like Carly Shay from Icarly with our selection of chic and stylish pieces. Slip them on and step into the spotlight like a star with these iconic looks from Icarly.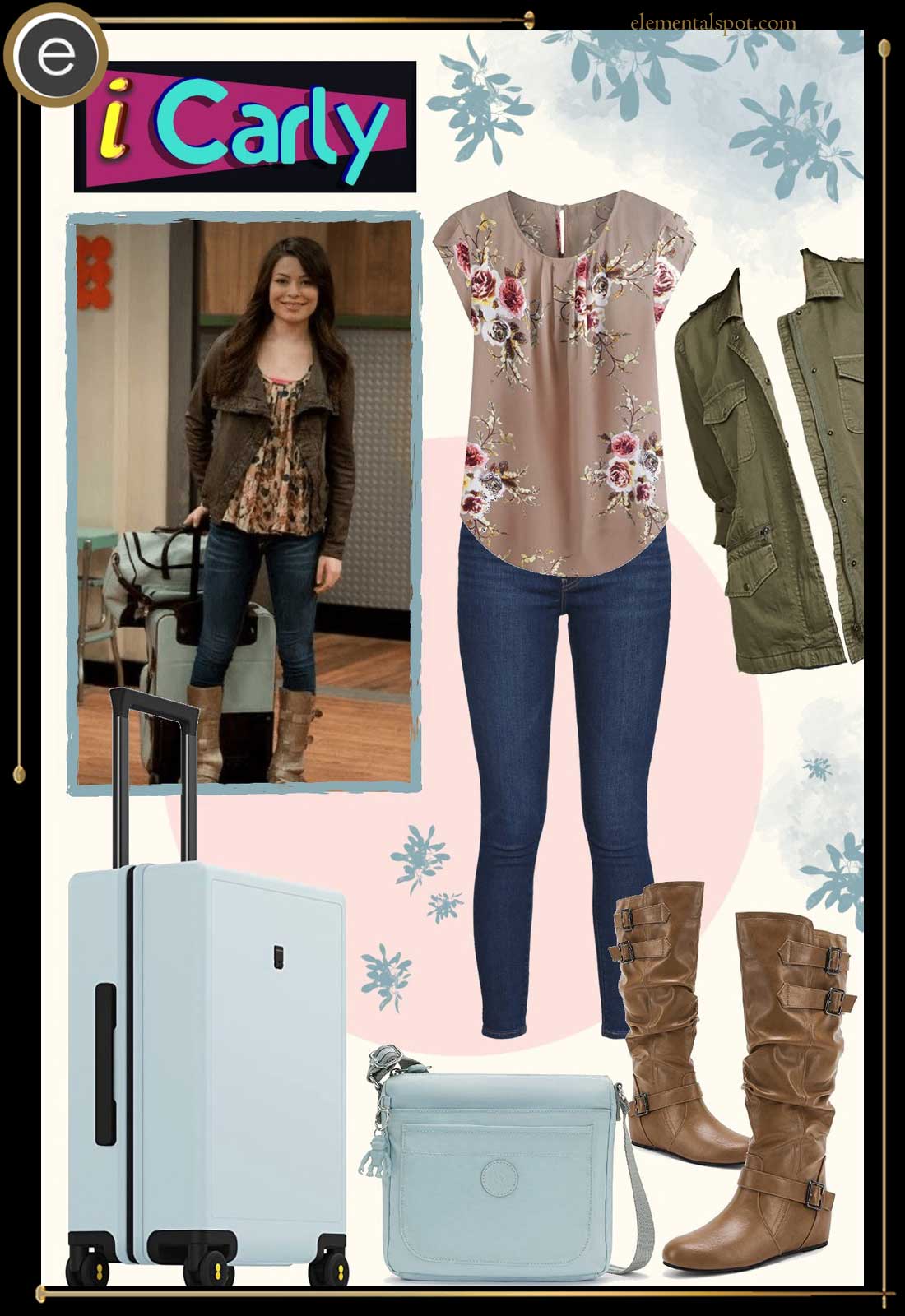 Shopping List for Carly Shay from Icarly Outfit
If you're a teenager, you must remember all the quirky jokes from ICarly, and if you're a bit older, well – we know you remember some iconic Carly Shay outfits. Those who used to spend their afternoons watching Nickelodeon are already familiar with Dan Schneider's most famous creation, the teen sitcom ICarly (2007–2012).
What is ICarly about?
Miranda Cosgrove, now famous for playing Carly Shay, lives with her brother Spencer who simply cannot keep a job, but he's hilarious, so we forgive him. Carly spends most of her days hanging out with her almost always hungry friend Sam, who is played by Jennette McCurdy. They are accompanied by Freddie, portrayed by Nathan Kress, who is both a friend and a producer for their web show!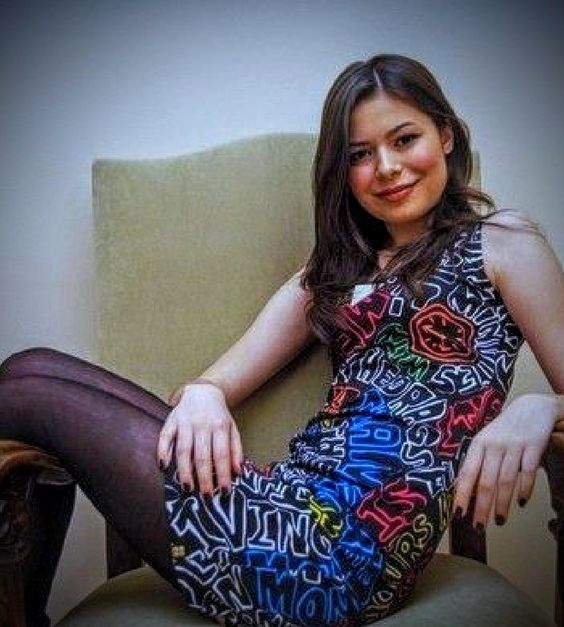 Well, the group comes up with new ideas in almost every episode, and most of them are all about problem-solving, dancing, cooking, as well as testing the duo in random talents. However, today we're focusing on Carly's fashion – let's see how well we can get to know her through the work of Kris Dangl, the costume designer.
How To Dress Like Carly Shay from ICarly?
We have to admit that Carly is a great example of the 2000s fashion world. She is all about layering clothes, combining several shades of denim, wearing leather jackets, and pairing up boots with almost everything. While some would say that her style is pretty tacky, others agree that it is a great way to represent the youth.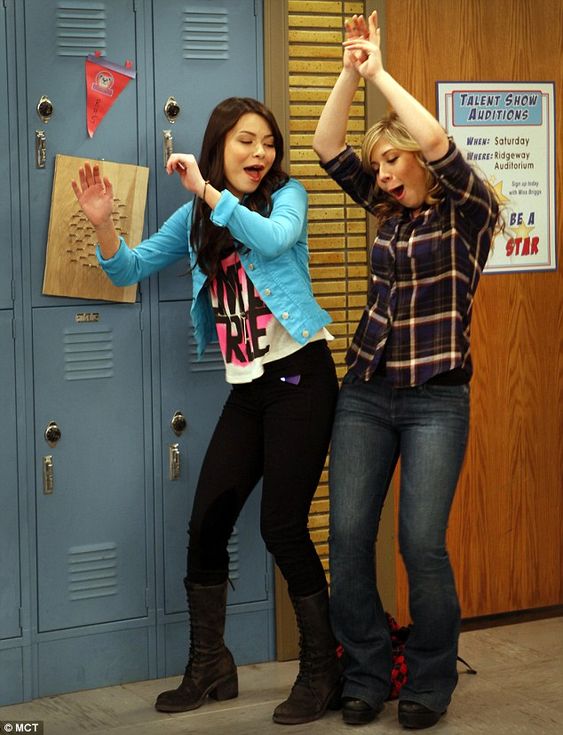 While her friend Sam was always a bit of a tomboy, Carly doesn't shy away from some girly combinations.
She also often wears layered necklaces, as well as leather belts – some say she even looks cowgirl-inspired in many episodes! We'd rather describe her as girls, yet modest! Dangl, the costume designer, decided to let Carly truly be a young, playful teenager, instead of pressuring her to look all grown up.
Carly wears both skirts and pants, and she truly, truly loves denim. Not only does she wear jeans, but she also loves denim skirts and wears them combined with long, layered blouses.
It's interesting that most of her shoes are either sneakers or boots – high boots specifically. We'd say that she often combines playful and cheerful clothes with pretty plain and chunky boots.
Missing an Outfit Inspo? Submit your idea and we'll make it happen!
Carly Shay's Hair, Makeup and Accessories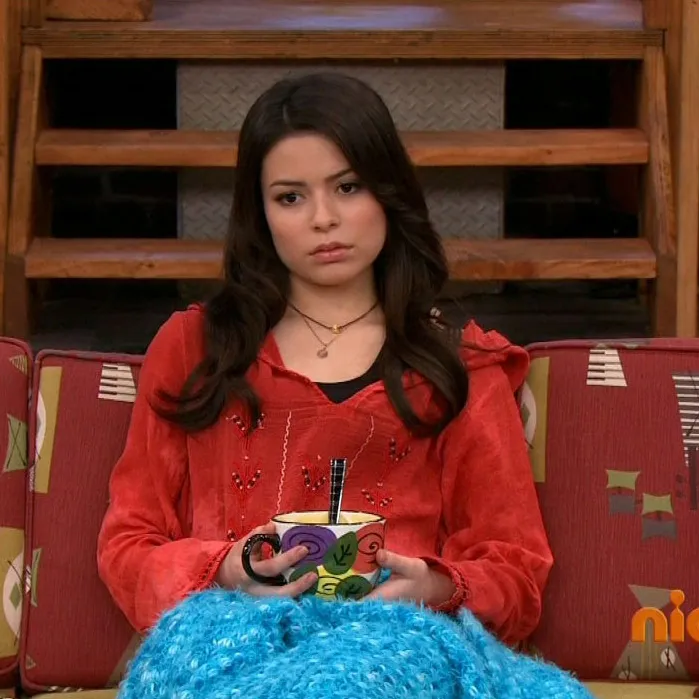 Carly Shay's outfits would not be as iconic as they are without her long, black hair with a fringe. She very rarely wears her hair up, and most of the time she just styles her fringe a bit differently. She wears little to no makeup, and we would most definitely say her looks fall into the "no makeup-makeup" category.
You really don't have much to experiment with when it comes to her hairstyles and her makeup, but you can most definitely play around with some accessories.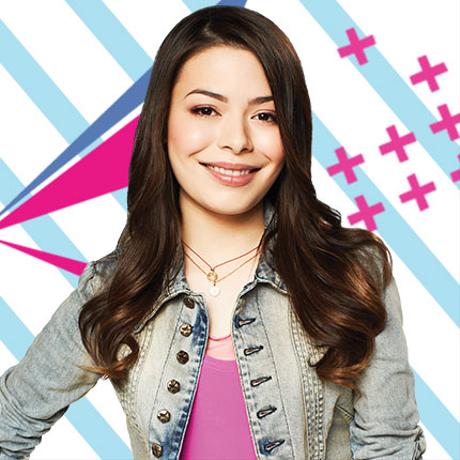 Like most kids back in the day, Carly Shay wears layered necklaces, many chunky bracelets, as well as scarfs. She very rarely puts on earrings, so make sure to focus on the above-mentioned.
Steal The Look – Dress Like Carly Shay from ICarly
We focused on one of Carly's more mature looks today, but you can always check the show out for some playful choices!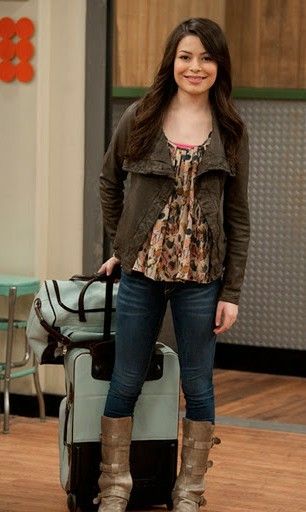 In this look, Carly is travel-ready, and it's not only the turquoise luggage that gives it away. As always, she has some jeans on, and since it was the 2000s, you already know we're talking about skinny jeans. 
She wears a floral, flowy blouse that she covered with a brownish jacket – some would surely argue it looks a bit more olive than brown. And, of course, she is wearing boots. We already mentioned that these are a must-have in her closet, and we truly wonder how many pairs she's got.
The high, brown boots have buckles on them, which looks (and probably sounds) adventurous.
Once again, she has minimal makeup, and she styled her fringe in a way that it covers the left part of her face – make sure not to get it the other way around, because you won't be able to create true I Carly outfits in that case. Overall, the turquoise bag and luggage are the only pieces that might be considered youthful, while other aspects of the outfit seem to represent how mature Carly became through the show.
Whether you choose one of the early day outfits presented while Miranda Cosgrove was still young or those that show how she matured as the show became more popular, we're sure you'll find the right Carly Shay outfits for your wardrobe. And if you don't, well – leave it all to me (us).
iCarly vs. Emily in Paris fashion and style
The TV series "iCarly" was well received by audiences and critics and aired on Nickelodeon from 2007 to 2012. It was a popular show among preteens and teenagers during its run. So the girls who watched "iCarly" when it aired are now in the age range to watch "Emily in Paris", This Netflix original series is very popular mainly because of its fashion, style, and clothing.
It is difficult to compare the popularity of the two series because they are from different times and platforms. Carly Shay's fashion style in "iCarly" is more casual and typical of an American teenager, while Emily Cooper's fashion style in "Emily in Paris" is more trendy and classy, reflecting her job in the fashion industry. Still, even though you like Carly's nonchalance, it's recommended to take a look at some of Emily's outfits, for example, this one with a plaid jacket and jeans. You can mix and match Carly's 2000s style with Emily's sophisticated fashion and find a unique signature style.
Monthly Newsletter
Add some spice to your style with movie set-inspired designs.