Steal the Look – Dress Like Alexa from Alexa and Katie
Add a touch of cinematic magic to your wardrobe with our roundup of daring and hip movie-inspired outfits. We'll show you how to dress like Alexa from Alexa and Katie with our selection of chic and stylish pieces. Slip them on and step into the spotlight like a star with these iconic looks from Alexa and Katie.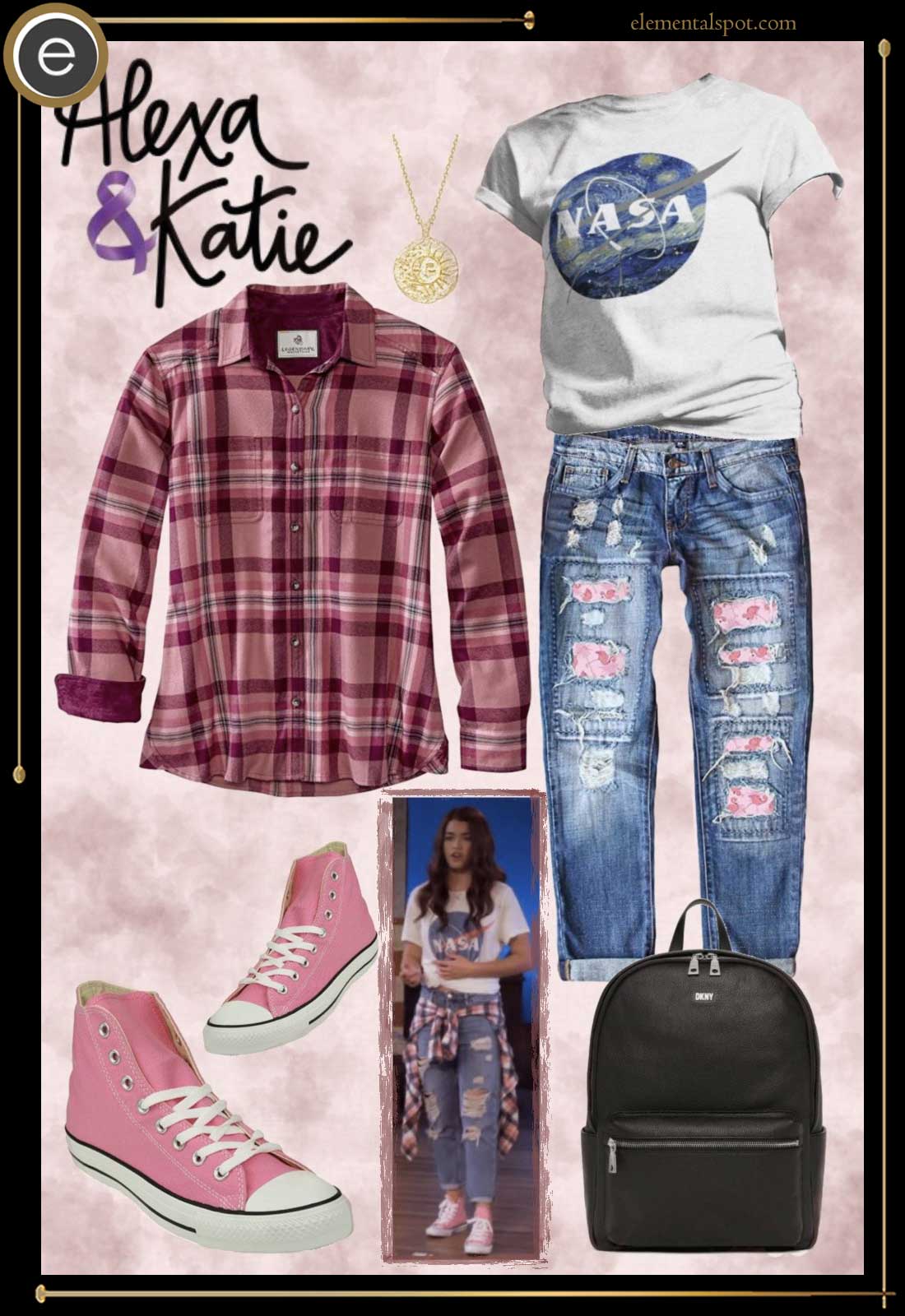 Shopping List for Alexa from Alexa and Katie Outfit
Teenage Netflix shows often have a similar premise, but Alexa & Katie (2018-2020) is truly a breath of air. We can thank Heather Wordham for this amazing, inspiring and motivational story about two best friends who struggle with life problems together. If you love heartwarming stories or if you have a kid who struggles with friendships, this would most definitely be a good choice. Well, if you are simply interested in Alexa and Katie outfits, that does the trick as well.
In the trailer, you can get a glimpse at our two favorite characteristics of the show: the beautiful friendship between the protagonists, as well as some great Alexa and Katie outfits. Netflix.
So, who are Alexa and Katie? Alexa is a young girl who gets diagnosed with leukemia just as she becomes a high school freshman. Talk about a twist in a teenage series, right? Don't worry, all turns out well as her best friend Katie, who is a literal piece of sunshine, is by her side to support her through the whole process. We love how the TV producers didn't make Alexa's character simply focus on the illness, so we won't do that either. Let's check out her style!
Alexa's Fashionable Teenage Dirtbag Style
While Katie is the more feminine out of the two, we'd most definitely say that Alexa is more expressive. Paris Mary Josephine Berelc became more noticeable in the industry thanks to this show, which was one of her first notable roles ever. Through four seasons of the show and many adventures, we went through a lot with Alexa – she shaved her head, dated the smart mathlete called Dylan, pranked almost everyone in the show…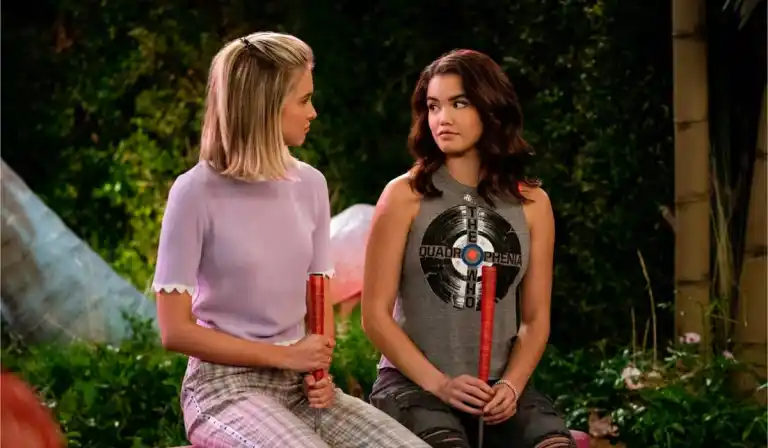 However, we were most excited to take a better look at her style! Although she can sometimes dress up for special occasions, Alexa mostly has the teenage dirtbag look going on. Well, she isn't really messy, but she mostly looks casual and a bit hipsterish. We all know how often teenagers switch up their styles, so we get to see Alexa in various colors, patterns, mostly with no accessories.
If you want to achieve a more retro look, you should take a look at this purple Champion sweatshirt. It's such a statement, right? Netflix.
Although she grows out her hair later in the show, we could say that her beanie was a pretty memorable fashion piece too! Alexa loves tank tops, ripped jeans, sporty jackets, plaid shirts, baggy clothes and simple sneakers. We love how the costume designer on the show, Dahlia Foroutan, did not force grown-up fashion onto the characters. She let them be teenagers who enjoy bright colors, switch up their style and wear denim a lot!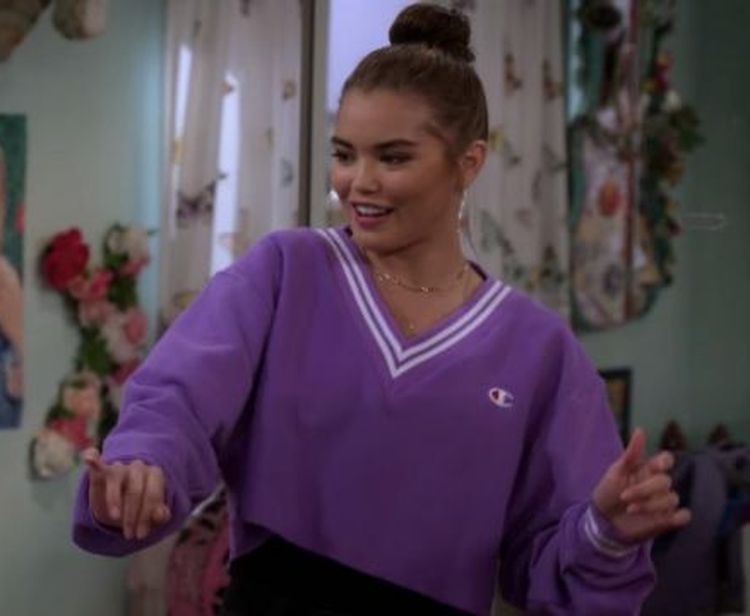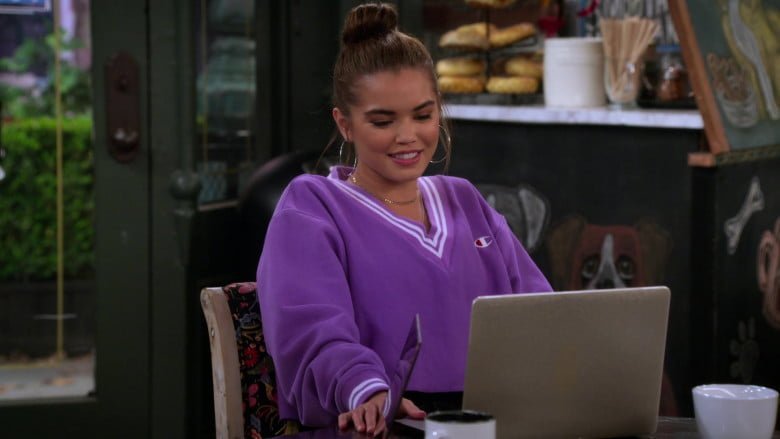 One of the most famous pieces of clothes on the set was this funky purple Champion sweatshirt, which appears later on in the show. It's quite sad that nowadays you can only find it on eBay and in second hand stores. You can always guess the show season by how long Alexa's hair gets as she heals, as well as by the amount of accessories – only later in the show does she start to wear simple necklaces and earrings to show off her mature look. We've already seen how to steal Katie's look, and as we compare the girls, it's obvious that the producer didn't try to make them too similar.
Missing an Outfit Inspo? Submit your idea and we'll make it happen!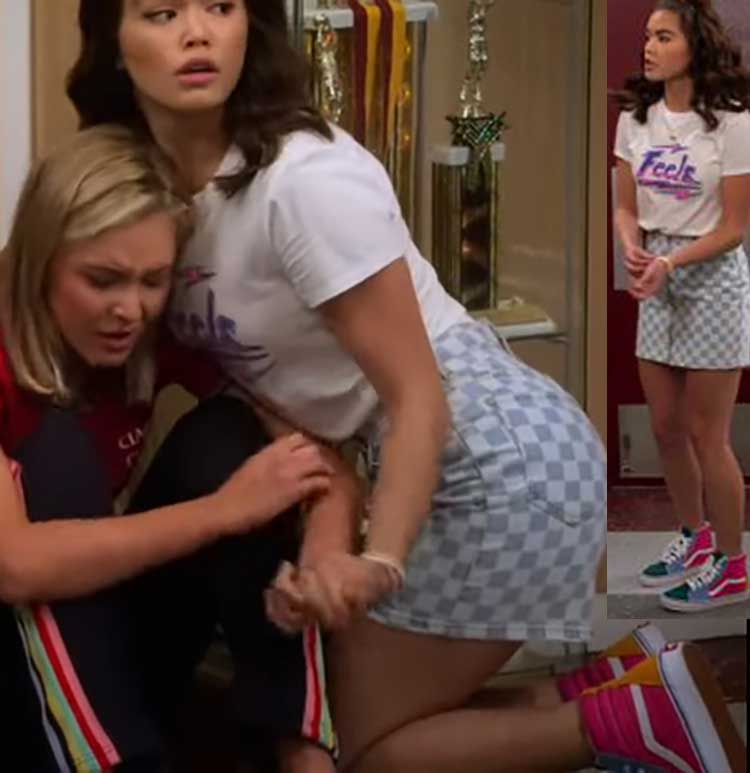 Alexa's Hair and Makeup Evolution in Alexa And Katie
When Alexa has to buzz her hair in the beginning of the show, she felt devastated. However, her best friend Katie buzzed her hair too, which was absolutely hilarious. The teenage characters of this TV show have very little to no makeup, which is something many parents found to be a positive influence.
Paris Berelc is so cool and down to earth, right?
If you look at this Netflix After School special with Paris Berelc, you can actually see that this no-makeup makeup look is something that she embraces in real life as well. The actress is absolutely beautiful, and we love how a little blush, some highlighter, a bit of mascara and a lip gloss can accentuate her natural look. This is mostly what happens in the show too – in the beginning, there is almost no makeup, and as we progress, we introduce some very light products.
Follow this easy tutorial on the YouTube channel Byrdie to channel your high school look. This is truly an evergeen hairstyle.
Her hair almost becomes a statement later on in the show. She wears it in various styles, so we can see her with a half-up half-down look, a ponytail, a bob, as well as a high bun. We are now sharing with you a tutorial for a signature look Alexa wears later on in the show, once her luscious brown hair grows out.
Alexa And Katie Outfits – The NASA Look
Finally, let's dive into one of the most signature Alexa and Katie outfits – the NASA look! This is a look from season 1, episode 7, which is all about a school play that the friends take part in. Alexa wears a simple look that can be described as a very teenage one, but also with a hint of the hipster lifestyle!
The center of the look is the NASA white T-shirt paired with ripped and cuffed jeans. This is a great pro-tip – if you ever wear jeans and want to channel a more teenage look, always cuff the jeans! The shirt is paired with a plaid, pink shirt that you can either wear over the T-shirt or wrap it around your hips like Alexa does.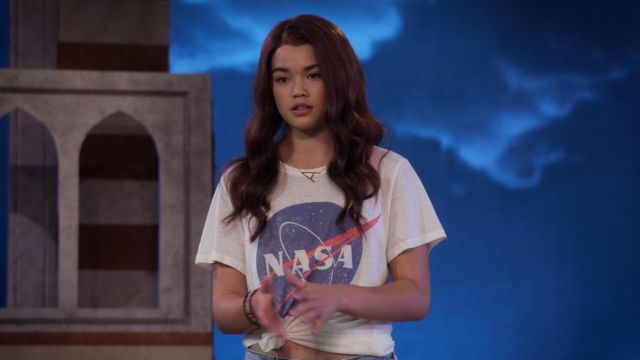 The pink converse match the shirt, and you can always add a backpack to fit in with the other students. We love Alexa's hair here, as she wears her luscious hair slightly wavy – you can achieve this look easily with a curling iron that has parts with a wide diameter.
Our favorite thing about Alexa and Katie outfits is the fact that these are typical teenager vibes. Many other TV shows make teenagers much more provocative, so we end up with characters such as Maeve Wiley from Sex Education. Don't get us wrong – we love Maeve, but we enjoy variety as well! Which look is your favorite, the classic or the promiscuous one?
Monthly Newsletter
Add some spice to your style with movie set-inspired designs.