Steal the Look – Dress Like Katie from Alexa and Katie
Add a touch of cinematic magic to your wardrobe with our roundup of daring and hip movie-inspired outfits. We'll show you how to dress like Katie from Alexa and Katie with our selection of chic and stylish pieces. Slip them on and step into the spotlight like a star with these iconic looks from Alexa and Katie.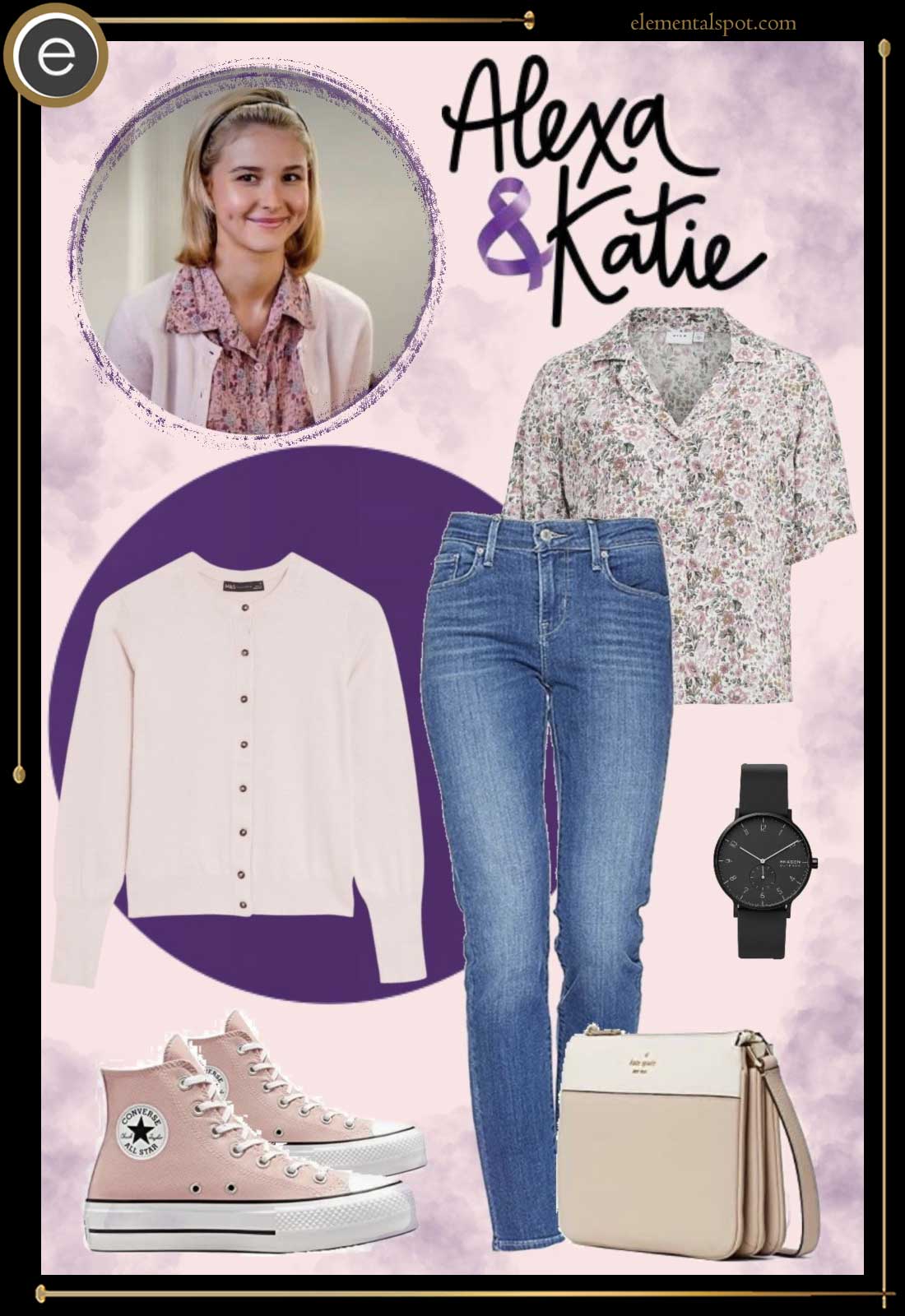 Shopping List for Katie from Alexa and Katie Outfit
If you're looking for a teenage Netflix sitcom with an unconventional twist, Alexa & Katie (2018-2020) is a great choice. You might feel like the portrayed story of two best friends and their high school struggles feels familiar, and that could be due to the fact that Heather Wordham, the director of the show, also worked on the phenomenal teen show Hannah Montana (2006).
Today we talk about the great Alexa and Katie outfits or, to be precise, the Katie from Alexa and Katie outfits. We talk about Alexa in another post. Alexa and Katie have been best friends for a long time, and they're currently entering a new stage in their lives and becoming freshmen in high school.
Alexa and Katie are best friends for a reason – they simply understand each other so well! We love their dynamic and the connection they have while enjoying all these quirky moments. Netflix.
We know what you're thinking – this is just another show about high school best friends who talk about boys and deal with friend group drama… Well, although there are some classic teenage moments in the show, the duo actually deals with a much more serious topic, cancer. Alexa is diagnosed with leukemia, and Katie is her biggest support in the process.
How To Dress Like Katie from Alexa And Katie?
Isabel May plays Katie Cooper, and she does a great job at being a true ray of sunshine. She is warm, supportive, and very bold – would your best friend shave their head because you had to? She is loyal, wholesome, and always tries to look at things from a bright side. Although she always puts other people in front of her own needs, the friendship our protagonists have nurtures both characters.
So, how does such a warm and bubbly person dress? Exactly the way you would imagine. She is most often dressed in warm and bright tones, and her blonde hair with a subtle balayage really frames her smile well. She is pretty girly, but still very playful and not the classic "mean pretty girl" you might have been expecting.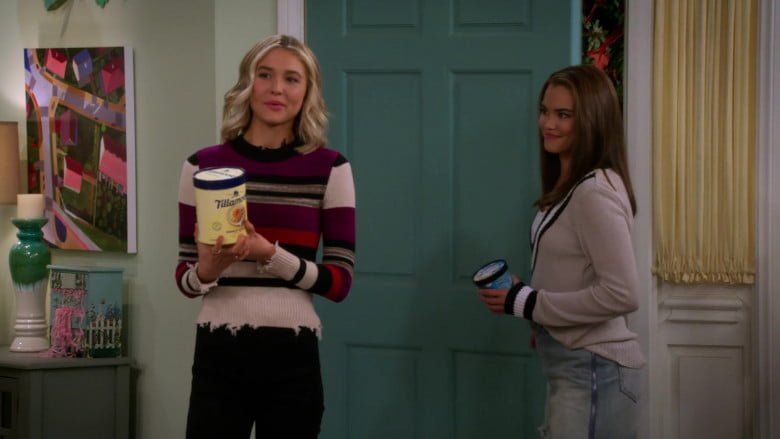 White, pink, yellow, baby blue, and lilac are her colors. She loves cotton, denim, as well as wool – it all makes so much sense, since she gives the fuzzy and warm feeling from the start! She doesn't shy away from classic, graphic t-shirts, as well as patterns on her sweaters and her shirts. Stripes, hearts, dots and stars are all a wonderful choice.
Missing an Outfit Inspo? Submit your idea and we'll make it happen!
If you decide to dress like Katie, don't overdo it. Katie is dressed casually most of the time, and although you might notice some layers and color-coordinating, you really don't have to think about any fashion rules in this case. When it comes to shoes, Converse and Vans models are an evergreen choice for teens.
Katie's Hair And Makeup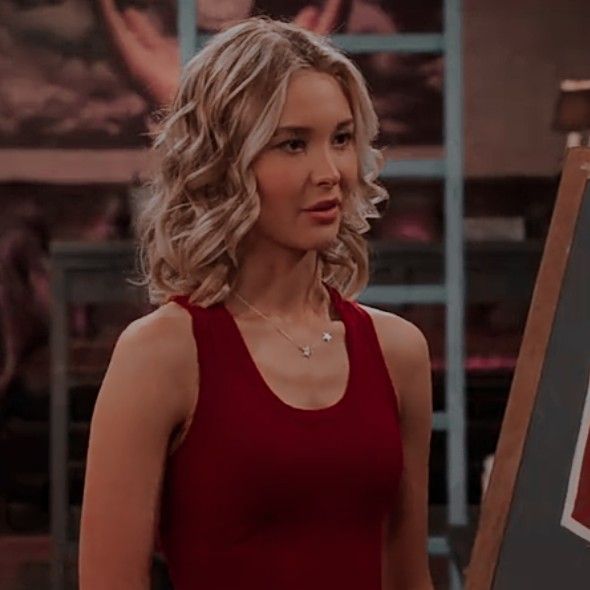 Most characters in Alexa & Katie remain true to their teenage looks – we don't see any glamorous makeup, and most of the looks are no-makeup makeup looks. Although Katie doesn't experiment much with makeup, we can see several iconic hair looks on her… The most iconic one is the bald look, obviously, but we also like her long straight hair, her wavy shoulder-length hair and her casual updos with curtain bangs.
We like how the show creators followed trends amongst the youth and decided to give the hair stylists more room to work with and recreate some of the trending, popular looks such as the bleached curtain bang and the stylish fades on the boys.
Alexa and Katie Outfits: STEALING Katie'S LOOK
We decided to share with you a very classic look from Alexa and Katie, one where you can really see how mellow and innocent Katie's character was in the first season. She remained a bubbly, warm personality, but life taught her a few lessons along the way. This outfit involves a bit of layering, but it's still pretty simple.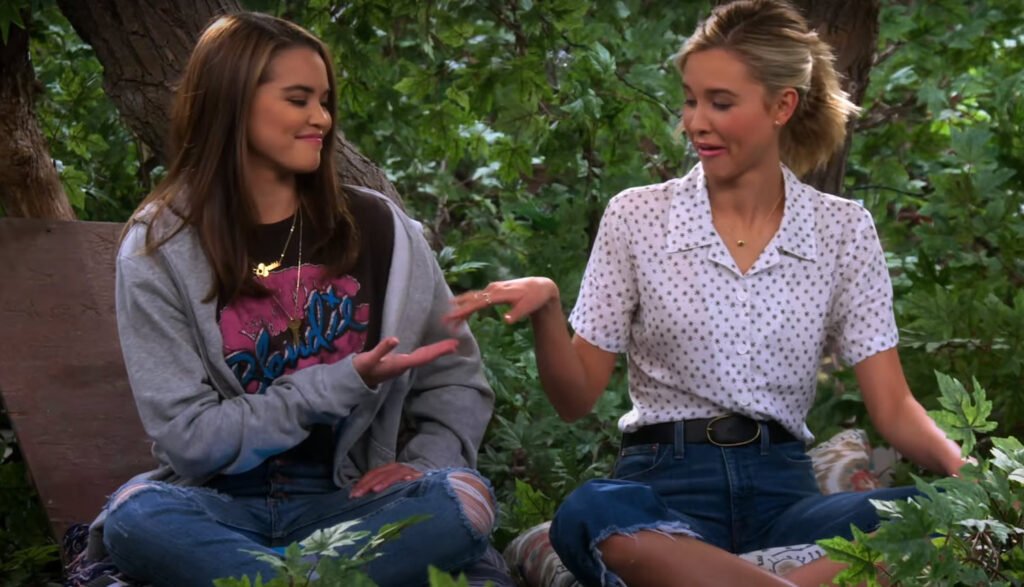 Some people have described Katie's outfits in the first season as grandma-inspired, but we love how her style matches her famous sayings such as "I'm a straight-A gettin' coffee makin' rock star" and "the last custom-made thing I had was my retainer". She is just so quirky and simple. In this outfit, she wears a floral blouse covered with a light pink cardigan. She puts on a pair of simple skinny jeans, a black watch, and naturally, some pink Converse All-Star sneakers.
Just like any teenager wearing a cardigan, she's got a cute cross-body bag, and a headband holding her hair back. We love it! It's simple, can easily be redone in many colors, but it feels like a true tween outfit. How are you liking our Alexa and Katie outfits so far?
Monthly Newsletter
Add some spice to your style with movie set-inspired designs.