Steal the Look – Dress Like Fiona Gallagher from Shameless
Add a touch of cinematic magic to your wardrobe with our roundup of daring and hip movie-inspired outfits. We'll show you how to dress like Fiona Gallagher from Shameless with our selection of chic and stylish pieces. Slip them on and step into the spotlight like a star with these iconic looks from Shameless.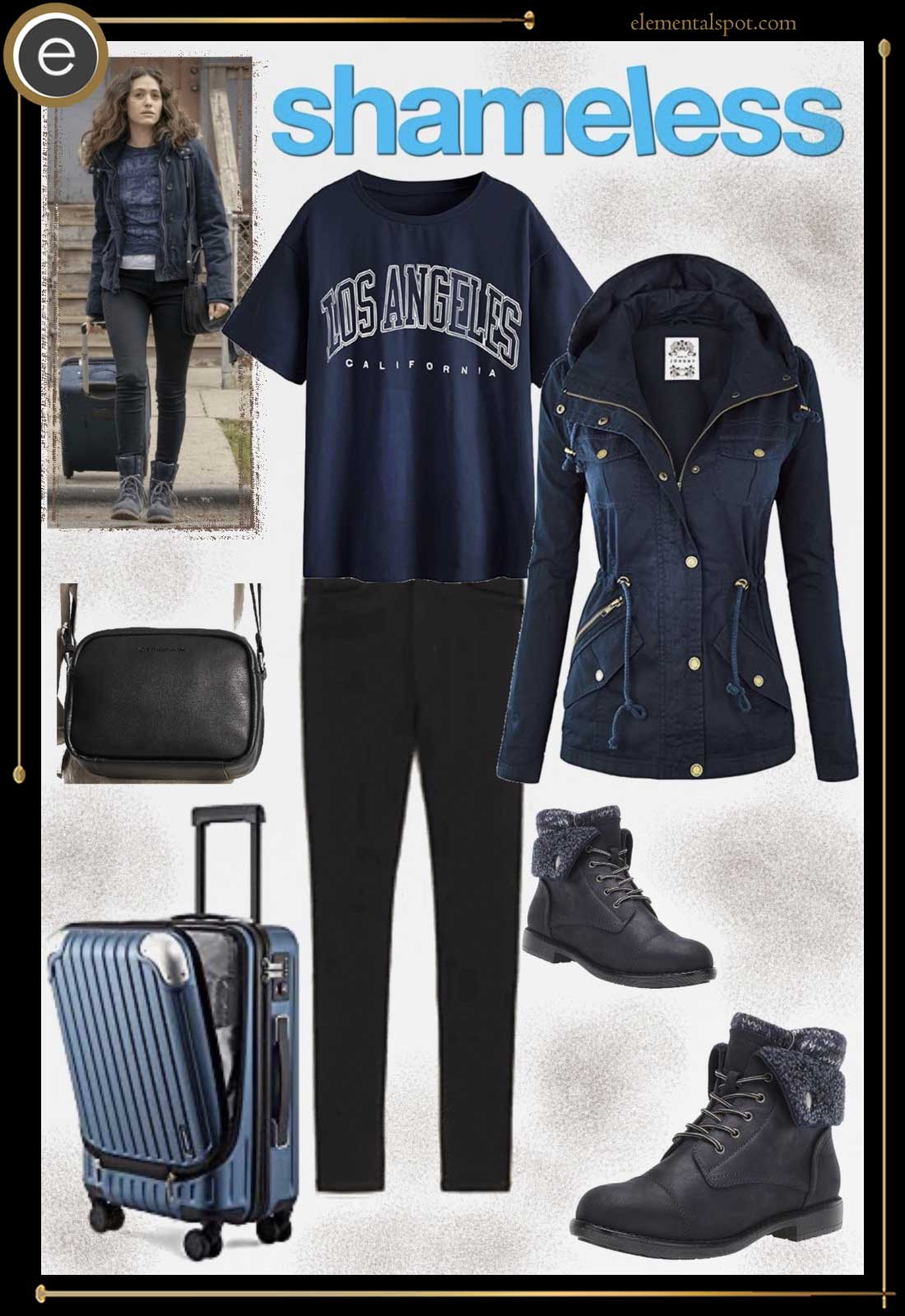 Shopping List for Fiona Gallagher from Shameless Outfit
If you're looking for a TV show that will make you laugh, and then make you cry (not necessarily in that order), Shameless (2011-2021) is a fantastic choice. This American TV series follows the Gallaghers, a family dealing with alcoholism, mental issues, poverty and many more problems. It's an educational choice and you'll for sure learn some lessons throughout the show, but today we keep it lighthearted and look into our favorite Fiona Gallagher outfits.
If you want to get to know Fiona before we start talking about her outfits, we suggest you take a look at this fan-made edit that describes Fiona Gallagher from Shameless perfectly.
How to Create the Messy Fiona Gallagher Outfits
Fiona Monica Gallagher, portrayed by Emmy Rossum, is a character with many troublesome duties. Due to both physical and mental absence of her parents, Fiona has to take care of all her siblings. As if this wasn't hard enough already, she also has to patch her family up whenever they run into issues with the law. She does look like someone you wouldn't want to mess with, right?
Her fashion style might not look interesting to some, while to others it represents a great story. She often wears hand-me-downs or ripped and tomboyish clothes in muted colors, which immediately lets us know that Fiona does not have too much time to take care of her own life. None of the Fiona Gallagher outfits are really well thought through, and she rarely looks well put together – it's just the reality of the life she's living.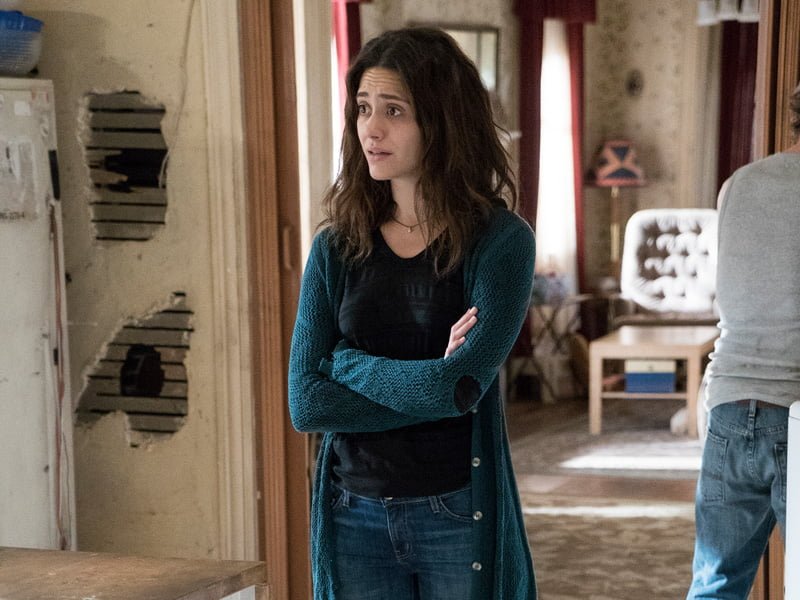 If you want to represent her style, go for clothes which show no signs of femininity. She likes the colors black, gray, olive, navy, and sometimes beige – just don't be too cheery, that's all.
Fiona Gallagher Is A Natural & Messy Beauty
We are all aware that one cannot just take care of everything all of the time without having some fun occasionally, right? Sadly, Fiona often chooses to have fun by engaging in promiscuous encounters, alcoholism, and sometimes even opiates consummation. However, Fiona is resourceful, and she's learned to use her beautiful olive skin, and her symmetrical face to sometimes get what she wants.
We'd say the most memorable part of her look is her luscious hair. She most often wears it down or in a medium-high ponytail with a few loose strands in the front. It's interesting how, although it's sometimes all knotted up, her hair seems to be her signature trait – it's untamed and messy, just like she is. Fiona almost never wears any make-up, since she has very little time to engage in self-care.
Accessories Inspired by Fiona Gallagher from Shameless
Although at first you might think that Fiona barely wears any accessories, it's also very important to look really closely into her growth. As she gets her life together piece by piece, she starts wearing her famous small hoops. Besides them, she never wears any jewelry or accessories, so we think this is a really great addition by the costume designers.
Missing an Outfit Inspo? Submit your idea and we'll make it happen!
Our Favorite Fiona Gallagher Outfit from Shameless
We actually really enjoy Fiona Gallagher's simple style because it seems very sustainable and realistic! Our favorite outfit of hers is just a really plain, navy outfit that is suitable for so many different occasions. She paired a graphic, navy t-shirt with some simple black jeans nd black mountain boots. Not really the girliest outfit ever, right?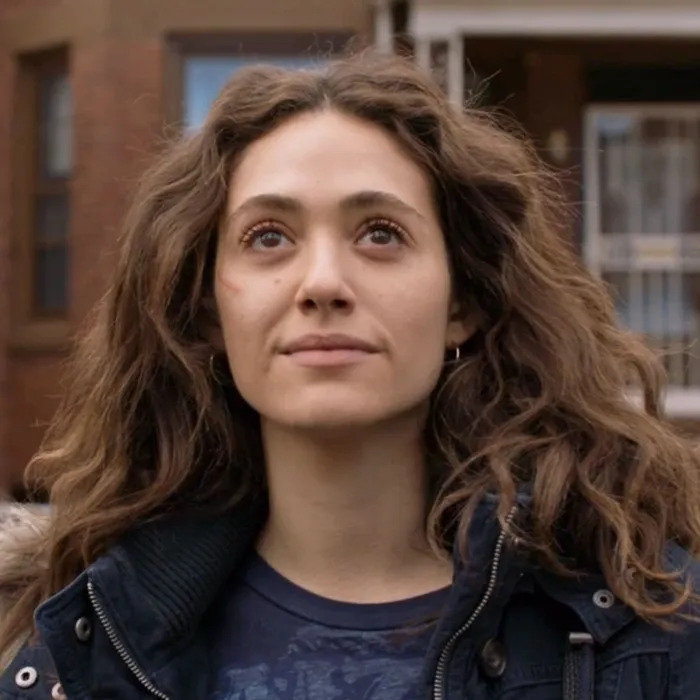 She is wearing a small, black crossbody bag, and bringing along a dark blue suitcase. Of course, since she's on the go, she has to layer her outfit well so she also has a navy-colored, military-inspired jacket. Most Fiona Gallagher outfits are like this – practical, monotone, and just plain. This is why we love her! She is real, she is authentic, and she is messy. If you're more into feminine outfits, you might like these Emily Cooper outfits or Camille's looks from Emily in Paris.
Monthly Newsletter
Add some spice to your style with movie set-inspired designs.