Steal the Look – Dress Like Veronica Lodge from Riverdale
Add a touch of cinematic magic to your wardrobe with our roundup of daring and hip movie-inspired outfits. We'll show you how to dress like Veronica Lodge from Riverdale with our selection of chic and stylish pieces. Slip them on and step into the spotlight like a star with these iconic looks from Riverdale.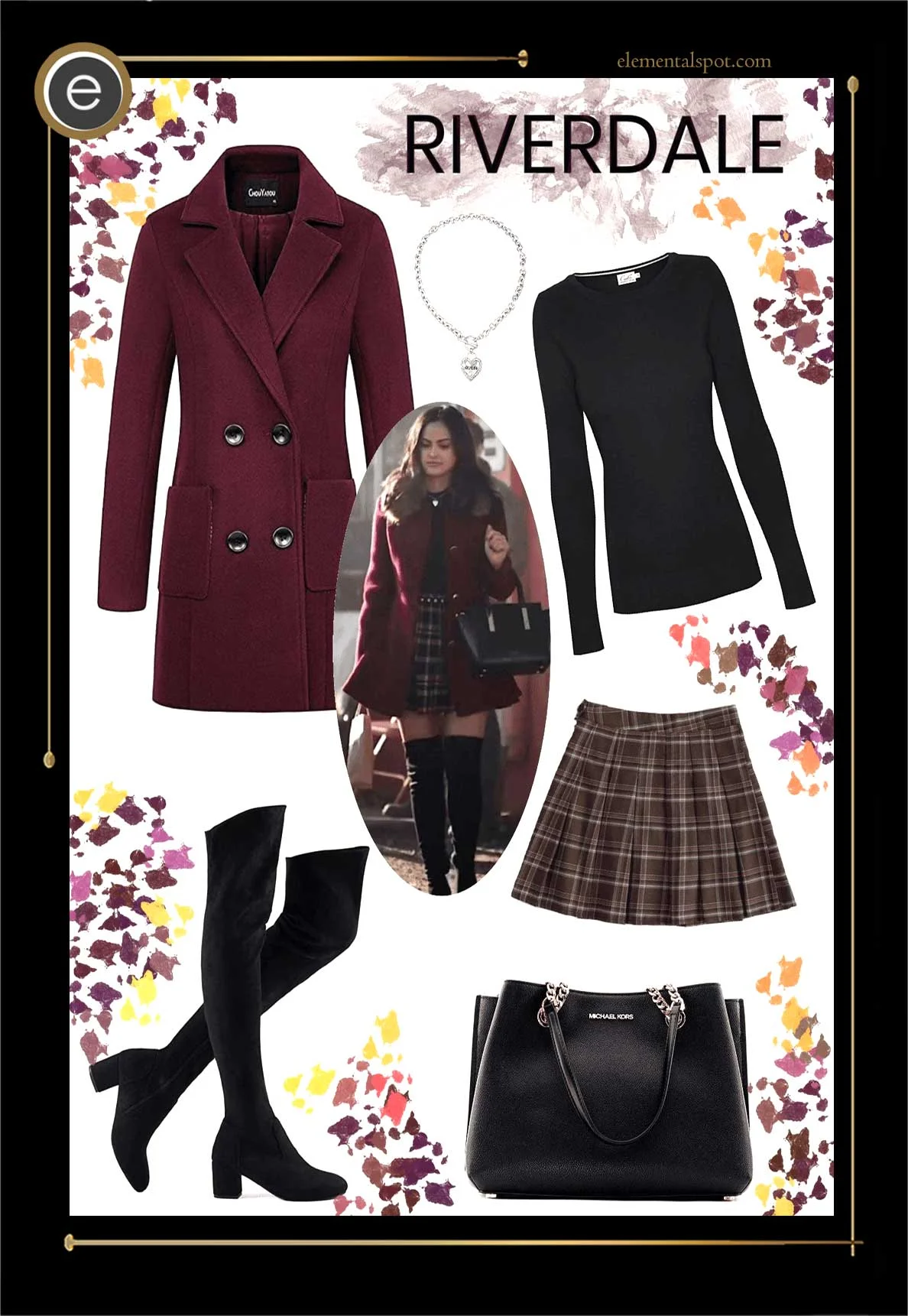 Shopping List for Veronica Lodge from Riverdale Outfit
When The CW adapted the Archie Comics into the supernatural crime drama Riverdale (2017 – Present) the costume department really pushed the fashion boundaries. The central murder mystery plot becoming almost forgotten against the backdrop of Queen Bees, High school mean girls and wardrobes stuffed full of every fashionista's dreams. But with everyone having their own favorite character, it is hard to see how you could resist a Veronica Lodge Riverdale outfit.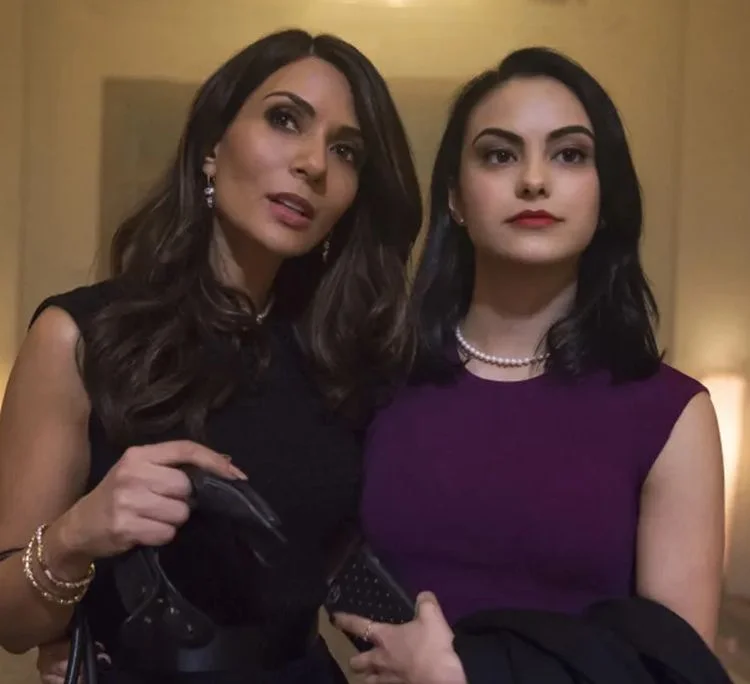 Only coming back to Riverdale, her mothers hometown, after the scandal surrounding her fathers arrest, the New Yorker is unaware of the terrible murder of Jason Blossom. Instead, too busy focusing on her desire to reinvent herself as a kinder and more compassionate person after her mean girl reputation in New York.
But being nicer doesn't mean she has given up her opinions or outspoken ways, especially when it comes to feminism. With a wealthy lifestyle to fund and a dodgy businessman father to keep an eye on, the one time owner of diner Pop's Chock'lit Shoppe, this privileged princess knows how to look after herself and make her own money.
Exploring Veronica Lodges' Closet
To emulate her style, created by costume designer Rebekka Sorensen-Kjelstrup, and recreate a Veronica Lodge Riverdale outfit first we need to know her style secrets.
If you have spent any time looking at the Riverdale outfits, and luckily that's exactly what we have done, then you will know that each character has their own distinctive color palette.
Cheryl Blossom may be Riverdale High's Queen Bee in red and Betty Cooper all sweet and innocent in pastels, but for 'It girl' Veronica Lodge it is all about the jewel tones. With a wardrobe full of deep purples and blues, to contrast her use of the classic navy, black and white, you can't help wonder if her dark color palette reflects a life full of secrets.
Missing an Outfit Inspo? Submit your idea and we'll make it happen!
With a more upscale lifestyle, Veronica has created a look that includes more fashionable and high end garments. With her darker jewel tone palette translating well into the dresses and short skirts she is known for wearing. Knits and some statement jackets really add to her look, with even the occasional pair of trousers.
When picking her clothes, one thing you can tell is that Veronica has gone for quality. Everything from laces and chiffons, to knits and wools make it into her wardrobe, with her added love of prints and embellishments. In particular, her recurring fashion staple of an embellished collar. Jewels, fabric flowers and beads have all been seen on her collars, finished perfectly with her other indulgence: a pearl necklace.
Veronica's Hair, Make-up, and Nails
A Veronica Lodge Riverdale outfit might be known for her dark black glossy hair as much as it is for her clothes. Her dark locks are always shining and styled with a slight curly to them. It is easy to see Veronica takes pride in her hair spending time looking after it so that it compliments her outfits perfectly as it sits around her shoulders in her traditional look.
Our upscale beauty, played by Camila Mendes, always has just the right amount of make-up on to look flawless and powerful, without overdoing it. She focuses on using soft browns to create a smokey eye before adding black eyeliner and full thick lashes to give her eyes some impact. A dark maroon lipstick is her go to color and her eyebrows are always styled to perfection to frame her face.
Part of Veronica's signature look along with her jewel tones, dark hair and pearl necklaces is her often overlooked dark glossy nails. A small but integral part of her overall look, they are painted in the same shade of OPI Malaga Wine, in every single episode according to Camila in this Elite Daily interview.
Veronica'S Plaid, Black, and Burgundy outfit
The Veronica Lodge Riverdale outfit featured in our collage above is the perfect representation of the character, sticking to all her style tips when it comes to creating the perfect look.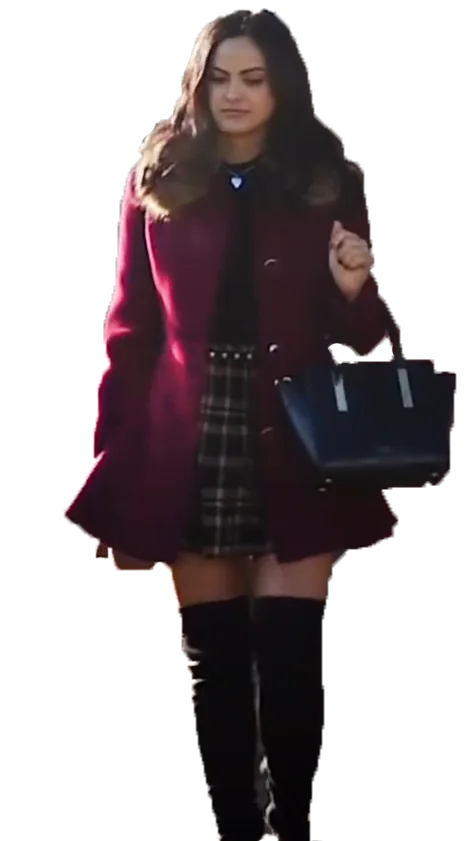 Like all of Veronica's outfits, this one has that upscale New Yorker feel, with her use of her darker jewel tone palette to bring her look together. She pairs a plaid skirt, with burgundy and cream tones through it, with a black long sleeved round neck knit sweater.
Veronica stays with her tried and tested burgundy and black mix of colors and adds some black knee high boots and a black leather handbag to accessorize. Before finishing the look off with a long burgundy wool coat and a delicate silver heart pendant around her neck.
Her beautiful glossy black hair is worn perfectly styled loose and slightly curled around her shoulders. A splash of a soft nude or pink lipstick, and not forgetting her wine colored nails, are the final touches.
When looking to Riverdale for wardrobe inspiration, maybe you were looking for something a bit more dark and edgy than this Veronica Lodge Riverdale outfit. Perhaps something a bit more like the Serpent Queen, Toni Topaz's look for her black pinafore and leather jacket outfit.
Monthly Newsletter
Add some spice to your style with movie set-inspired designs.