Steal the Look – Dress Like Toni Topaz from Riverdale
Add a touch of cinematic magic to your wardrobe with our roundup of daring and hip movie-inspired outfits. We'll show you how to dress like Toni Topaz from Riverdale with our selection of chic and stylish pieces. Slip them on and step into the spotlight like a star with these iconic looks from Riverdale.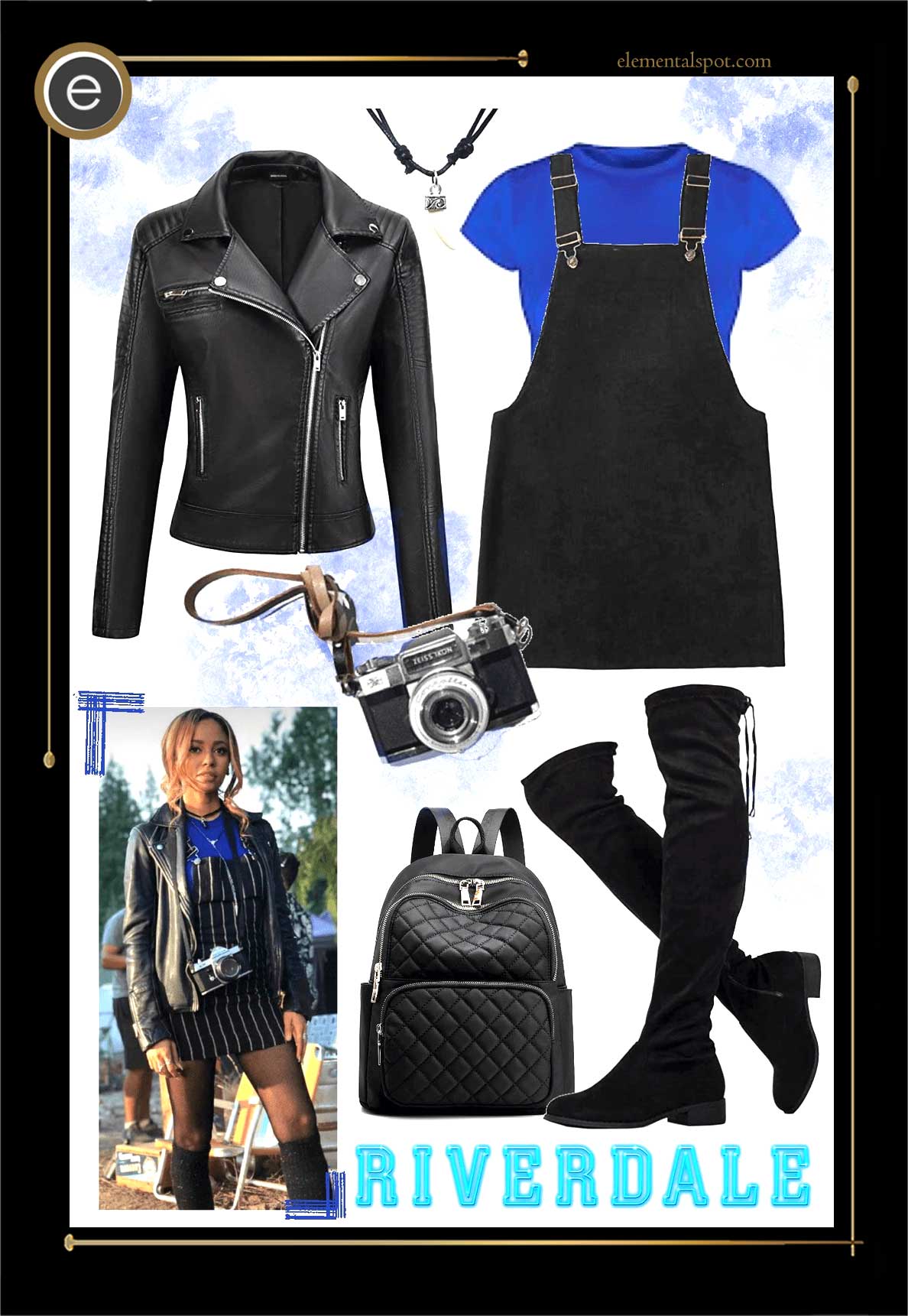 Shopping List for Toni Topaz from Riverdale Outfit
Riverdale (2017 – Present) is The CW adapted supernatural crime drama based on the characters from the Archie Comics. But with a cast full of stylish and fashionable, scene grabbing individuals it is no wonder that Riverdale is just as popular for its outfits as it is for the murder mystery at the center of the show.
With no look more sought after than a Toni Topaz Riverdale outfit suitable for any Serpent Queen.
Introduced to the viewers in the second season of Riverdale, Toni Topaz the fiercely loyal Southside Serpent makes an instant connection with Jughead. Becoming firm friends when he transfers to Southside High.
Always seeking out the truth and wanting to expose injustice, particularly when it comes to how the Northsiders view them, the aspiring journalist works with Jughead to re-start the school newspaper. Acting as the photographer at Southside High's Red and Black, before it and the school are closed for good.
Exploring Toni Topaz's Riverdale Style
Before we can show you how to steal a Toni Topaz Riverdale Outfit, first we need to look at the Southsiders style and wardrobe created for her by the show's costume designer, Rebekka Sorensen-Kjelstrup.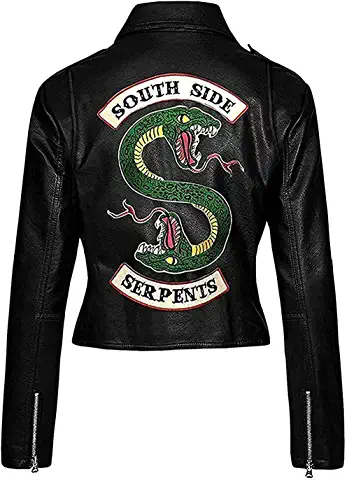 With Toni being a proud member, and later leader of the Southside Serpents, her wardrobe only needs to contain one vital piece of clothing, her Serpent's jacket. Luckily for us though, she has plenty of looks to study to understand her style. But it all starts with that black leather jacket with the gang's emblem and name on the back.
Portrayed by Vanessa Morgan in the show Toni wears most of her color in her hair rather than on her clothes, being particularly fond of dark colors and black. But for this tough Serpent queen color isn't completely off the table, even being bold enough to wear red head to toe knowing that there is only one person allowed to wear that color in the halls of Riverdale High, (check out how to steal one of Cheryl's many red looks, here).
With a love for stripes and plaids Toni's wardrobe of tight figure hugging clothes leans towards showing off her edgy side. Paired with more traditional fabrics like denim and leather, no Toni Topaz Riverdale outfit would be complete without some chunky boots. Including a few stand out pairs that are embellished or are in an unusual color-way, that show off a creative and artistic side to the witty Southsider.
Missing an Outfit Inspo? Submit your idea and we'll make it happen!
Hair and Accessories to Look like Toni Topaz
Known for her beautiful and unusual light pink highlighted hair, that she normally wears curled and down loose around her shoulders. Toni's pink hair can be seen throughout the show styled in everything from pigtails to braids. But for the days that Toni doesn't have time to do all of that styling she pops on her trusty black beanie hat or a bandanna headband and the job is done.
When it comes to accessorizing your Toni look, jewelry is the way to go. Apart from the rings and earrings that she always wears, most noticeable is her love of necklaces. She wears them stacked over each other to give her an appealing layered look. So don't worry too much and add plenty of jewelry to your look, as it seems in Toni's eyes that you can never have too much.
Steal Toni's Look From Riverdale
The Toni Topaz Riverdale outfit from the collage above, is typical of her look with the black fitted clothes, hair styling and her camera casually worn around her neck.
Like most of Toni's outfits this one gives her a tough edge, that is needed as a dedicated member of the Southside Serpents. Pairing her short black pinafore dress with the outfits only pop of color from a blue short sleeved round neck t-shirt.
Going back to, and sticking with black Toni finishes her look with a pair of black knee high boots, a matching quilted backpack and a fang necklace to accessorize. Before putting on her most prized possession, her trademark leather moto style Serpents jacket.
Her beautiful pink hair is swept back with a couple of loose strands at the front to frame her face and highlight her simple make-up look. With Toni's youthful complexion, eye make-up and soft pink gloss not being heavy or over done, they compliment the simplicity of her outfit perfectly.
She even has her camera around her neck, in case the opportunity arises to catch something important that the aspiring journalist and photographer could use. Particularly if it meant she could dispel the Northsiders views on her and her gang of Southsiders.
When looking to Riverdale for inspiration for your wardrobe maybe you were looking for something a bit more sweet and innocent than this Toni Topaz Riverdale outfit. So you could also check out another of the character's looks to steal, Steal the Look of Cheryl Blossom, or maybe even this Betty's blouse and skirt outfit.
Monthly Newsletter
Add some spice to your style with movie set-inspired designs.