Steal the Look – Dress Like Joe Goldberg from You
Add a touch of cinematic magic to your wardrobe with our roundup of daring and hip movie-inspired outfits. We'll show you how to dress like Joe Goldberg from You with our selection of chic and stylish pieces. Slip them on and step into the spotlight like a star with these iconic looks from You.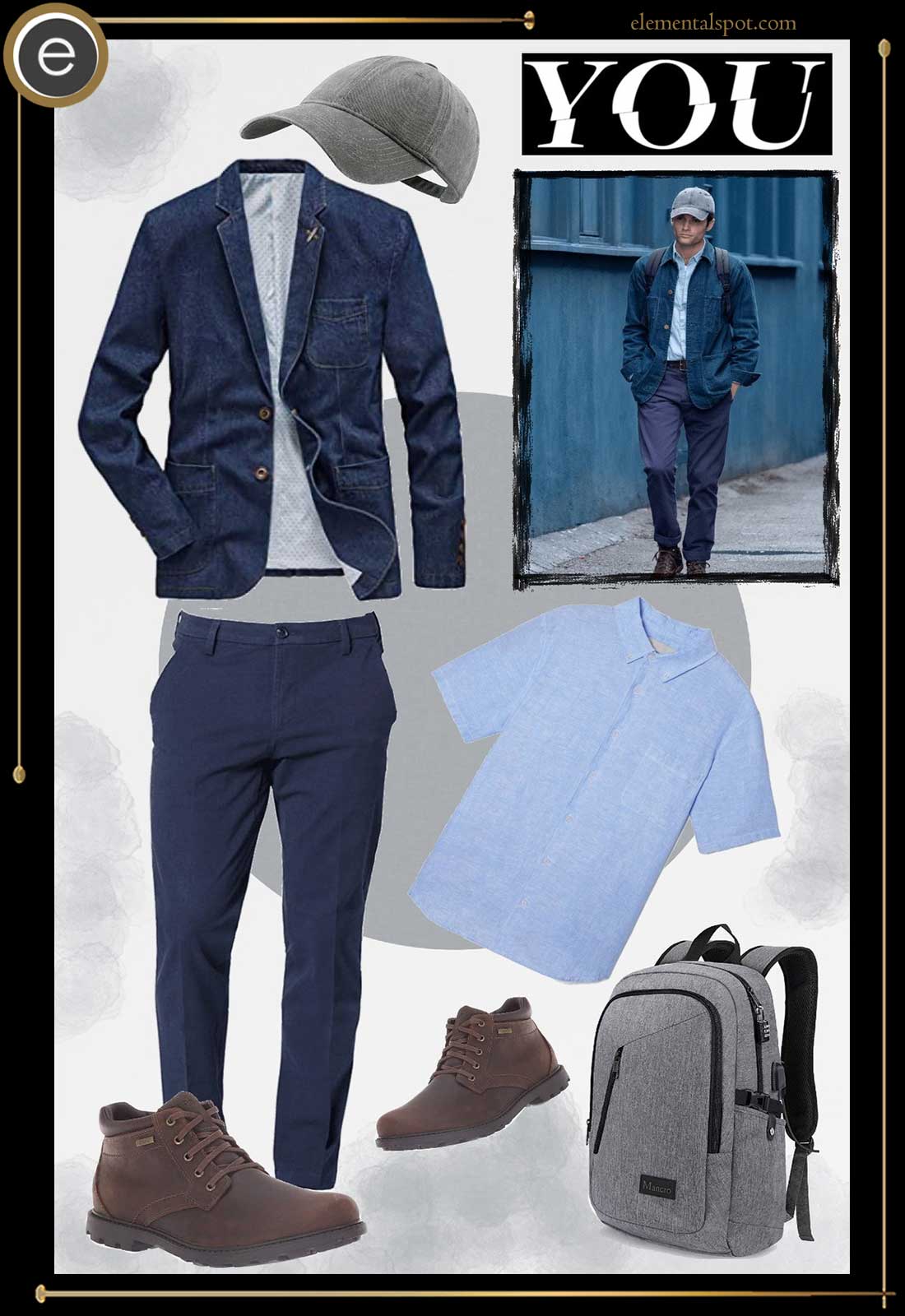 Shopping List for Joe Goldberg from You Outfit
The American psychological thriller You (2018 – running) has enchanted many people all around the globe. Inspired by the books written by Caroline Kepnes, Greg Berlanti and Sera Gamble decided to give their all into this project. Luckily, the controversial, yet addicting story of Joe Goldberg and his victims sparked interests of many true crime lovers. Today we dive into our favorite Joe Goldberg outfit and, of course, we'll reveal the origin of the famous Joe Goldberg hat.
Joe Goldberg's Casual Fashion Style – Blending In
When we watched the TV show You, it was easy to get carried away by the beauty of Love Quinn (Victoria Pedretti), so we did our best to focus on Joe Goldberg, played by the skeptic Penn Badgley. Did you know that he almost turned the role down because he didn't want to romanticize such toxic behavior?
If you are anywhere as excited for season 4 as we are, you will love today's analysis of the Joe Goldberg fashion style. Netflix.
We are glad he stayed, though, since he portrayed Joe Goldberg perfectly. In order to understand Joe's style, we have to (at least try) to understand Joe. He is a bookstore manager, but more interestingly, a serial killer that fixates on people and then murders them. Goldberg uses stalking techniques to be closer to his victims, and when he finds out a lot about them, he makes sure that they bump into each other all the time – accidentally, of course…
When we think about such a guy, we can easily make conclusions about his fashion style. Joe loves to keep it on the low, which is why he dresses casually most of the time. This ensures that he doesn't stand out a lot, which would be kind of awkward given that he is a stalker and doesn't want to be seen. You could describe Joe's look as a very typical male fashion style, but he does have some moments in which he spices it up with the typical "bookstore manager look".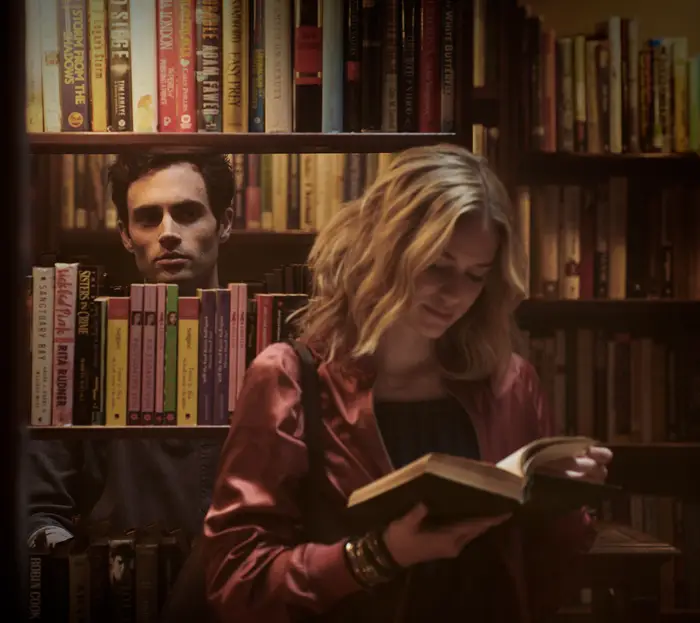 So, how can you channel your Joe Goldberg for Halloween or a costume party? Joe loves his plain colors – white, black, brown, gray and navy are his favorites. He doesn't really wear bright colors, and he isn't a pattern enjoyer either, since all of that is way too cheery for our cold-hearted protagonist. Don't go any wilder than a plaid shirt, please!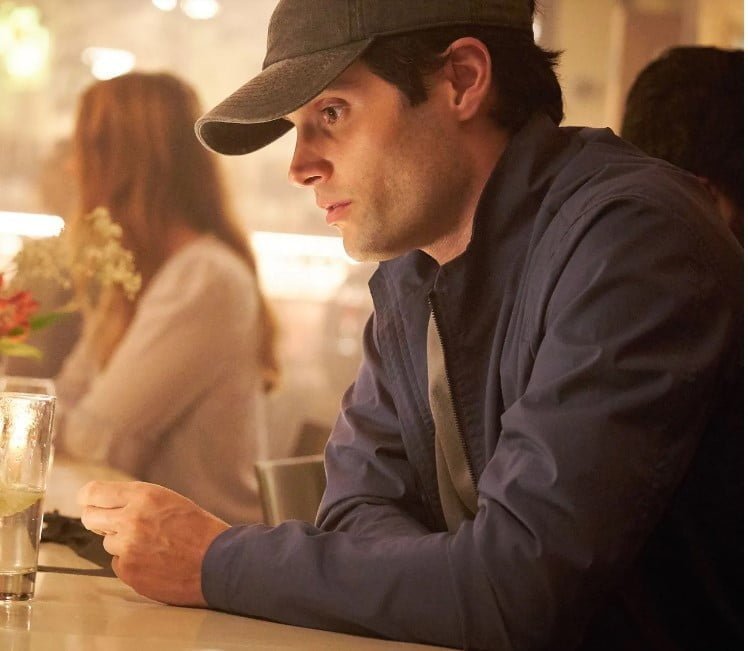 Joe likes wearing T-shirts under buttoned (and unbuttoned) shirts, and he usually wears jeans or slim-fit trousers to make the look a bit more formal – he is a bookstore manager, after all. On rare occasions, usually when he decides to romance his victims, he wears a blazer and puts on a smile.
Missing an Outfit Inspo? Submit your idea and we'll make it happen!
Where Do I Get The Famous Joe Goldberg Hat?
Although Joe is not a guy that enjoys many accessories, he does like to wear a nice belt, a practical backpack, and of course, his famous Joe Goldberg hat. It's essentially a navy baseball cap, which wouldn't get very little attention if there wasn't for the creepiness factor. It's almost as if this particular accessory defines his purpose in the show!
When Joe puts on his cap, it's often a sign that he's about to do something secretive or potentially dangerous. Whether he's following someone or breaking into a home, Joe's hat serves as a way to conceal his identity and blend in with his surroundings. It's a tool he uses to become anonymous, and in many ways, it's a representation of his ability to manipulate and control his environment.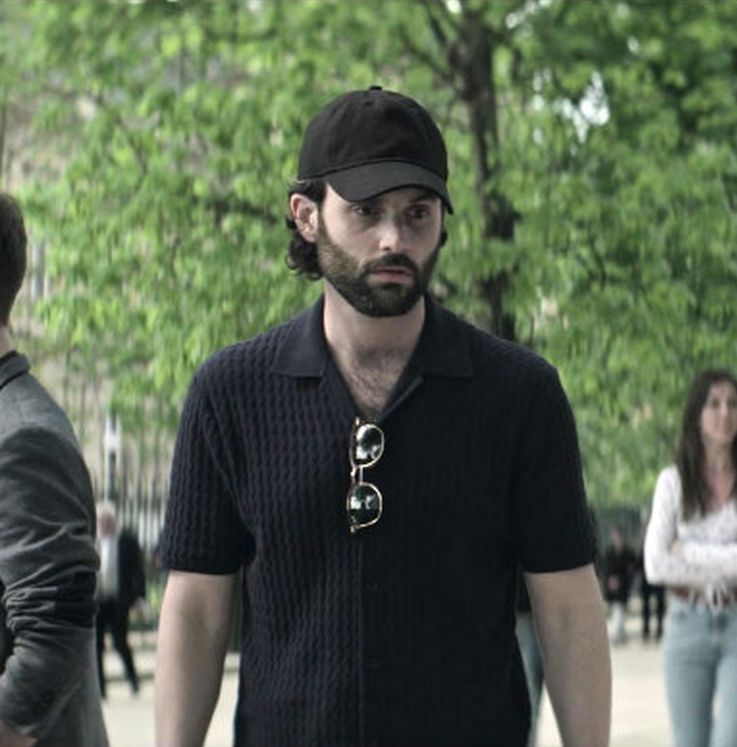 Despite the fact that Joe's caps all look very similar, they serve as an important part of his character development. His hats are a subtle yet effective way to convey his motives and emotions without explicitly saying anything. Whether it's a subtle shift in the angle of the brim or a quick adjustment of the cap, Joe's hats are a way for viewers to understand what's going on in his head. Ultimately, Joe's hats are a testament to the power of costume design and their ability to tell a story in their own right.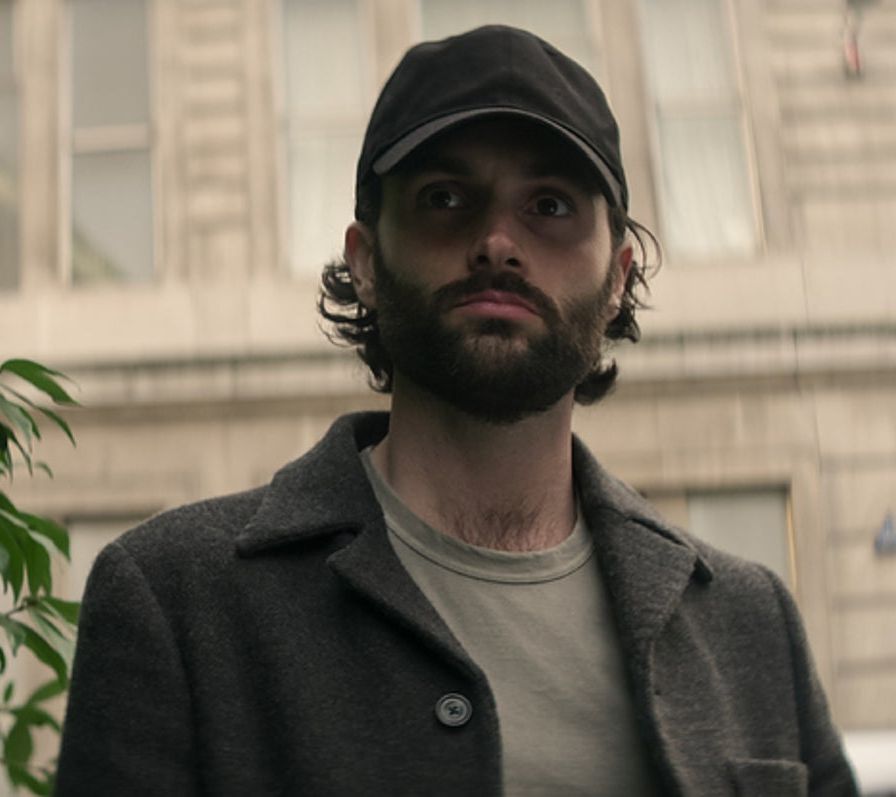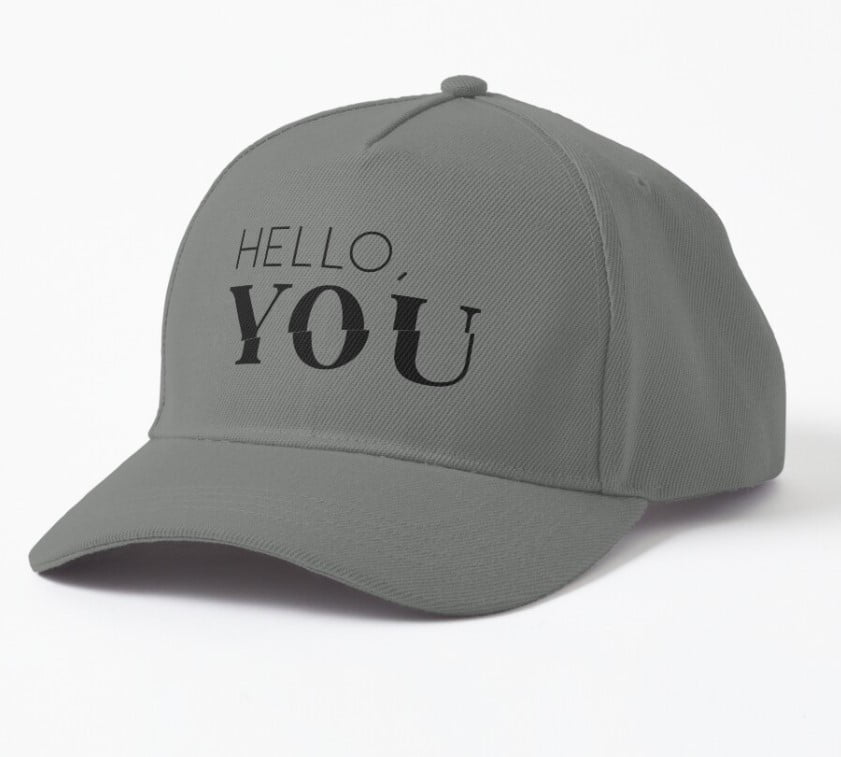 Many people are sure that this is the Beechfield baseball cap that's still available to buy, but any type of baseball cap in navy or gray shades will do. The most common misconception about the hat is that there's only one – Joe actually wears multiple models. We would just go for a dark gray or a navy choice, since these were the most notable.
How Do I Get Joe Goldberg's Hairstyle and Facial Hair?
While many argue that Joe doesn't really stick out from the crowd, others say that he is obviously a handsome guy. What we enjoy the most is the evolution of Joe's hair throughout the seasons – it's almost as if he becomes better at what he does, and therefore looks more sophisticated. In season 1, he wears a shorter hairstyle with a side part, but we see that his hair is already slightly wavy. He also rocks a 5 o'clock shadow and keeps his skin well moisturized.
Season 2 is pretty much the same, and many comment that he is going for a Henry Cavill look with the sideburns. In season 3, his hair is slightly longer, and we see the waves forming, but only in season 4 do we find out its full potential. His hair becomes more luscious, longer, and we finally see his curls form properly – he keeps the side part, though.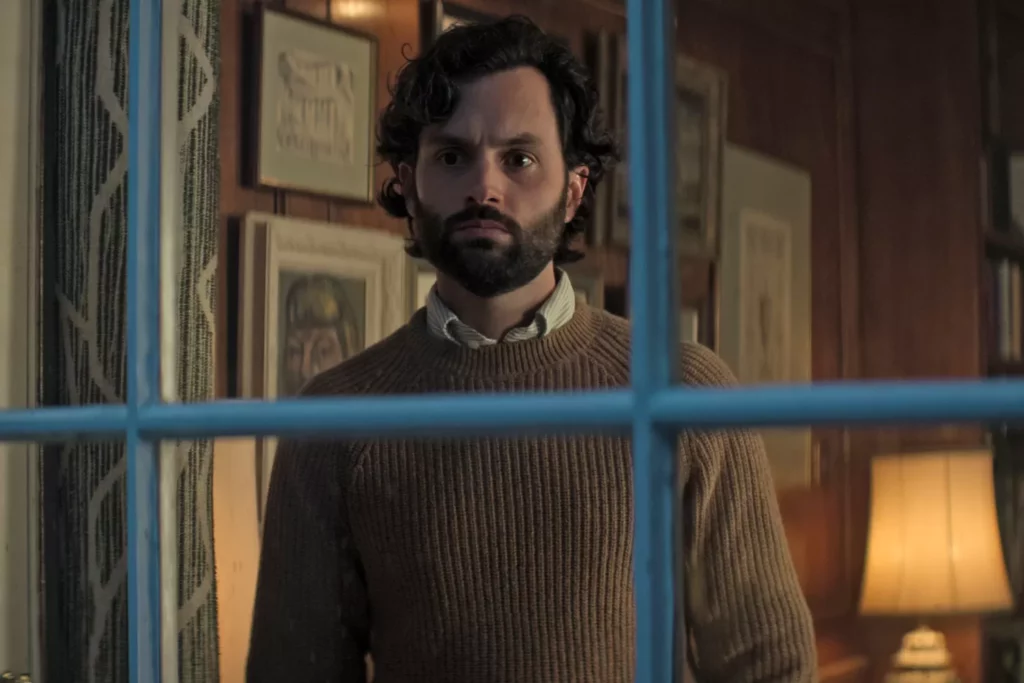 As Joe grows a full-on beard, he truly grows into the bookstore manager look. His fashion changes slightly as well, and many have noticed that his whole persona turns out to be more "dark academia inspired". We enjoy this look, as well as the flashbacks in which he goes back to his original style. And now that we're speaking of the OG stalker style, let's dive into the outfit most people would say is Joe's most memorable one.
Our Favorite Joe Goldberg Outfit – The Stalker
When we saw this outfit, we thought that it was pretty iconic. It looks casual, but it's actually very well thought through, and does a great job at showcasing who Joe is. We begin with a baby blue shirt, and the length of the sleeves doesn't matter as it's covered by a casual denim jacket. As if that wasn't enough of the color blue, Joe wears blue trousers and pairs then with an elegant, dark belt. A professional tip – tuck the shirt in.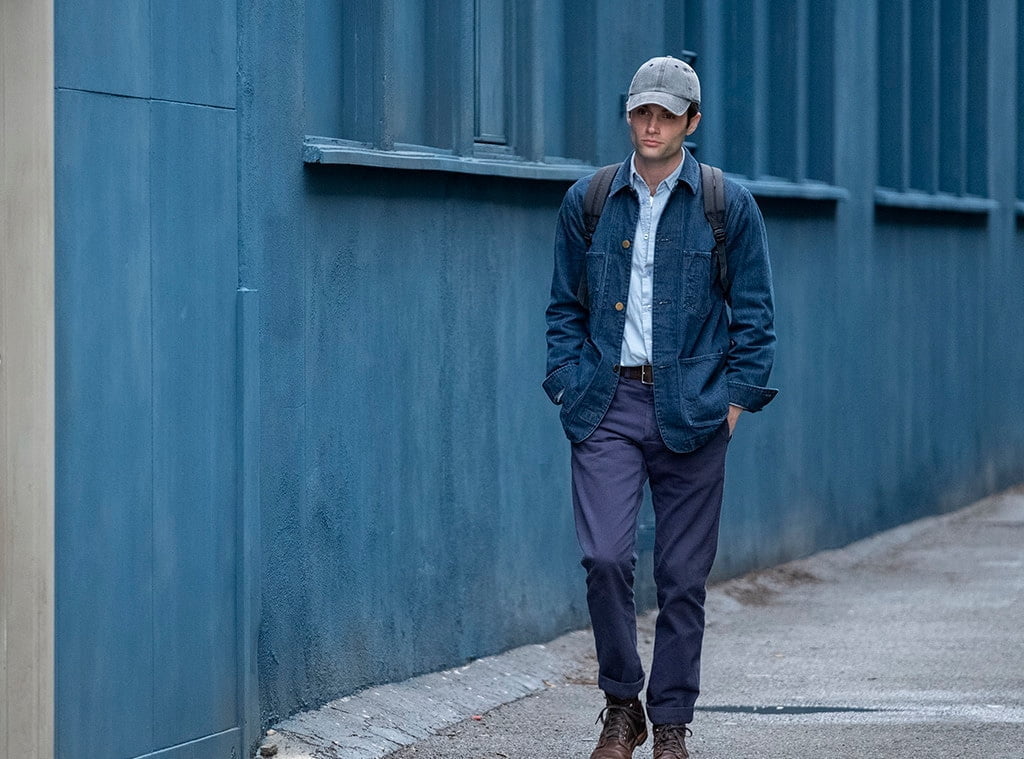 He pairs the look with some semi-casual brown boots, a practical backpack, as well as his trusty baseball cap in the color gray. For the authentic look, make sure to roll up the sleeves as well as the pants, just a bit. For some reason, probably to implement a bit of a hipster look, Joe does this all-the-time!
Dressing like Joe Goldberg may be fun for a costume party or cosplay, but it's important to remember that his actions on the show are far from admirable.
Remember – when it comes to Joe Goldberg's outfits, one accessory that stands out is his collection of baseball caps. Throughout the show, Joe is almost always seen wearing a cap, and it's become somewhat of a signature look for him. However, there's more to Joe's hats than just a fashion statement.
We hope you enjoyed this Joe Goldberg outfit. It's an easy one to recreate and can definitely be fun! If you want something a bit more modern and hip, you should check out Jordan Baker's look from All American.
Monthly Newsletter
Add some spice to your style with movie set-inspired designs.