Birth: April 2, 1914
Died: January 26, 2007
Nationality: Danish
Hans Wegner was a Danish furniture designer of the Modernist school. And one of the most important Danish designers of all time. He was the son of a shoemaker and learned to appreciate the craftsmanship and handling of the special qualities of the materials as a child. Since he developed a real love for wood and such a strong understanding of the material even at a young age, he did a carpentry apprenticeship in the workshop of H. F. Stahlberg.
After successfully completing his apprenticeship as a cabinet maker, he remained in the workshop for three more years until he was called up for military service. Later he studied cabinet making at the Technical University in Copenhagen. This experience and the annual exhibitions of the Copenhagen cabinetmakers were so formative for the young Wegner that he decided to become a designer.
For this purpose, he began training with the furniture designer Orla Mølgaard-Nielsen at the school of applied arts in 1936. Two years later, Wegner worked in the planning office of Erik Møller and Flemming Lassen in Arhus and from 1940 worked in the office founded by Møller and Arne Jacobsen for the design of the town hall of Arhus. For this project, Wegner designed simple but carefully crafted furniture that was exemplary for his approach at the time
500 different chair designs
In 1940, Wegner started working for Arne Jacobsen's architecture studio, where he was in 1 charge of designing the furniture for the Århus Municipal Hall. He then started his own company, and began a very successful independent career, creating over 500 different chair designs for furniture companies like Carl Hansen & Son, Fritz Hansen, Getama, and Møbler.
From 1943 to 1946 Wegner ran his own studio in Arhus and developed with Børge Mogensen for Frederik Nielsen, the director of the Danish Cooperative Association, a furniture series (1945/46) for furnishing small apartments that were of good quality but still inexpensive. Wegner then worked with the architect Palle Suenson (1904-87) in Copenhagen before opening his own office in the Danish capital in 1948.
Pøllestolen – OX Chairs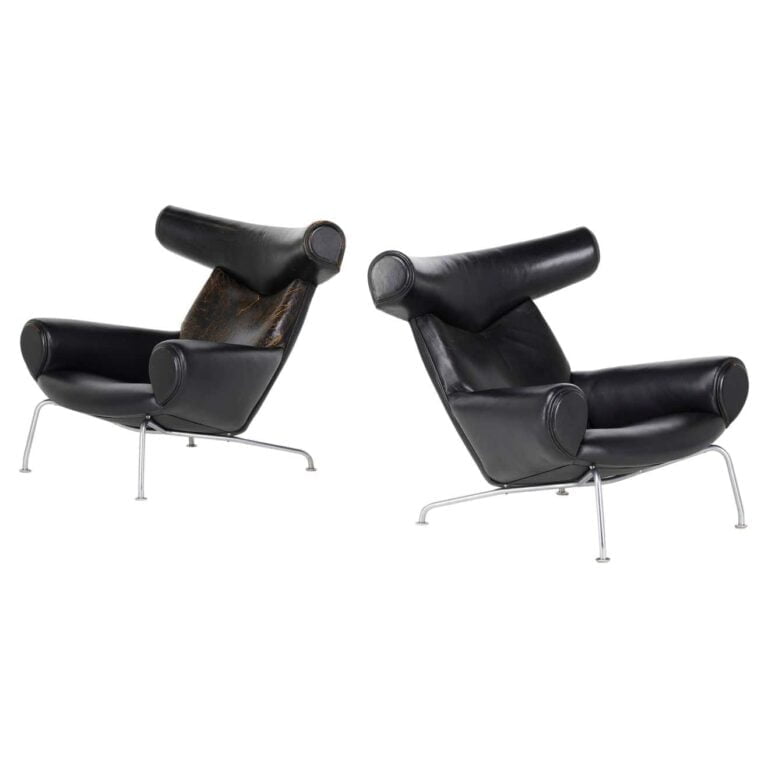 Since 1940 he had repeatedly worked with the cabinet maker and chairman of the joiner's guild, Johannes Hansen, and designed numerous chairs for his manufacturing company, including the famous De Runde stol (The Round Chair, 1949), known under the name The Chair or Classic Chair has been. In the 1950s, Wegner was considered one of the leading representatives of Scandinavian design and made a name for itself internationally with its chairs, which are mostly made of solid wood, with masterful craftsmanship and balance.
Shell Lounge Chair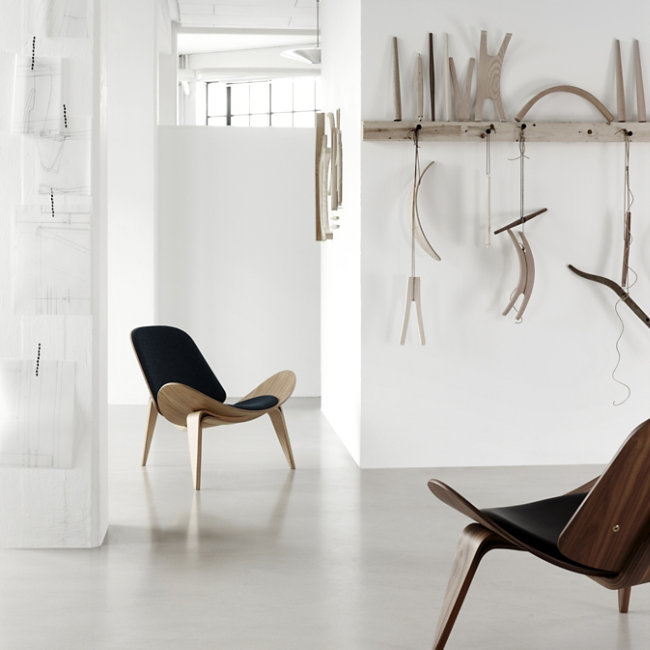 Wegner's furniture was manufactured by Johannes Hansen, Fritz Hansen, Andreas Tuck, Getama, A. P. Stolen, Carl Hansen & Søn and PP Møbler. They should, as he himself said, "be as simple and genuine as possible to show what we can do with our hands, to bring the wood to life, to give it soul and vitality and to make things so natural that they can only be made by us. "
Y Chair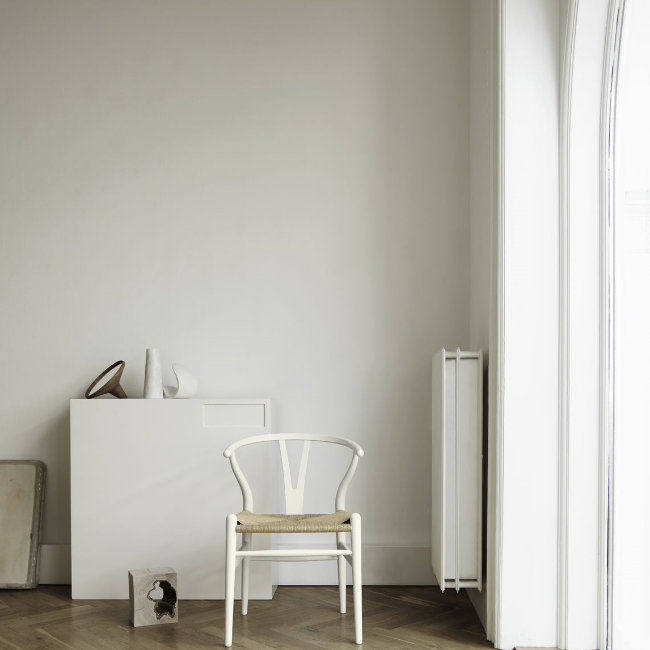 Wegner's typical Scandinavian, organic design concept, which is particularly evident in the Chinese chair (1943), the Peacock chair (1947), the Y chair (1950) and the combination of chair and mute servant (1953), was based on the meaning the physical, psychological and emotional connections between users and their everyday objects.
He received numerous awards, including the first running prize in 1951. By simplifying and refining shape and construction, Wegner created timeless and fascinatingly beautiful modern revisions of traditional furniture, with which he made Danish design world famous.
A deep understanding and appreciation mark his timeless designs for wood as a material. His eye for detail in terms of construction stems from his carpentry training. The curved wood of the "Shell" chair and the ingenious storage space and coat hanger included in the "Valet" chair bear witness to his technical skill as well as his creativity. Throughout his career, Wegner received many prizes and awards, including the Grand Prix of the Milan Triennale in 1951 and the Danish Eckersberg Medal.
Peacock chair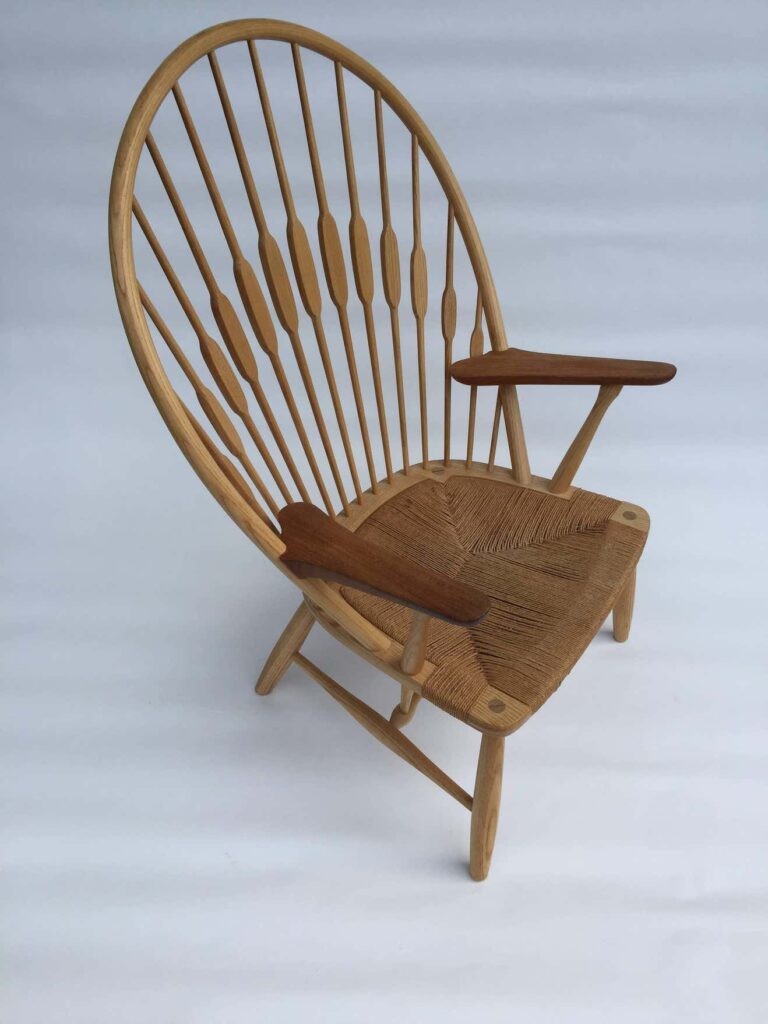 Hans J. Wegner was primarily mentioned with his chairs. He designed over 500 different models, the most important of which were pure wooden chairs. Many are still special in Denmark, including personal from the companies Carl Hansen & Søn, Fritz Hansen and PP Møbler.
His chairs contributed to the popularity of Danish design in the mid 20th century. The best known:
Wegner's peacock chair Wegner's Y chair
Wegner's peacock chair
Wegner's Y chair
China chair (Kinastolen) from 1944, Fritz Hansen
Peacock chair (Påfuglestolen) from 1947, PP Møbler
Round chair (Den Runde stol) from 1949, PP Møbler. The Round Chairs was used by CBS in 1960 for the first live television duel candidate. John F. Kennedy insisted on the model because he preferred the back of an estate chair. The following day the chair found recognition in the newspaper reports.
Y chair (Y stolen) from 1950, Carl Hansen & Søn
Valet chair / valet stand (Jakkens Hvile) from 1953, PP Møbler
Ox armchair (Pøllestolen) from 1960, Erik Jørgensen.
Hans Wegner Original and Replica Products