Wegner's Iconic Chairs in Movies and TV Shows
Hans J. Wegner was a renowned Danish designer who pioneered the minimalist style of wood furniture, creating over 500 chair designs during his lifetime, over 100 of which were put into mass production . In this article, we will explore three of his most iconic furniture pieces and their appearances in movies and TV shows.
CH07 Shell Lounge Chair: A Classic with Personality
In the animated movie The Incredibles, the CH07 Shell Lounge Chair is easily recognized as Edna Mode's signature furniture piece. In the scene where she shows off her latest superhero suits to Elastigirl, Edna sits comfortably in the chair, with its unique shape and sturdy construction embodying her own sense of style and creativity.
This iconic piece designed by Hans J. Wegner perfectly complements Edna's unique personality, adding a touch of charm and sophistication to the film's mid-century modern aesthetic.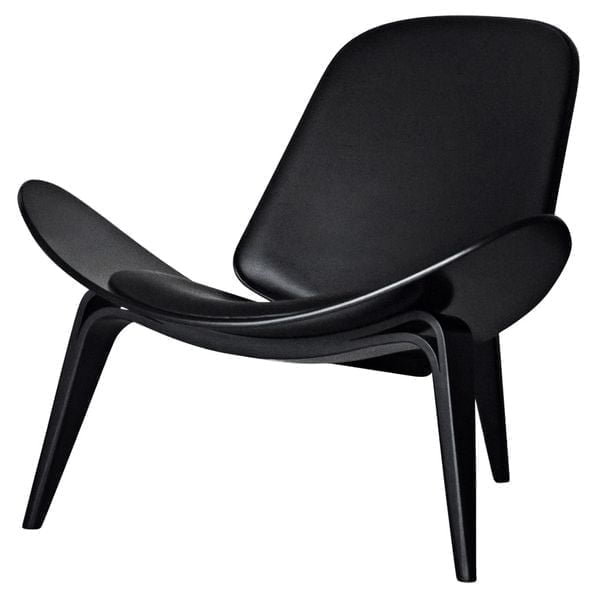 Ch07 Shell Lounge Chair All Black Edition By Hans Wegner
Hans J. Wegner's iconic CH07 Shell Lounge Chair, designed for Carl Hansen & Son, is a timeless furniture piece that exudes charm and personality.The sturdy construction and unique three-legged design, coupled with a laminated seating system, ensure durability and adaptable comfort. The all-black edition of the CH07, crafted from black-stained beech wood and a supple black Thor leather seat cushion, is a sleek and stylish addition to any space.
The Wishbone Chair: Sophistication in Cinema and Television
The Wishbone Chair, also known as the CH24 chair, is a minimalist and elegant design created by Hans J. Wegner in 1949. It has become a staple in many interior design styles and is often featured in films and television shows.
In the Danish-Swedish crime drama series "The Bridge," the Wishbone chair appears in the home of Danish detective Martin Rohde, played by Kim Bodnia. The sleek and modern design of the Wishbone chair adds a touch of sophistication to the otherwise ordinary setting.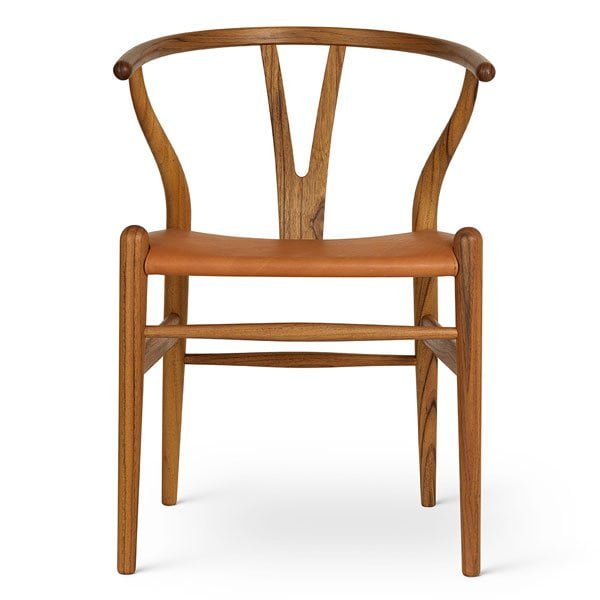 Ch24 Wishbone Chair By Wegner
In the critically acclaimed TV show "Normal People," the Wishbone chair can be seen in the Sheridan family's kitchen. Its simple and elegant design perfectly complements the show's aesthetic, which focuses on the raw emotions and relationships between its characters.
The Wishbone chair also appears in the Marvel Netflix series "Jessica Jones." It is seen in Trish's apartment, adding a touch of elegance to the setting and reflecting Trish's polished personality.
The Ox Chair: Bold Design for Larger-than-Life Characters
The Ox Chair, designed by Hans J. Wegner, is a bold and striking piece of furniture that exudes confidence and style. In the 1997 movie Austin Powers: International Man of Mystery, the chair is featured in a memorable scene where the character Dr. Evil, played by Mike Myers, sits in it while holding his small dog and plotting against Austin Powers.
The Ox Chair's unique design adds to the character's commanding presence, emphasizing his authority and dominance. It is a testament to the chair's ability to convey power and sophistication in any setting.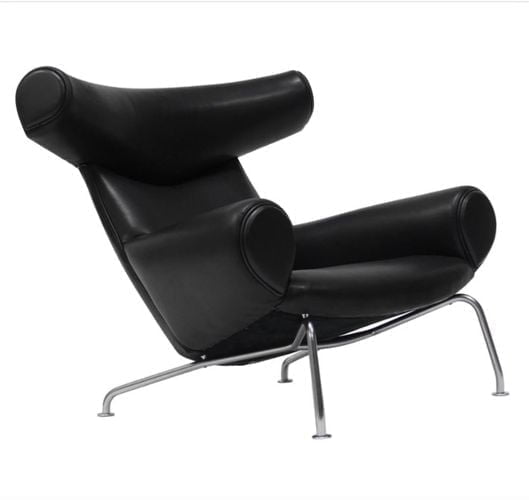 The Ox Chair by Hans Wegner
In the hit television series Big Little Lies, the Ox Chair makes an appearance in Renata Klein's modern mansion.
It is a location with a minimalist design, clean lines, and plenty of glass. In season two, set decorators updated the space with a gray color palette, high-end pieces, and a large Brutalist coffee table. The Ox Chair makes a notable appearance, adding a touch of mid-century modern style to the space with its unique design and masculine presence.
From Screen to Living Room: Wegner's Enduring Designs
Hans J. Wegner's furniture designs have become recognizable icons of the minimalist style, and their appearances in movies and TV shows are a testament to their enduring appeal. The CH07 Shell Lounge Chair, the Ox Chair, and the Wishbone Chair all add a touch of sophistication and elegance to any setting.
Whether it's in an animated movie, a crime drama, or a superhero series, these iconic furniture pieces designed by Hans J. Wegner are versatile and timeless.