Steal the Look – Elena Gilbert's Stylish Black and Red Winter Wardrobe
Add a touch of cinematic magic to your wardrobe with our roundup of daring and hip movie-inspired outfits. We'll show you how to dress like Elena Gilbert from The Vampire Diaries with our selection of chic and stylish pieces. Slip them on and step into the spotlight like a star with these iconic looks from The Vampire Diaries.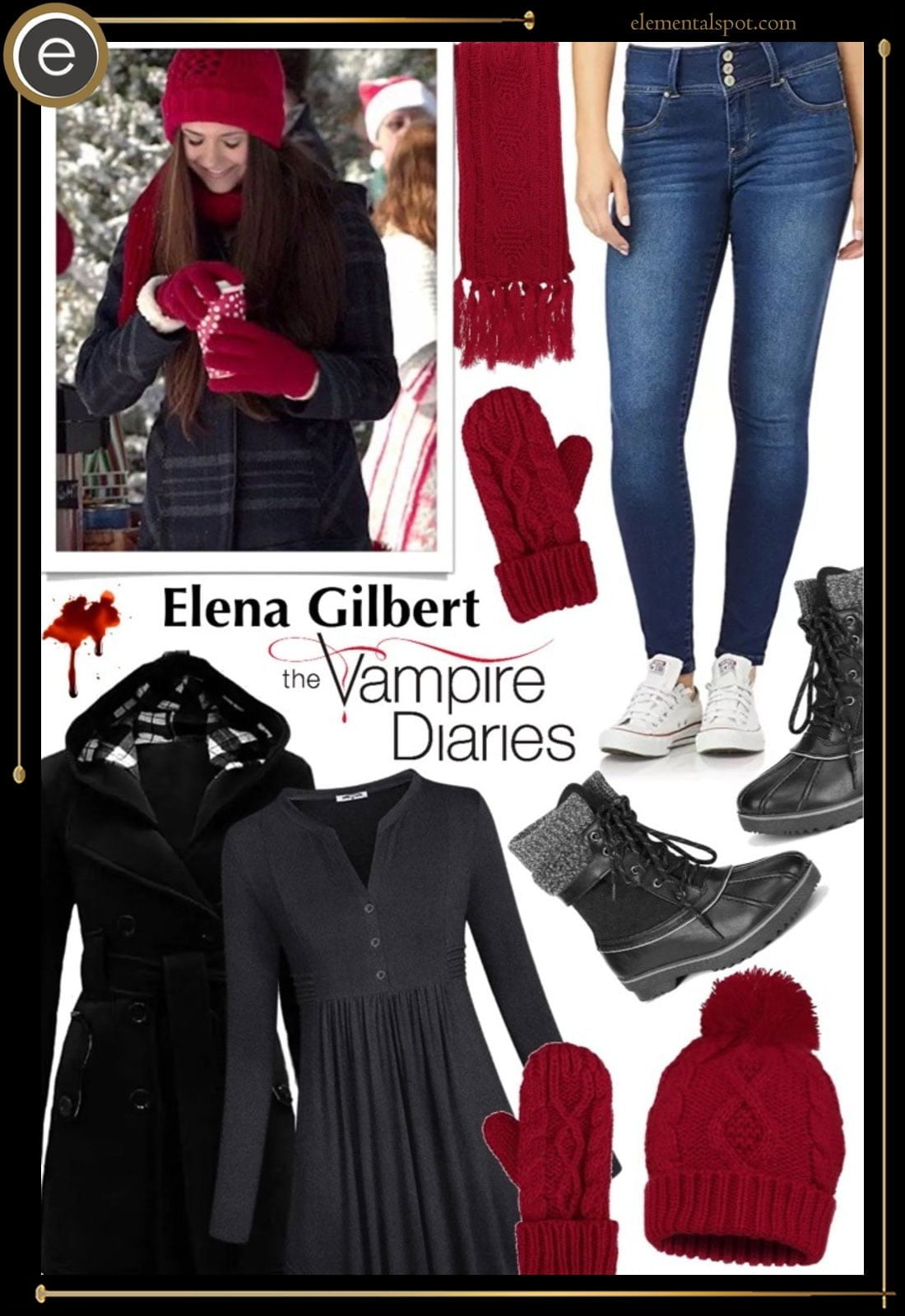 Shopping List for Elena Gilbert from The Vampire Diaries Outfit
Elena Gilbert, the iconic character from the supernatural drama series "The Vampire Diaries," not only captivated our hearts with her compelling storyline but also left a lasting impression with her impeccable sense of style.
The Timeless Appeal of Elena Gilbert's Winter Wardrobe
One memorable outfit that stands out is her black and red ensemble, a perfect fusion of sophistication and warmth that can serve as inspiration for fashion enthusiasts.
A Coat to Covet: The Black Double Breasted Hooded Coat
Elena's outfit begins with a Black Double Breasted Hooded Coat, an essential piece for the chilly winter months. This coat exudes an aura of timeless elegance with its classic double-breasted design and a hood that adds a touch of practicality.
Elevating Everyday: High-Rise Blue Skinny Jeans
Paired with the coat are High-Rise Blue Skinny Jeans, a versatile choice that offers both comfort and style. The high-rise silhouette not only accentuates Elena's figure but also keeps her warm by providing extra coverage.
Casual Chic: The Henley Swing Top in Long-Sleeve Black
Missing an Outfit Inspo? Submit your idea and we'll make it happen!
To add a touch of casual charm to the outfit, Elena opts for a Henley Swing Top in Long-Sleeve Black. This top offers a relaxed fit while maintaining an air of sophistication. Its long sleeves provide extra warmth, making it an ideal choice for layering in cold weather.
A Pop of Festive Color: The Knit Red Hat, Scarf, and Gloves Set
Speaking of accessories, Elena's choice of a Knit Red Hat, Scarf, and Gloves Set adds a bold and festive element to her outfit. The rich red color not only contrasts beautifully with the black coat but also exudes a warm and inviting vibe. The knitted texture of these accessories ensures maximum comfort and coziness, perfect for combating winter's chill.
Completing the Look: Black Waterproof Winter Snow Boots
To complete her look, Elena dons Black Waterproof Winter Snow Boots. These boots are not only practical for navigating snowy and wet conditions but also stylish. The black color seamlessly blends with the rest of her outfit while providing essential protection against the elements.
Embrace the Elegance: Recreate Elena's Winter Style
Elena Gilbert's black and red ensemble showcases how fashion can be both functional and chic. It's a testament to her character's resilience and adaptability, which are reflected not only in her choices but also in her overall demeanor.
The Art of Dressing with Confidence
For those looking to recreate Elena's style, remember that the key lies in the harmonious combination of classic pieces like the double-breasted coat and skinny jeans, complemented by the vibrant red accessories. This ensemble proves that fashion is not just about looking good but also feeling comfortable and confident in what you wear.
Embrace Winter with Elegance and Warmth
So, if you're seeking inspiration for your winter wardrobe, take a page from Elena Gilbert's fashion playbook, and embrace the timeless allure of black and red. It's a combination that will not only keep you warm but also leave a lasting impression wherever you go.
Monthly Newsletter
Add some spice to your style with movie set-inspired designs.