Steal the Look – Dress Like Carla Roson Caleruega from Elite
Add a touch of cinematic magic to your wardrobe with our roundup of daring and hip movie-inspired outfits. We'll show you how to dress like Carla Roson Caleruega from Elite with our selection of chic and stylish pieces. Slip them on and step into the spotlight like a star with these iconic looks from Elite.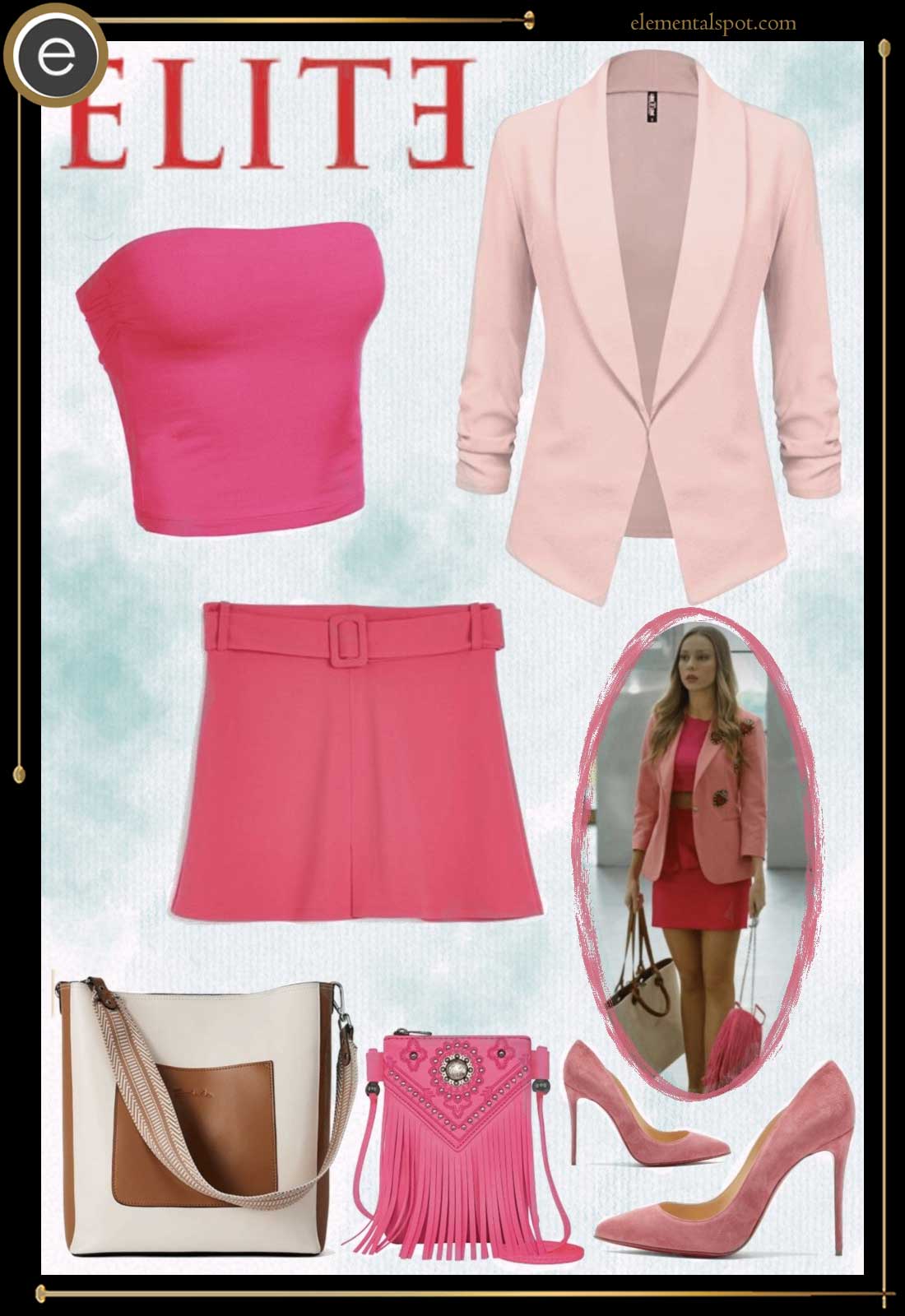 Shopping List for Carla Roson Caleruega from Elite Outfit
In 2018 when Netflix released the Spanish teen drama Elite (2018 – Present), written by successful duo Carlos Montero and Darío Madrona, everyone had high expectations. Not letting us down, the drama had us hooked and quickly became a favorite of young adults and fashionistas alike. With a wardrobe department full of flawless costumes, none were more coveted than a Carla Rosón Caleruega Elite outfit that every fashionista was obsessed over.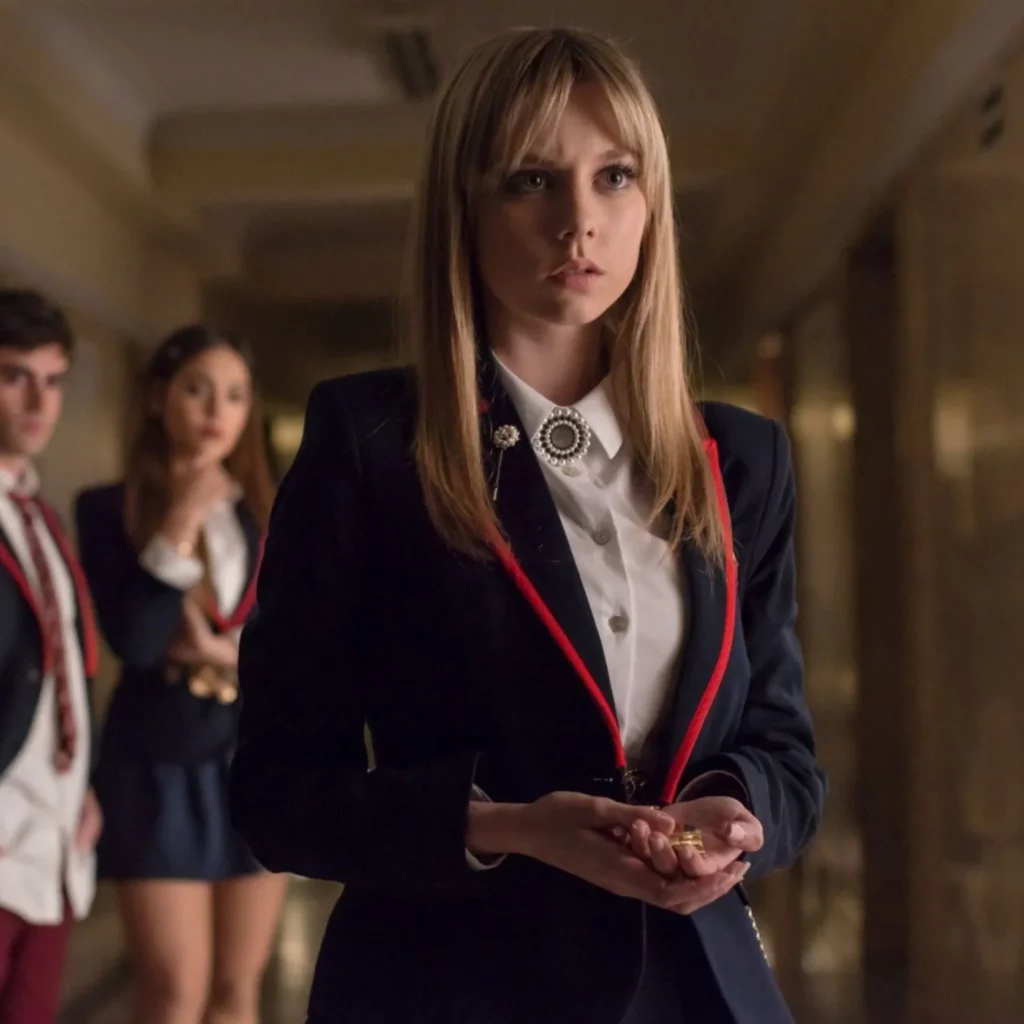 Set in the fictional high school of Las Encinas, where only the elite can afford to send their children to study, the balance is offset when three working class teens receive scholarships to the school after an earthquake. Clashes between the rich and poor were expected, but it all ending with a murder was not.
Carla Rosón Caleruega is the wealthiest student at Las Encinas, and the daughter of a marchioness makes sure everyone knows it. Although she might care deeply about the people she loves, covering for them and even hiding their crimes, Carla keeps that side of her personality masked by her cold-hearted selfish choices. Manipulative, few have been able to resist her beauty, which she fully uses to her advantage.
A Wardrobe fit for a Marchioness: Carla's Elite Closet
Before we look at what it takes to steal a Carla Rosón Caleruega Elite outfit, first we need to consider how costume designer Cristina Rodríguez created the wealthy and self-centered teenagers chic wardrobe of showstopping pieces.
Carla, portrayed in the show by Ester Expósito, is the young heir to her mothers Marquesado de Caleruega winery, earning her the nickname of Marchioness among her school peers. Her intelligence and manipulative ways, along with her love of high end fashion means she uses clothes and her natural beauty to get her own way, and get things she wants on her terms.
Being as much about life at Las Encinas, as it is about relationships, friendships and murders, many of the outfits in Elite revolve around the school's official uniform. Made up of the same blazers, short skirts, burgundy trousers and white shirts, the pupils have to find new ways to tailor their uniform to their tastes. With Carla using expensive pearl, ribbon or jeweled brooches to put her own subtle stamp on her school uniform.
You could say that when you are as wealthy and entitled as Carla, life is about being seen at every opportunity possible, and when it comes to fashion the best way for her to do that is through bright colors, bold prints and showstopping pieces.
Missing an Outfit Inspo? Submit your idea and we'll make it happen!
Not afraid of color, but with a particular fondness for her signature shade pink, away from school her wardrobe is full of fuschia sweaters, baby pink jeweled hoodies and multi toned pink blazer and skirt ensembles.
But with a high end lifestyle also comes high end parties, and our wealthy Las Encinas students know how to live their best life. Between gold Lame dresses and layers of pink ruffles, Carla knows what suits her slim figure, and what will work best to manipulate her next target.
Natural Beauty: Carla's Hair and Make-up Secrets
Known just as much for her ever changing blond hair as she is for her high end outfits, Carla is mostly seen wearing her long hair down around her shoulders with an ever so slight loose curl to it. Parted to the side, in the center or with bangs, her long blond locks never look the same for any length of time. Even getting a bit lighter each season as her character develops and becomes more lonely and cold hearted.
In contrast to everything else about a Carla Rosón Caleruega Elite outfit her make-up is more often than not a look of barely there perfection. With such natural beauty, it is understandable that Carla only compliments her looks with subtle eye make up of liner and mascara, before adding a soft pink or deep mauve lipstick.
Delicate but expensive jewels, like pearl stud earrings complete her school uniform but when Carla wants to be the center of attention she knows exactly what to wear. With big, bold earrings and jeweled chokers, she goes for the stand out pieces that just reinforce her wealth.
All of the Pinks: Steal Carla's Pink Blazer and Mini-skirt Ensemble
When it comes to picking a Carla Rosón Caleruega Elite outfit, the choices are endless. But when you are Las Encinas' Marchioness, and heir to a winery, you might as well go bold, like the look in our collage above.
In a typical look away from the confines of her school uniform, Carla has paired different shades of one of her favored wardrobe colors, pink, to create her look. Starting with a lighter pink tailored blazer paired with a matching pink crop top and mini-skirt.
Sticking with the pink to finish off the outfit, she has added pale pink stiletto heeled court shoes and a fringed pink handbag. A contrasting cream colored tote is the only piece not in pink, along with some delicate but no doubt expensive small round diamond stud earrings.
Not forgetting her long blond hair parted down the center and loosely curled, falling around her shoulders. A flawless complexion, some pink blush and black mascara to bring out her eyes and a rosy pink lipstick complete her look.
Even with her color palette of only pink some might say this look is a bit too simple compared to the other outfits seen on the wealthy elite throughout the show. Yet it can't be denied that this Carla Rosón Caleruega Elite outfit would certainly turn heads, and when you are as manipulative as Carla one look is all she needs to get what she wants.  
Monthly Newsletter
Add some spice to your style with movie set-inspired designs.