50 Costume Ideas with green hair for a Standout Look!
Are you ready to turn heads and make a statement this cosplay or Halloween season? Then why not go for a bold and unique look by combining costumes with green hair? A green wig can add an extra touch of mystique, enchantment, and other-worldliness to your character, making you stand out from the crowd. In this article, we will explore some fantastic costume ideas with green hair that will elevate your cosplay or Halloween ensemble to the next level.
Unleash Your Inner Villain with Wicked Green Locks!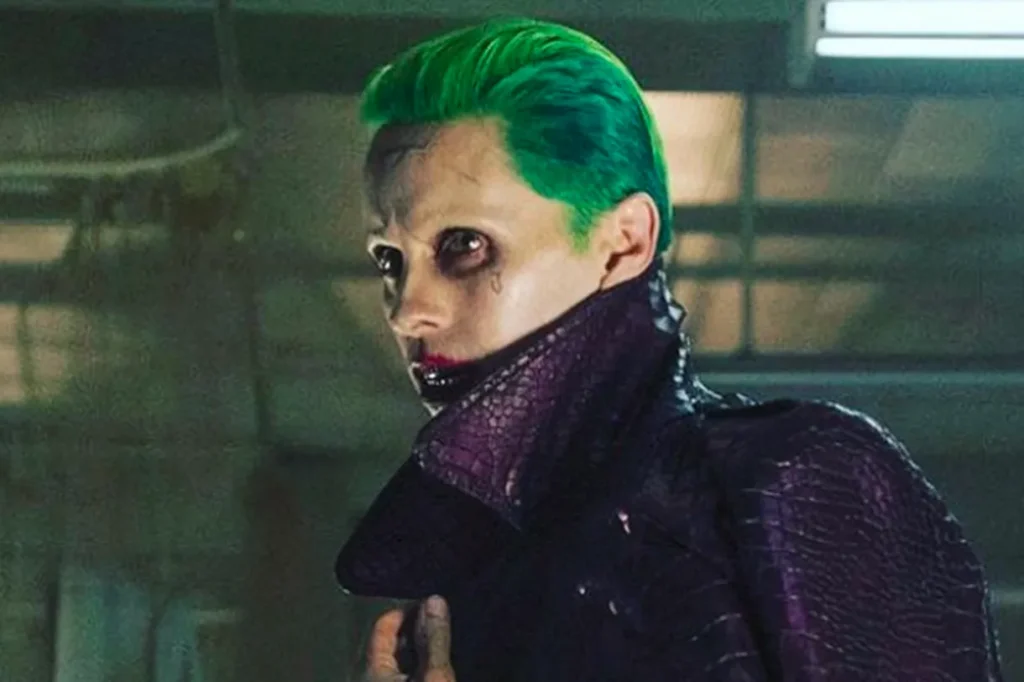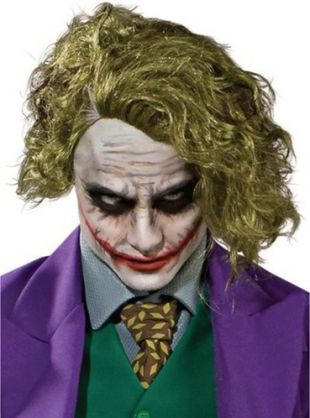 If you're a fan of playing the villain rather than the Fairy, then green hair can be a perfect choice for your costume. Characters like the Joker are notorious for their evil deeds and striking appearances, and green hair can help you capture their dark and nefarious personas.
To nail the look, consider styling your green Joker locks in a messy and wild manner, adding some dark makeup, and wearing an outfit that exudes power, mystery, and a touch of menace. Green hair can add an extra edge to your villainous character, making you the center of attention at any cosplay or Halloween event.
Channel Your Inner Fairy with Green Tresses!
Fairies are mythical creatures that are often associated with nature and magic, and what better way to capture their essence than by rocking green hair? Whether you're dressing up as a classic fairy, a woodland nymph, or a mischievous pixie, green hair can instantly transform you into a fantastical being.
To complete the look, consider pairing your green locks with a flowy and ethereal costume made of sheer fabrics, leaves, flowers, and shimmering accessories. Don't forget to add some glitter and iridescent makeup to enhance the mystical vibe.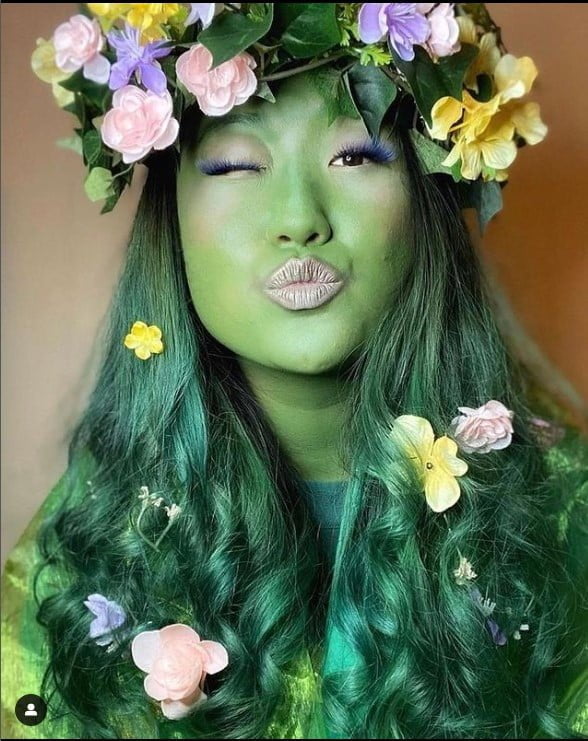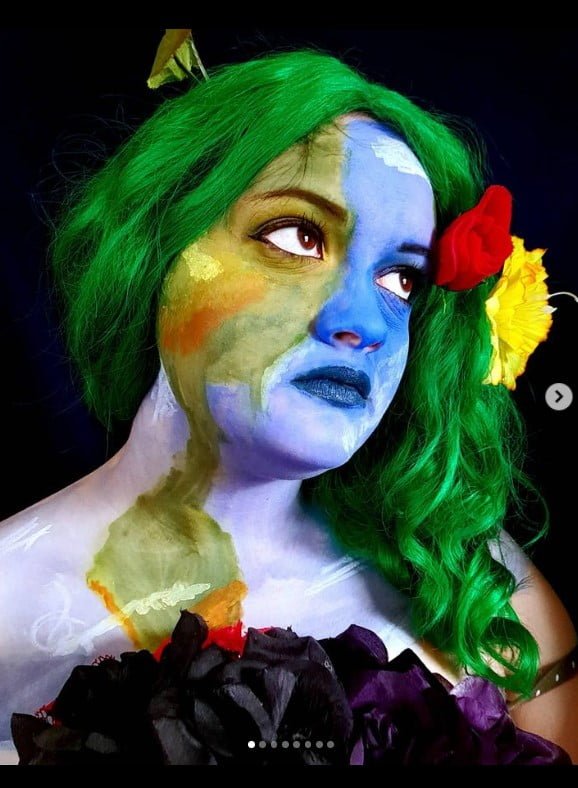 You can begin by selecting one of our stunning wigs and allowing your imagination to soar. If you aspire to exude an enchanting aura of a premium-level magical fairy, then look no further, as we have discovered an incredible Forest Goddess Headdress shop. One of our captivating green-haired costume ideas is this exquisite option: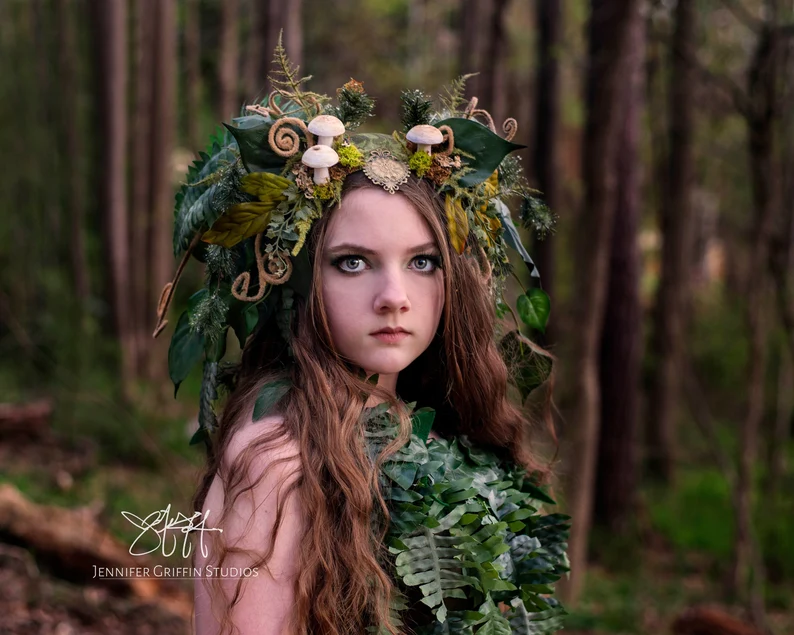 Go Extraterrestrial with Green Hair Costume!
If you're looking for a more futuristic and other-worldly costume, then green hair can give you an otherworldly appearance. Dressing up as an alien, a sci-fi character, or a space explorer? Green hair can help you achieve an otherworldly and extraterrestrial look. Consider styling your green locks in sleek and futuristic ways, using metallic accessories, and wearing a costume with futuristic elements such as metallic accents, holographic fabrics, and neon lights. Here are some ideas: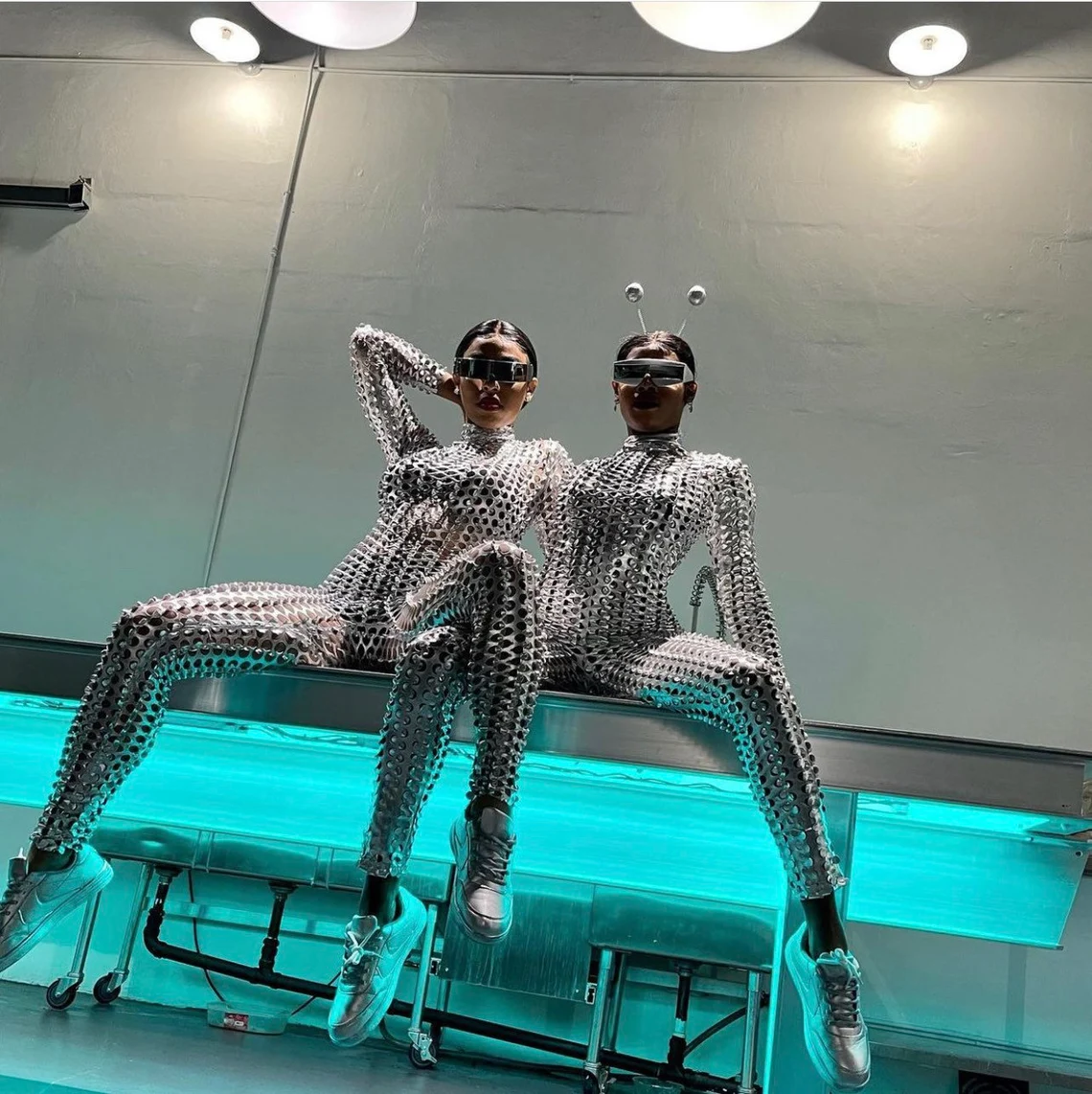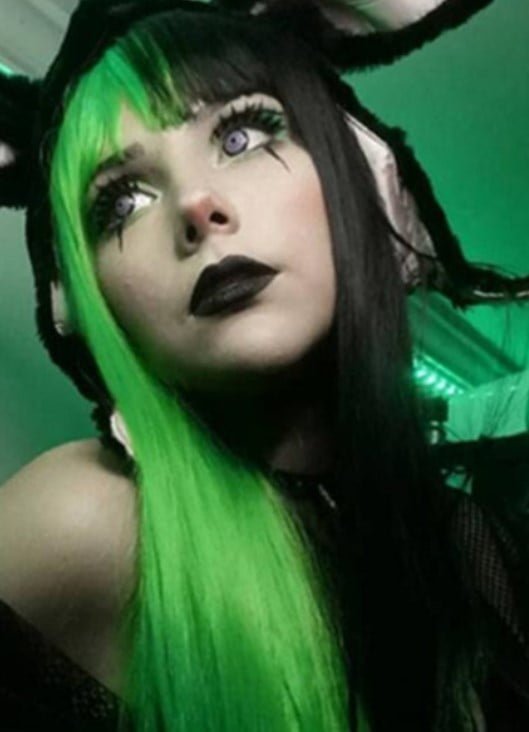 To complete the look, experiment with bold and avant-garde makeup in metallic shades, and you'll surely turn heads with your futuristic green hair.
Get Your Witchy Vibes On with Enchanting Green Locks!
Witches are known for their mystical and magical powers, and green hair can help you channel your inner witch and create a spellbinding costume. Whether you're dressing up as a wicked witch, a sorceress, or a spell-casting enchantress, green hair can add a touch of allure and mystery to your look.
Consider styling your green locks in long and flowing waves, or in a messy and tangled manner for a more disheveled witchy vibe.
Here are some ideas for witchy costumes with green hair: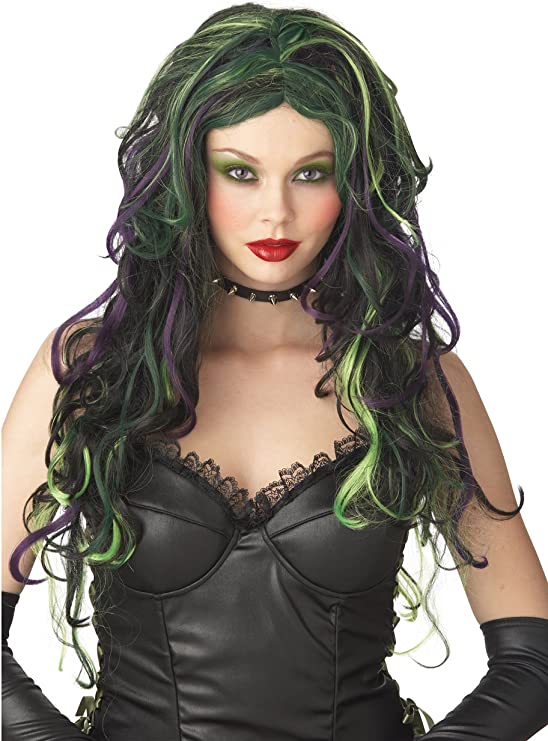 Complete the look with a dark and dramatic costume, pointed hat, broomstick, and some bewitching makeup to create a mesmerizing witch costume that will captivate everyone's attention.
Go Elemental with Green Hair Costume!
Green hair can also be a fantastic choice for costumes inspired by elements such as earth, forest, and nature. Whether you're dressing up as a nature goddess, a tree spirit, or a druid, green hair can help you embody the essence of these natural elements. Consider styling your green locks in a bohemian and earthy manner, using braids, twigs, flowers, and other nature-inspired accessories. Pair your green hair with a costume made of earth-toned fabrics, such as browns, greens, and earthy textures like bark or leaves, to complete the elemental look. Consider using natural makeup and face paint to enhance the connection with nature and create a cohesive and enchanting costume.
Here are some examples of elemental costumes with green hair: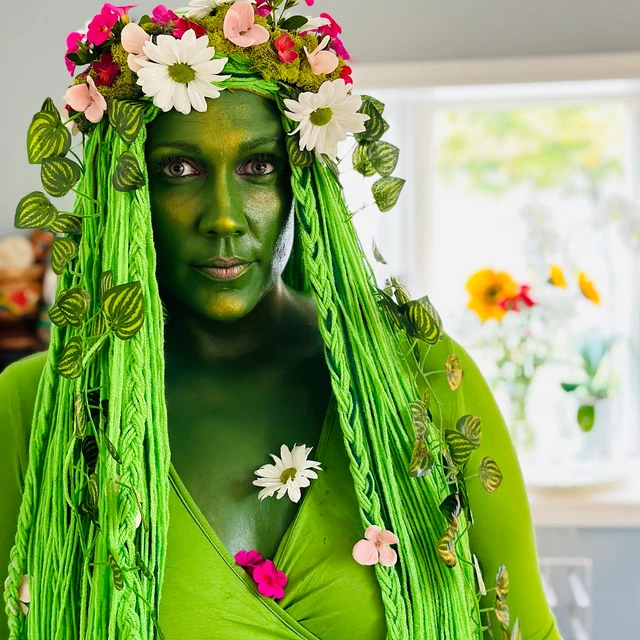 Mother Nature: Mother Nature is a personification of nature and the Earth, often depicted with flowing green hair that represents the lushness of the natural world. You can create a regal and majestic Mother Nature cosplay with a long and voluminous green wig, a gown or dress with nature-inspired details, and accessories such as flowers, leaves, or a staff.
Dryads or Tree Spirits are mythical creatures from various mythologies, often associated with trees and forests. You can create a mystical and ethereal Dryad cosplay with a green wig styled in loose waves or braids, a leafy or bark-like costume, and tree-themed accessories such as branches, leaves, or moss.
Be a Glamorous Green-haired Diva!
Who says green hair can't be glamorous? You can also rock green hair for a glamorous and show-stopping cosplay or Halloween costume. Consider styling your green locks in sleek and polished updos, or in voluminous curls for a glamorous red carpet-worthy look. Pair your green hair with a glamorous costume, such as a sequined gown, a sparkling corset, or a luxurious cape, to create a stunning and attention-grabbing ensemble. Experiment with bold and dramatic makeup, such as smoky eyes or bold lips, to complete your glamorous green-haired diva look.
Here is an excellent idea for glamorous green-haired diva cosplay: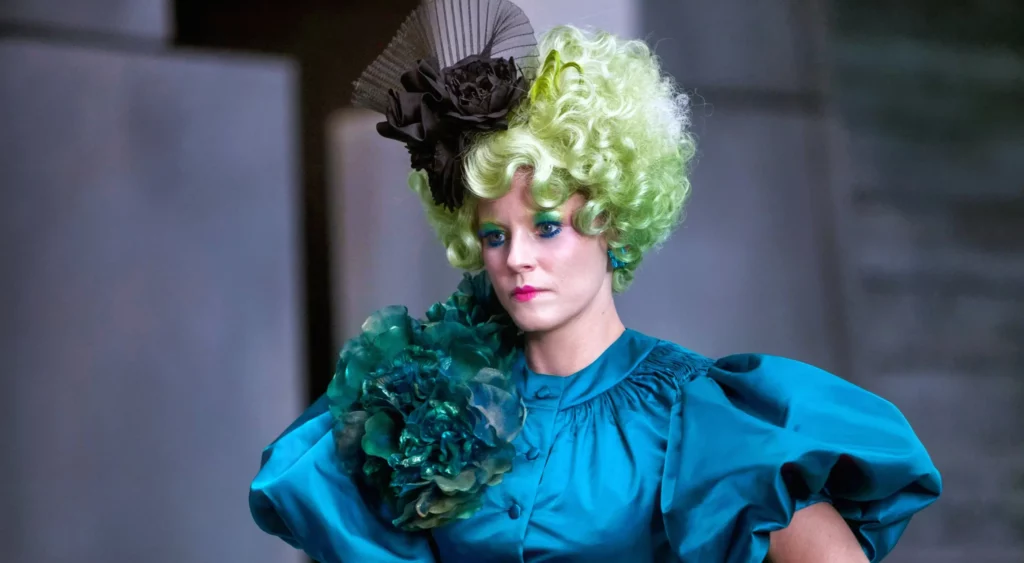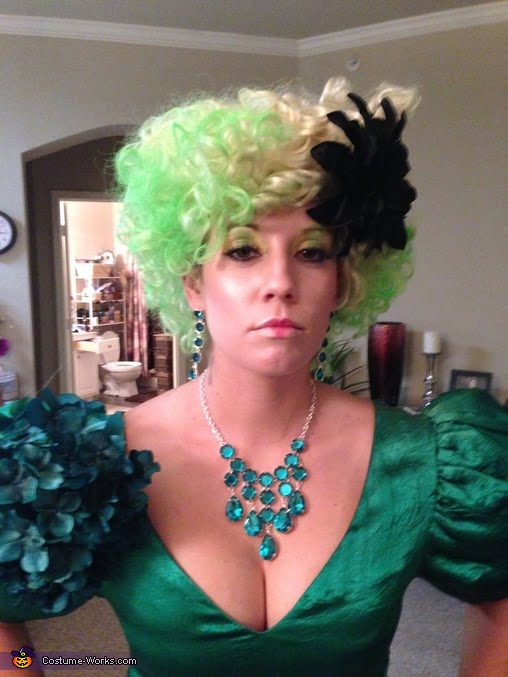 Effie Trinket from The Hunger Games, portrayed by Elizabeth Banks in The Hunger Games movies, is a flamboyant and eccentric character known for her extravagant fashion sense, including her colorful and unique hairstyles.
You can cosplay as Effie Trinket with a green wig styled in an elaborate and avant-garde manner, a bold and vibrant costume with eccentric accessories such as oversized bows, hats, or makeup.
Transform into a Mythical Creature with Green Tresses!
From mermaids to goblins, there are plenty of mythical creatures that are often associated with the color green. Green hair can help you transform into one of these fantastical beings and bring their magic to life. Consider styling your green locks in unique and creative ways, such as mermaid-inspired waves, or spiky and wild styles for a goblin or troll character.
Pair your green hair with a costume that embodies the mythical creature you're portraying, using scales, fins, or other creature-inspired details. Consider using iridescent or shimmering makeup to add an otherworldly touch and complete your mythical creature costume with a dash of green-haired magic.
Memorable Costumes with Green Hair: Exploring Iconic Characters Known for Their Green Locks
The world of fiction is filled with characters who are recognized for their iconic green hair, making them instantly memorable and distinctive. here we'll give you a few ideas for cosplays with green hair! Have fun experimenting with different hairstyles, costumes, and accessories to bring your favorite green-haired characters to life!
Gwen from Total Drama Island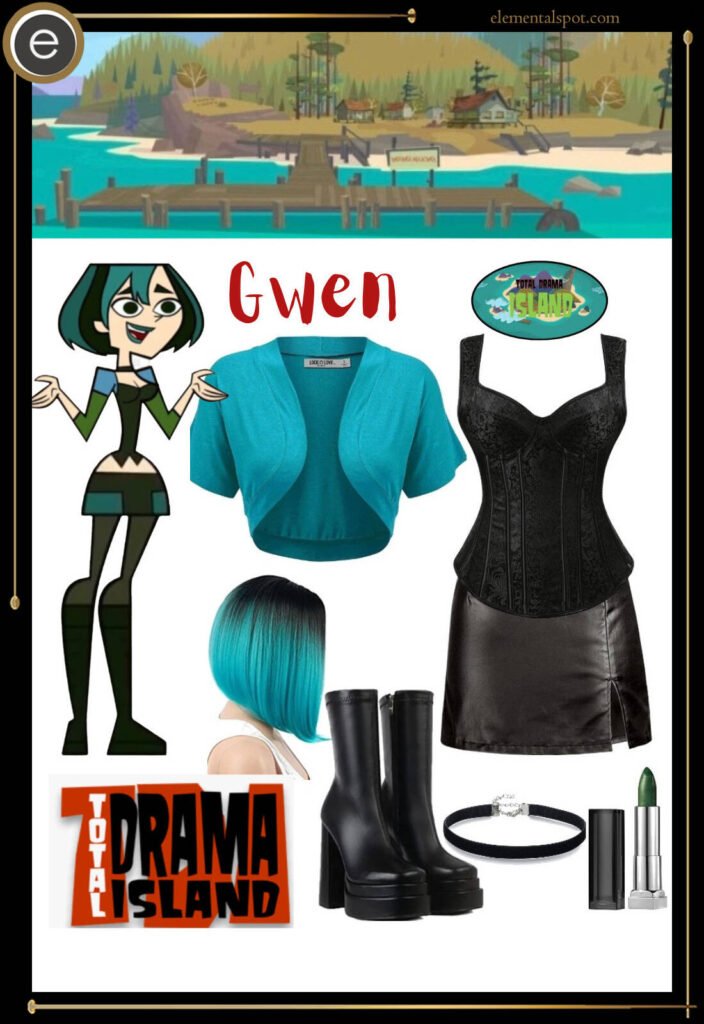 Gwen is a character from the animated TV show "Total Drama Island." She is a goth girl with a rebellious attitude and is known for her distinctive green hair with streaks of black. Gwen's green hair complements her edgy and non-conformist personality, reflecting her individuality and uniqueness among the other contestants on the reality show.
Duncan from Total Drama Island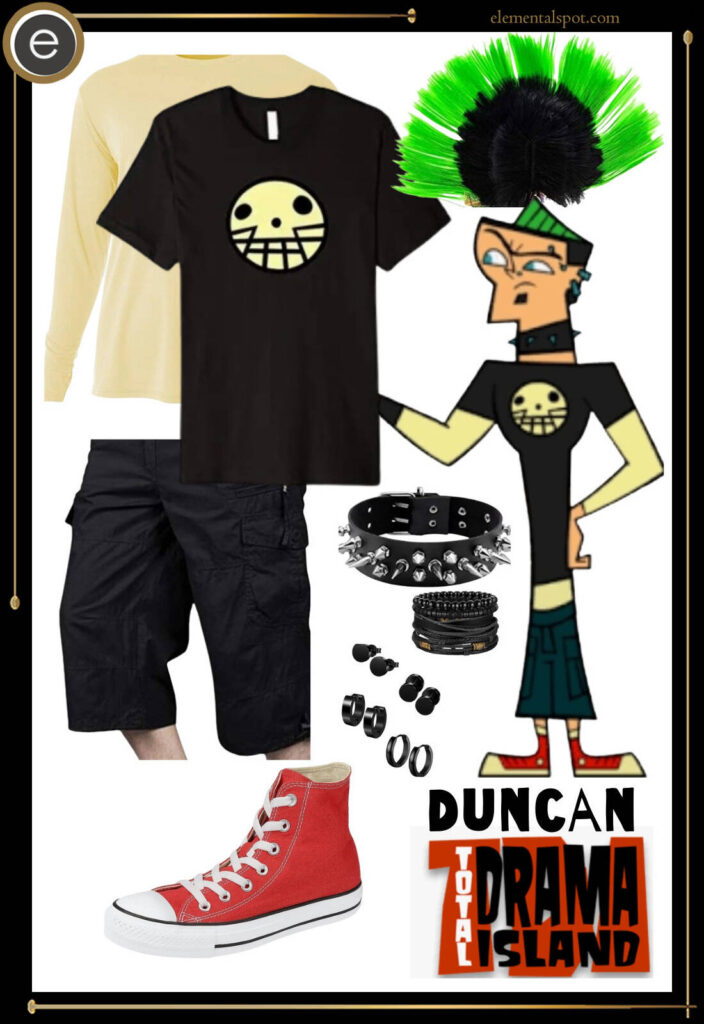 Duncan is a character from the animated TV show "Total Drama Island." He is a punk rocker with a mischievous and rebellious personality and is recognized for his spiky green hair. Duncan's green hair adds to his tough and cool image, reflecting his love for rock music and his competitive spirit as a contestant on the reality show.
Green Haired She Hulk from Marvel
She-Hulk, also known as Jennifer Walters, is a Marvel Comics character who isa cousin of Bruce Banner, also known as the Hulk. After receiving a blood transfusion from Bruce, Jennifer gains similar superhuman abilities and transforms into She-Hulk, a green-skinned and green-haired powerhouse. She-Hulk is known for her incredible strength, intelligence, and wit, and her green hair is a defining feature of her appearance as a superhero and lawyer.
Amity Blight's Grom Green Wig Outfit from The Owl House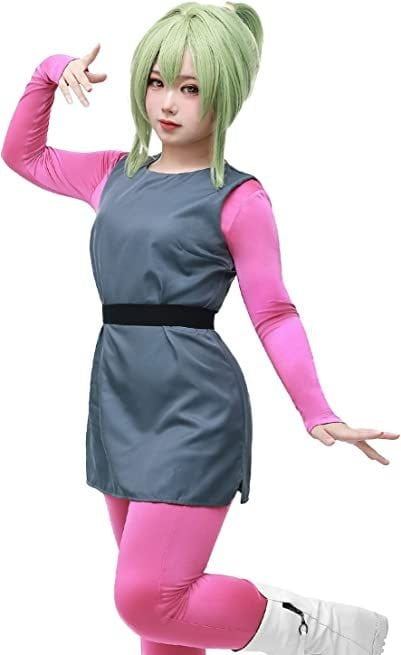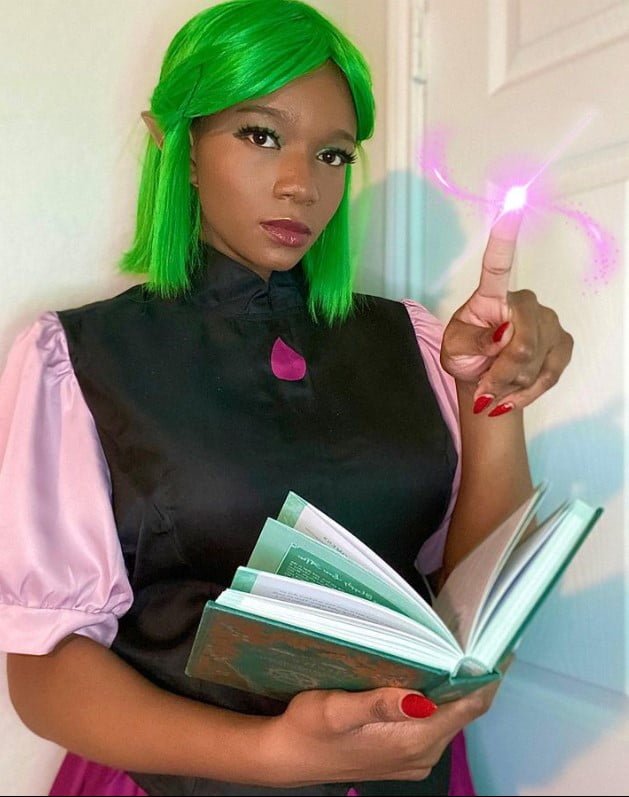 Amity Blight is a character from the animated TV show "The Owl House." Her Grom outfit, which she wears to a magical coming-of-age ceremony called the Grom, features a stunning emerald green dress with matching green hair. Amity's green hair complements her sharp wit, intelligence, and determination, reflecting her strong and independent personality.
Candlehead from Wreck-It Ralph Costume Idea for Green Wig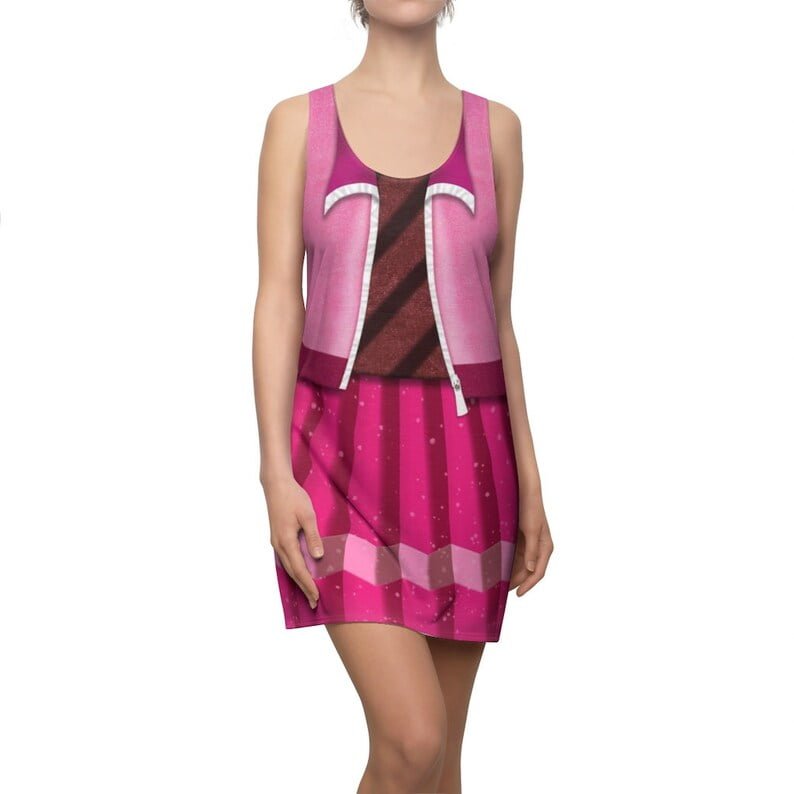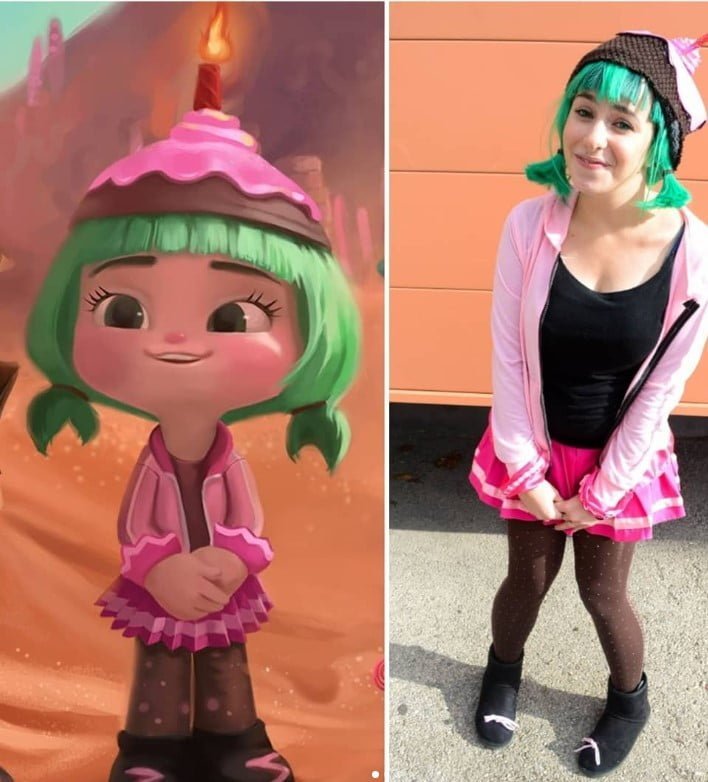 Candlehead is a character from the animated film "Wreck-It Ralph." She is a racer in the candy-themed racing game "Sugar Rush" and is known for her bright green hair that resembles a lit candle. Her energetic and fiery personality matches her unique hairstyle, adding to her memorable appearance.
Vendetta from Making Fiends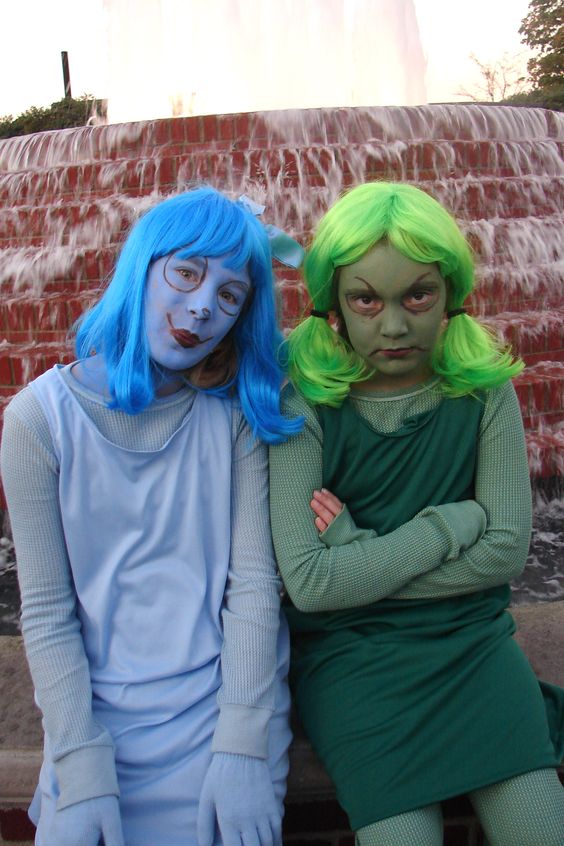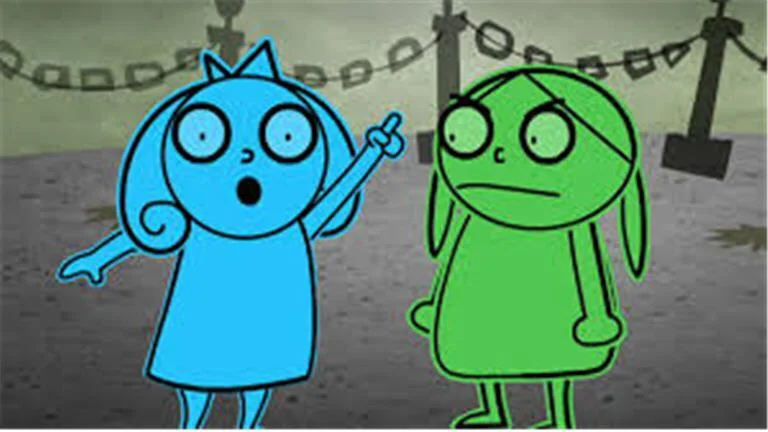 Vendetta is a character from the animated TV show "Making Fiends." She is a villainous little girl with a twisted sense of humor and is known for her dark green hair that matches her mischievous personality. Vendetta's green hair is often divided into two braids, adding to her eccentric and creepy demeanor.
Gamora Costume with Green Hair (Marvel Comics)
A character from the Guardians of the Galaxy series, Gamora is known for her green skin and hair, which are the result of being the last surviving member of her species, the Zen-Whoberis.
Palutena costume with long green hair from Kid Icarus
Palutena is a character from the video game franchise "Kid Icarus." She is the goddess of light and is known for her elegant and regal appearance, including her long, flowing green hair. Palutena's green hair adds to her divine and majestic aura, reflecting her role as a powerful deity in the game's mythology.
Nico from Nanbaka Cosplay
Nico is a character from the anime and manga series "Nanbaka." He is a flamboyant and charismatic prisoner with a laid-back and carefree attitude, and he is known for his vibrant green hair. Nico's green hair adds to his unique and eye-catching appearance, reflecting his colorful personality and love for fashion.
Green Haired Froppy (Tsuyu Asui) from My Hero Academia
Froppy, whose real name is Tsuyu Asui, is a character from the popular anime and manga series "My Hero Academia." She is a student at U.A. High School, and her Quirk (superpower) allows her to have frog-like abilities. Froppy is known for her distinctive short green hair, large round eyes, and her frog-like appearance, which reflects her laid-back and adaptable nature.
Captain Planet Costume with Green Wig
Captain Planet is the titular character from the animated TV show "Captain Planet and the Planeteers." He is an environmental superhero with green hair that matches his superhero costume. Captain Planet is known for his unwavering commitment to protecting the environment and promoting sustainability, and his green hair is a visual representation of his connection to nature and his mission to save the planet.
N Pokemon Trainer from Pokemon Black and White
N, also known as the Pokemon Trainer from the video games "Pokemon Black and White," is a mysterious character with a deep connection to Pokemon and nature. He is recognized for his unique green hair, which adds to his enigmatic and otherworldly appearance. N's green hair reflects his bond with Pokemon and his role as a complex antagonist in the game's storyline.
Radicles from OK K.O.! Let's Be Heroes
Radicles is a character from the animated TV show "OK K.O.! Let's Be Heroes." He is a laid-back, cool, and confident character with a rebellious attitude. Radicles is known for his spiky green hair, which matches his edgy personality and adds to his rockstar-like appearance. His green hair is often styled in a wild and flashy manner, reflecting his love for music and his desire to stand out.
3 famous divas or female celebrities who have rocked green hair
1- Billie Eilish – The Grammy-winning singer-songwriter is known for her unique sense of style, including her bold green hair. Billie Eilish has been seen sporting different shades of green hair, ranging from neon green to pastel green, which perfectly complements her edgy and unconventional image.
2- Katy Perry – The pop star has experimented with various hair colors throughout her career, including a stint with green hair. Katy Perry has been spotted with vibrant green hair, styled in different ways, from sleek and straight to curly and tousled, adding a playful and daring element to her iconic looks.
3- Cardi B – The rapper and fashion icon is known for her fearless and boundary-pushing style, and she has also tried out green hair. Cardi B has rocked green hair in various shades, from lime green to emerald green, often paired with bold makeup and extravagant outfits, making a bold and unforgettable statement.
These three divas have all embraced green hair as a part of their distinctive style and have confidently rocked this unique hair color. Green hair can be a daring and eye-catching choice for those who want to express their creativity and individuality through their hair. Whether it's for a special event, a performance, or just for fun, green hair can make a striking statement and add an extra touch of glamour and uniqueness to a diva's look!
Final Thoughts: The Enduring Appeal of Green-Haired Characters and Their Iconic Costumes
In addition to the green hair, pay attention to other elements of the character's costume and accessories to complete the overall look. Consider replicating the character's outfit, props, makeup, and mannerisms to fully immerse yourself in the character and bring them to life. Attention to detail and creativity in your cosplay efforts can make your costume stand out and impress others.
In conclusion, incorporating green hair into your cosplay or Halloween costume can add an extra level of authenticity and visual appeal. With a wide range of characters with green hair to choose from, you can create a unique and memorable cosplay look that pays homage to your favorite characters. So, whether you're cosplaying as a villain, a diva, a superhero, or a quirky character, don't shy away from embracing the allure of costumes with green hair and using it to elevate your cosplay game!
Missing an Outfit Inspo? Submit your idea and we'll make it happen!
Monthly Newsletter
Subscribe and get your Halloween costume ideas from us each year.