Dress Up Like Ham Porter from The Sandlot
If you are looking for a good Ham Porter costume for Halloween or a big cosplay event, here's the winning formula for creating the most exciting outfit of the party! Let's see how to dress up as Ham Porter from The Sandlot.
Outfit Guide For COSPLAY & HALLOWEEN
Ham Porter from The Sandlot Outfit Guide
Shopping List for Ham Porter from The Sandlot Costume & Outfit
There is nothing like recreating a character from one of your favorite childhood movies for your next dress-up or cosplay event. For many, 20th Century Fox's The Sandlot (1993) will bring back fond memories of their own childhood summer adventures. The movie has plenty of options when it comes to characters to dress-up as, so using the costume design from Grania Preston, you could almost effortlessly recreate a Ham Porter costume.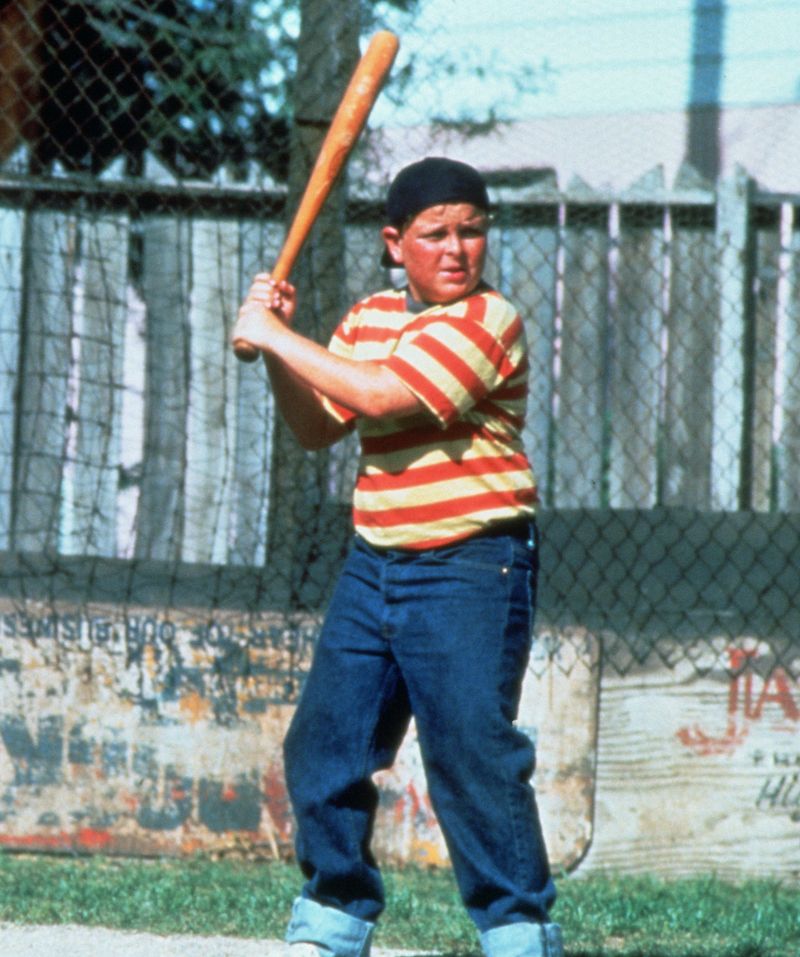 The 1993 American coming-of-age comedy, set in the summer of 1962, tells the story of a group of baseball playing friends when new boy Scotty Smalls joins the team and is taken under the wing of their baseball prodigy leader, Rodriguez. The team's catcher Hamilton 'Ham' Porter, has a fast mouth and a vivid imagination, both of which gets the Sandlot boys into a few crazy adventures throughout the summer.
Getting the Ham Porter Look
Creating a Ham Porter costume shouldn't be very difficult at all. One of his most memorable movie looks is his wide horizontal orange and yellow striped round neck t-shirt (another costume with the striped shirt is from Pugsley Addams from The Addams Family) but why not take some creative liberty here and instead get an official Ham Porter shirt. Try to find one that shows the catcher posed on the front, almost like he's finally made it and has his own baseball card. Then pair your official t-shirt with a pair of blue denim straight leg jeans and a pair of white converse.
There isn't going to be any need for much hair or make-up styling to perfect your Ham costume. Although we do know that he has short ginger hair from the movie, he almost always has it covered by a hat. So instead of worrying about your hair or getting a wig, buy yourself a navy blue baseball cap. Then just make sure that you perfect your Ham look and remember to turn it around and wear it backwards, like all the other cool kids do.
Now that your costume is nearly done, it is time for a few finishing touches, starting with a traditional wooden baseball bat slung over your right shoulder. Ham was also a massive Babe Ruth fan and often liked to replicate the pose Babe was supposed to have done to signal he was going for a homerun. The pose in question saw him with his left arm in the air while pointing his finger. If there had been any doubt in people's minds over who you were dressed up as before, adding the bat and finger pointing Babe Ruth pose should clear that right up and everyone will know you have come in a Ham Porter Costume.
Missing an Outfit Inspo? Submit your idea and we'll make it happen!
Monthly Newsletter
Subscribe and get your Halloween costume ideas from us each year.