Jesse Pinkman's Breaking Bad Style
Jesse Pinkman's style is as distinct as his tumultuous journey through the drug trade in the critically acclaimed series Breaking Bad. From his early days as Cap'n Cook to his evolution throughout the series, his outfits and wardrobe reflect the iconic character's transformation
Going by the clandestine name Cap'n Cook, Jesse goes on quite a journey. But where Walter went from a straight-laced teacher to the violent criminal mastermind Heisenberg, Jesse quickly becomes horrified by the violence. Losing everyone he loved, including girlfriend Jane Margolis (whose style we discuss here), he wants to escape the criminal life.
Something that we can see throughout the show in his changing Jesse Pinkman style, outfits and wardrobe. With some of his best looks, telling the iconic characters story.
The Jesse Pinkman Hoodies of Breaking Bad
If we are going to break down the Jesse Pinkman style then we better start with his most worn garment, the hoodie. Normally featuring a zip-up fastening Jesse's closet is full of the oversized comfortable sweatshirts, just like these three notable looks below.
The Iconic Yellow Hoodie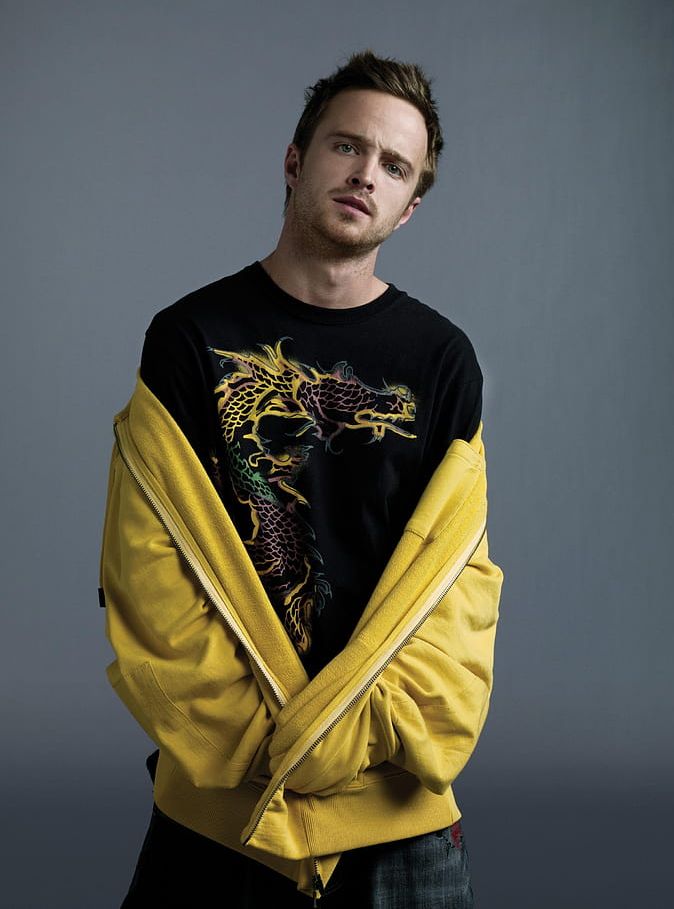 Probably one of the most memorable looks from Breaking Bad, after the Walter White Green Shirt and underpants look from the pilot, is this bright yellow Jesse Pinkman Hoodie. So renowned in fact that we have included it in our list of the most iconic movie and televisions hoodies of recent times and made a costume tutorial on how to Dress Up Like Jesse Pinkman from Breaking Bad
Jesse's Red Fleece lined Hooded Jacket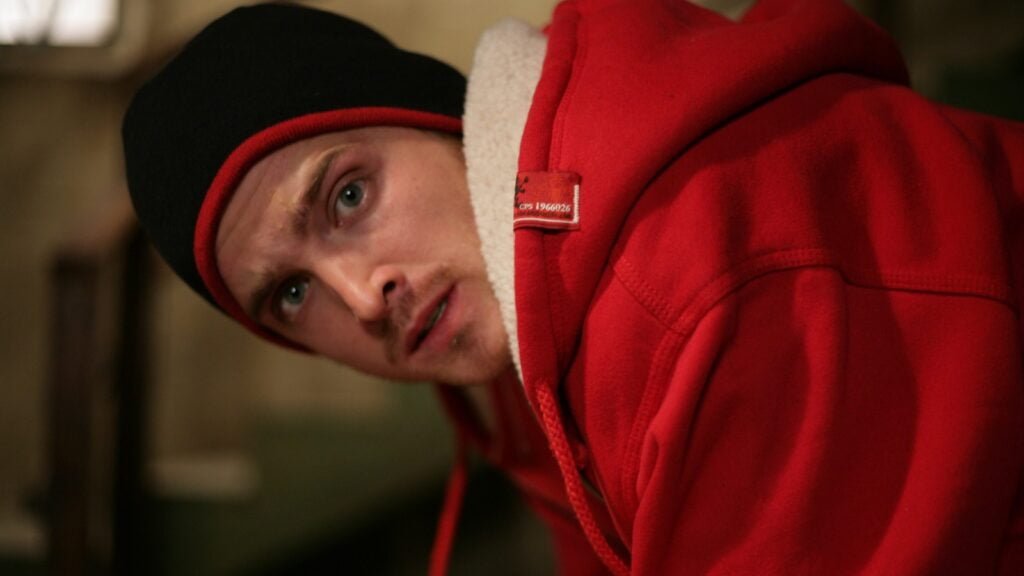 The Jesse Pinkman outfits on Breaking Bad, and particularly this vivid red hooded jacket ooze troublemaker. Oversized and with a hip-hop street feel, Jesse's fleece lined hoodie fits his video game playing, loud music and souped-up car owning personality.
Volcom Printed Hoodie from Breaking Bad Season Two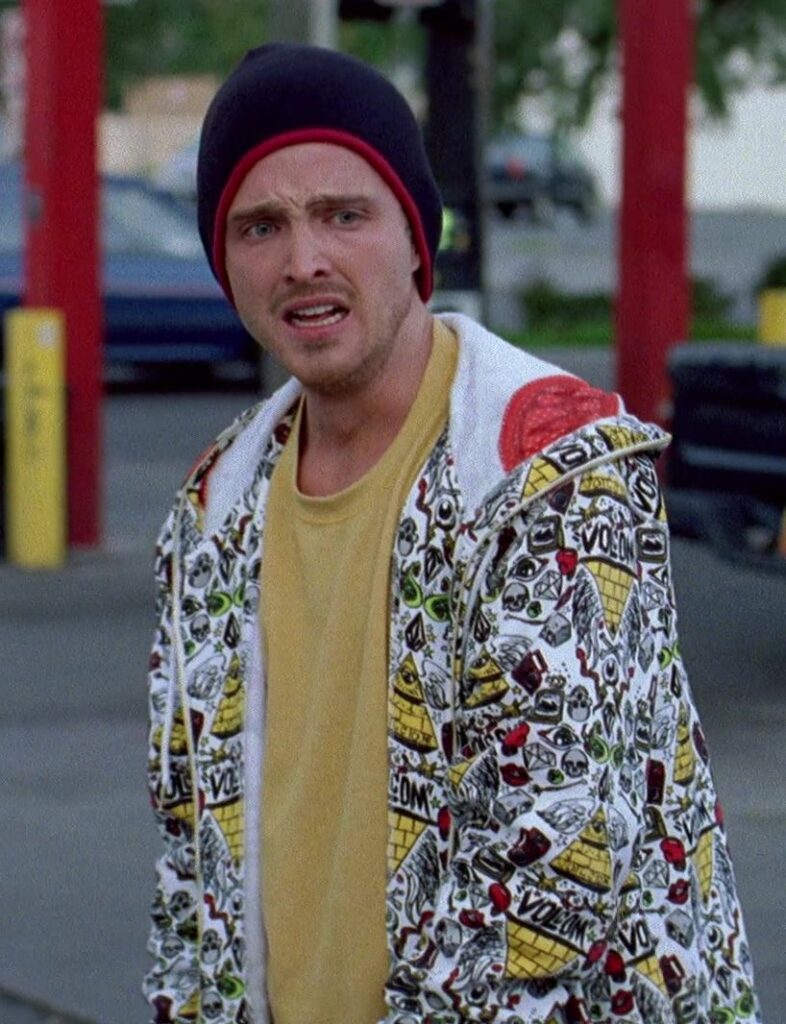 Even with Jesse's impulsive and self-indulgent attitude, you can't deny his street-smarts. Young and influenced by the trends of the noughties he boldly wears loud and flamboyant colors and prints. With skater brands like Volcom, and their crazy skull, diamond and pyramid patterned hoodie, among his favorites on the show.
Jesse Pinkman Style Graphic T-shirts
When it comes to Jesse's signature look, the first thing we noted above was his vast hoodie collection, which was quickly followed by his selection of casual T-shirt's that accompany them. Sticking with bold colors as often as darker grays and blacks, Jesse likes fun and funky prints especially if they feature skulls.
Jesse's Cheeky Tongue and Skull T-shirt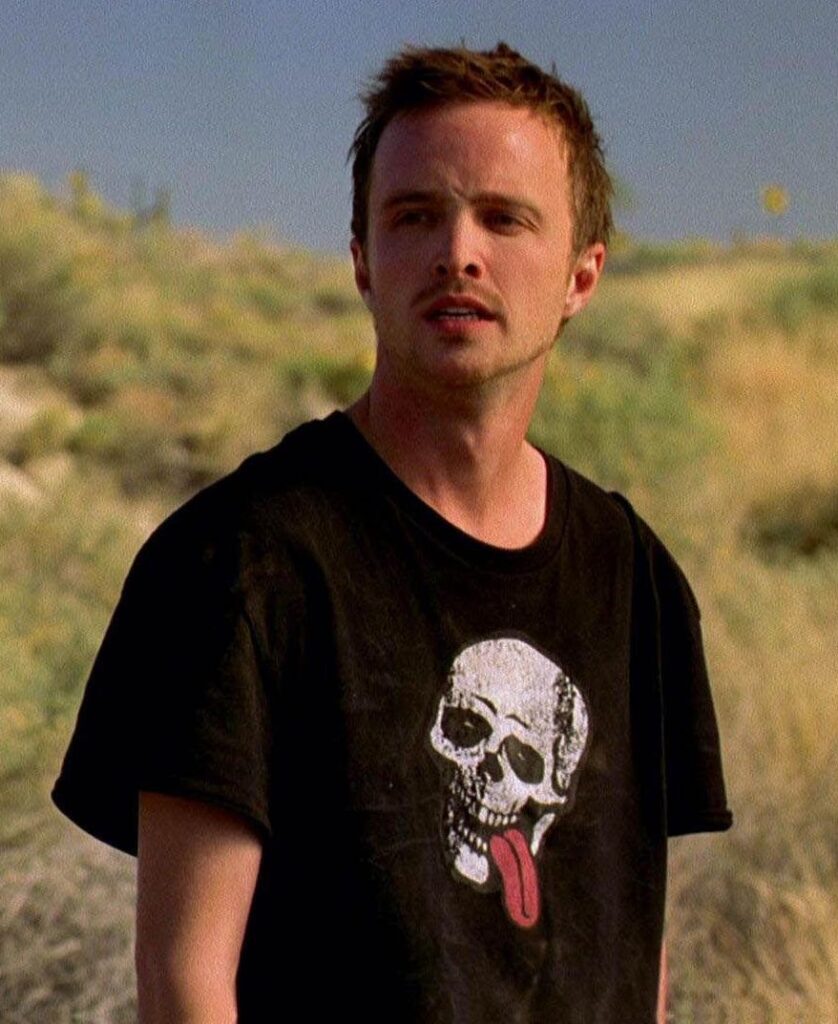 Although it wouldn't be unheard of to see Jesse wearing a plain colored t-shirt, maybe in a solid red or gray, his personality spoke more to the eye-catching graphic t-shirts he wore. With cheeky, light hearted images like this black round neck with a print of a skull with its tongue hanging out, that was youthful and silly.
The Green Grenade T-shirt from Breaking Bad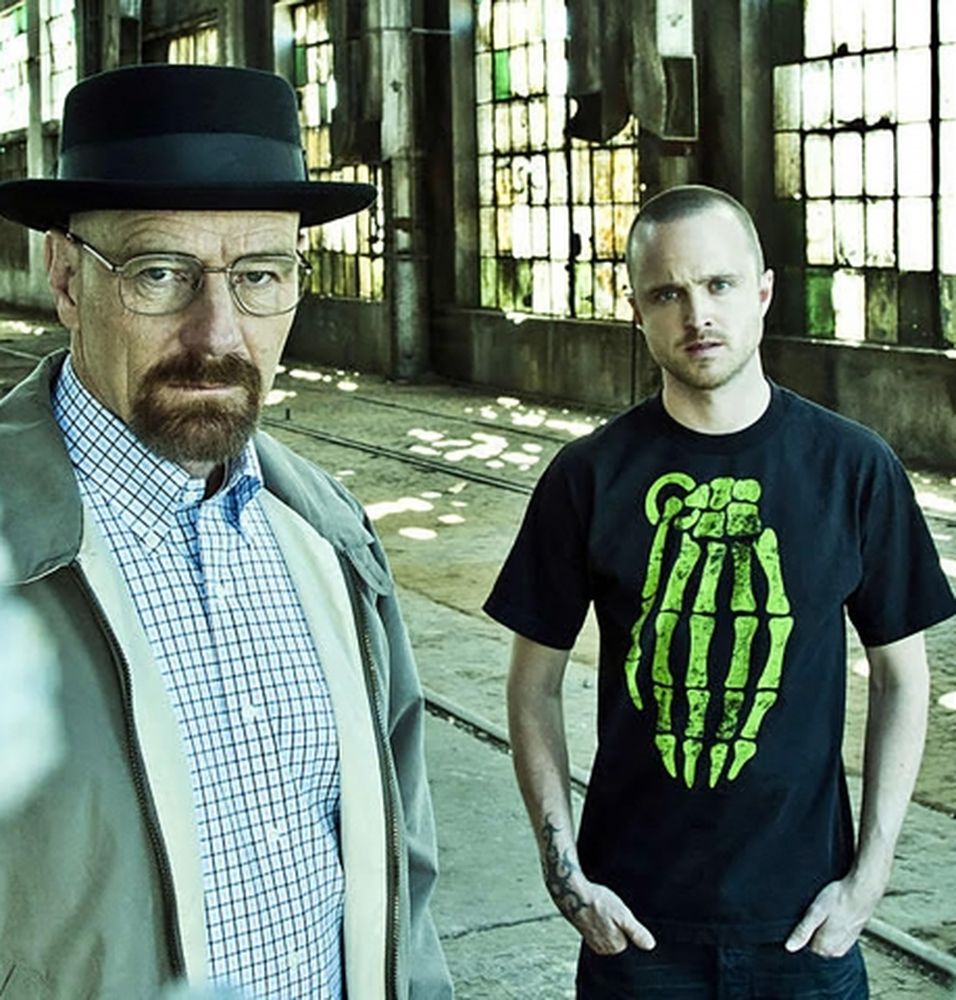 As the seasons went on the changing Jesse Pinkman style started to include more muted tones with a darker color palette. In the same way that Walter's looks adapted to his more violent and criminal lifestyle (which you can find a breakdown of here). However, no matter the horrors he saw or the hardships he lived through, Jesse never fully lost his lighter, more youthful side. Seen here when he wore this fun yet disturbing acidic green, skull hand grenade print t-shirt.  
The Different Jeans Jesse Wears Throughout Breaking Bad
It might be all layers of t-shirts and hoodies on the top half, but when it comes to Jesse's pants, he sticks to his relaxed hip-hop vibes by always wearing jeans. Almost every time in a darker denim wash, with the biggest change throughout the five seasons being the altering fit.
The Long, Baggy, Noughties Jesse Pinkman Style Jeans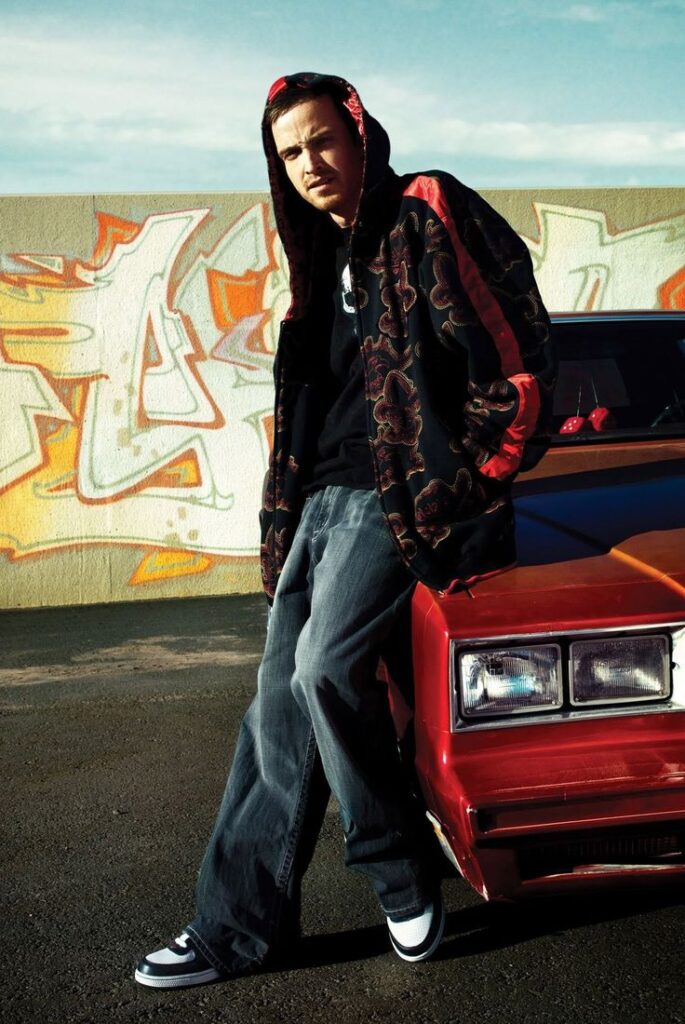 Actually only taking place over a few years, Breaking Bad is set between 2008 and 2010. Which meant that the noughties fashion trends of the time played a large part in the costumes, and in particular those of Jesse Pinkman. Starting with his relaxed fit jeans, that have that telltale 00's very baggy oversized fit and long length that dragged along the ground.
Jesse's Distressed Jeans to match his Distressed Life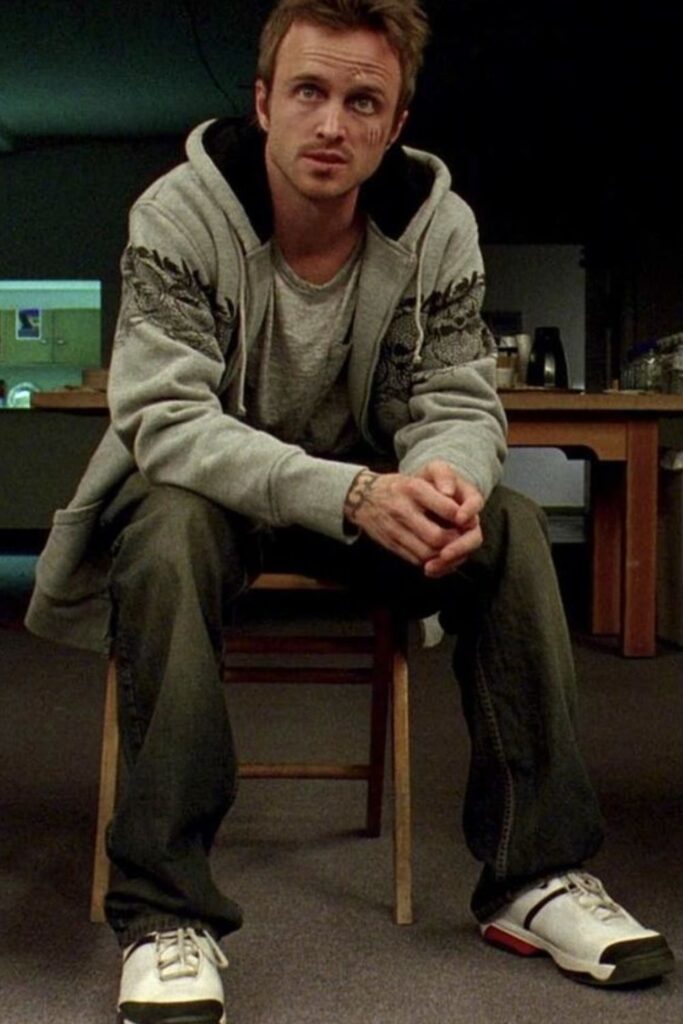 The Breaking Bad wardrobe department cosume designer Kathleen Detoro and creator Vince Gilligan, spent a lot of time considering the role of color within the characters' looks on the show. However it wasn't just the shade of a garment that was used to express their development, there was also the fabric and in Jesse's case the level of a garment's deconstruction. Like his distressed dark denim jeans, that subtly hinted at the hardships he faced and the anguish he felt over it all.
A Grown-up Jesse Pinkman's Take on Casual Jeans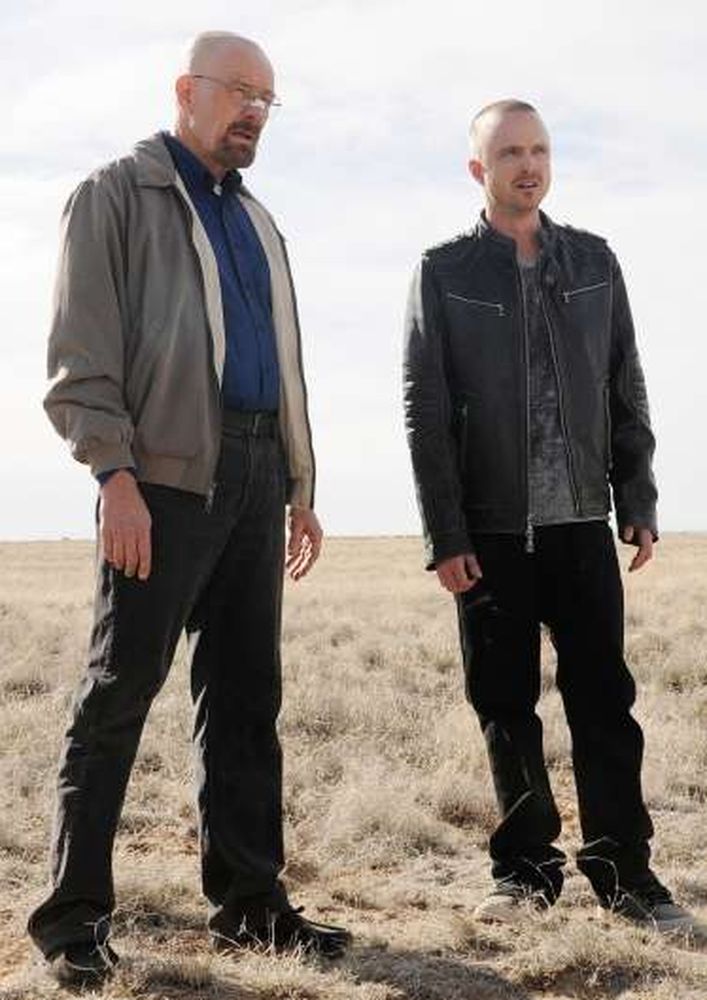 After the death of his girlfriend Jane in the second season, and his descent into addiction and subsequent rehab Jesse's look becomes more toned down and muted. Bit by bit, over the remaining seasons the Jesse Pinkman style gets more grown-up, with darker colors, more expensive textures and slimmer silhouettes. Gone are the floor dragging baggy jeans, for simple straight leg black denim jeans like these ones.
The Jesse Pinkman Jacket Transformation Throughout Breaking Bad
The Jesse Pinkman style, which follows so many of the 00's trends, is all about the layers. From jackets and vests over hoodies, Jesse's looks can never have too many oversized garments on top of each other.
Oversized Plaid Shacket worn in Breaking Bad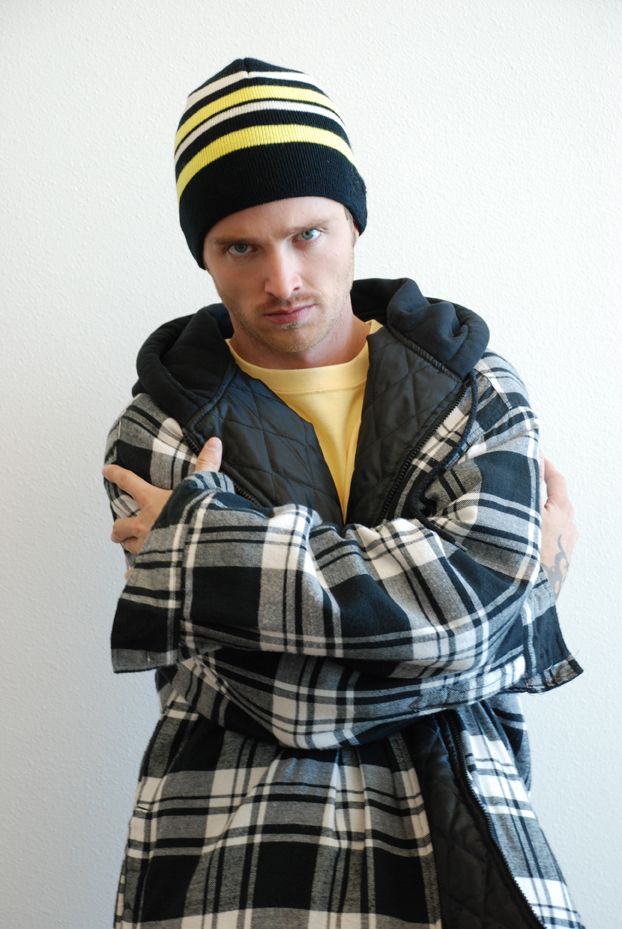 That oversized, relaxed, casual vibe that Jesse carries, no doubt from one too many of his own products, fits the character he is trying to personify perfectly. With the added black and white plaid pattern on this baggy shacket tying in with his existing wardrobe. Muting his usual bright and bold color palette but still keeping his youthful, jokester edge.
Jesse's Red Puffer Vest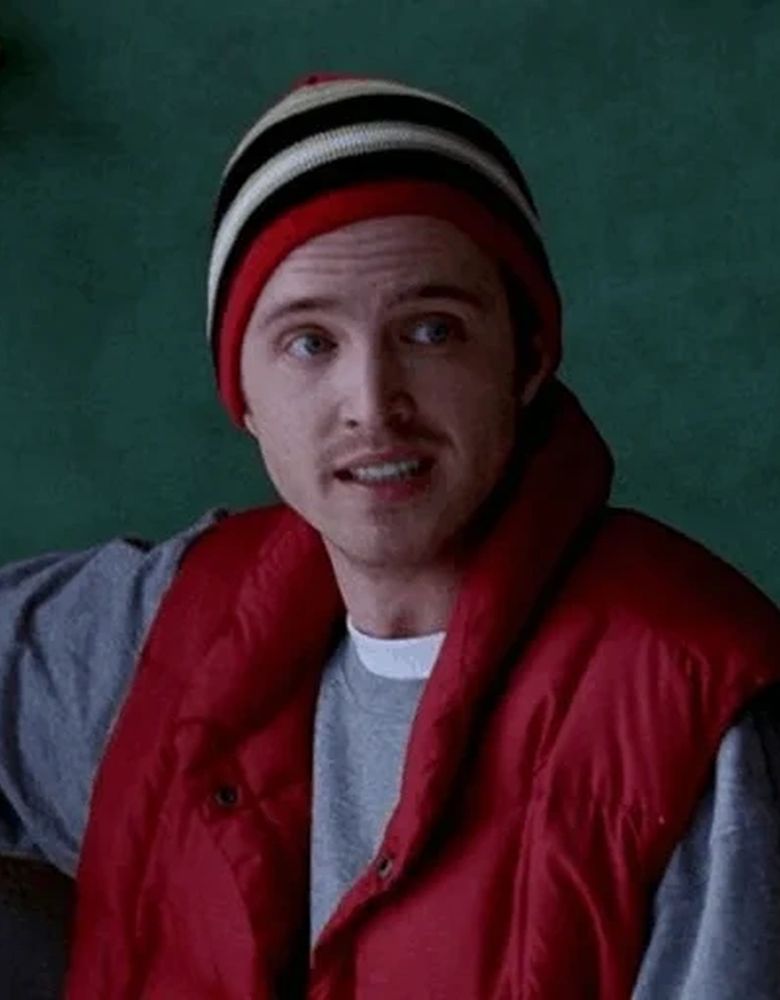 Yellow might be the color that the Jesse Pinkman style is iconic for, but red can't be far behind especially when paired with gray. So what better color combination for this puffer vest and oversized jumper outfit. A look that could have been a bit too outdoorsy, but a trendy Jesse just about manages to pull it off.
The Jesse Pinkman Style Grown-Up Leather Jacket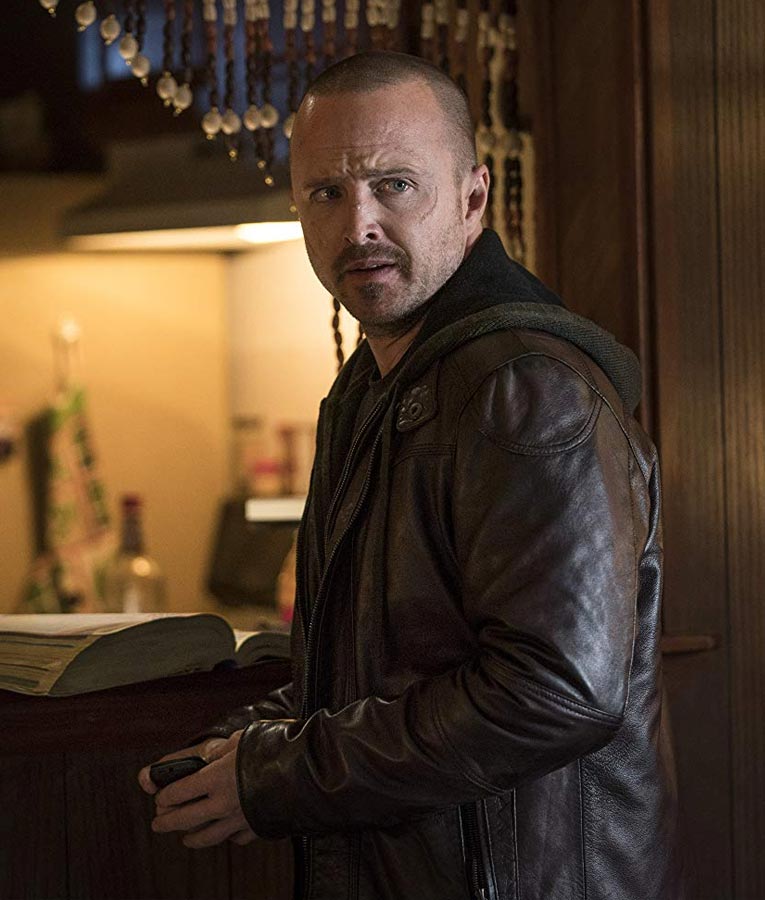 But of course as we have mentioned before with his personality and life changing, so does his style, becoming more refined and grown-up in the later seasons. Moving away from oversized bold hoodies, Jesse's new style is about slimmer fits and more expensive fabrics, just like this dark leather jacket.
The Jesse Pinkman Breaking Bad Accessories
Beanie hats and sneakers, that is about as far as the Jesse Pinkman style goes on accessories, unless you count his full face respirator that he wears when cooking their trademark blue crystal meth.
Jesse's Simple Beanie Hats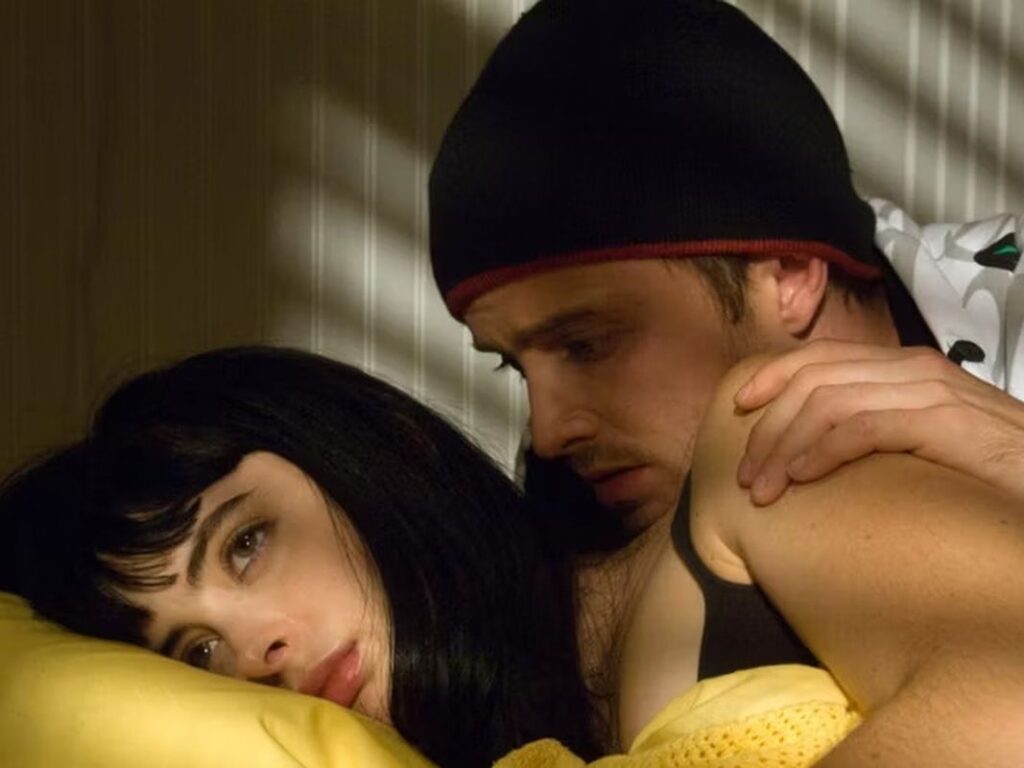 So it is no surprise with Jesse's relaxed, noughties hip-hop inspired looks that he has almost as many knit beanie hats as iconic hoodies in his wardrobe. Going for hats in his trademark colors, particularly in the earlier seasons of the show. Such as a simple black beanie with a pop of color from a red stripe along the edge, or in his favored bright yellow.
Nike Sneakers Worn by Jesse Pinkman in Breaking Bad
Out of all of the pieces that make up Jesse's outfits, his shoes are one of the things that he spends practically no time worrying about. All we really know is that he favors the comfort and look of sneakers. Especially when he was going through his early season looks of baggy jeans and hoodies.
Even with the story focusing on Walter White and his troubled life, it isn't long before Aaron Paul's Jesse Pinkman is the center of attention. Difficult not to be drawn to the journey he goes on, and the growth he shows from the jokester to the haunted man who wants to make more of his life. But whether it is his oversized 00's looks or his grown-up moodier outfits, the Jesse Pinkman style has something that would work in anyone's closet. And there are a lot worse people on Breaking Bad, to want to emulate.