Jane Margolis' Breaking Bad Style
With the first season of AMC's Breaking Bad introducing us to a world centered around the production and distribution of methamphetamine and the shady criminal underworld, it was hard to imagine how season two would be able to up the ante. But with the addition to the cast of Krysten Ritter's Jane Margolis, along with her captivating outfits in the second season's fifth episode, did not disappoint.
In Season three we see a flashback between Jane and Jesse, where she tries to explain the joy of the art exhibit they had just viewed of the same door painted over and over again.
An instant fan favorite, her troubled character's story would have a premature end, and if you actually watched the show, you will know just how sad and ultimately unfair that farewell was. Yet for only being in nine episodes altogether, Jane Margolis made a big impression that continued long after the character was gone. Although nothing was more influential than Jane's Breaking Bad outfits of early 00's fashion, that had more than a hint of dark and gothic tendencies.
Breaking Bad's Jane's Black Denim Vest and White Tank Top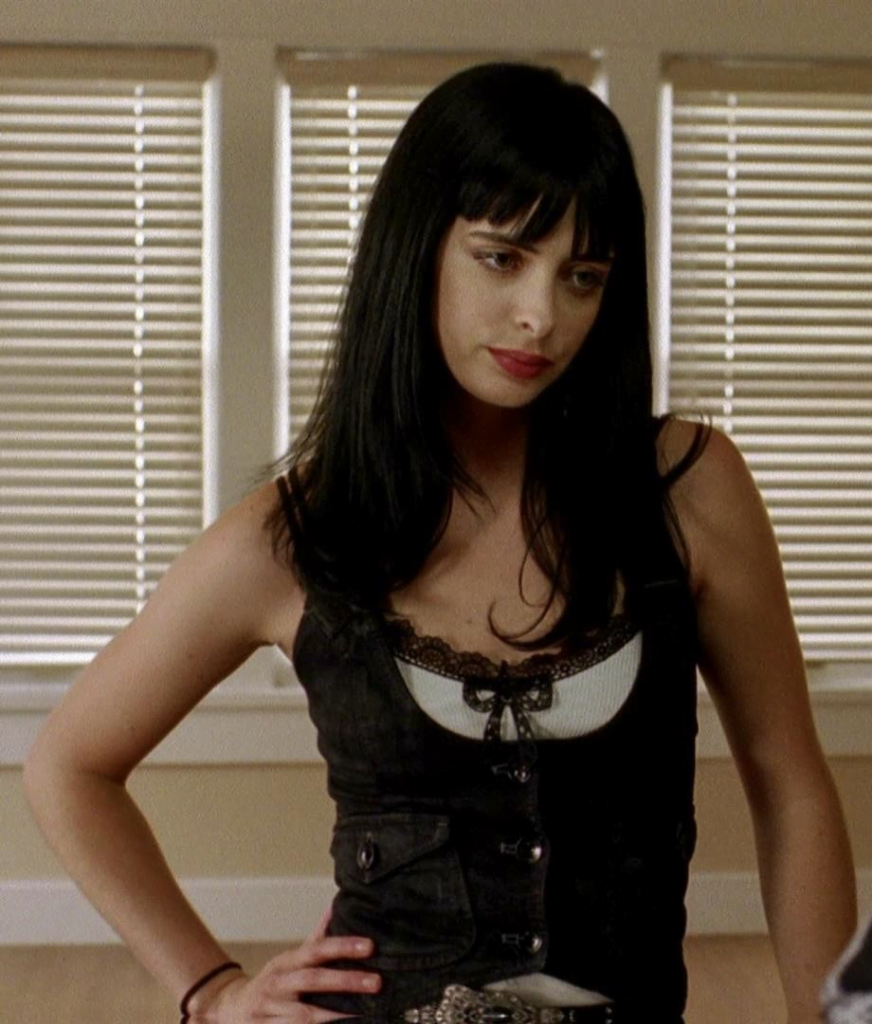 It seems only natural to start our look back over Jane Margolis' Breaking Bad outfits with the look that she wore when we are introduced to her for the first time.
The dark denim fitted vest layered over her white and black lace trimmed tank top, while showing Jesse Pinkman around the duplex apartment she has for rent, has a real 00's influence and a heavy touch of pop culture to it. Ticking all the style trends of the decade, Jane's casual layered look can easily be replicated with lace-edged camisoles and figure-hugging vests to update the look to fit into your own closet.
Jane Margolis' Phoenix Print T-Shirt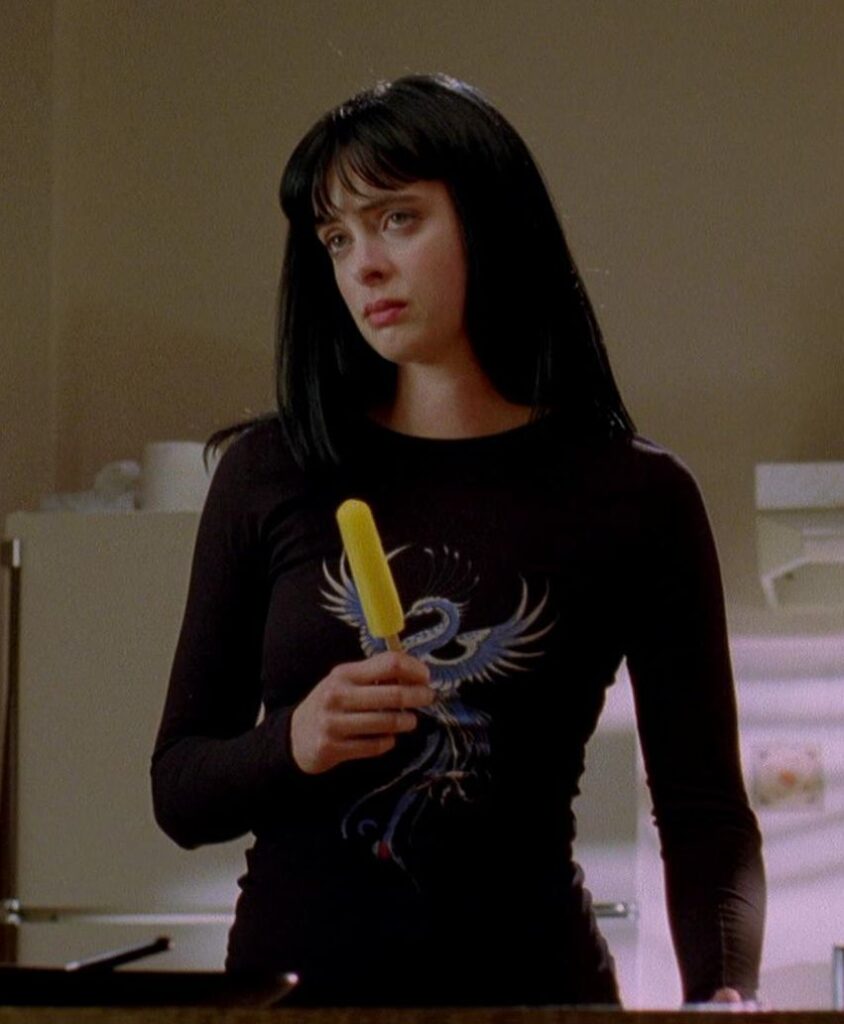 Even though Jane's short lived story ends in tragedy, Breaking Bad's creator Vince Gilligan (also known for Better Call Saul) made sure to include her backstory, as she fell head over heels in love with Jesse. So maybe her long sleeved black round neck t-shirt with a blue phoenix print, is just a simple tee. Or maybe it is a subtle nod to what is to come for Jane. Foreshadowing her spiral back into drugs after already managing to rise from the ashes of her addiction once before.
Jane's Classic 00's Flared Jeans and Ballet Pumps in Breaking Bad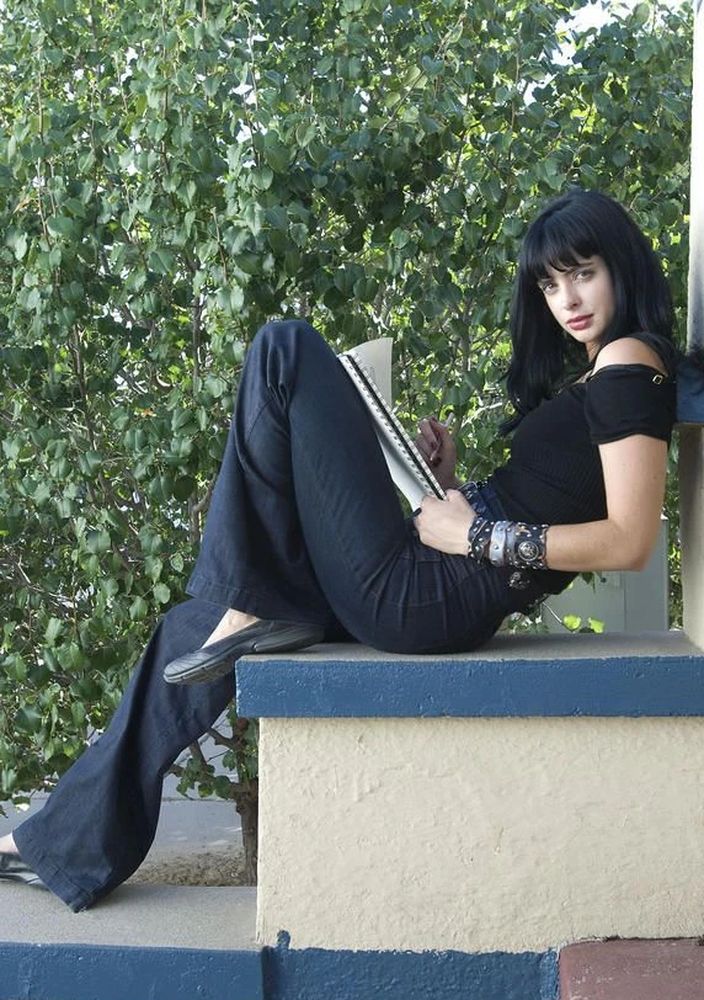 Before skinny jeans became the norm over the years, the noughties, when Breaking Bad was set, were all about the bootcut silhouette. Especially when worn too long and dragging along the floor.
Just as Jane favored with these dark denim jeans, that skimmed across her bum and hips, and flared out from her knee. When they are paired with the rest of her black ensemble and matching leather ballet pumps her simple outfit epitomizes the decade and its heavily pop culture influenced fashion trends.
Jane's Leather Cuff Bracelets from Breaking Bad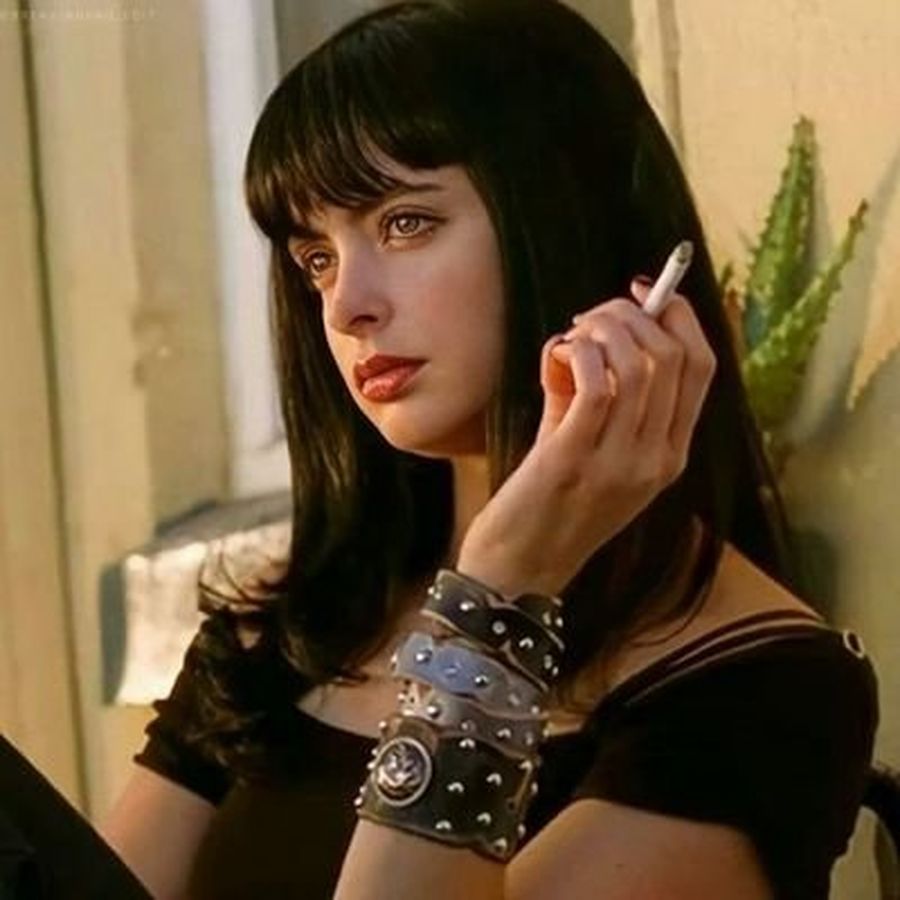 It isn't just Jane's Breaking Bad outfits in the show that help to represent the troubled young characters personality and turbulent life. With her wide belts and leather wrist cuffs flawlessly accessorizing her looks also. Heavily studded, and embellished, Jane has stacked the collection of worn down black and silver leather bracelets up her wrist. Since along with everything else on offer during the 2000's you could never have too much jewelry on.
Sleeveless Print Tank Top Jane Margolis Wears in Breaking Bad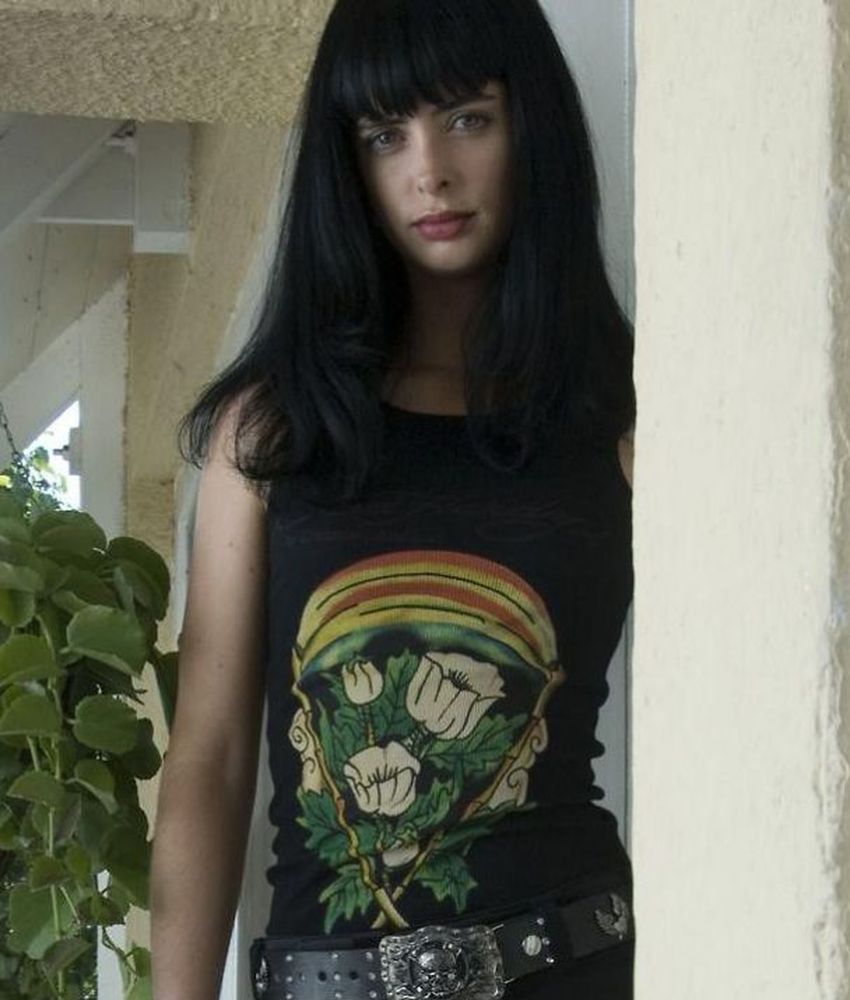 Almost all of Jane's looks that we see her wearing throughout her story on Breaking Bad are made up of a dark color palette, mainly consisting of black. Giving her a slight gothic feel to her appearance, especially when you factor in her dark long straight hair, heavy bangs and pale complexion. With even her simple basics, like this sleeveless graphic print tank top, that she has again paired with her wide leather belt, sticking to the moody and dark tones.
Jane's Black Lace-Up Mini-Skirt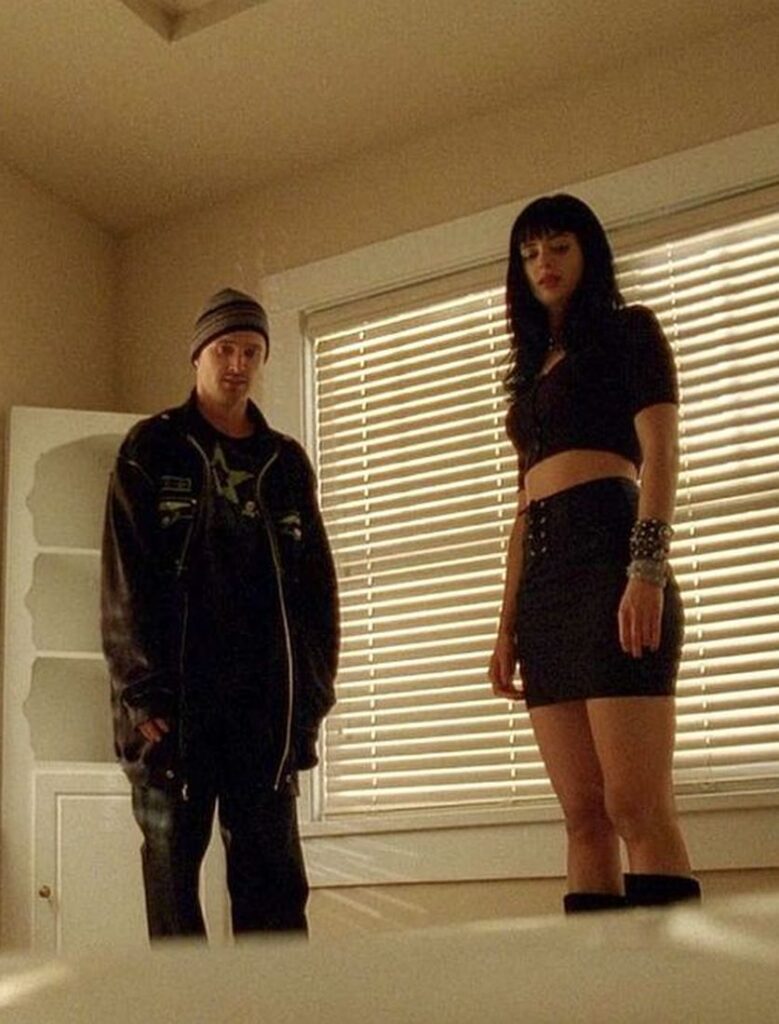 Jane's Breaking Bad outfits are just about always made up of simple t-shirts paired with denim jeans, but now and again she changes it up and even adds a skirt to her closet of looks. Not straying from her basic cropped short sleeved top, or dark color palette though, Jane's black figure-hugging mini-skirt with front lace-up feature fits her character's effortless style perfectly. While not forgetting her added wrist full of leather cuffs and loose dark hair falling around her shoulders.
The Black Wool Coat Worn by Jane in El Camino
It wasn't just the audience who suffered the tragedy of losing Jane in unforgivable circumstances, her boyfriend Jesse Pinkman (whose style we breakdown here) carried the loss for the rest of the show. But when El Camino: A Breaking Bad Movie was released in 2019 nobody expected this touching scene between the doomed lovers. 
Wrapped in a black double breasted wool pea coat Jane dispensed one last piece of wisdom. Telling Jesse not to rely on the universe to guide him in life, but to make the decisions for himself.
Jane and Jesse have one last heart to heart in El Camino: A Breaking Bad Movie.
Although she was only in a total of nine episodes of Breaking Bad altogether, the character of Jane Margolis really left quite an impression on the show. But along with her smart, loyal and artistic personality the Jane Breaking Bad outfits are definitely something else she will always be remembered for. With a dark and moody black color palette, edging on gothic, and plenty of 00's fashion trends for inspiration, stealing Jane's outfits for your own wardrobe will hopefully bring you more luck than they did for the doomed recovering addict.
Costume design by Kathleen Detoro.