Birth: 21 December 1935
Nationality: Danish

Steen Ostergaard was apprenticed as a carpenter and was awarded a silver medal in 1957. In 1960 he completed his training at the Copenhagen Kunsthåndværkerskolen (arts and crafts school).
From 1962 to 1965 he worked in Finn Juhl's design office, where he worked on the development of several chairs whose wooden frames were extremely stable and robust.
The Cado 290 chair
In 1965, Østergaard created his first plastic product, the Cado 290 chair (1968), which has been manufactured by Poul Cadovius since around 1970.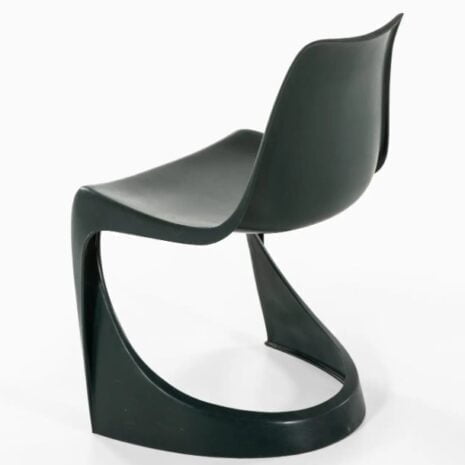 The ultimate first plastic chair was made from a mold and with only one material- polyamide (nylon). The elegant cantilever shape of this chair was obviously inspired by Verner Panton's stacking chair Panton (1959/60), which was made in 1968. In contrast to Panton's chair, the Cado 290 was also optionally available with seat cushions that were screwed directly onto the frame. Østergaard's chair could also be connected to entire rows of seats and loaded in stacks of 25 onto a transport trolley specially designed for this purpose. It was also available as an armchair and with a high backrest.
Compared to Panton's chair, the Cado 290 was also the more economical design, as the seat shell required less material and the smaller thickness of its walls reduced the overall weight of the chair to a minimum. Since then, Østergaard has designed numerous other chairs, but none of them matches the Cado – a functional and aesthetically exciting design that knew how to make optimal use of the high-tech processes newly developed by the plastics industry.
Steen Ostergaard Original and Replica Products