Birth: 9. Juli 1927 in Paris
Died: 13. Juni 2009 in Montpellier
Nationality: French
Pierre Paulin was a French designer born in Paris.
He studied stonemason and clay modelling at the École Camondo in Paris in the early 1950s. Paulin had originally planned to become a sculptor, attending an art school in Paris, but soon turned to furniture design instead. He is best known for his partnership with Artifort. This collaboration began in 1958 and was to last for almost half a century. This connection created various iconic pieces, such as his famous Mushroom Chair (1959), Ribbon Chair (1966), and the Tongue Chair (1968).
Pop aesthetics made these furniture pieces prompt icons of 1960s design.
By the 1960s, he was exploring new technologies and materials, developing expansive, multi-layered chairs with no discernible frame, upholstered in bright colors and soft material. The foam structures were as supportive as traditional materials, but much more animated, as the material could easily take on increasingly abstract shapes. As the forms converted more and more fantastical, Paulin cooperated with textile designers to create new textile ideas that could stretch over the irregular structures, eventually settling on brightly colored and patterned jersey material, also an innovation at the time. This departure from traditional rigidity in form and design was a perfect fit for the 1960s and brought him great commercial success.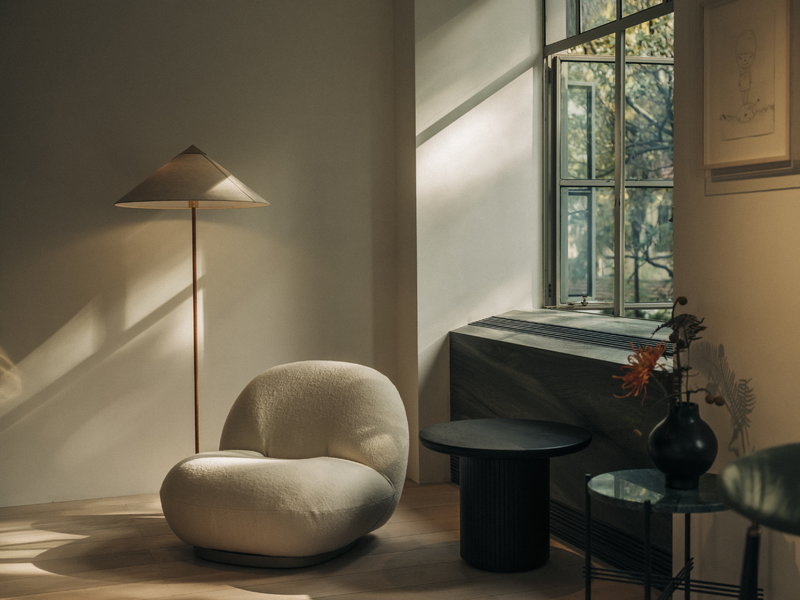 His professional dream of being a sculptor was destroyed by a serious hand injury. He explained his concept of keeping shapeless foam in shape like this: He had "covered his furniture with fabric like a very tight T-shirt". A great success, especially with stretch fabrics that had previously only been used for Bikinis were used and printed with psychedelic decors by Jack Lenor Larsen. A little braver Paulin was also allowed to set up a Louvre grand piano and Élysée offices by Pompidou and Mitterand – with models that are produced by Lignet Roset for the first time today, decades later.
It is also remarkable that in 1970 Le Mobilier National named him to furnish the private living quarters of President George Pompidou in the Palais de L'Elysee, as well as the office of Francois Mitterand in 1983.
Paulin's work became known through his German roots, through the early modernists and mainly influenced by the American designers Charles & Ray Eames. His pieces are part of a permanent exhibition of various respected institutions, such as the Museum of Modern Art in New York, the Musée des Arts Decoratifs, the Center George Pompidou in Paris, the National Gallery of Victoria in Melbourne and the Museum of Applied Arts in Vienna. Paulin died in Montpelier, France, in 2009.

Pierre Paulin Original and Replica Products