Birth: August 20, 1910
Died: September 1, 1961
Nationality: Finnish-American
Eero Saarinen was a Finnish-American architect and industrial designer. His capability to switch between various styles depending on the demands of each project made him one of the most versatile designers of the 20th century.
Eero took courses in sculpture and furniture design at the Cranbrook Academy of Art, where his father architect Eliel Saarinen taught, and where he developed a close friendship with fellow students Charles and Ray Eames. In 1929, he went on to study sculpture in Paris and then attended the Yale School of Architecture.
From 1940 to 1944, Saarinen was recruited by the military to draw illustrations for bomb disassembly manuals and to provide designs for the White House Situation Room.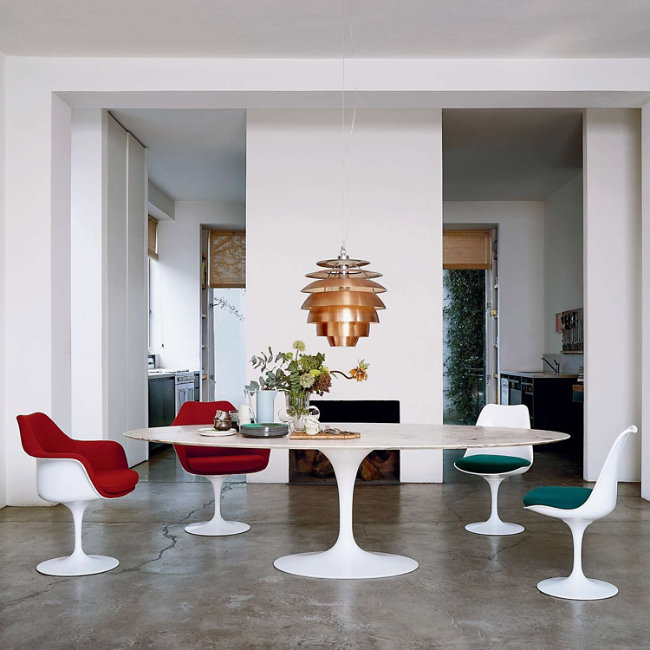 Eero Saarinen began an extended and very successful partnership with the Knoll furniture company in the 1940s, which resulted in some of his most famous furniture pieces, including the "Womb" series and the world-famous "Tulip Chair", which was featured on the original Star Trek television series. Saarinen also received enormous acceptance as an architect after designing the Gateway Arch in St. Louis, Missouri, and the main terminal of the Dulles International Airport near Washington D.C.
Some saw a bird in the vaulted roofs of the terminal, which is about to fly with wings spread out, others a Leonardo da Vinci flying machine.
said Eero Saarinen himself TWA terminal as the most spectacular building of its era.
Eero Saarinen Original and Replica Products