The Gentlemen: Steal the Charlie Hunnam Style
If you know anything about Guy Ritchie, you might have an idea about what The Gentlemen (2019) is all about. If you don't, let us briefly introduce you to the world of the London marijuana empire, as well as the wicked minds of both criminals and journalists. Today, we're looking into their world by acknowledging the fabulous and praised Charlie Hunnam style.
How to steal the Charlie Hunnam style?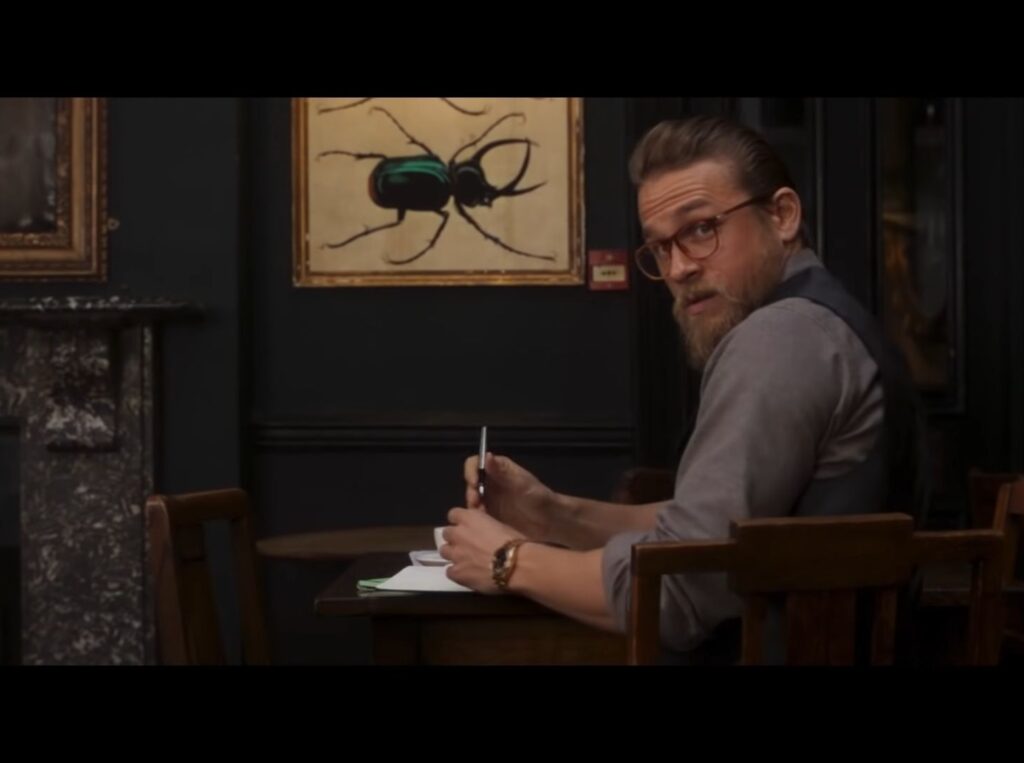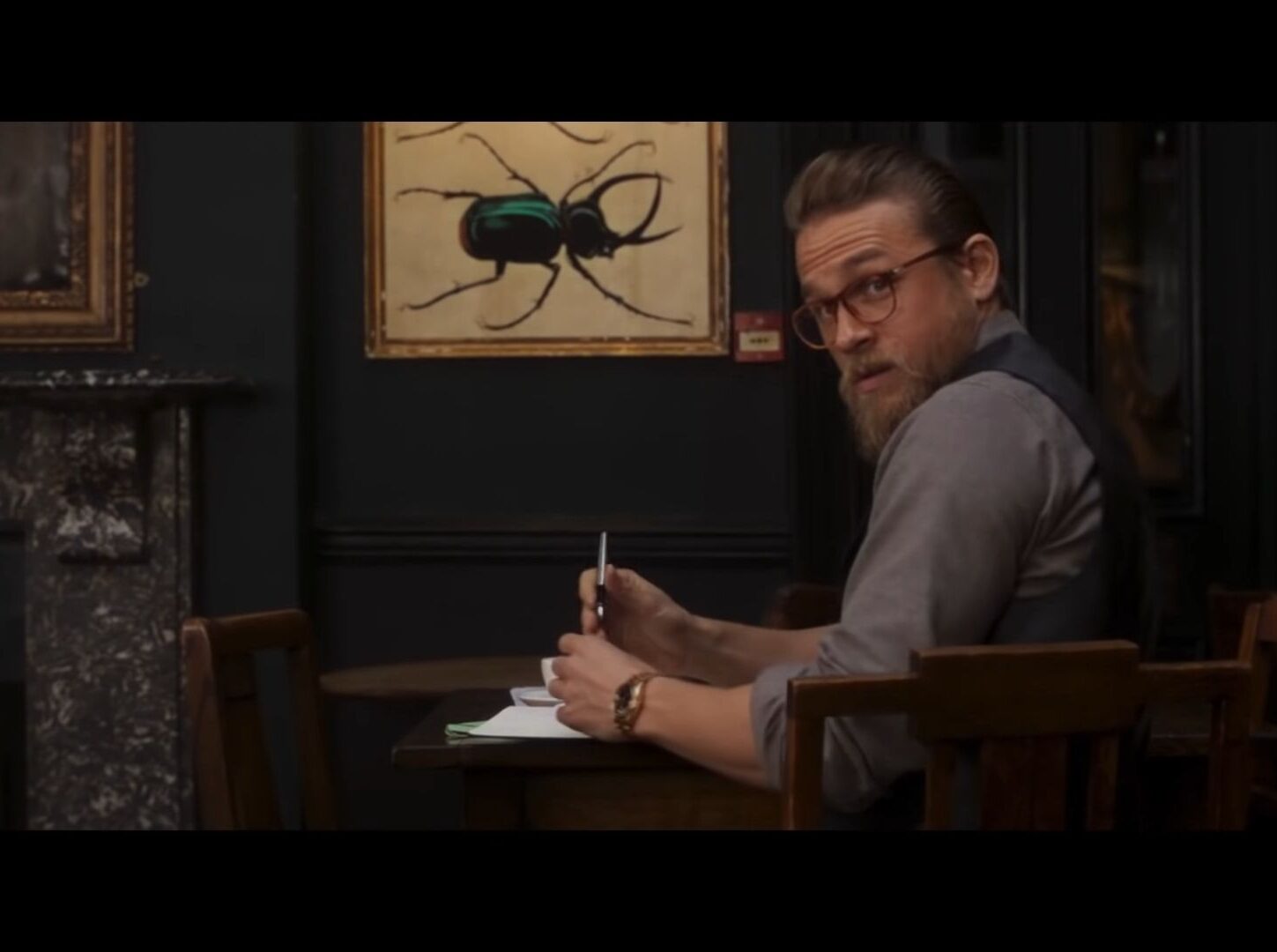 In The Gentlemen, we often glimpse Raymond Smith's daily life – his kitchen ( you can see in the featured image of this article), his lengedary smoke-free bbq, his tasks, witty comebacks, and stylish suits often catch our eye easily. Raymond is practically the right-hand man of Mickey Pearson (here more about his suits), a dealer, and a high-profile criminal. Because of that, in most of the scenes, Ray wears something suitable (no pun intended) to the lavish lifestyle that they are all living.
His round, yet modern glasses make him look like a poet, but the gun in his back pocket proves he's very much not one. Navy blue, black, grey, and ochre dominate Ray's wardrobe and bring to life his suits, business shirts, texturized sweaters, and fancy vests.
Many adore his style for he is not a conventional gangster, but a man you'd maybe consider a good son-in-law when you first see him. His personal style is almost a clever disguise – who would have guessed a cold-blooded delinquent hides behind the fancy ties and the leather belts?
Ray's Persol ochre glasses from The Gentlemen
We absolutely had to start with the most memorable piece of Ray's wardrobe – his stylish glasses. We are absolutely thrilled to have found the exact same model that Charlie Hunnam has been wearing during this movie's production. These narrow-fitting Charlie Hunnam glasses by Persol go by the name PO3205V, and they come in the beautiful Terra Di Siena shade that accentuates Hunnam's skin tone. Because of their roundness, they soften up the face of this delinquent, but they also bring out all the natural handsomeness.
Ray's grey slim fit shirt from The Gentlemen
Ray's always in pursuit of a new problem to solve or some new trouble to make. Miramax, 2019. We love the contrast between Charlie Hunnam's classy style and Colin Farrell's tracksuit outfit in The Gentlemen.
When we think of the Charlie Hunnam style, we usually don't think of casual shirts, at least not in The Gentlemen. However, when we do get a preview of his laid-back looks, we see he still remains elegant, put together, and most importantly, he still looks tough. The slim fit shirt is perfect for accentuating the intimidating physique of this London criminal, and we all know grey fits men with blonde and brown hair really well.
Ray's rust brown knitted sweater worn in The Gentlemen
This R-rated movie wouldn't be the same without some arrogant luxury worn by the British actor Charlie Hunnam. Miramax, 2019.
Although the original sweater was once made by no other than Ralph Lauren, it has become a vintage piece that's tough to find, but a very similar one still exists! Still, many want to enjoy the professor look Ray's going for while wearing this brown knitted cardigan. It keeps him warm, and it keeps him classy. What more could he want? A tie? Well, a honorable mention is the beautiful maroon tie he often pairs with the sweater and a striped shirt underneath.
Charlie Hunnam's black coat from The Gentlemen
As we discuss the Charlie Hunnam fashion experience, we have to mention how important it is to layer your clothes. Shirts, vests, cardigands, jackets, blazers… You name it, he wears it. A great example of this is the way Michael Wilkinson, the costume designer on set, decided to use a beautiful black coat to further make Ray's character more intimidating. Just like every woman needs a black dress, a man needs a black coat. An honorable mention has to be the leather belt – layers, layers, layers, and accessories.
Charlie Hunnam's Striped Shirt from The Gentlemen
Naturally, we also have to mention striped shirts. Even if they are not directly visible, Ray always wear one under his vests and blazers. They are simple, yet very effective in making him look ready for the day. We are sure he often rolls up his sleeves as he drinks a glass of bourbon with his colleagues. Are you ready to look like you're conquering it all?
Further analysis of the Charlie Hunnam fashion
If you are further interested in investigating the fashion from The Gentlemen, we highly recommend this YouTube analysis by Demtrios Levi. He is a truly fashionable man himself, and thinks of this movea as "the most fashionable film he's ever watched". Fashion students and enthusiasts will love this breakdown of the character's fashion choices.
We've enjoyed dissecting the Charlie Hunnam style, but we're sure you'll enjoy the looks of curious people that recognize your new Ray-inspired outfits when you walk down the street. Stay gracious.