The Gentlemen – A high-calibre cast and very stylish design
All James Bond fans already know that action movies can be a great inspiration for interior design. Guy Ritchie hasn't been allowed to make an official Bond film yet, but in "The Gentlemen" he will show us "the meticulousness of the whimsical" again and will be able to invite us to a smokeless bbq grill party and a couple glasses of whiskey, for at least one evening. Cheers!
SIMPLICITY MEETS LUXURY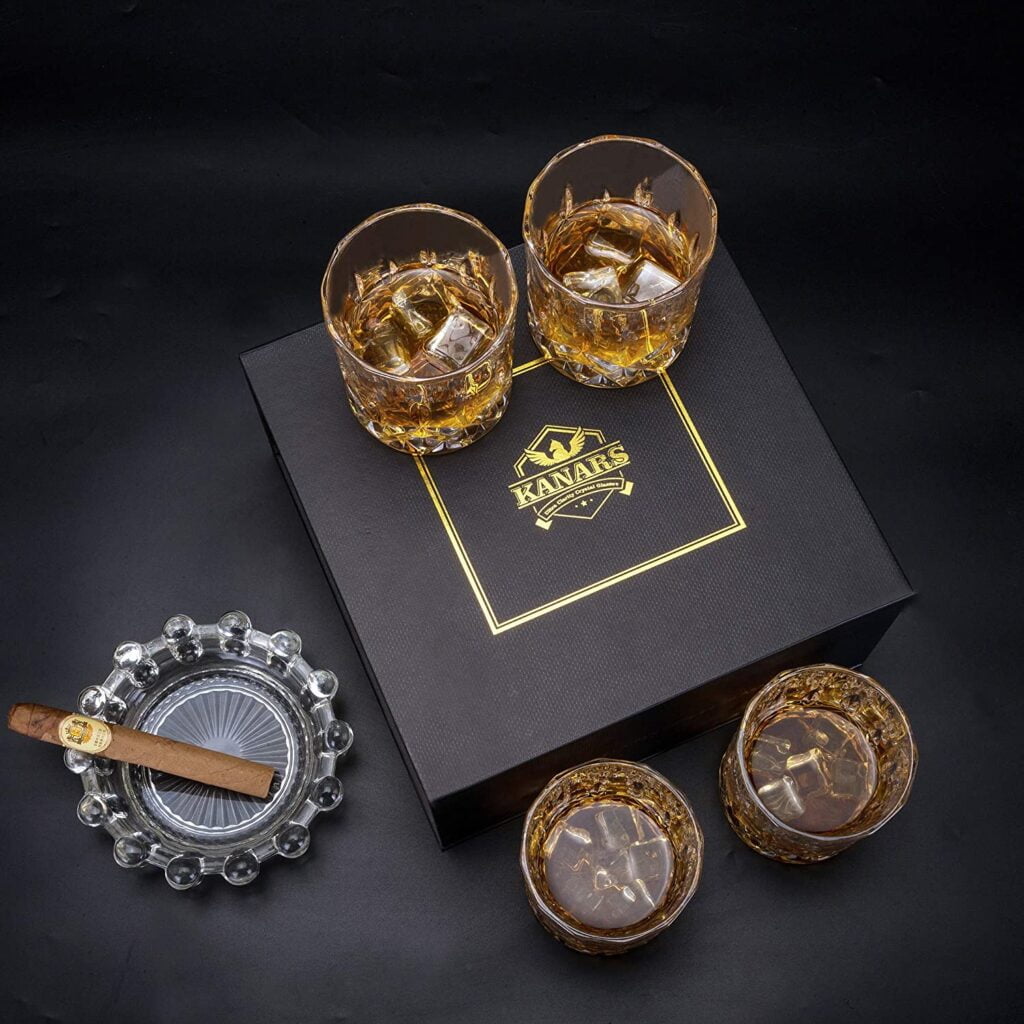 The Gentlemen movie whiskey glasses
At the very beginning of the movie, we find ourselves in the apartment of Raymond Smith, a high-profile dealer and Mickey Pearson's main business partner. However, we're not the only ones enjoying the look of his elegant, sleek, dark kitchen – private detective Fletcher is also there, all cozied up with a nice glass of whiskey.
The ambient of the movie is quite dark and moody, only lit up by the occasional use of firearms. The same goes for Mr. Smith's apartment – the interesting cabinet hardware and metallic dishes play with the lightning, and most of our attention's directed towards the ever-so-obviously well-built pieces of wood furniture.
This is a man-made, man-focused movie with many green, blue, and brown accents. Leather and attractive wood textures commonly appear in gallantly furnished settings. Although there are few details and the sets appear very spacious, the interior remains luxurious thanks to the furniture – it looks durable, heavy, expensive, and exclusive.
POLISHED FUNCTIONALITY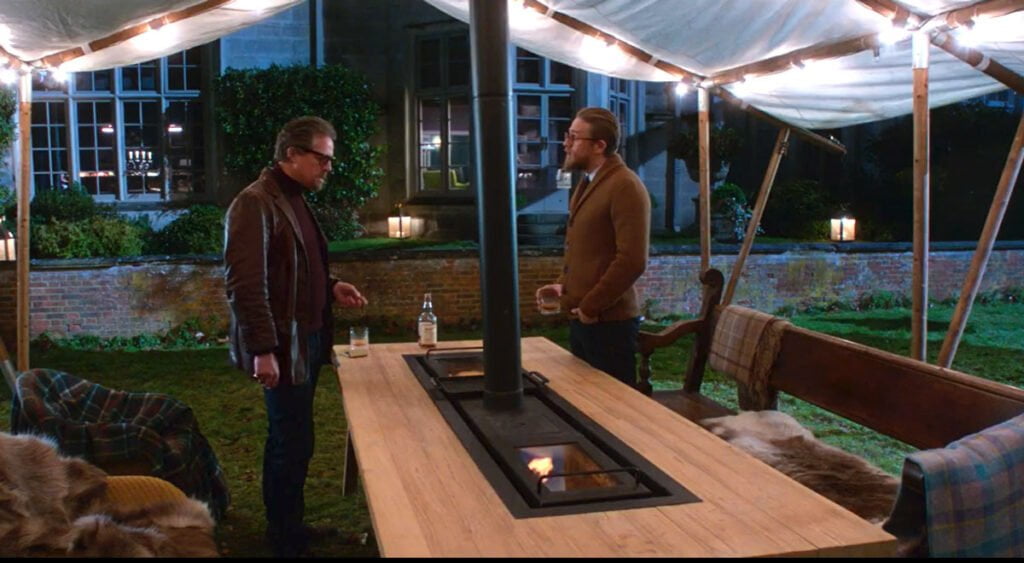 One of the most interesting pieces in Ray Smith's garden is the famous smokeless table grill that, according to the gentlemen themselves, "heats up your knees and cooks at the same time". A true dream come true for all food lovers with refined taste in furniture.
The gentlemen discuss possible fraud and bribe deals arranged to spare Pearson from additional trouble on his road to retirement.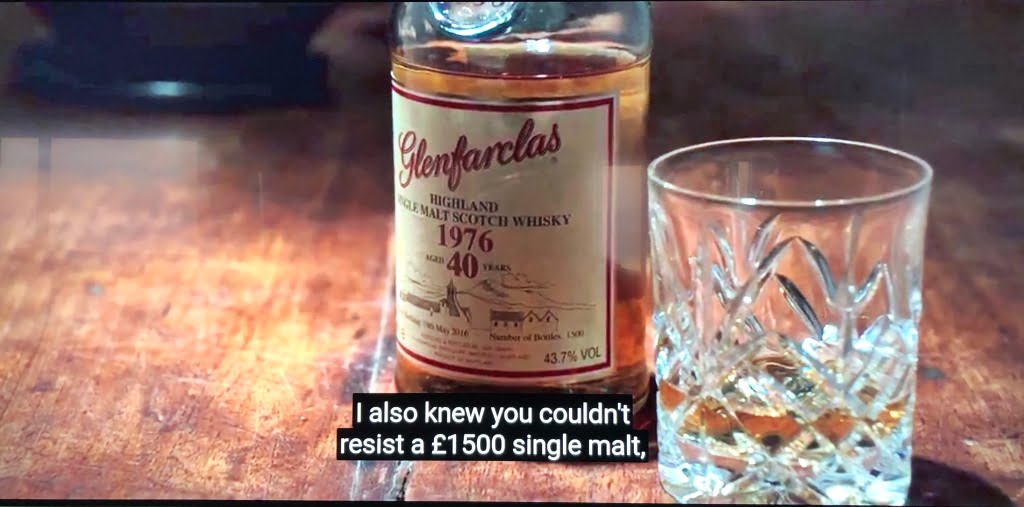 To one, it might seem like alcohol is the main character of the movie since it certainly gets lots of screen time. And while some fantasize about the £1500 single malt whiskey, our eye often glanced over the ever-so-classy ashtrays and textured glasses.
If you want to get in character or gift yourself something to remind you of this R-rated drama, you could invest in a gallant set of glasses – it will definitely make you feel like a gentleman, or a proper lady, for that matter.
THE CLASSY GANGSTERS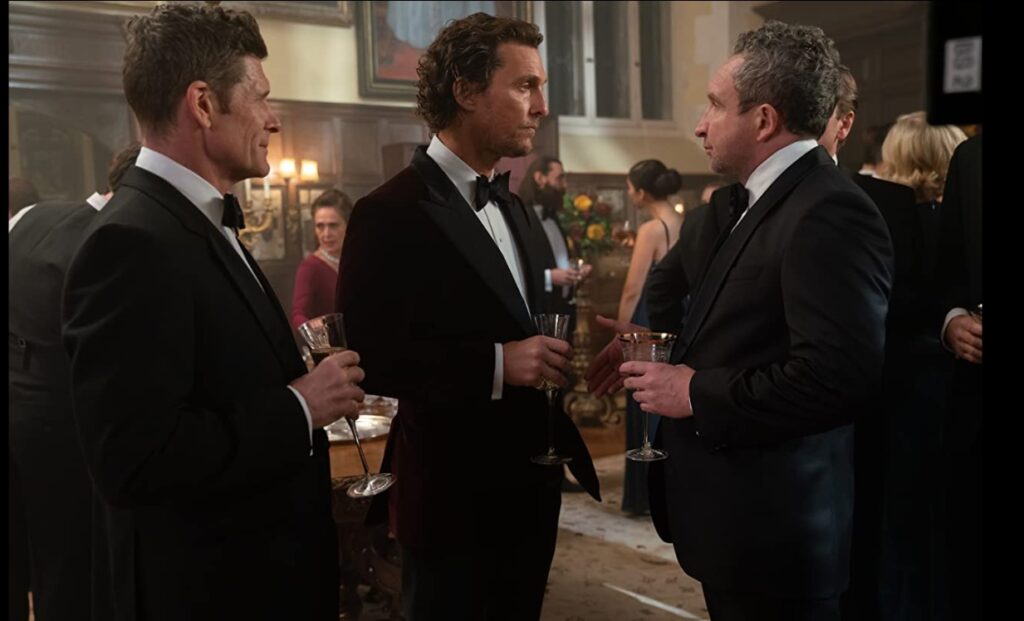 Although they might be gangsters during the day, in the evenings, these men find themselves in suits, holding tall glasses with metallic details, and speaking in posh accents in the evenings. If you liked the interior design in this movie, you might want to look into copper details on picture frames and hardware.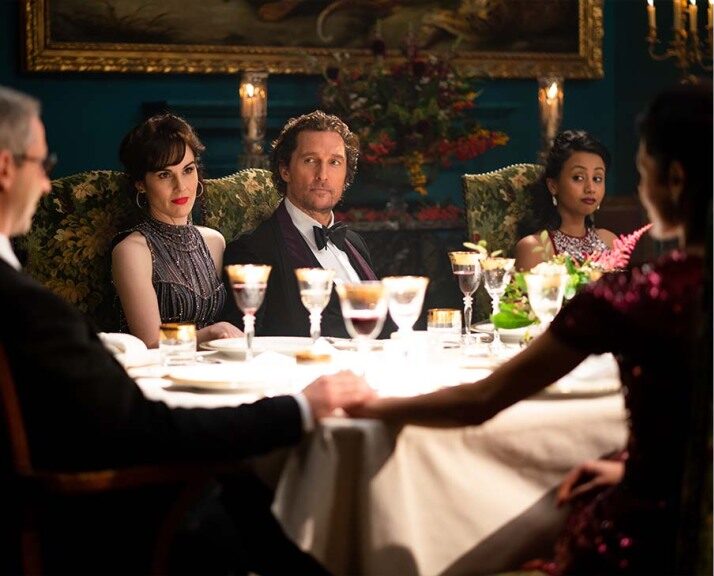 Small details and patterns give this movie set a feeling of luxury. The balance, the elegance, and the small greek-like gold-rimmed wine glasses add just enough flair to make you believe these people are actually some big-time players.
The choice of going with "sleek rich" instead of "flashy rich" interior design choices made all the difference in setting the mood. The interior looks worthy of great, rich, dangerous gangsters who entered a phase in their lives where money is a luxury they don't need to work for anymore.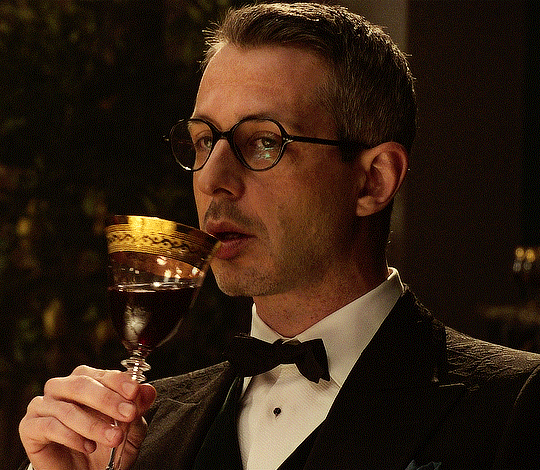 Jeremy Strong also made a fantastic appearance in the movie, but many believe he was outshined by the protagonist, Matthew McConaughey. He's the perfect example of elegant brutality – the "smooth, yet ripped at every edge" type of look, right?
THE BEETLE AND THE BEAST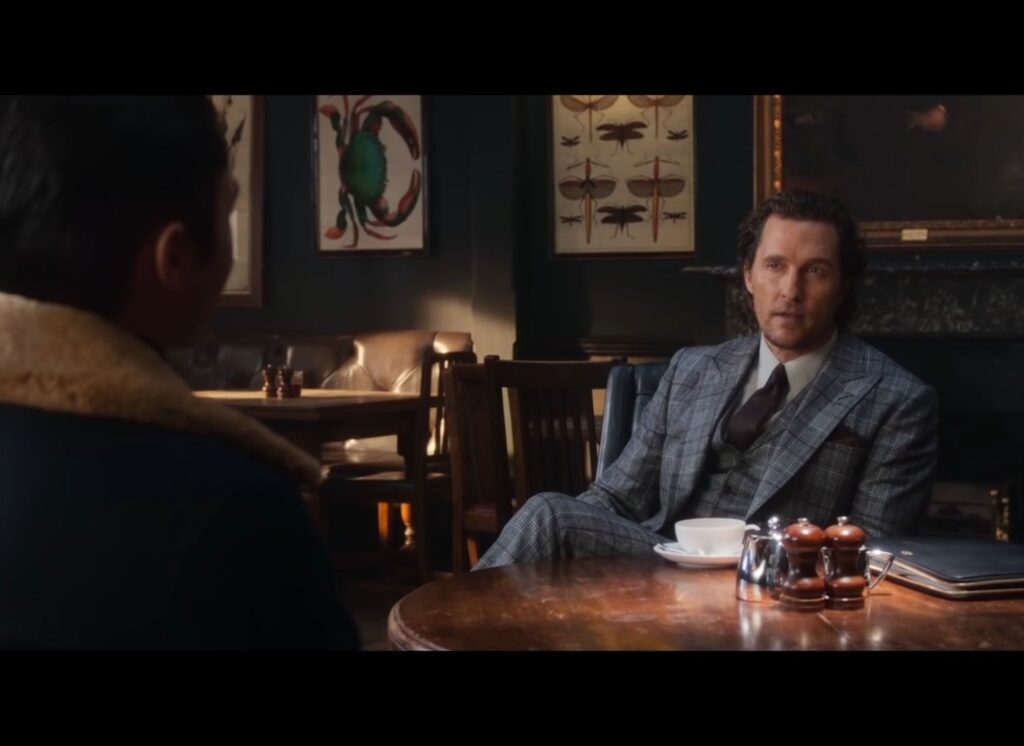 The movie interior often doesn't provide symmetry but remains balanced using a subtle color palette enriched with metallic and textured details. These only add the finishing touches – they don't take away the attention you give to the space.
If you ever find yourself in London, you should visit Princess Victoria, a former gin palace, which is now a public house and a hotel – this is where "the lion scene" was filmed.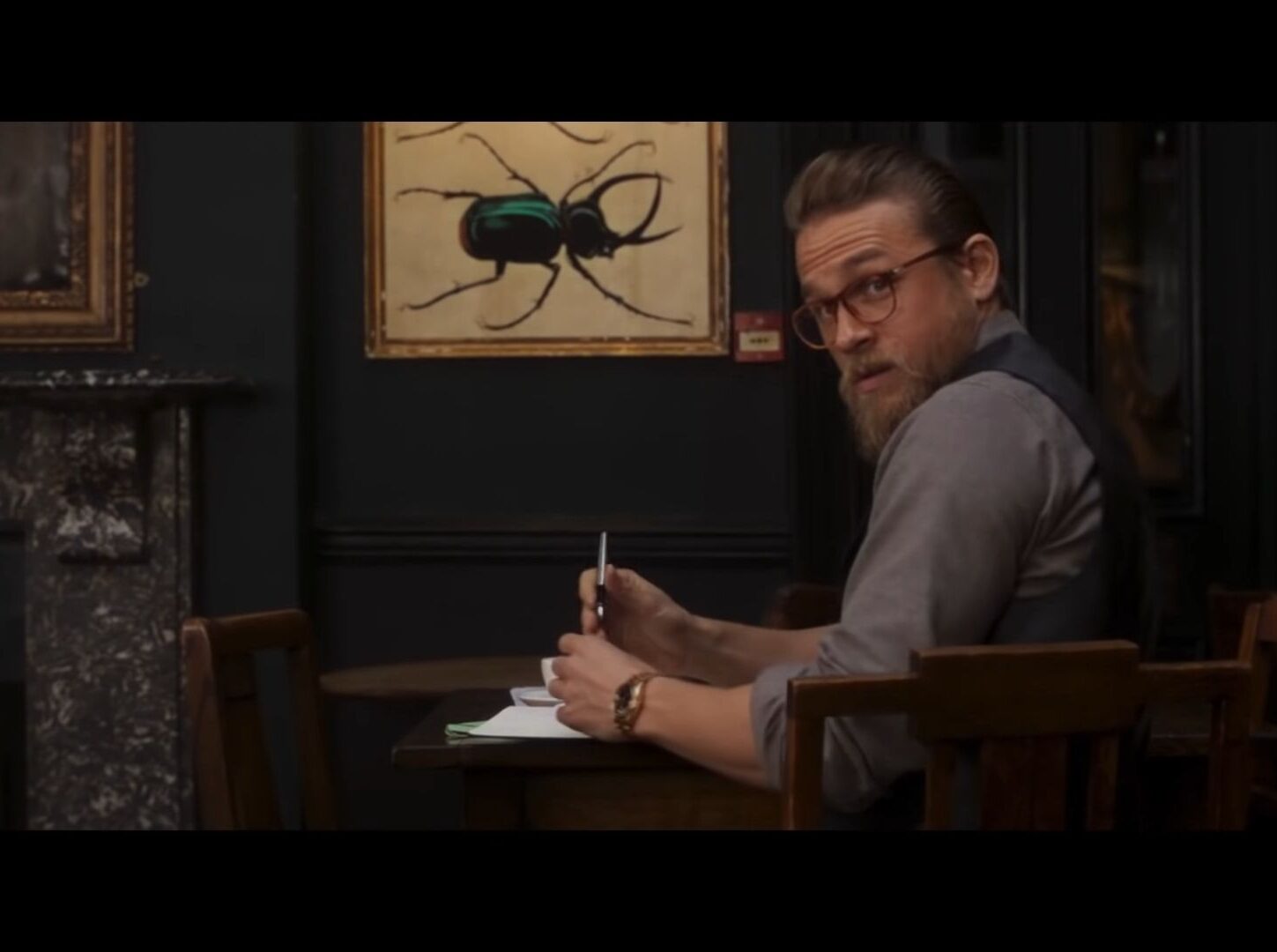 Some of the most interesting set pieces include old-looking pictures with strange motives. Most of them could easily find a place in a very old anatomy book or a zoology manual.
The famous beetle picture fascinated many – it's simple, strange, eye-catching, and still looks luxurious thanks to the simple design and the beautiful frame.
This 2019 movie hit infused with crime and comedy, directed by Guy Ritchie, proves that simplicity and luxury don't have to be mutually exclusive.
The set decorators Sarah Whittle and Neil Floyd did faithfully portray the crime-infested yet tasteful world of Mickey Pearson, an American expatriate who singlehandedly holds the London marijuana empire. While collaborating with the production designer Gemma Jackson, the duo focused on classy and simple luxury instead of flashy furniture and maximalist accessories.
After all, these are some serious gentlemen we're talking about.