Dark Elegance: Horror Movie Handbags That Redefine Style
In the realm of fashion, where self-expression knows no bounds, a new trend has emerged that blends the macabre with sophistication—the horror movie handbag. These accessories, inspired by the spine-chilling aesthetics of horror cinema, have carved a niche for themselves in the world of gothic chic. If you're someone who thrives on the thrill of the eerie and has a penchant for the mysterious, then these handbags are the perfect embodiment of your style. Join us as we delve into the world of horror movie handbags, exploring their unique appeal, the outfits they complement, and the inspiration behind them. Now, let's dive into the spine-chilling details of the first horror movie-inspired handbag, we chose the Shining bag.
Room 237 Bag: The Shining Inspired Horror Movie Purse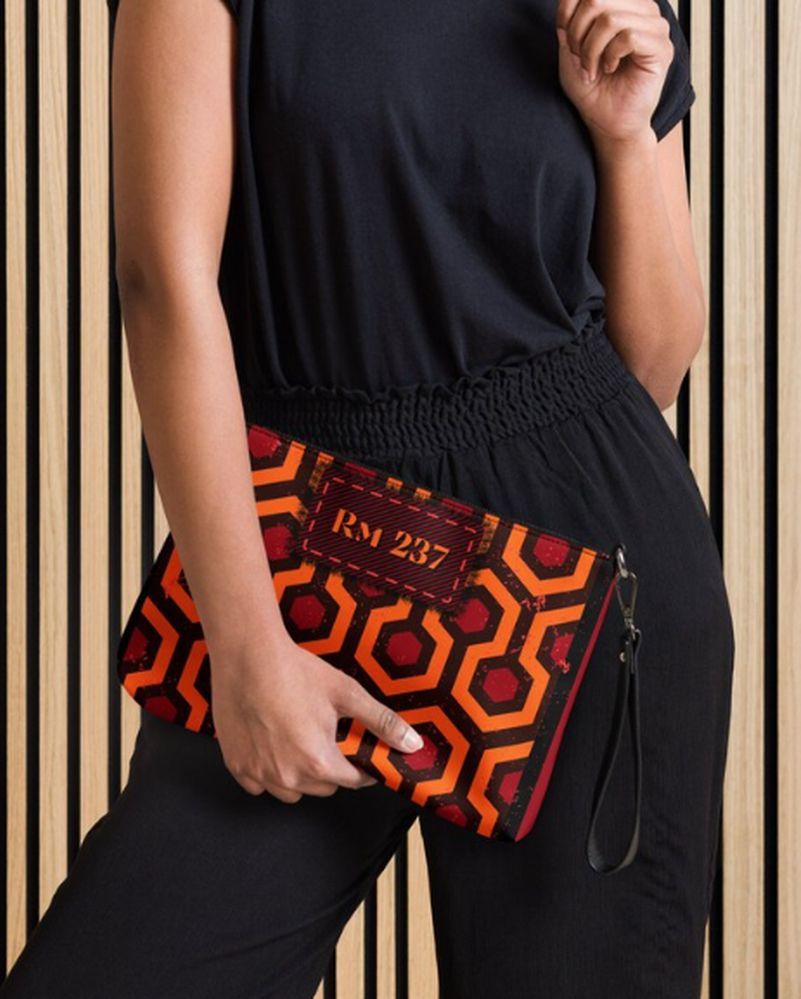 Unlock the mysteries of Room 237 with this horror movie-themed crossbody bag, a chilling homage to the iconic hexagon pattern carpet from the horror classic, The Shining. Crafted from premium faux leather and adorned with dark gray hardware, this bag is a versatile masterpiece. This crossbody bag transcends mere utility; it's a statement piece that echoes the horror of the Overlook Hotel. Immerse yourself in the enigma of Room 237, where style meets the supernatural in an accessory that pays homage to cinematic terror.
Another two from The Shining bags collection, which we absolutely recommend (and not only that one, have a look at their shop)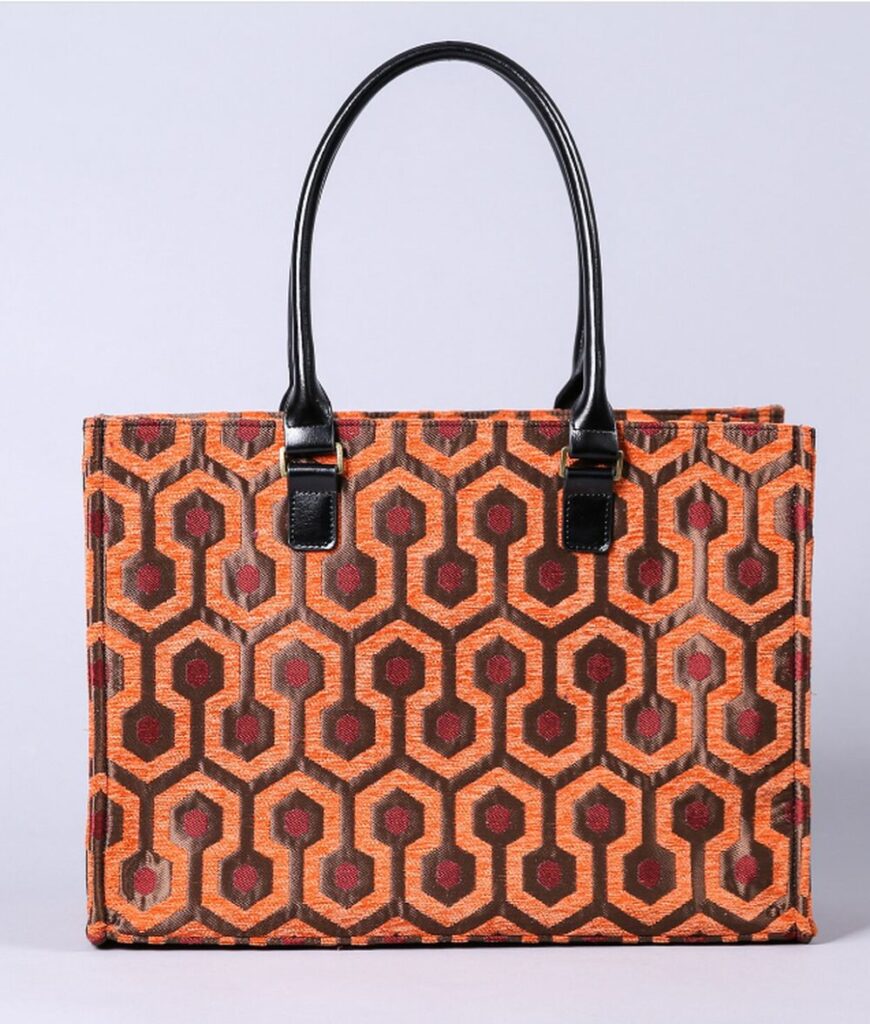 If you're captivated by the hexagonal pattern of The Shining's carpet, delve deeper into the world of cinematic-inspired design with our insightful article on Hicks' hexagon walls, floors, and socks. Discover how these elements, reminiscent of the iconic carpet, can infuse your living spaces with a touch of eerie elegance. Read the article here and let the haunting inspiration of The Shining transform your home decor.
Horror B Movie Cartoon Small Satchel Purse Crossbody bag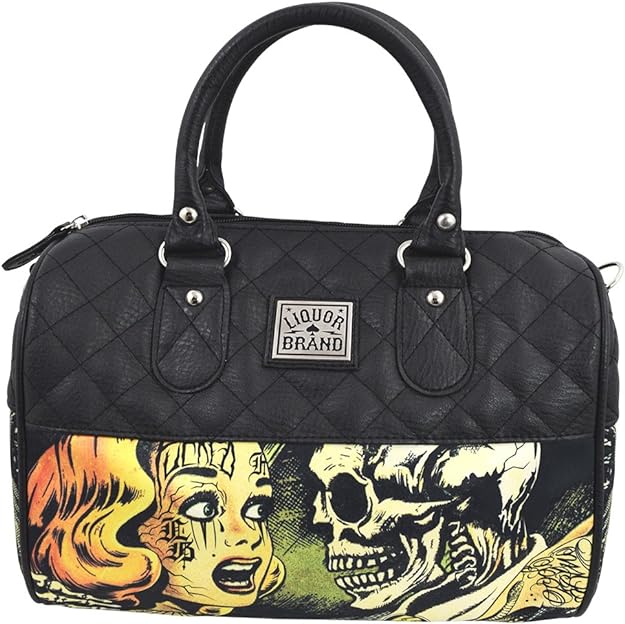 Embrace the whimsically eerie with the Horror B Movie Cartoon Small Satchel Purse Crossbody bag. Perfect for those captivated by the morbid and spooky, this purse seamlessly merges horror B movie aesthetics with cartoonish charm. A user raves, "I have a purse obsession and love spooky morbid things; this purse I HAD to have." Its distinctive design tells a visual tale, blurring the lines between horror and humor.
Practicality meets style with a spacious interior, two handles, and a crossbody strap, catering to those who need more than the essentials. The user attests to its quality, stating, "The image is awesome, and the quality is very nice." Unveil your dark elegance with this Amazon gem, a captivating addition to your accessory collection.
Leather Top-Handle Bags with The Nightmare Before Christmas Print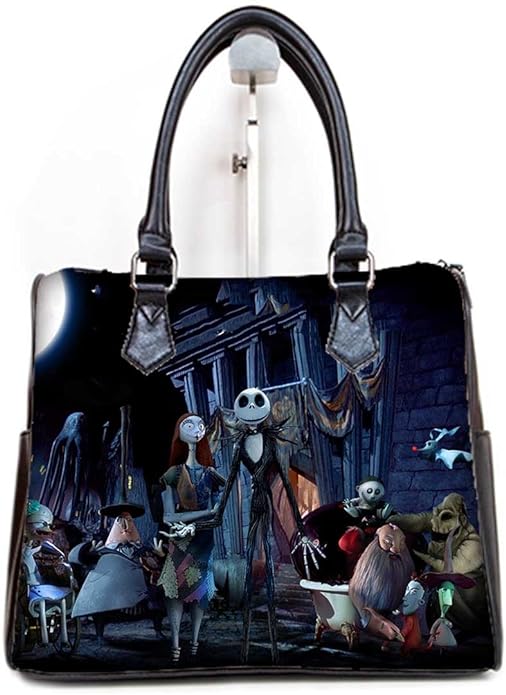 Imagine Jack Skellington and Sally gracing your accessory, adding a touch of spooky nostalgia to your ensemble. With this bag you step into the enchanting world of Tim Burton's masterpiece with Leather Top-Handle Bags featuring The Nightmare Before Christmas print. These bags are a visual symphony of darkness and whimsy, paying homage to the iconic characters of Halloween Town.
With a sturdy top handle, this horror movie bag is not just a fashion statement but a functional companion for your dark adventures. Embrace the allure of The Nightmare Before Christmas and carry a piece of Halloween magic wherever you go.
Another bags from the Nightmare Before Christmas bags collection: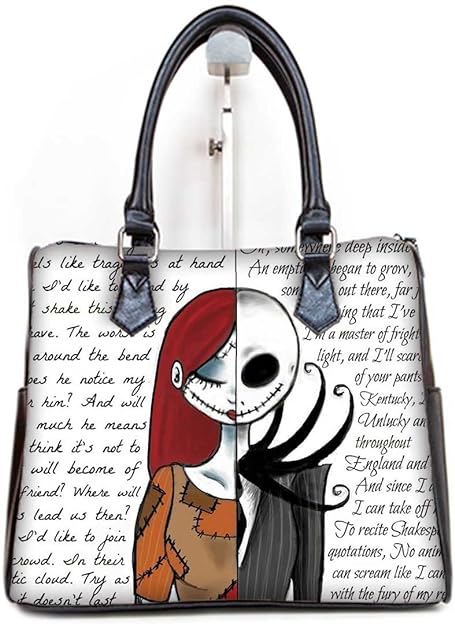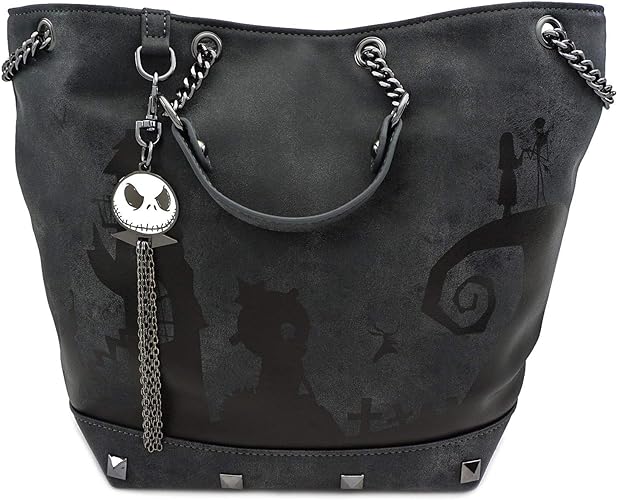 Hand-painted Horror Love – ART BAG featuring Chucky Horror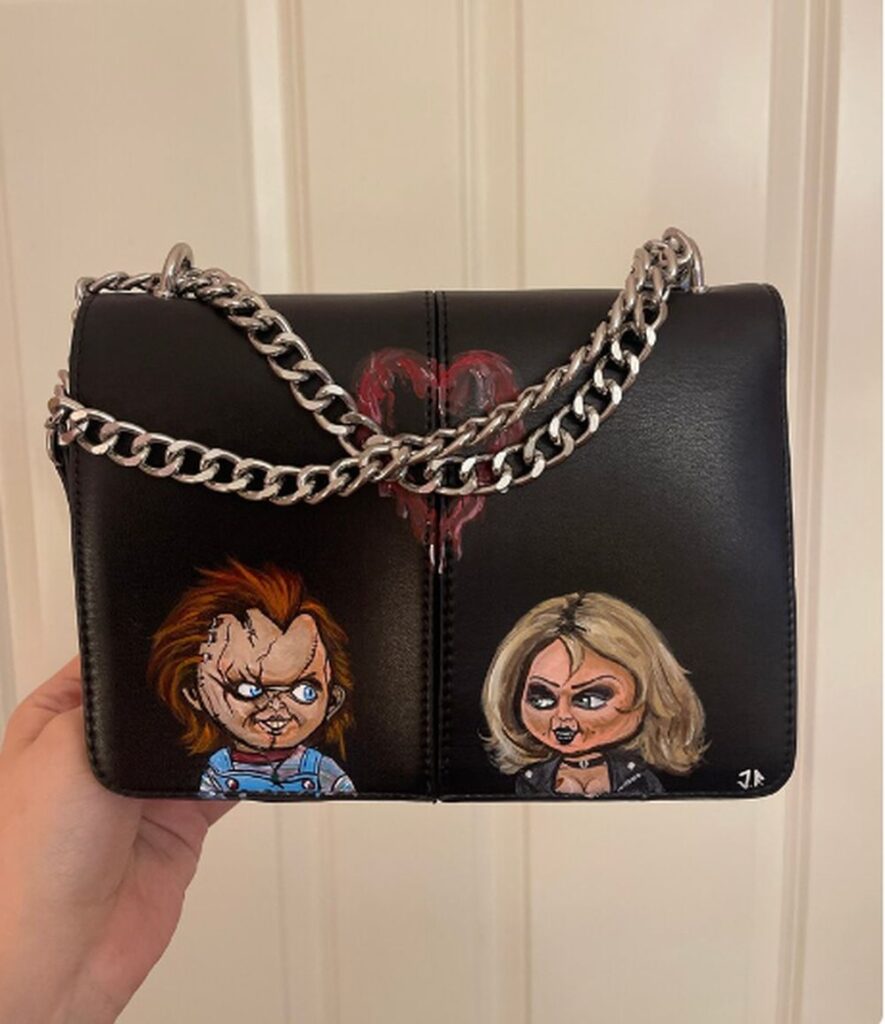 Immerse yourself in the realm of bespoke art with the Horror Love – ART BAG. The bag is hand-painted, making each one a unique masterpiece. It features the iconic Chucky horror character, ensuring that every detail is a touch of individuality. It's a straightforward horror handbag, yet very chic at the same time—a successful fusion of horror and art.
Hand-Painted Ghost Face Killing Art Bag
Escape the ordinary with the Ghost Face Killing Art Bag, a hand-painted marvel by Janina. In a world dominated by mass production, this bag stands as a symbol of craftsmanship and personal touch. Each brushstroke brings Ghost Face to life, turning this bag into a work of art that mirrors your unique style. Explore Janina's shop, a treasure trove of surprises, and discover a bag that speaks to your love for horror and the extraordinary.
Unveiling Our Original Horror Movie Designer Handbag Collection
In our quest for designer handbags inspired by horror movies, we envisioned the captivating impact they could make on the catwalk. Despite our exhaustive search, the realm of high fashion seemed void of such thrilling accessories.
However, as we couldn't find such a range, we took matters into our own hands and used artificial intelligence to create our own. Enjoy the result and share it if you like it! If you think a whole collection is a great idea, let us know and we might come up with a horror movie inspired series just for you.
IT Horror Horror Movie InspiredHandbag
The Shining Horror Movie InspiredHandbag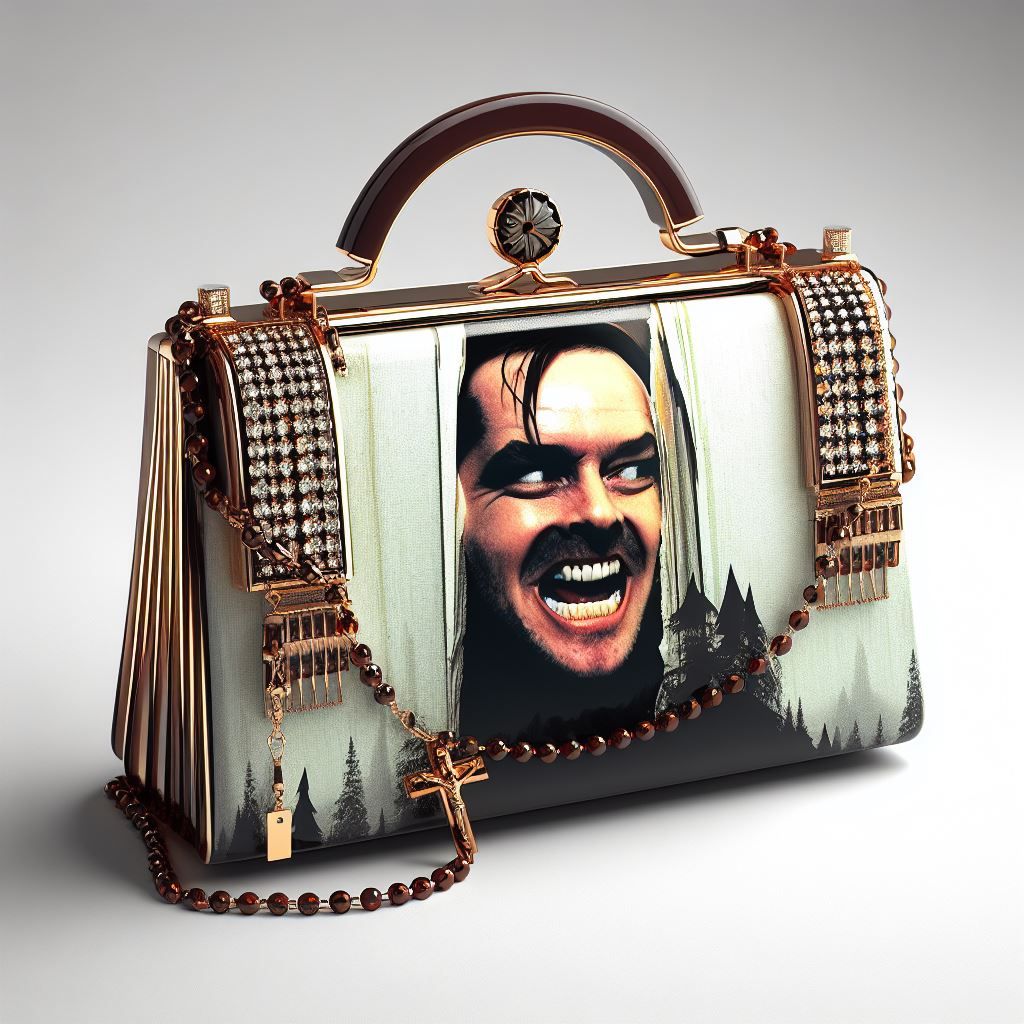 The Ring Horror Movie Inspired Handbag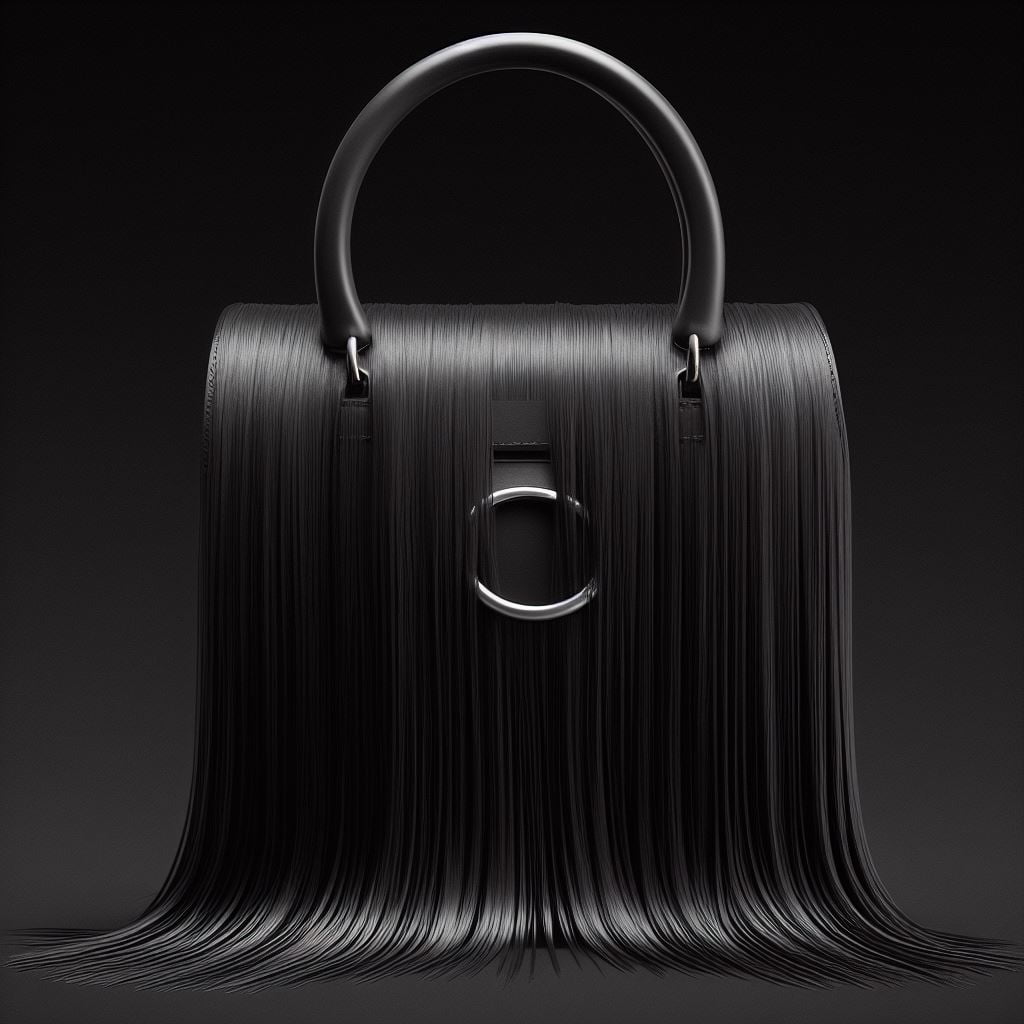 Candyman Horror Movie Inspired Handbag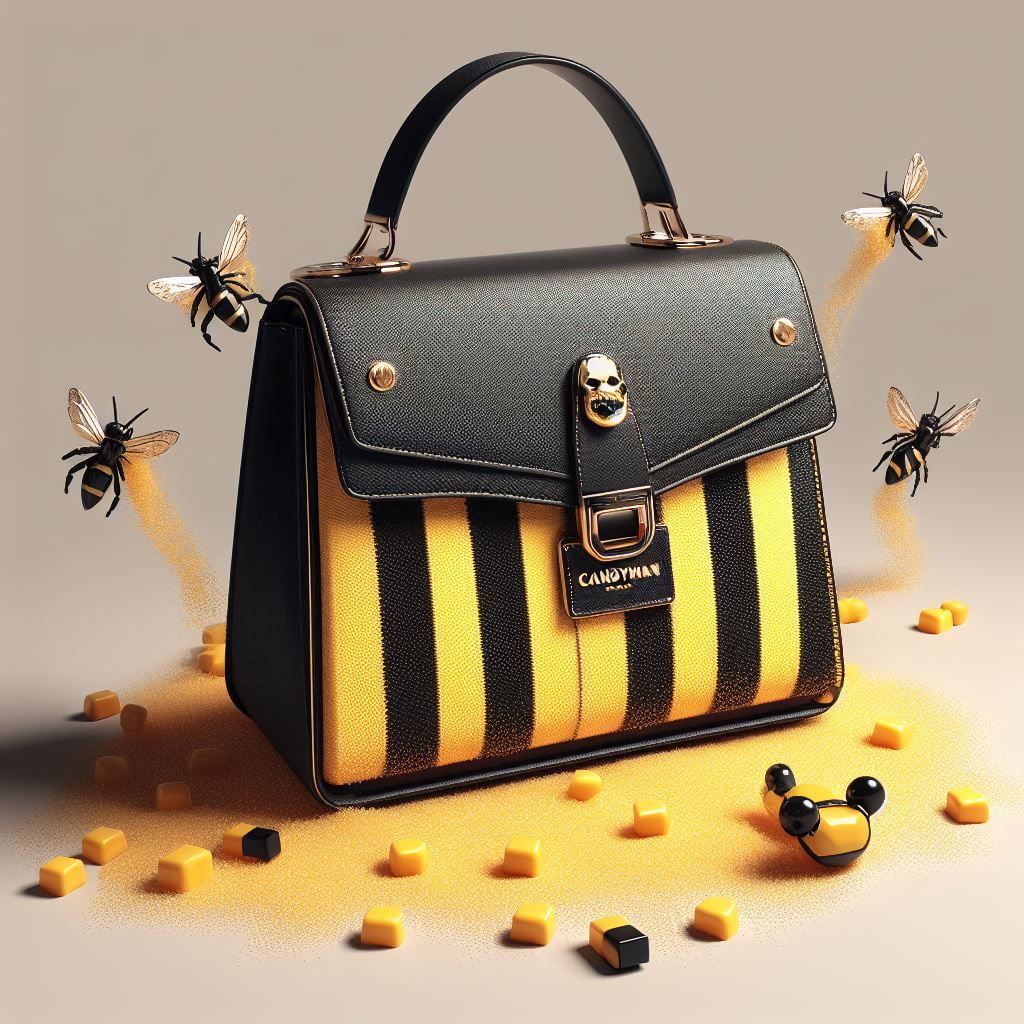 Psycho Horror Movie Inspired Handbag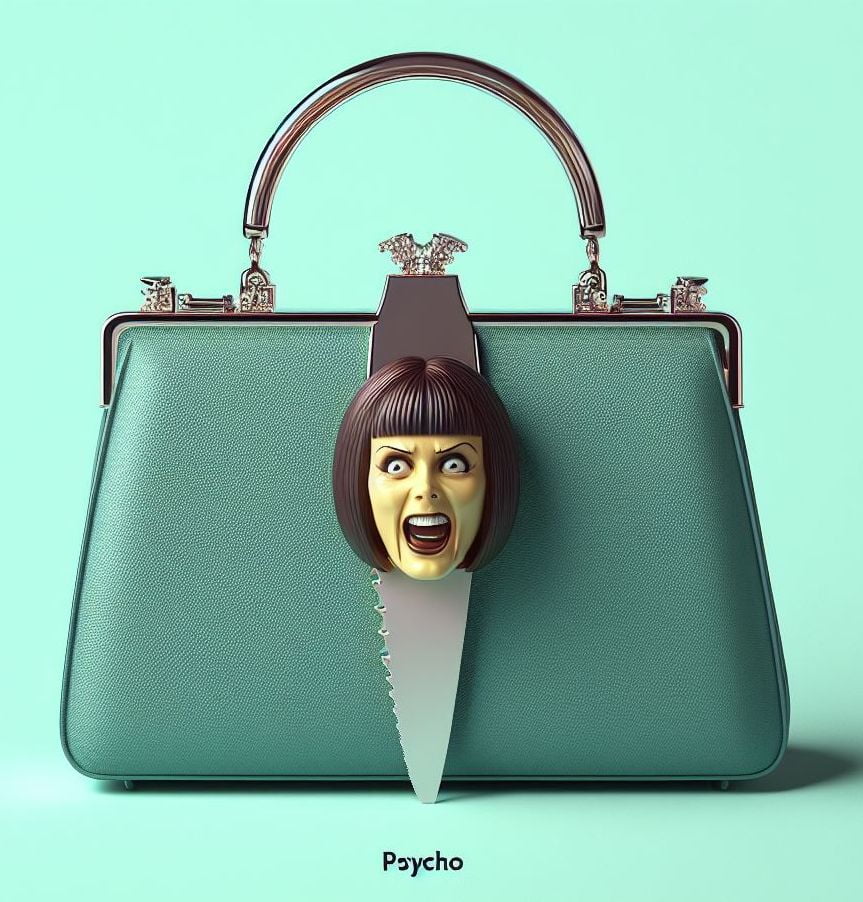 Friday The 13th Horror Handbag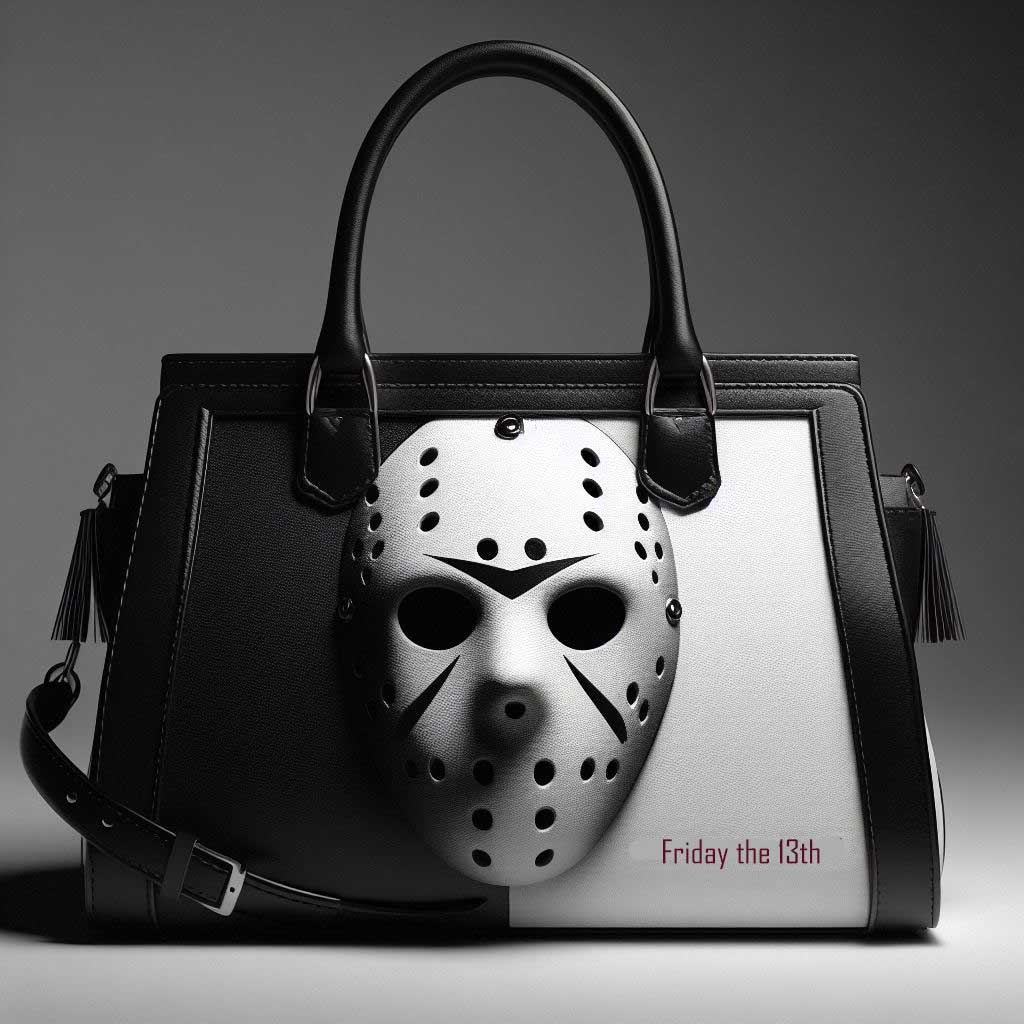 The Exorcist Horror Movie InspiredHandbag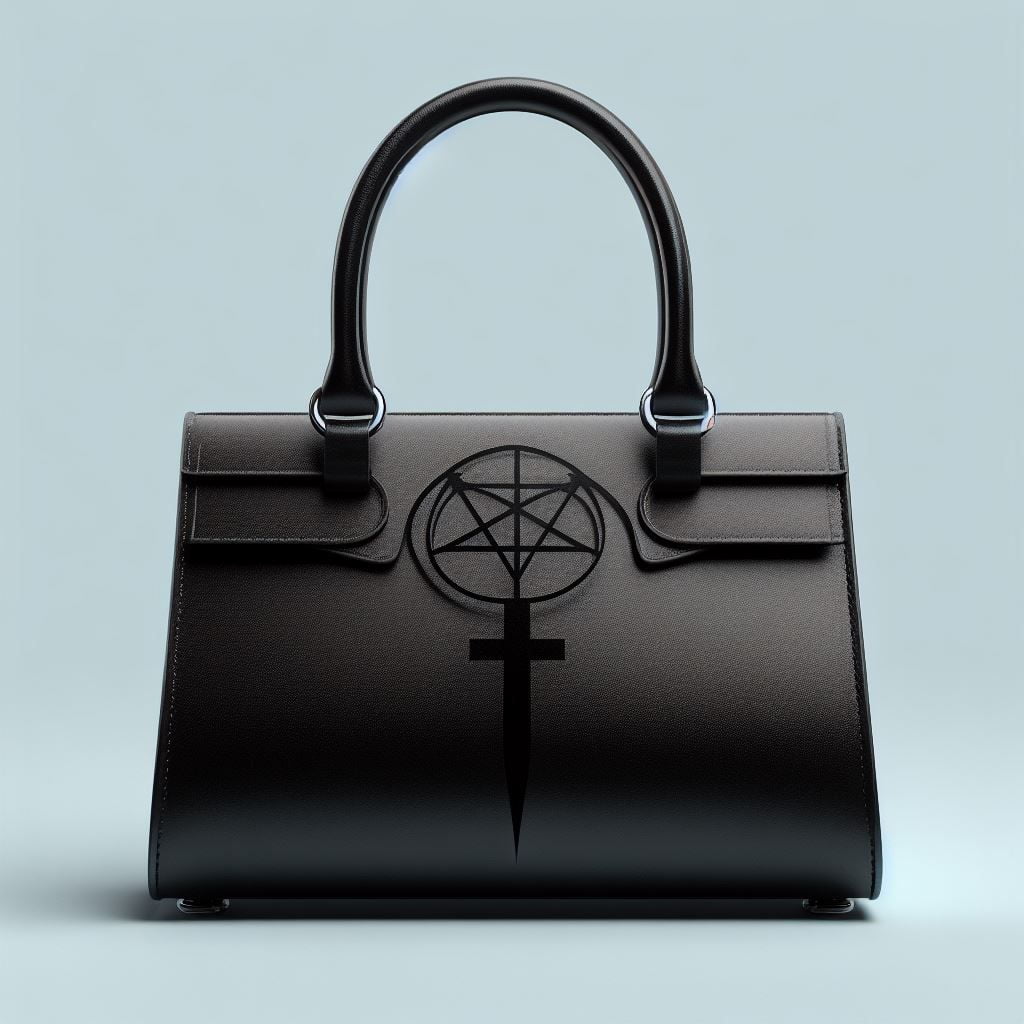 Evil Dead Horror Movie Inspired Handbag
Midsommar Horror Movie Inspired Handbag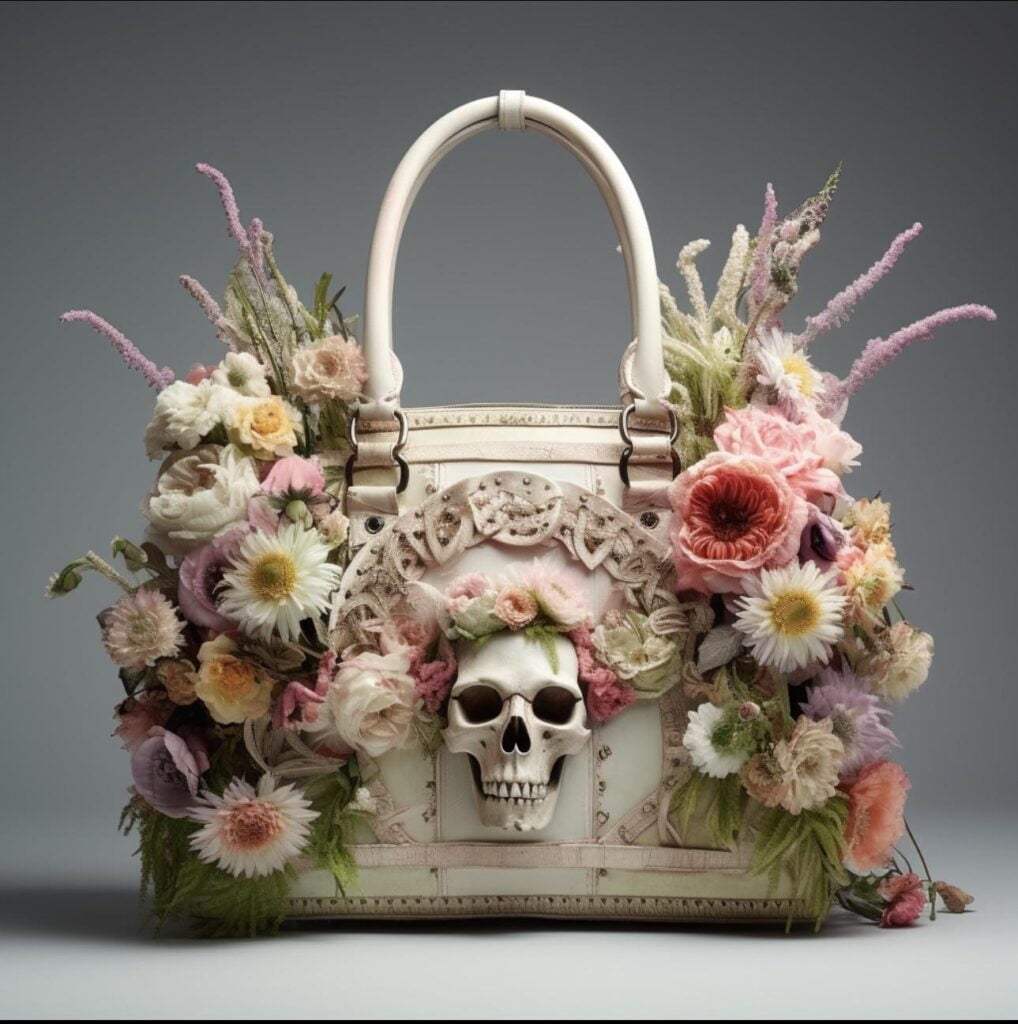 Hellraiser Horror Movie Inspired Handbag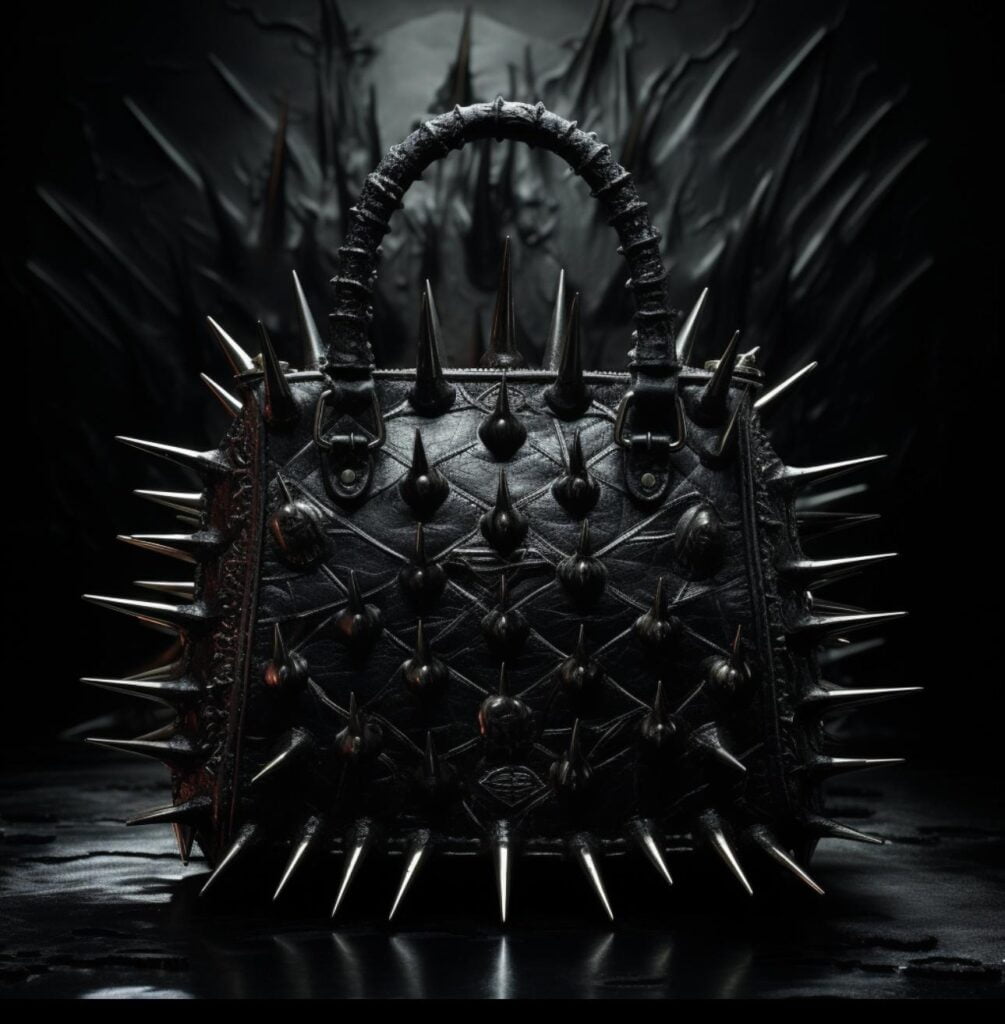 These imaginative horror movie inspiredpurses, born from the realms of creativity, embody an unparalleled mystique, exuding an aura of dangerous elegance. Although existing solely in the realm of imagination, their design evokes a tangible sense of luxury and sensuality. The allure of these creations lies in their ability to transcend the ordinary, seamlessly blending the mystic and the dangerous with an undeniable sense of opulence. Imagined yet remarkably chic, these purses embody a unique fusion of high fashion, expense, and a seductive allure that captivates the senses, leaving an indelible impression of enigmatic sophistication.
Matching the Unmatched
One might wonder, what outfits pair well with horror movie handbags? The beauty of these accessories lies in their versatility. Whether you're donning a classic all-black ensemble or experimenting with a gothic-inspired outfit, these handbags effortlessly tie the look together. They serve as a bold contrast to lighter tones and an intriguing complement to darker hues, adding an element of mystery to any ensemble.
Gothic Chic Inspirations
To truly understand the essence of horror movie handbags, one must draw inspiration from iconic gothic chic characters. Picture Morticia Addams, the epitome of gothic elegance, or Elvira, Mistress of the Dark, with her bewitching style. These characters embody the spirit of darkness and glamour, providing a blueprint for fashion enthusiasts looking to embrace the macabre with grace.
The Allure of Horror Movie Handbags
Why choose a horror movie handbag? Because you love horror movies, for example. But the answer lies in the desire to stand out, to make a statement that echoes the wearer's bold and avant-garde personality. These bags go beyond the conventional, embracing the darker side of fashion while maintaining an undeniable elegance. They are not just accessories; they are a testament to individuality and a celebration of the unconventional.
You might also be interested in…