Dress Up Like Jigsaw from Saw
If you are looking for a good Jigsaw costume for Halloween or a big cosplay event, here's the winning formula for creating the most exciting outfit of the party! Let's see how to dress up as Jigsaw from Saw.
Costume Guide For COSPLAY & HALLOWEEN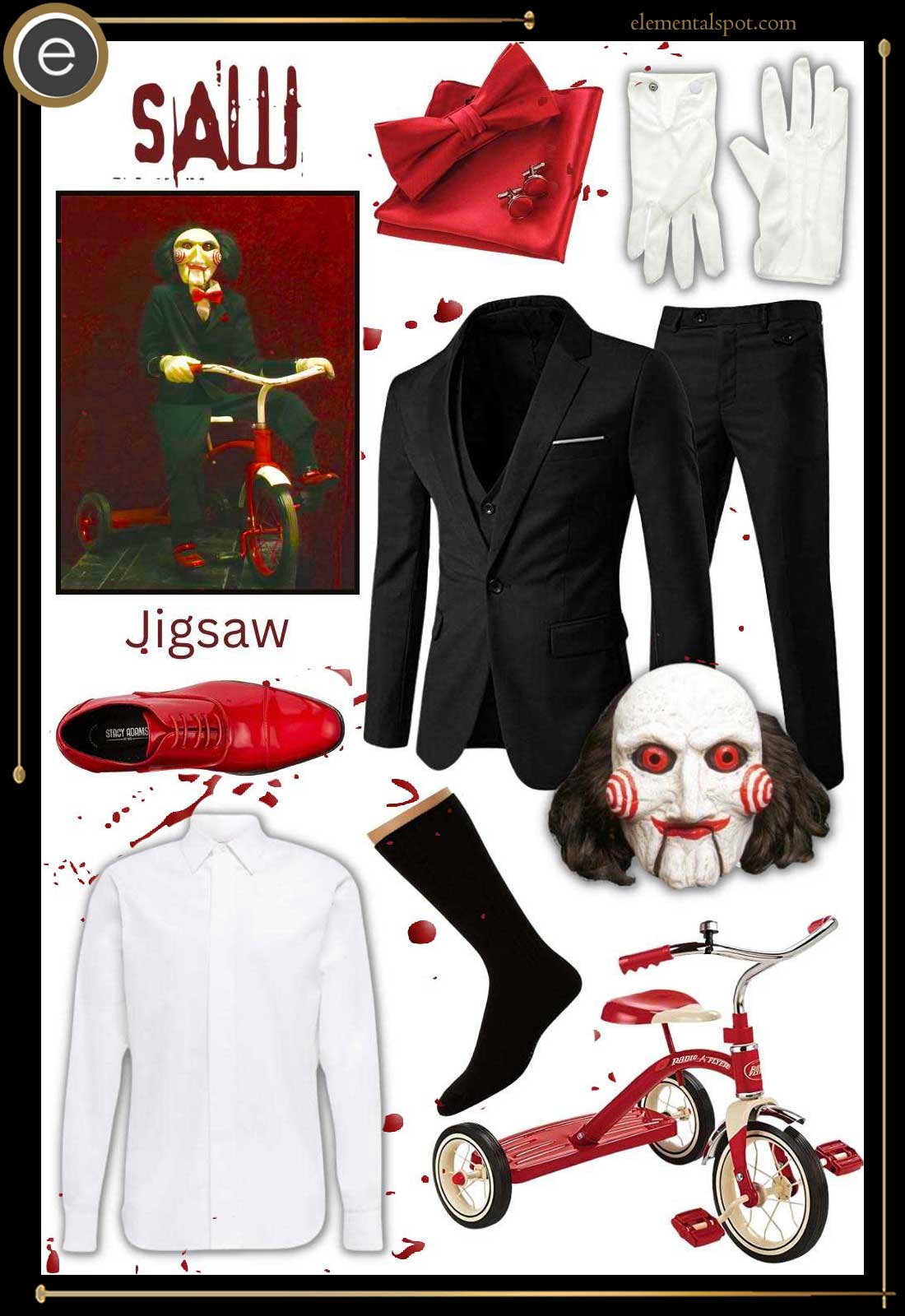 Jigsaw from Saw Costume Guide
Shopping List for Jigsaw from Saw Costume & Outfit
Dress up like Jigsaw for Halloween!
Jigsaw is one of the creepiest horror movie villain out there… This bloodthirsty character's chilling mask is instantly recognizable, making him an ideal Halloween costume idea. You'll be scaring everyone to death this Halloween with this Jigsaw costume!
Who is Jigsaw?
Jigsaw is the incredibly spooky main character of the Saw horror film series created by James Wan and Leigh Whannell. He is presented as a serial killer who places his victims in traps, which he himself designed and calls "games" because of the contempt they have for life, whether by having wasted theirs. or that of others through murder or drug trafficking by example.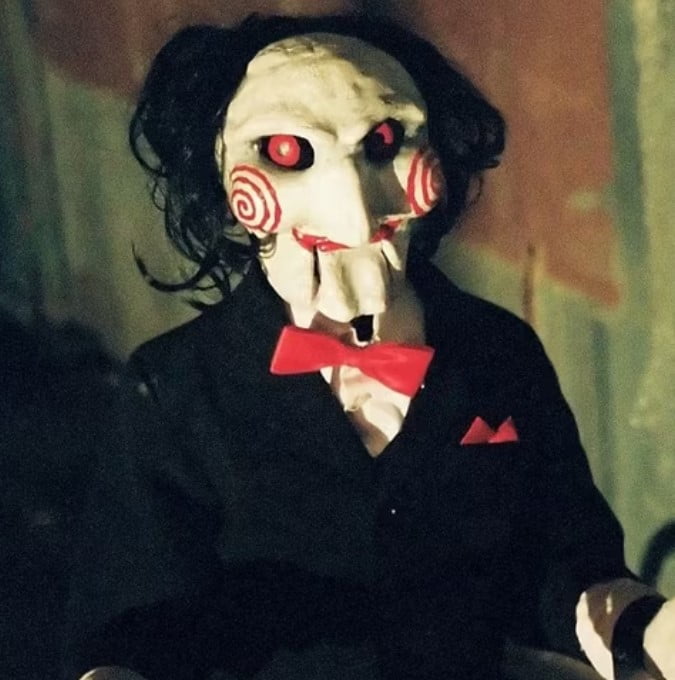 He tries in this way to make them understand the importance of savoring life, himself being condemned by cancer of the frontal lobe. His victims then have the choice of passing the test he imposes on them, or of dying. Its name comes from the fact that it takes a piece of skin in the shape of a puzzle piece from the bodies of those who have not passed their test.
He is one of the most famous and popular villains in horror cinema and a legendary character often referenced in popular culture.
Jigsaw costume and accessories
To become this crazed killer, you will have to slip on the elegant white shirt and black suit he is known for wearing, as well as pure white gloves. Hints of red elements add a pop of color to the costume, notably a red bowtie and red dress shoes. Of course, to fully immerse yourself in the person of this character, you will have to put on his iconic doll mask, and jump on his disturbing red tricycle. 
If you'd rather create your own Jigsaw mask, you can follow the steps outlined in the video. You will have to sculpt out the cheeks with latex, and paint the entire mask with white paint. Afterwards, use red paint to draw on Jigsaw's puppet face. Wear a bald cap and put on a black wig to make the costume even more realistic!
The little detail that makes all the difference: Put on red eye contacts! This will create an eerie look that will have everyone shivering with terror when looking at your Jigsaw Halloween costume.
Explore our selection of haunting and twisted character costumes, including other iconic horror villains like Freddy Krueger, Pennywise the Clown, and Leatherface, for more spine-chilling Halloween inspiration.
Missing an Outfit Inspo? Submit your idea and we'll make it happen!
Monthly Newsletter
Subscribe and get your Halloween costume ideas from us each year.