Dress Up Like Jack Torrance from The Shining
If you are looking for a good Jack Torrance costume for Halloween or a big cosplay event, here's the winning formula for creating the most exciting outfit of the party! Let's see how to dress up as Jack Torrance from The Shining.
Costume Guide For COSPLAY & HALLOWEEN
Jack Torrance from The Shining Costume Guide
Shopping List for Jack Torrance from The Shining Costume & Outfit
One of the most terrifying characters ever created, Jack Torrance from The Shining is an easy and iconic Halloween costume idea. Here's how to slip into the skin of this delirious murderous madman and create the best kind of thrills for a spooky Halloween!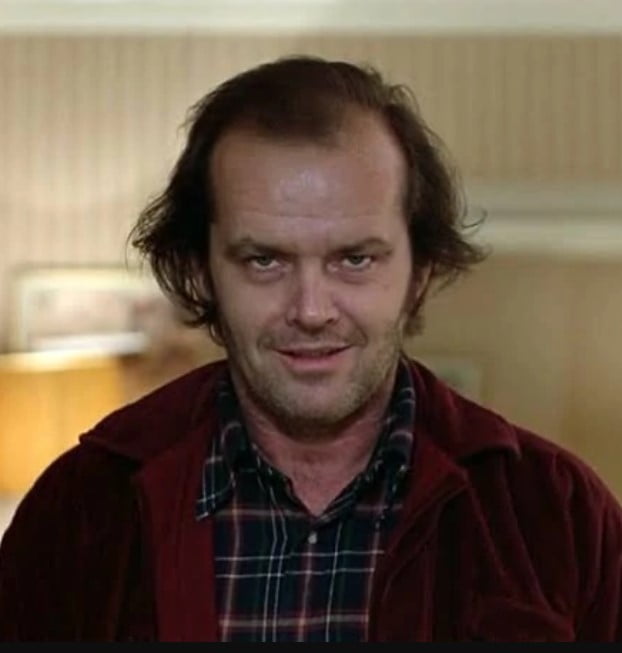 Who is Jack Torrance?
In Stanley Kubrick's The Shining (1980), Jack Torrance, a writer, is hired as a janitor for the winter at a large, isolated hotel in Colorado – the Overlook – where he hopes to finally overcome his lack of inspiration. He settles there with his wife Wendy and his son Danny, who has the gift of a medium.
While Jack does not advance in his book and his son is more and more haunted by terrifying visions, he discovers the terrible secrets of the hotel and gradually falls into a form of murderous madness where he attacks his own family…
We have already explained in detail how to
In the following, we will show you how to create a convincing Jack Torrance look. Have fun!
How to create Jack Torrance's costume?
This costume is pretty easy. To become Jack Torrance, you will first need to slip into a plaid shirt and some blue jeans. To replicate his allure as much as possible, wear a burgundy jacket over the shirt, and put on some brown boots. The last few details: add a brown leather belt around your waist… and grab a toy axe!
According to the film's costume designer, Milena Canonero, the burgundy jacket was specifically hand-picked by Jack Nicholson from his own personal wardrobe for his character to wear in the film, and an additional 11 replicas of the jacket were then ordered for the production.
In this video, Joanna Delilah shows us how to perfect a Jack Torrance costume with makeup. If you want to add another layer of realism, this video will help you recreate Jack's beard and other facial features, making your costume even more terrifying!
Make sure to follow the steps outlined in the video to create the face shape and wrinkles that characterize Jack Torrance. After that, when you're ready to mimic his five o'clock shadow, grab a little sponge and dab some black and brown eyeshadow all along the lower half of your face. It's surprisingly realistic, and the resemblance is definitely scary!
Now all you need is a manic smile, a crazed look in your eyes, and a few good quotes! This Jack Torrance costume is sure to terrify all your friends this Halloween.
Missing an Outfit Inspo? Submit your idea and we'll make it happen!
Monthly Newsletter
Subscribe and get your Halloween costume ideas from us each year.