Dress Up Like Ash from Evil Dead
If you are looking for a good Ash costume for Halloween or a big cosplay event, here's the winning formula for creating the most exciting outfit of the party! Let's see how to dress up as Ash from Evil Dead.
Costume or Outfit Guide For COSPLAY & HALLOWEEN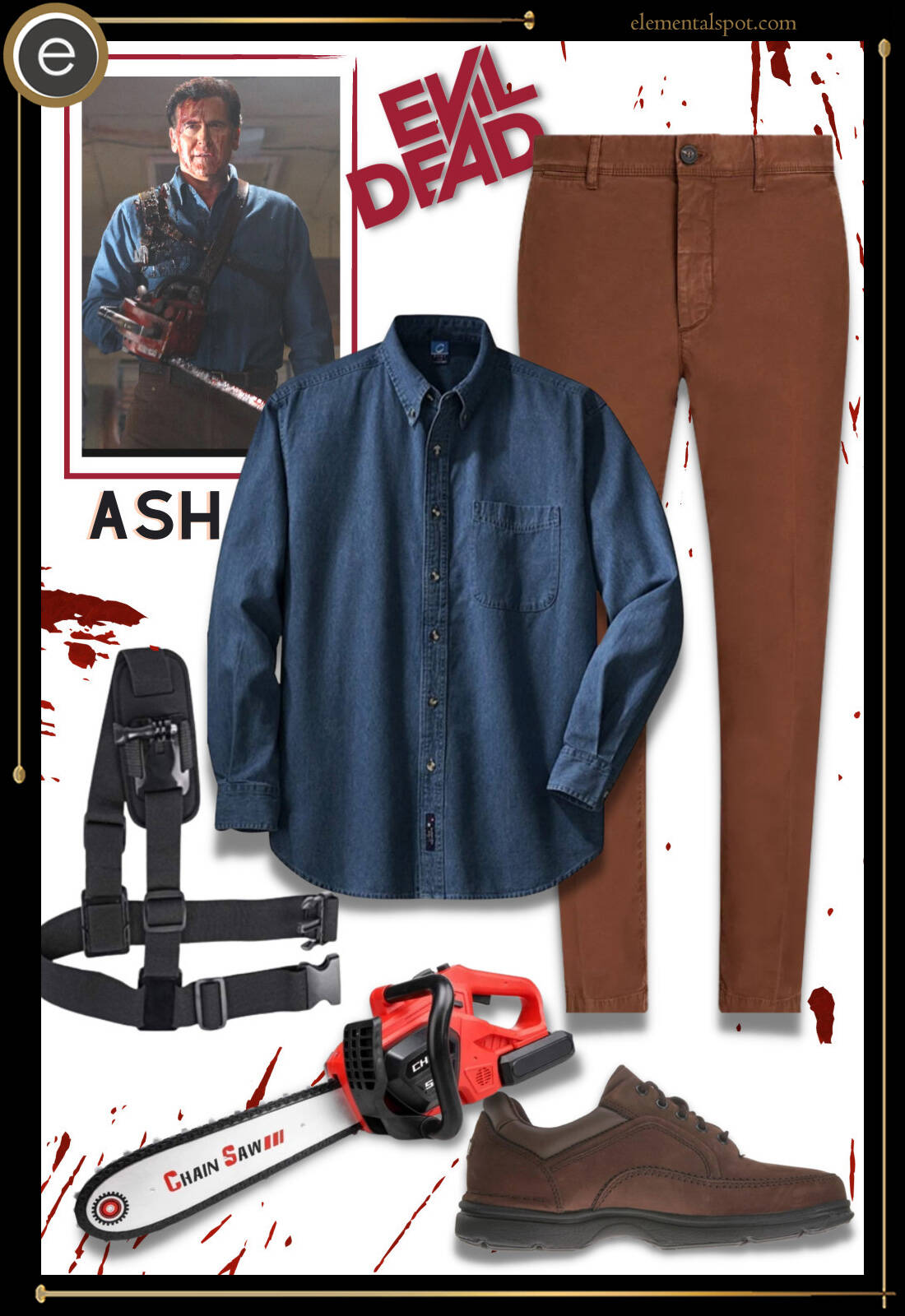 Ash from Evil Dead Costume or Outfit Guide
Shopping List for Ash from Evil Dead Costume & Outfit
Any horror fan will tell you the same thing: Ash from Evil Dead is one of the coolest characters of all time. So if you're looking for an outfit idea for a Halloween party, this Ash from Evil Dead costume is the perfect choice!
Get the cosplay appearance of Bruce Campbell's Ashley "Ash" Williams from The Evil Dead. The first, low-budget horror movie with substandard acting from 1981, which served as the basis for the successful horror franchise that followed.
Who is Ash from Evil Dead?
Bruce Campbell has played Ash Williams in all of his appearances. Since Evil Dead II, Ash is known for his chainsaw, which has replaced his missing hand, and his "boomstick," a sawn-off 12-gauge double- barrelled Remington shotgun. Ash is a master at creating tools and weapons out of scrap.
Ash is harsh, greedy, and somewhat insane, unlike many heroes, but he is also likely the finest line of defense the world has against the demonic forces of the Deadites (the main villains of the Evil Dead series). Despite these flaws, Ash is one of the most well-liked horror heroes of all time, having contributed to the rise of the antihero as a character type.
Thus is certainly not a bad idea as Halloween outfit.
Ash's mental scars are a major supplier to his negative attributes because Deadites forces him to slaughter his entire family by transforming them into monsters that would never be able revert to being human-
The Evil Force, the invisible ruler of Deadites, benefits from some of his negative features, though, and quickly takes possession of him while retaining some of his darker characteristics. However, when Ash does not exhibit negative traits, the Evil Force cannot engage Ash in their final conflict in its ultimate manifestation, Evil Ash.
How To Get The Look of Ash Williams
The costumes of Ash, one of the unsurpassed horror movie characters of all time, are accompanied by an important prop, a chainsaw attached to the stump on his right arm.
For the typical Ash-in-action look you'd need a pair of khaki pants that can be purchased in any local urban or hiking gear store, a navy denim shirt with pockets on both sides of the chest, and two multiple-hole belts in brown leather. Ash-in-action has already handled the evil dead in a fight. His shirt is slightly bloody on the shoulder and his chainsaw hand is dripping blood. In his left hand, he is holding an Airsoft Double Barrel Shotgun.
The tricky part might be the chainsaw hand extension as it is a very specific tool. A DIY option would comprise of painted cardboard boxes, cut and fitted to the shape of a chainsaw (tutorial in the video above). Ash's belt can be made of the two leather belts hooked onto each other, creating a larger ring across Ash's body. Another option would be a copy of his original harness, which can also be purchased online.  A more realistic chainsaw option would be a 3D chainsaw with Sound, which can be purchased online (have a look at the Shopping List For Ash From Evil Dead Costume & Outfit at the top of this article)
This is it! With all these gory details, as well as your spot-on outfit and the emblematic chainsaw, your Ash from Evil Dead costume will terrify everyone around you!
Cosplay Ideas similar to Ash from Evil Dead Costume
If you loved the Ash from Evil Dead costume and want something equally spooky and iconic for Halloween, here are five recommendations to consider:
Missing an Outfit Inspo? Submit your idea and we'll make it happen!
Monthly Newsletter
Subscribe and get your Halloween costume ideas from us each year.