Dress Up Like Pennywise from IT
If you are looking for a good Pennywise costume for Halloween or a big cosplay event, here's the winning formula for creating the most exciting outfit of the party! Let's see how to dress up as Pennywise from IT.
Costume Guide For COSPLAY & HALLOWEEN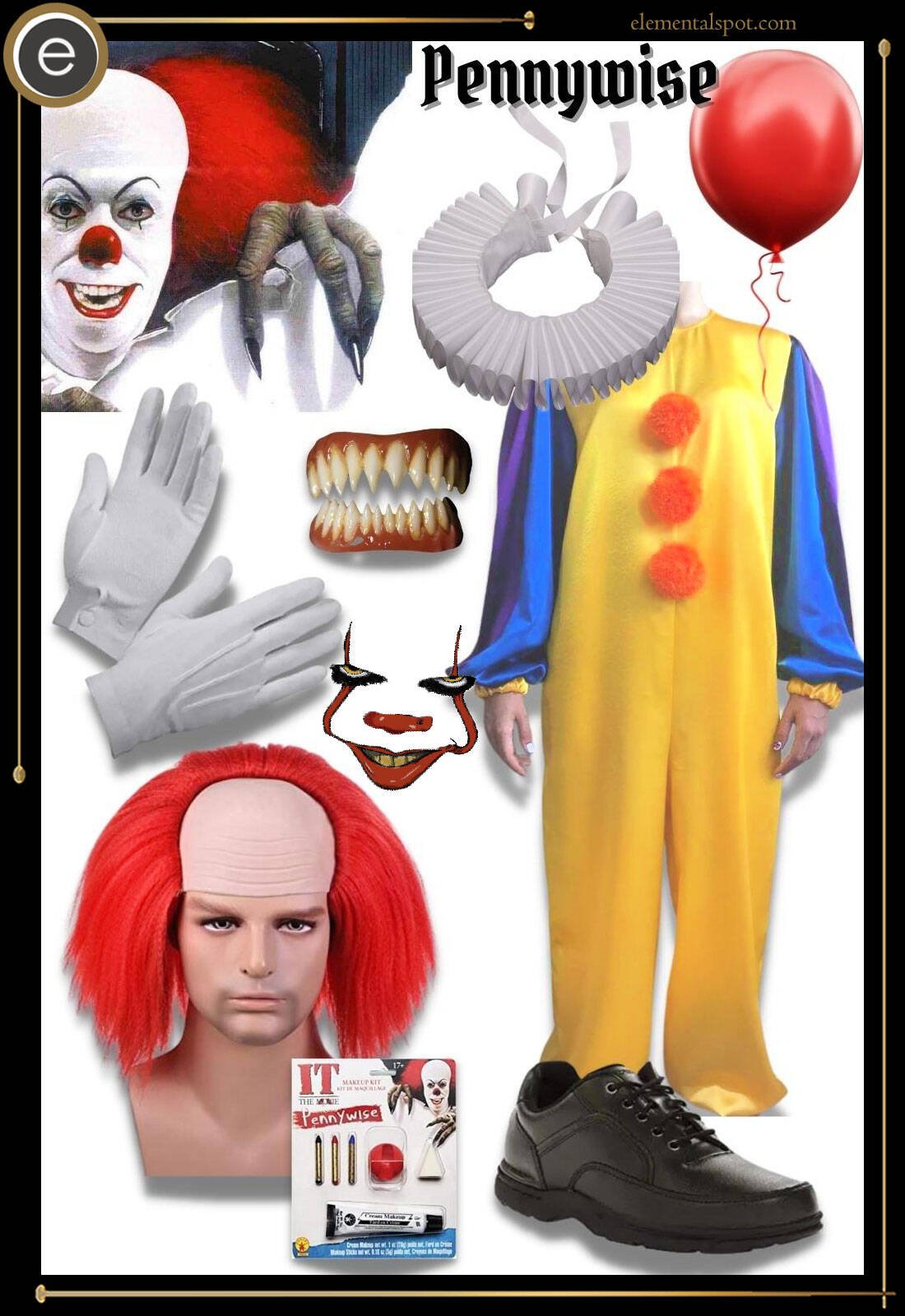 Pennywise from IT Costume Guide
Shopping List for Pennywise from IT Costume & Outfit
The fact that the primordial entity of utmost evil assumes the form of a clown is telling among all the identities that "It" assumes throughout Stephen King's story. Because who doesn't find clowns terrifying? While Tim Curry's portrayal helped the TV miniseries become famous, Bill Skarsgard was able to personalize the character in Andy Muschietti's flicks by deploying his own exclusive, in-person special effect: the capacity to make one of his eyeballs veer off at an unsettling angle. The costumes were designed by Monique Prudhomme.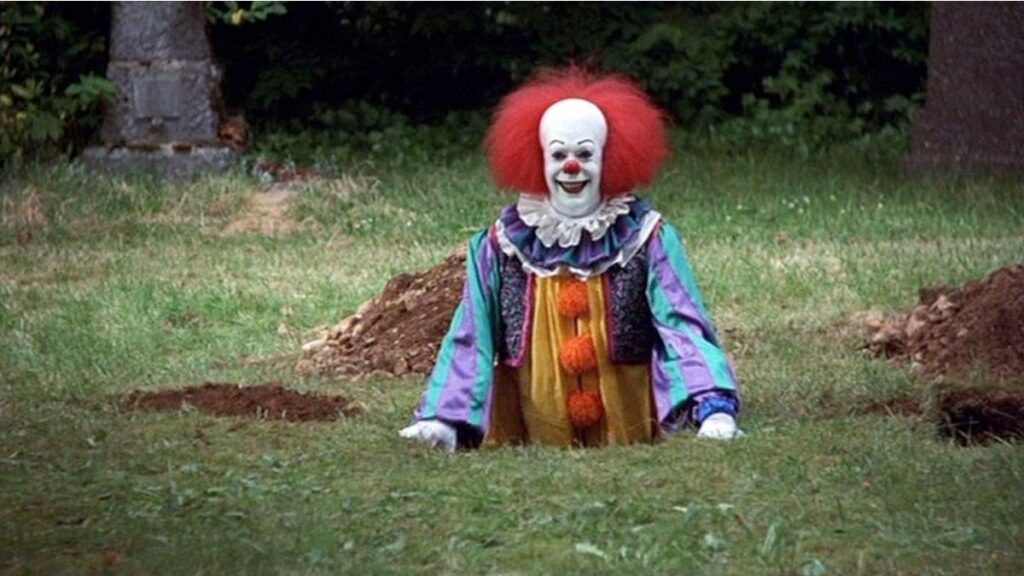 In the story, a voracious monster uses its ability to assume the deepest fears of its target to feed on its victims' anxieties. It generally manifests as Pennywise, a clown with a dark sense of humor, in human form. The Lucky Seven, also known as The Losers Club, are the main characters. They are a bunch of misfit children who resolve to kill Pennywise by any means necessary after discovering him.
Peenywise Costume Design
A remake film, IT (2017), was produced 27 years later, directed by Andrés Muschietti and the costumes designed by Katherine Jane Bryant, who designs costumes for television. It (2017) was followed up by IT: Chapter 2 (2019), in which Pennywise is dressed in the same costume as the movie that precedes it.
Comparing the designs of Prudhomme and Bryant, each clown reflects the idea of a clown in the era each film was produced.
Pennywise Costume 1 – 1990 Pennywise is very colourful, with the classic clown nose and red wig; large forehead and striped circus clown loose fit jumpsuit, combining pyjamas and the circus in one costume.
Pennywise Costume 2 – The 2017 costume is bolder, plays with form and texture, rather than color and pattern. The. Costume is in total ecru, keeping the classic red puffy buttons at the center but the form borrows essentially from costumes tracing as far back as the circus clown of the 18th century but formally developed in the 19th century. Bryant's Pennywise has an ever-darker look in his eyes, accompanied by red lips chasing up his cheekbones up and through his eyes on a total white painted face. The ruffles around the neck are multi-layered, reminiscent of the Elizabethan ruffle collar.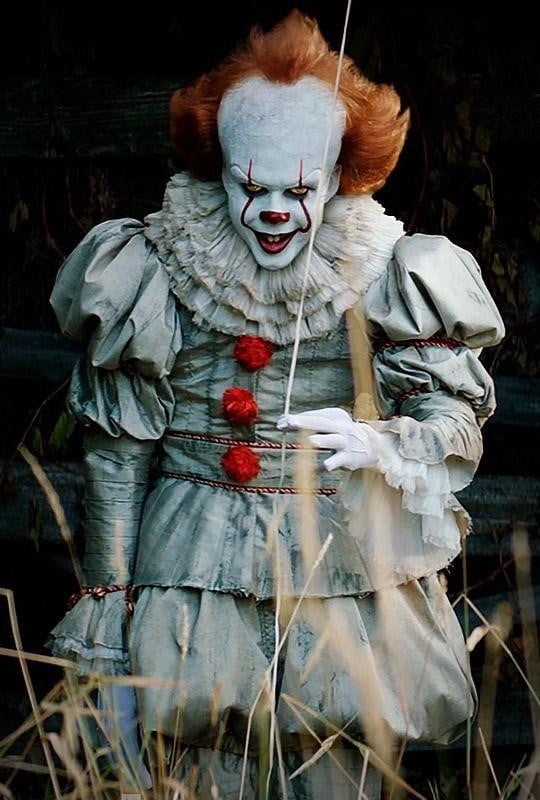 ---
How to get the Pennywise Look
Pennywise 1990 costume tutorial you can find at the top of the article. The IT (2017) costume version can be easily purchased online or perhaps in your local fancy dress shop. The costume would not be a precise reproduction of Bryan's costume. The mask can also be purchased online but the design can also be made by you! That is if you have the time and energy to go the extra mile. Here's a tutorial on Pennywise makeup and prosthetics.
If you are a cosplayer and are absolutely willing to spend a theatre costume priced piece, Vinacosplay will make a copy of Bryant's costume for you.
Don't forget to bring your evil laugh, and a red balloon to fool your Halloween victims!
Missing an Outfit Inspo? Submit your idea and we'll make it happen!
Monthly Newsletter
Subscribe and get your Halloween costume ideas from us each year.