Dress Up Like Alex from A Clockwork Orange
If you are looking for a good Alex costume for Halloween or a big cosplay event, here's the winning formula for creating the most exciting outfit of the party! Let's see how to dress up as Alex from A Clockwork Orange.
Costume Guide For COSPLAY & HALLOWEEN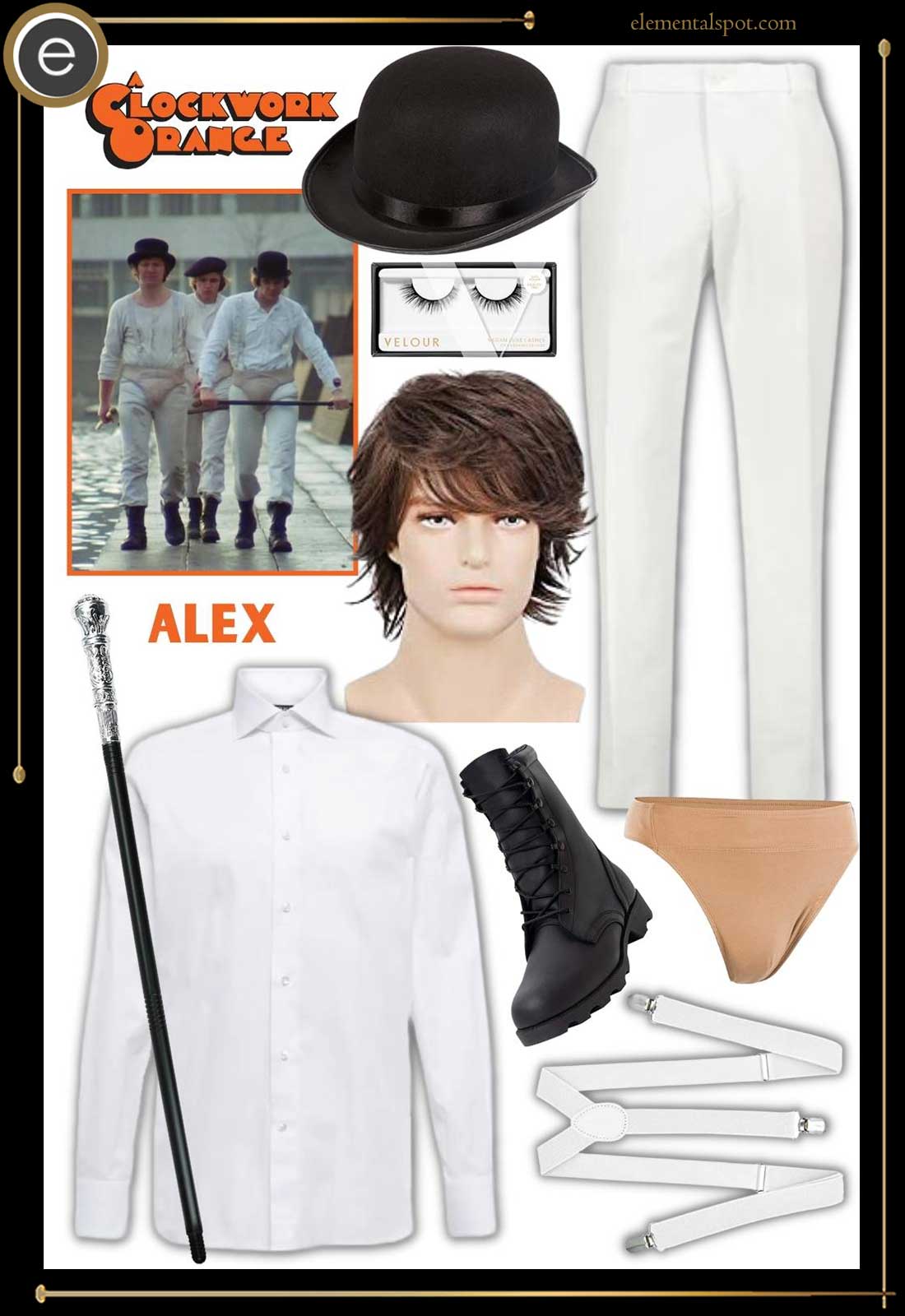 Alex from A Clockwork Orange Costume Guide
Shopping List for Alex from A Clockwork Orange Costume & Outfit
Are you ready to dive into the dark and captivating world of Alex from A Clockwork Orange? With his distinct costume and unforgettable personality, Alex has become a cultural icon. In this article, we will guide you through the process of recreating his iconic style, helping you bring this enigmatic character to life.
Short About Alex
Alex, the protagonist of Anthony Burgess' dystopian novel and Stanley Kubrick's film adaptation, A Clockwork Orange, is a complex and charismatic anti-hero. Known for his ultraviolent tendencies and intellectual eloquence, Alex's unforgettable persona is defined by his unmistakable costume.
Recreating His Style: A Clockwork Orange Makeup Tutorial
To fully embody the essence of Alex, it's crucial to pay attention to the details, starting with the makeup. We recommend following the step-by-step guide provided in the Clockwork Orange Makeup Tutorial. This tutorial will help you achieve the iconic eye makeup and create the signature look that perfectly captures Alex's enigmatic allure.
Get That Alex A Clockwork Orange Costume
To complete the transformation into Alex, you'll need several key items that define his distinctive costume. Here's a comprehensive list of the items required:
Tan Briefs: Opt for a pair of high-waisted tan briefs to stay faithful to Alex's style.
White Shirt: Choose a crisp, button-down white shirt to create a clean and classic look.
Derby Hat: Top off your ensemble with a black derby hat, adding a touch of sophistication to your costume.
White Pants: Find a pair of slim-fit white pants to match the sharp and stylish aesthetic.
White Suspenders: Suspenders are an essential accessory for Alex's costume. Choose a white pair to complement the overall look.
Black Boots: Complete your outfit with a pair of sturdy black boots, symbolizing Alex's rebellious nature.
Walking Cane: Don't forget to include a walking cane, which adds an element of elegance and intrigue.
Brown Wig: To replicate Alex's distinctive hairstyle, opt for a brown wig with a signature side part.
Fake Eyelashes: Enhance your eye makeup by applying fake eyelashes, accentuating your gaze just like Alex.
By assembling these items, you'll have everything you need to recreate Alex's iconic costume and truly become the embodiment of this captivating character.
Conclusion and Recommendations
In conclusion, embracing the Alex from A Clockwork Orange costume allows you to tap into a unique blend of edginess and intellect. By paying attention to the details, such as the makeup and the specific items mentioned, you can authentically capture the essence of this iconic character.
If you're looking to expand your repertoire of iconic character costumes,s, we recommend exploring the costumes of Wendy and Jack from The Shining. These characters, played by Shelley Duvall and Jack Nicholson, respectively, offer a whole new level of psychological intensity and suspense. To learn more about their costumes and how to recreate them, check out our article on "Wendy and Jack from The Shining Costumes."
Embrace the creativity, delve into the world of iconic characters, and let your imagination run wild as you bring these fascinating personas to life through costume and character study.
Missing an Outfit Inspo? Submit your idea and we'll make it happen!
Monthly Newsletter
Subscribe and get your Halloween costume ideas from us each year.