The Coming-of-age Wardrobe of Mia Polanco in Netflix's Everything Now
With Netflix surprisingly making a name for itself with British coming-of-age dramas, like Heartstopper and Sex Education (whose witty and intelligent female lead Maeve Wiley, has a rebellious teens wardrobe of dreams), October 5th saw the streaming platform add another binge worthy watch to its roster with Everything Now.
But before we fall into the quirky outfits of our main protagonist Mia's Everything Now style we have to discuss the finer details of the binge worthy YA drama.
London teenager Mia Polanco, has just spent the last seven months in a mental health facility after being admitted for her disordered eating. On returning to high school though Mia realizes that life has continued without her, and her friends haven't wasted any time in drinking, partying and bed hopping. So there really is only one way to catch-up, a bucket list of wild teenage experiences, and a complimentary quirky wardrobe to go with them.
Mia's Striped Oversized Cardigan in Everything Now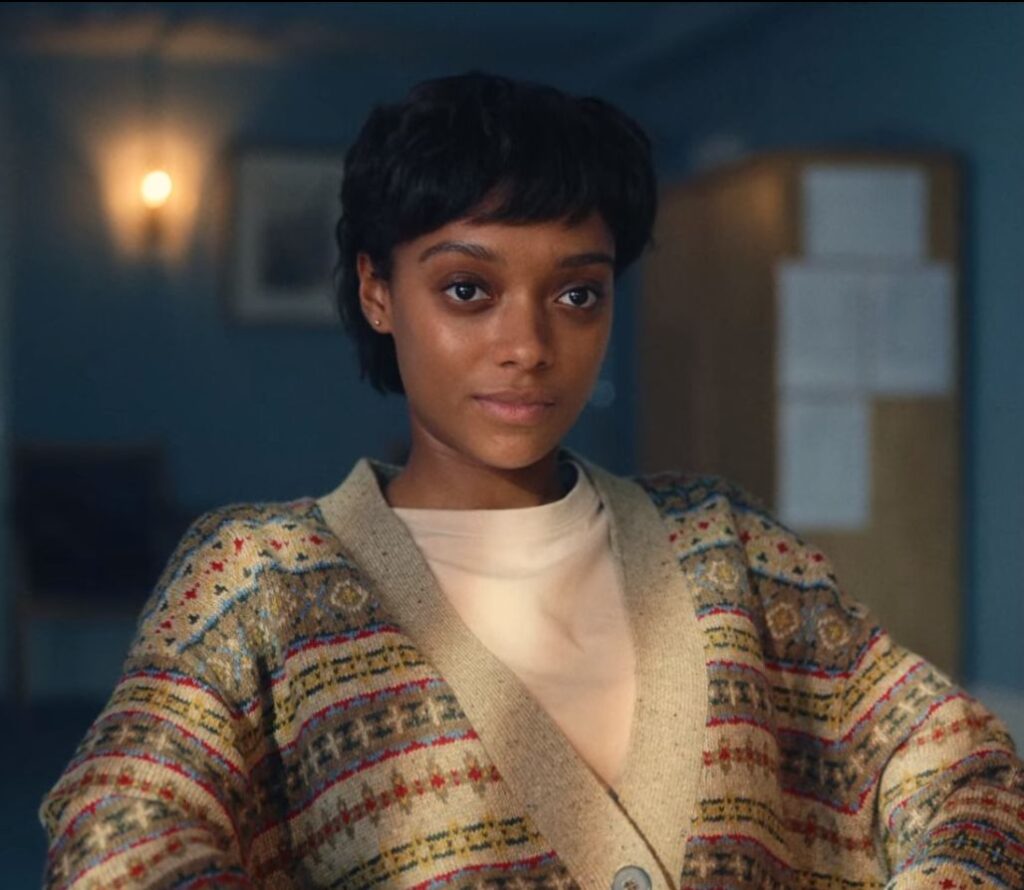 Mia Polanco might be out of the mental health facility and be heading back to school, but that doesn't mean she isn't still struggling, especially when people don't know what to say to her. So we should probably assume that she is using her comfortable and oversized knit cardigan as a cocoon to protect herself from the world around her. While desperately trying to express her desire for fun and excitement with the bold and busy patterned stripes.    
The Simple Black Denim Jacket of Everything Now's Mia Polanco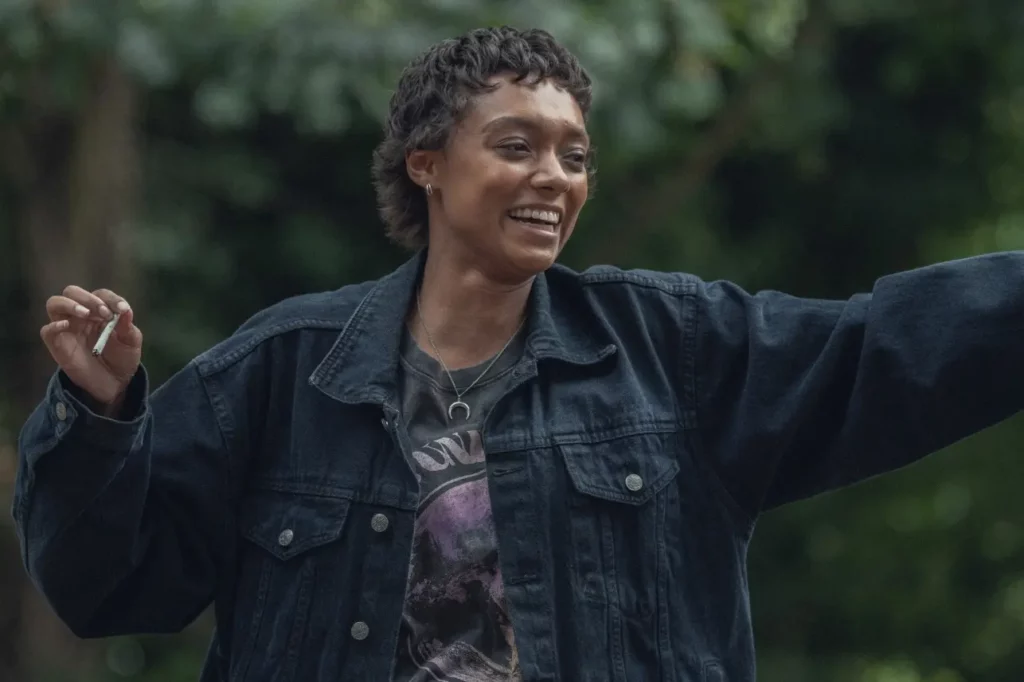 If you were to compare Mia's Everything Now style with coming-of-age's favorite troubled teenager in Euphoria's Rue Bennett, you would see some noticeable similarities between their outfits. Both opting for casual comfort, and oversized garments Mia's original go to is her simple black denim jacket. But where Rue continues her life of self-destruction, Mia grows and heals and even adds some glamor to her effortless looks.   
Date Night: Mia's Lavish Alice Satin Midi-Dress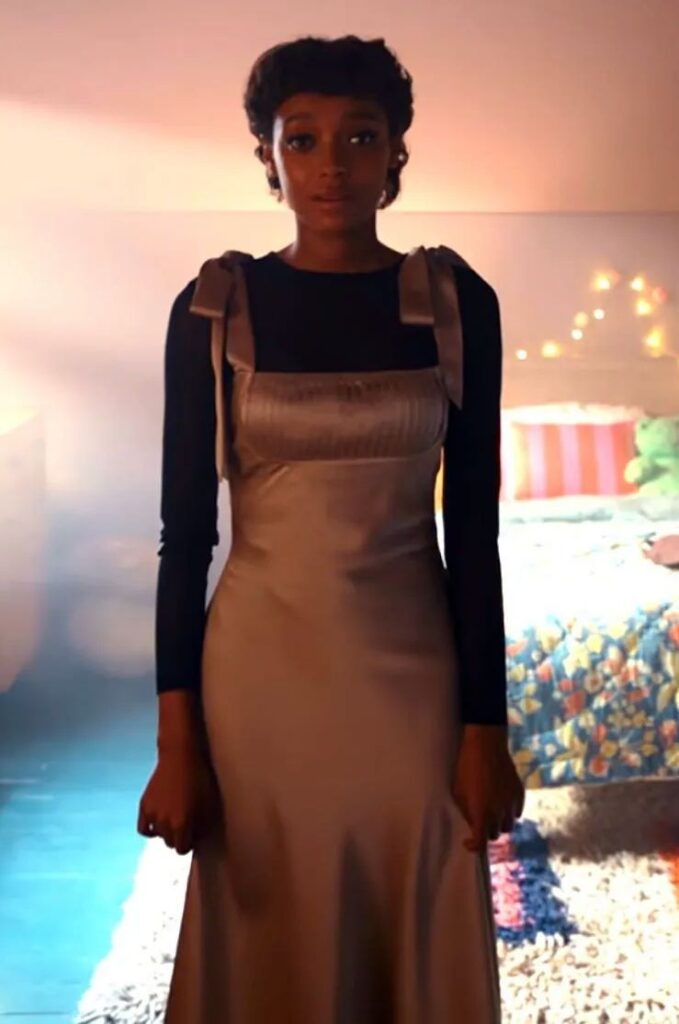 It isn't just Mia's oversized cardigans and denim jackets that pair well with her simple basic round-neck t-shirts. Especially if this potential date-night look is anything to go by. The delicate and fragile Lavish Alice satin midi-dress, that is sold out everywhere, is the perfect contrast to the long sleeved t-shirt underneath. With even the feminine soft stone color being flawlessly  balanced when layered over moody black. 
Mia's Comfortable Light Blue Overalls in Everything Now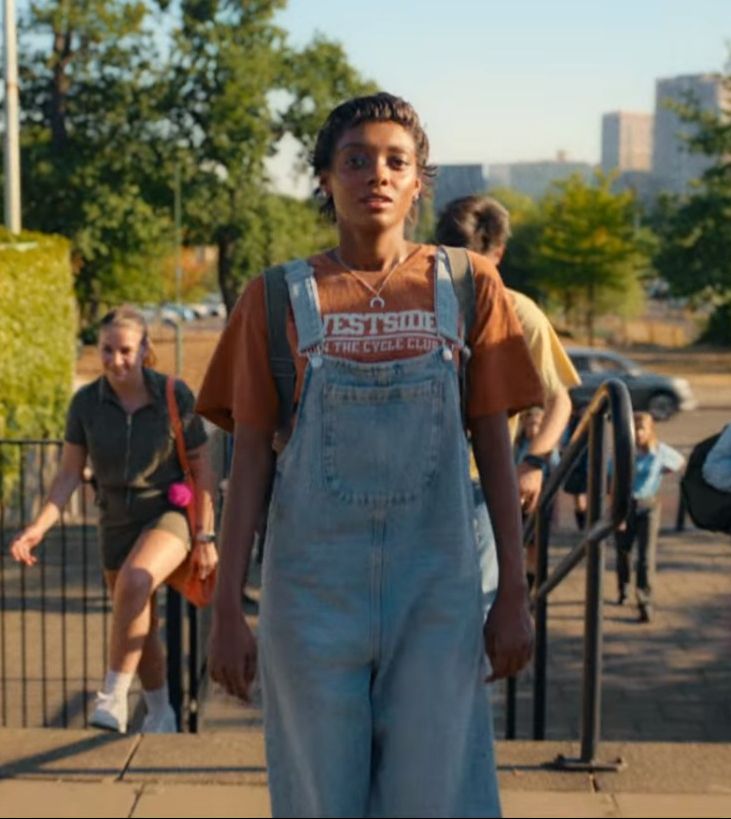 After having been absent for seven months while in recovery, Mia has missed out on some of the important coming-of-age moments that her friends have already experienced. And nowhere is this more reinforced than in Mia's Everything Now style that often leans towards being too juvenile. With her large selection of graphic t-shirts, and light blue denim overalls being used to come across as a bit too childish for a teenager that has a F**k It bucket List.   
Blue Cable Knit Sweater Worn by Mia in Everything Now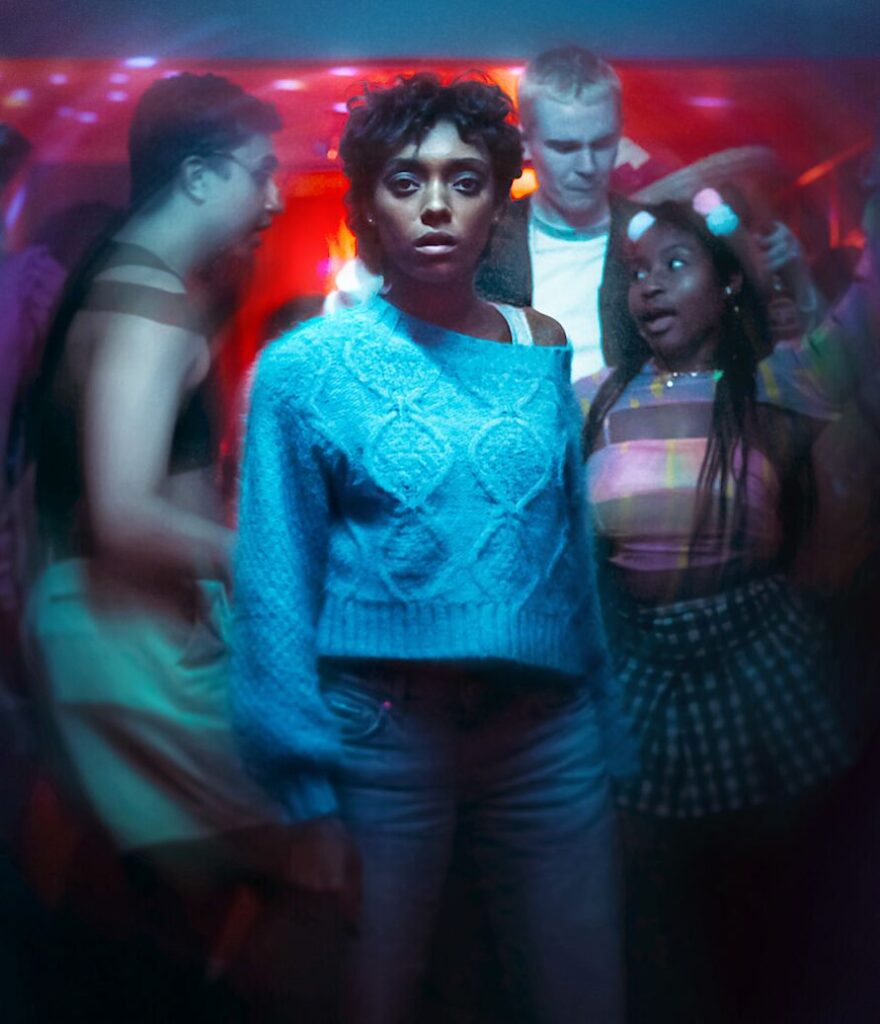 Obviously finding comfort in soft and cozy knitwear, Mia's wardrobe has an abundance of sweaters, vests and cardigans. But there are no busy patterns or bold stripes this time, instead her pale blue wide neck sweater has subtle cable knit detailing. Adding some texture to the fine wool pullover. The perfect effortless armor of a slightly scared teenager trying to step out of her own shadow.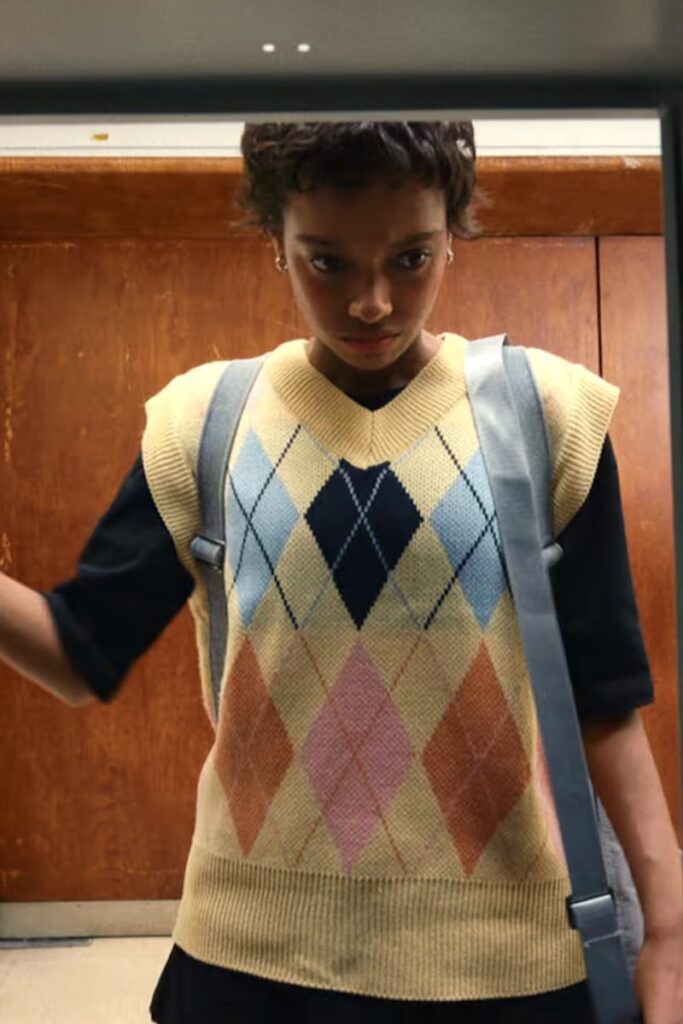 Mia's Everything Now Leopard Print Bucket Hat
As quirky as Mia's colorful knitwear and graphic t-shirts are, nothing compares to her purple leopard print bucket hat. Worn expertly by short haired beauty Sophie Wilde, who portrays Mia, the hat synonymous with hip-hop, music festivals and wild nights is the perfect accessory for a teenager looking to cross partying off her list.  
Mia's Statement Balmain Chain Dress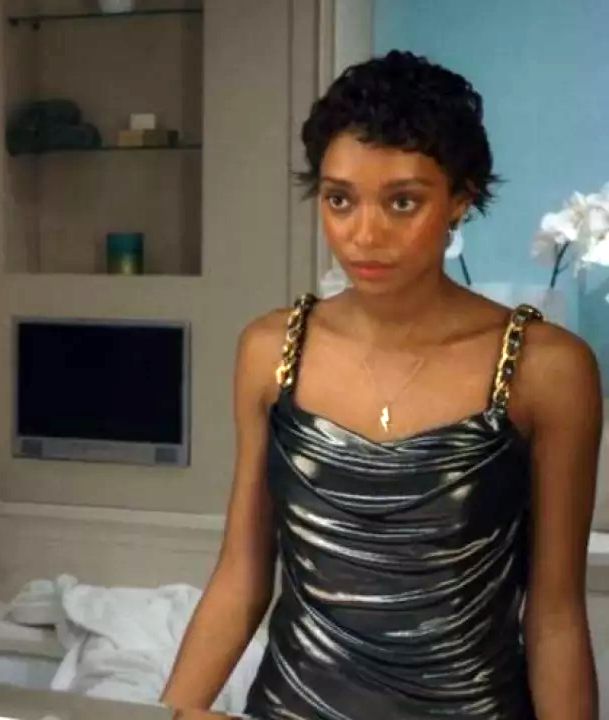 Mia's Everything Now outfits might have slowly changed and matured, without losing any of her quirky style, as she crossed off experiences from her bucket list. But when she wears this slinky silver Balmain figure hugging gown to party with her friends she is rightly the center of attention for all the right reasons. 
Black Teddy Fleece Hoodie worn by Sophie Wilde as Mia in Everything Now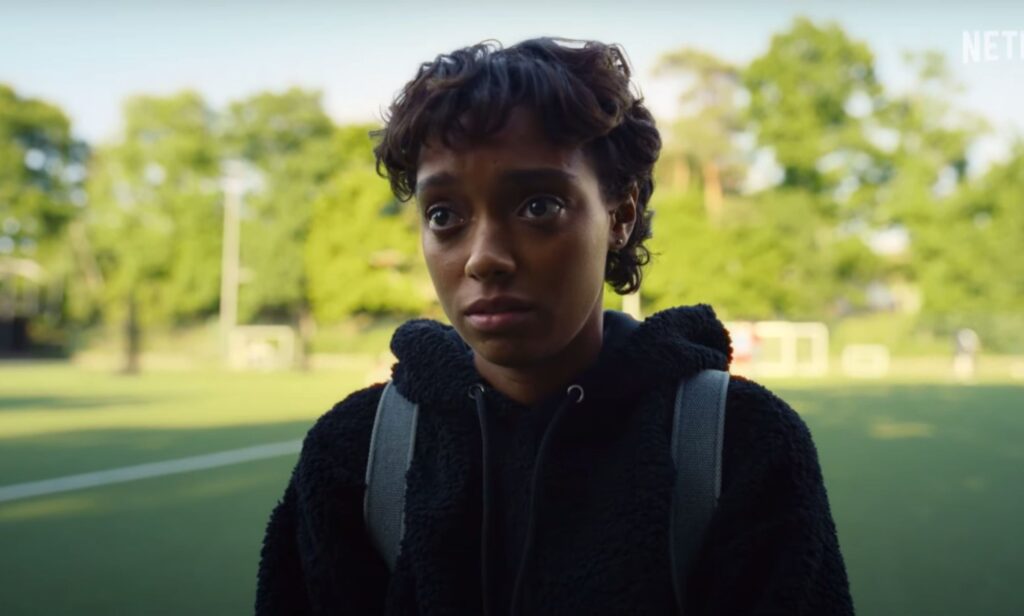 Worthy of a place on our list of Iconic Movie and Television hoodies, Mia's Everything Now style is only intensified with the choice of the teddy fleece fabric that her hoodie is made of. Sticking to her oversized aesthetic and going for a dark and moody color with the black, her fluffy hoodie is just another of her comfortable garments. And an effective cocoon to hide herself away from the realization of how much life has changed in her absence. 
When 22 year old Ripley Parker created Netflix's new British smash hit Everything Now, she set out to tell the story of mental health struggles, disordered eating and coming-of-age in today's modern world. What she didn't realize she had done was create another style icon in Mia Polanco, for fashionistas to fawn all over. But with one endlessly stealable look after another, it turns out Mia's Everything Now style of casual and relaxed comfort is just what everyone was looking for.