Dress Up Like Tommy Slater from Fear Street
If you are looking for a good Tommy Slater costume for Halloween or a big cosplay event, here's the winning formula for creating the most exciting outfit of the party! Let's see how to dress up as Tommy Slater from Fear Street.
Outfit Guide For COSPLAY & HALLOWEEN
Tommy Slater from Fear Street Outfit Guide
Shopping List for Tommy Slater from Fear Street Costume & Outfit
R.L. Stine, the King of Children's horror stories, has written plenty of scary tales that gave us nightmares and kept us in fear of everyday normal objects, thanks to Goosebumps, when we were kids. But now Netflix has released one of his lesser known book sets, Fear Street, in a three part set of movies. With plenty of scary costumes, designed by Amanda Ford, this guide will show you how to create your own Tommy Slater costume.
Who is Tommy Slater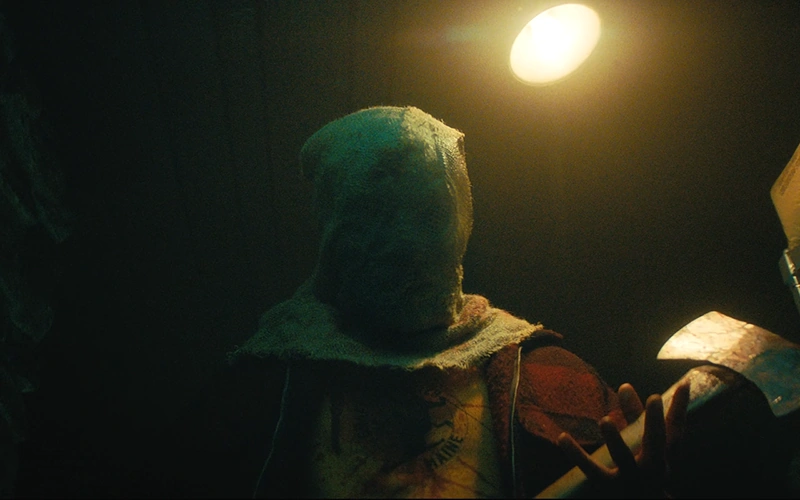 Our antagonist from Fear Street: Part Two (2021), Tommy Slater, starts the 1978 set movie as one of the young and easygoing counselors at Camp Nightwing. After becoming possessed by Satan himself, while working at the Camp, Tommy goes on a killing spree. His goal: kill as many Shadysiders, the rivals to the prosperous town of Sunnyvale, as possible. With this, Tommy Slater now a murderous camp killer, earned himself the very fitting name the Nightwing Killer.
We have already explained in detail how to
In the following, we will show you how to create a convincing Tommy Slater look. Have fun!
Getting The Tommy Slater Look
Considering our serial killer got his start, like so many before him, at camp he is dressed as you would expect someone to be to sit around the campfire in the evening. So start your Tommy Slater costume with a pair of straight leg loose fitting blue jeans and a bright yellow short sleeved t-shirt. Add a red plaid jacket, similar to something you would see on a lumberjack, and get a pair of black hiking boots for your feet.
No make-up or hair styling needed for your Tommy Slater costume as he wears a burlap sack over his head as a mask. If you are adventurous you could try creating a very realistic mask on your own, there are lots of available tutorials online. If this is beyond your artistic skills just buy a burlap sack and place it over your head. Loosely gather it around your neck and tie it with some rope. Don't forget to create some sort of eye holes though, or you are going to be walking around very vision imapired which could be a bit dangerous.
Last but not least you need your Nightwing Killer weapon to complete your look. So get yourself a fake plastic axe. But to really make your Tommy Slater costume realistic, why not cover half of the axe head in fake blood. Just to make sure people know that your killing spree has already started and to watch their backs.
Missing an Outfit Inspo? Submit your idea and we'll make it happen!
Monthly Newsletter
Subscribe and get your Halloween costume ideas from us each year.