Dress Up Like Timmy Turner from Fairly Oddparents
If you are looking for a good Timmy Turner costume for Halloween or a big cosplay event, here's the winning formula for creating the most exciting outfit of the party! Let's see how to dress up as Timmy Turner from Fairly Oddparents.
Costume or Outfit Guide For COSPLAY & HALLOWEEN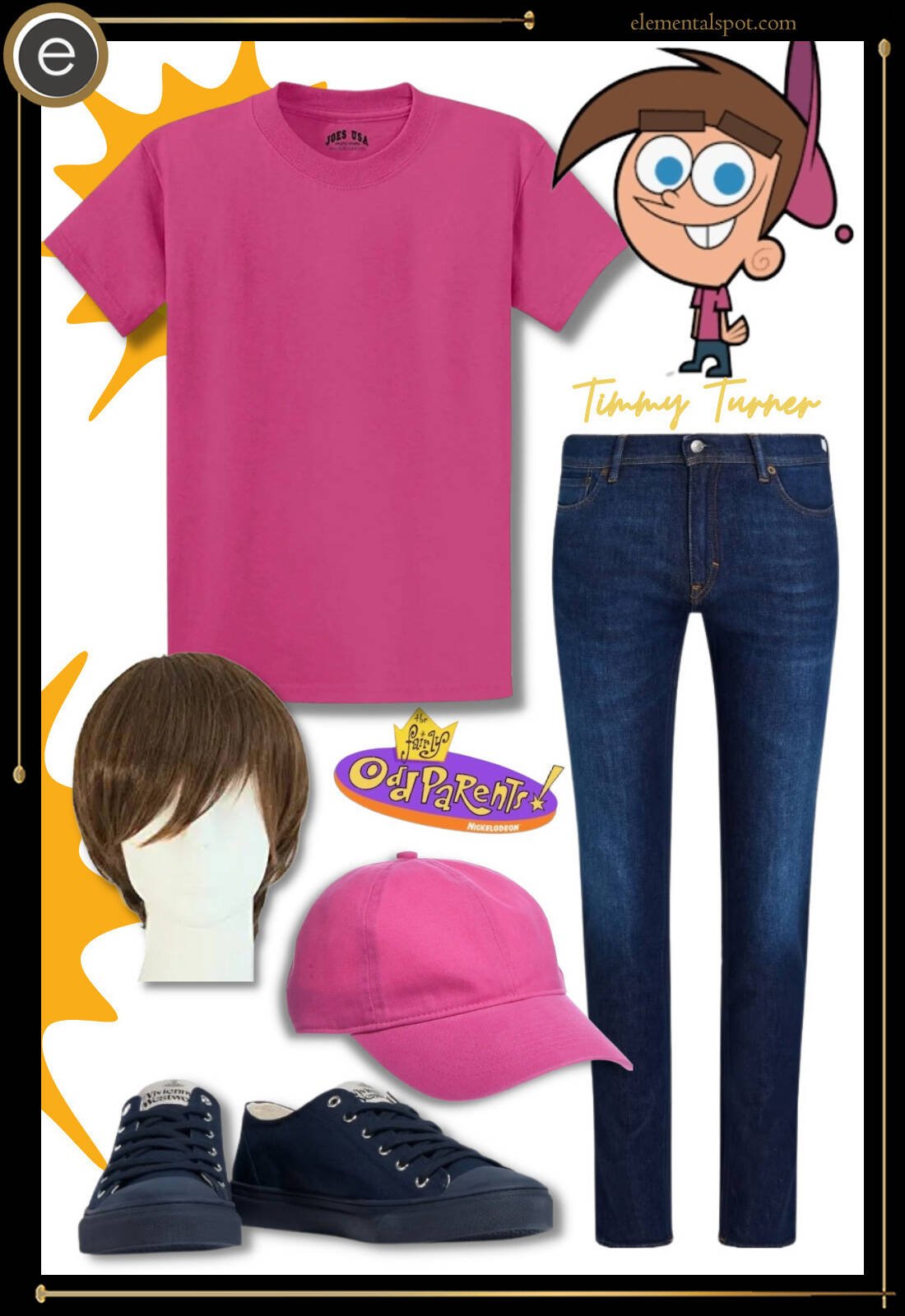 Timmy Turner from Fairly Oddparents Costume or Outfit Guide
Shopping List for Timmy Turner from Fairly Oddparents Costume & Outfit
Timmy Turner from the hit Nickelodeon series The Fairly OddParents likes to wear a pink cap and t-shirt. This colorful outfit is a smart choice for a Timmy Turner cosplay or costume. To recreate this look, you'll need to find the right pieces and add a touch of magic. With a little creativity and attention to detail, you can create a Timmy Turner Fairly Oddparents Costume that will make you the center of attention at any party or event. We will accompany you on this journey.
Timmy Turner: Just an average kid that no one understands
We're all familiar with the popular jingle and how easily it can get stuck into all of our heads. The Fairly Odd Parents is a nostalgic piece of media that no one can easily forget. Possibly the most notable part was the main character, Timmy Turner, and his fairy godparents, Cosmo and Wanda. Together, the three of them are often seen getting into varying forms of trouble from episode to episode.
Unveiling Timmy's Extraordinary Life
Timmy's life was quite silly from the very start but didn't really take much of a turn until he turned eight years old when he was first introduced to his babysitter, Vicky, whom he soon grew to loathe and became unbearably miserable. Desperate for something, he throws his Magic 9 Ball only to shatter the toy, and there, Cosmo and Wanda emerged to become his fairy godparents.
From this moment on, Timmy had a new sense of power that improved his life significantly.
Years later at school, Timmy's social life isn't exactly the greatest. Often referred to as a loser, he and his friends are far from well-liked but with his fairies, Timmy usually puts them above all else and appears to be complacent with this so long as he has his godparents.
Even after attempting to be popular through a wish, it doesn't exactly pan out well for him and he eventually gets himself out of it and inevitably loses his status despite all of his best efforts. However, the most challenging obstacle is by far Timmy's teacher, Mr. Crocker, who seems incredibly suspicious about Timmy and is acutely aware of the existence of fairy godparents. Timmy continuously evades his teacher's insistence, sometimes just by the skin of his teeth.
Timmy Turner Fairly Oddparents Costume: get That notable pink up
Glad you asked! A ten-year-old boy isn't wearing anything too trendy and least of all Timmy. Since his parents originally thought he was going to be a girl, Timmy wears quite a lot of pink and is now mostly known for his color choice.
Start with a pair of straight-cut blue jeans and a pink tee shirt with short sleeves. Then slip on a pair of low-top navy blue shoes. Lastly, add a brown wig with bangs styled to the side, hair hanging just past the ears, and finally, slap on that famous pink baseball cap.
Your Timmy Turner Fairly Oddparents Costume is done!
Immerse Yourself in Timmy's Nostalgic World
Butch Hartman may have created this nostalgic character design but it's your turn to bring this character to life, fairy godparents or not. Are you ready to wish to your heart's content like Timmy?
Take a look at our article on dressing up like Trixie Tang from Fairly Odd Parents and how to get a costume of Doug Dimmadome as well.
Missing an Outfit Inspo? Submit your idea and we'll make it happen!
Monthly Newsletter
Subscribe and get your Halloween costume ideas from us each year.