Dress Up Like Doug Dimmadome from Fairly Odd Parents
If you are looking for a good Doug Dimmadome costume for Halloween or a big cosplay event, here's the winning formula for creating the most exciting outfit of the party! Let's see how to dress up as Doug Dimmadome from Fairly Odd Parents.
Costume Guide For COSPLAY & HALLOWEEN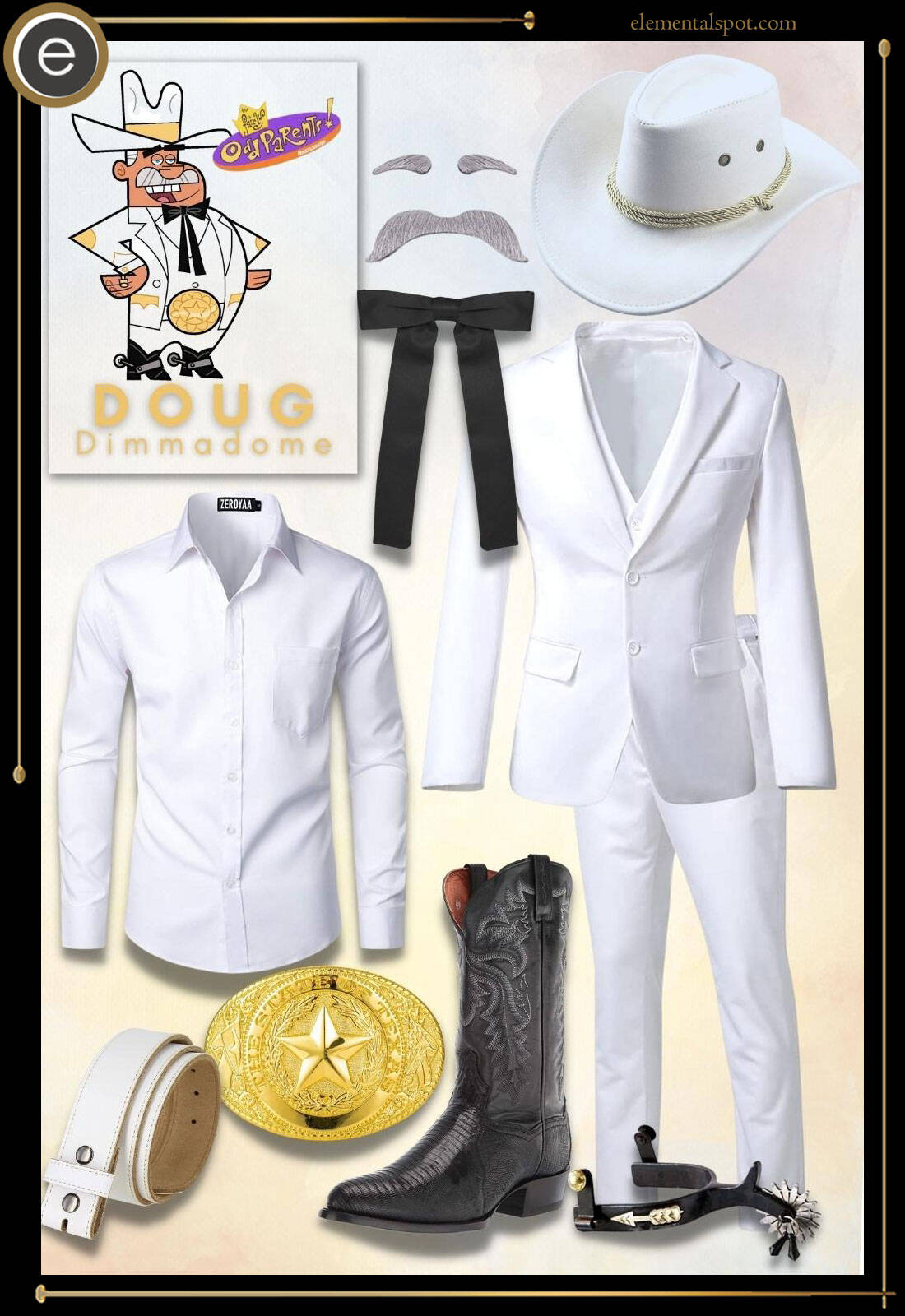 Doug Dimmadome from Fairly Odd Parents Costume Guide
Shopping List for Doug Dimmadome from Fairly Odd Parents Costume & Outfit
It's time to turn some heads: Becomme Doug Dimmadome
Fairly Odd Parents was such an iconic show that so many elements of it still exist today. The concept was every child's dream and remains every child's dream to this day. Timmy Turner, the unlucky protagonist, always made the show that much better to watch but of its lovable side characters, Doug Dimmadome has to be one of the most notable. Who isn't aware of the classic meme that this character alone has become? What better way to immortalize it than with a killer cosplay? Let's create Doug Dimmadome Fairly Odd Parents costume!
Who is Doug Dimmadome?
Doug Dimmadome is a business owner of Dimmsdale. Sometimes he's referred to as a villain, although a very minor one. Sometimes, he's even known to help Timmy Turner (whose costume tutorial we have here) in his adventures whether it but directly or indirectly. Overall, there doesn't seem to be a whole lot of substance to Doug other than his basic and selfish personality. It's rare that we ever see a lot of Doug outside of this static personality. However, there are times when Doug appears to break character, once admitting that Timmy taught him that the greatest love of all is inside of him, which is unexpected of him, some may say.
Doug Dimmadome Costume Recreation
So let's not beat around the bush, we're all wondering whether or not a hat that tall actually exists and the truth of the matter is, there's no way walking around in a tall hat like that would actually be functional. Unfortunately, there are no ridiculously tall hats in this article but there's still a stylish guide.
A white collar, button-up, long-sleeved shirt will be easy to start with along with a pair of white pants, then throw in some black boots, just below the knee.
To complete the suit portion, add a white suit jacket and a black tie to match.
Doug's a lover of accessories it seems because he has quite a lot. Tie on a white belt with a golden star belt buckle, and some good old-fashioned spurs for the backs of your boots.
Lastly, throw on a white-brimmed hat and some fake facial hair to really pull it all together.
Immerse Yourself in Timmy's Nostalgic World
Butch Hartman was definitely on to something when creating such a wonderful show for many kids to grow up with and love along the way. Will your cosplay inspire others to remember the famous lines of Doug Dimmadome?
Are you ready to wish to your heart's content like Doug Dimmadome Fairly Odd Parents costume?
Take a look at our article on dressing up like Trixie Tang from Fairly Odd Parents and dressing up like Timmy Turner from Fairly Oddparents as well.
Missing an Outfit Inspo? Submit your idea and we'll make it happen!
Monthly Newsletter
Subscribe and get your Halloween costume ideas from us each year.