Dress Up Like Snoop Dogg from Super Bowl Halftime
If you are looking for a good Snoop Dogg costume for Halloween or a big cosplay event, here's the winning formula for creating the most exciting outfit of the party! Let's see how to dress up as Snoop Dogg from Super Bowl Halftime.
Costume or Outfit Guide For COSPLAY & HALLOWEEN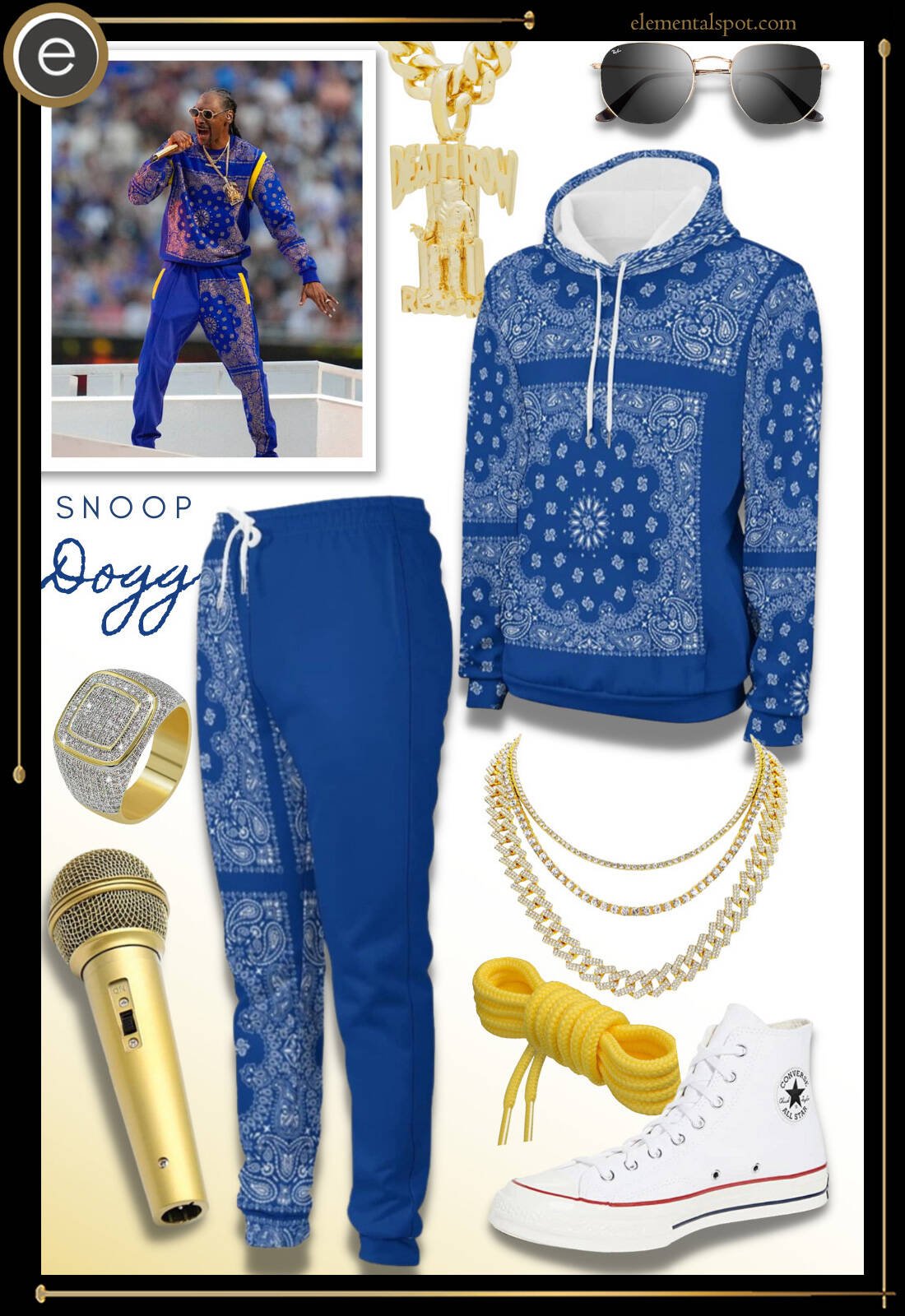 Snoop Dogg from Super Bowl Halftime Costume or Outfit Guide
Shopping List for Snoop Dogg from Super Bowl Halftime Costume & Outfit
Are you looking for a cool and fun costume idea for your next dress-up party? Do you want to channel your inner rap legend and impress your friends with your style? If so, you might want to consider dressing up like Snoop Dogg from the Super Bowl Halftime show. In this article, we will show you how to recreate his iconic blue paisley tracksuit outfit with some simple DIY tips and tricks. Let's get started!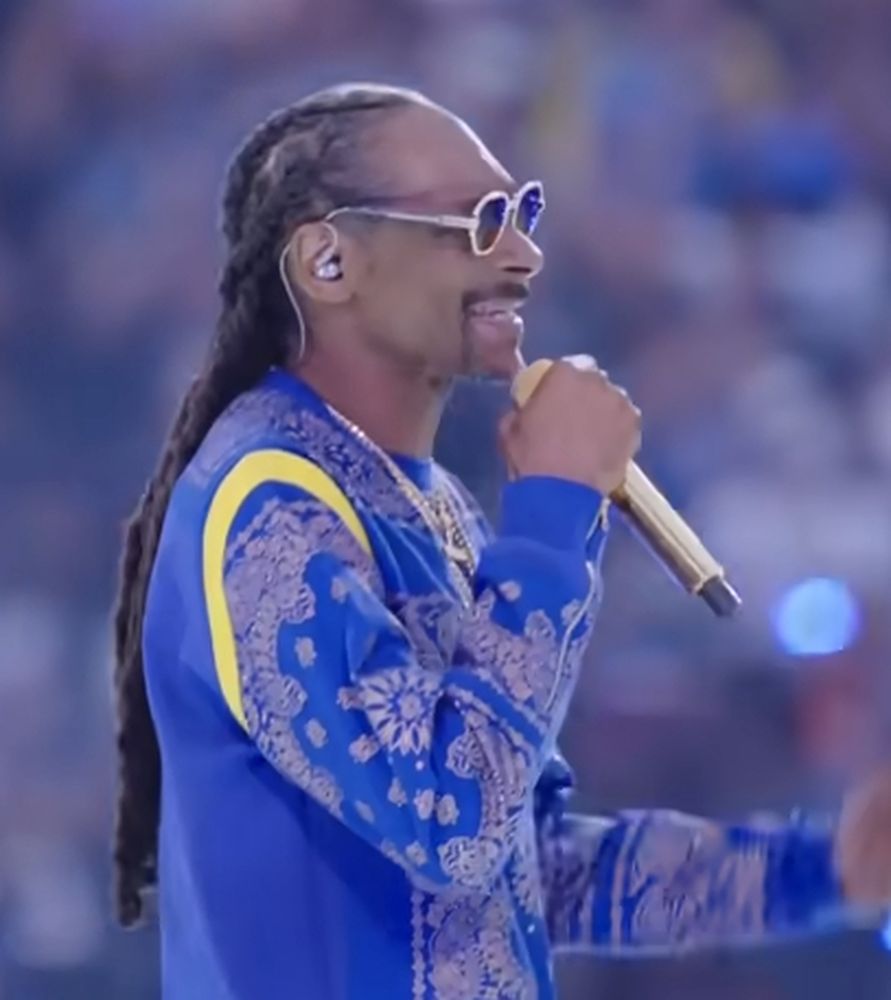 Who is Snoop Dogg?
Before we move on to the cosplay, let's first get to know the main character you want to dress up in. Snoop Dogg is one of the most influential and successful rappers of all time. He rose to fame in the early 1990s as a protégé of Dr. Dre, and has since released 18 studio albums, sold over 37 million records worldwide, and won multiple awards. He is also known for his distinctive voice, laid-back personality, and love for cannabis.
Snoop Dogg has collaborated with many other artists, such as Eminem (His hoodie managed to make it onto our list of the most iconic hoodies), Pharrell Williams, Katy Perry, and Wiz Khalifa. He has also ventured into other fields, such as acting, producing, hosting, and even coaching youth football. He is a fan of sports, especially American football and basketball, and has performed at several major events, including the Super Bowl Halftime show in 2022.
What did Snoop Dogg wear at the Super Bowl Halftime show?
Snoop Dogg joined Dr. Dre, Eminem, Mary J. Blige, Kendrick Lamar, and 50 Cent for an epic performance at the Super Bowl LVI Halftime show on February 13th, 2022. The show was a celebration of hip-hop culture and history, featuring some of the most iconic songs and artists of the genre.
Snoop Dogg kicked off the show with Dr. Dre with their classic hit "The Next Episode". He wore a blue paisley tracksuit with white stripes and yellow accents, matching his signature bandana. He also accessorized with white Converse sneakers, gold chains, yellow shoelaces, a gold microphone, gold frame sunglasses, and a bling ring.
You can watch the performance here:
Dr. Dre, Snoop Dogg, Eminem, Mary J. Blige, Kendrick Lamar & 50 Cent FULL Pepsi SB LVI Halftime Show Video credit: NFL
How to dress up like Snoop Dogg from Super Bowl Halftime show?
Now that you know more about Snoop Dogg and his outfit at the Super Bowl Halftime show, you might be wondering how to recreate it for yourself. Don't worry, we have some easy steps for you to follow.
Step 1: Get a blue paisley tracksuit
The first thing you need is a blue paisley tracksuit. This is the most distinctive and important part of Snoop Dogg's costume. You can either buy one online or make one yourself. I
Step 2: Get white Converse sneakers
The next thing you need is a pair of white Converse sneakers. These go well with any outfit, su surely you'll not use them only for this costume You can also customize them with yellow shoelaces to match your tracksuit.
Step 3: Get gold chains
Another essential accessory for Snoop Dogg's costume is gold chains. You can wear as many as you want, depending on how flashy you want to be.
Step 4: Get a gold microphone
Snoop Dogg is a rapper, so he needs a microphone to perform. You can get a gold microphone online or you can also make your own with a plastic or cardboard tube and some gold spray paint.
Step 5: Get gold frame sunglasses
Snoop Dogg likes to wear sunglasses, cause it looks cool.Get a pair of gold frame sunglasses online.
Step 6: Get a bling ring
The final touch for Snoop Dogg's costume is a bling ring. This is a large and shiny ring that shows off his wealth and status.
Congratulations, you have now completed your Snoop Dogg costume from the Super Bowl Halftime show. You are ready to rock the party and impress everyone with your rap skills and style. Have fun and enjoy your cosplay!
Looking for more hip-hop-inspired costume ideas? Check out our guide on how to Dress Up Like Easy E
Missing an Outfit Inspo? Submit your idea and we'll make it happen!
Monthly Newsletter
Subscribe and get your Halloween costume ideas from us each year.