Dress Up Like Slash from Guns n Roses
If you are looking for a good Slash costume for Halloween or a big cosplay event, here's the winning formula for creating the most exciting outfit of the party! Let's see how to dress up as Slash from Guns n Roses.
Outfit Guide For COSPLAY & HALLOWEEN
Slash from Guns n Roses Outfit Guide
Shopping List for Slash from Guns n Roses Costume & Outfit
Are you a fan of Guns N' Roses and looking to dress up like the legendary guitarist Slash for a costume party or cosplay event? In this tutorial, we'll show you how to create a DIY Slash costume that will make you the star of the show. Let's recreate that iconic Slash Guns n Roses Outfit!
Getting to Know Slash: A Slice of Slash's Personality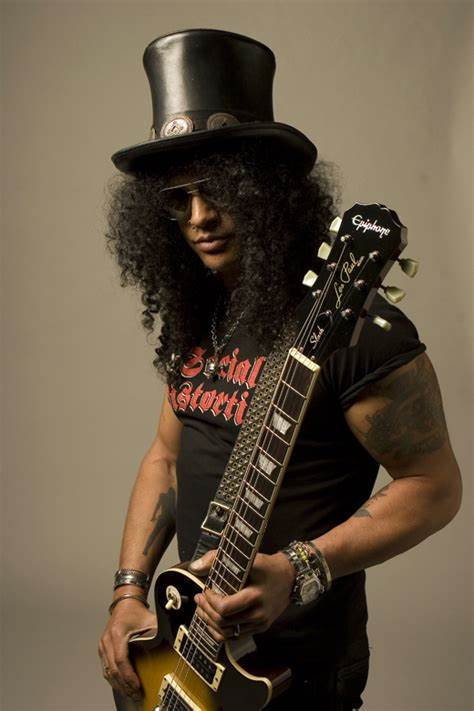 Before we jump into crafting the perfect Slash costume, let's take a moment to get to know the man behind the legendary guitar riffs. Slash, whose real name is Saul Hudson, is renowned for his exceptional talent as the lead guitarist of Guns N' Roses. With his distinctive top hat, long curly hair, and exceptional guitar skills, he's an iconic figure in the world of rock music.
Slash is not just about his music; his personality is as magnetic as his guitar playing. Known for his laid-back demeanor and love for classic rock and roll, he exudes an effortless coolness that's admired by fans worldwide. His mysterious aura and genuine passion for music make him a true rock icon.
For a deeper insight into Slash's personality, check out this source.
Rock Out with That SLASH GUNS N ROSES OUTFIT
Here's a video of Slash performing the Guns N' Roses classic "Sweet Child O' Mine":
To truly capture Slash's essence, you'll need to channel his distinctive look. Let's break down the essential elements of his outfit:
Guns N' Roses Shirt: Start with a classic Guns N' Roses band tee. It's a must-have to pay homage to the legendary band Slash co-founded.
Black Leather Pants: Nothing says rock 'n' roll like a pair of black leather pants. Make sure they fit comfortably, allowing you to rock out all night long.
Black Sneakers: Choose a pair of comfortable black sneakers to keep your feet happy while you're on stage (or dancing at the party).
Aviator Sunglasses: Slash's aviator sunglasses are a signature part of his look. Find a similar pair to add a touch of mystery to your ensemble.
Slash Hat: This is the pièce de résistance of the outfit. Slash's top hat is iconic. You can either buy one or make your own.
Wig: Slash's long, curly hair is a part of his signature look. If you don't have long hair, invest in a wig that mimics his hairstyle.
Electric Guitar: If you have a real electric guitar, that's perfect! If not, a toy guitar or air guitar will do the trick.
Waist Chain: Add some rockstar flair with a waist chain to complete the outfit.
Beaded Bracelet: Don a beaded bracelet to capture the essence of Slash's eclectic style.
Now that you've got all the elements, it's time to put them together and create your Slash-inspired outfit.
Video Inspiration for Slash Guns n Roses Cosplay
For a visual guide on putting together the perfect Slash costume, check out Little Miss Makeup's YouTube tutorial:
With your Slash-inspired outfit ready, you're all set to rock the night away at your next dress-up party or cosplay event. Slash's timeless style and legendary guitar skills have left an indelible mark on the world of rock 'n' roll, and now you can pay tribute to this iconic musician in style.
So, whether you're strumming your air guitar or jamming on the real thing, unleash your inner rockstar, and get ready to take center stage as Slash from Guns N' Roses.
We Also Recommended
If you're a fan of rockstar costumes, you'll love our article on how to dress up like Ozzy Osbourne. Embrace the spirit of rock 'n' roll and explore the world of legendary musicians through your unique costumes.
Missing an Outfit Inspo? Submit your idea and we'll make it happen!
Monthly Newsletter
Subscribe and get your Halloween costume ideas from us each year.