Dress Up Like Seth from Superbad
If you are looking for a good Seth costume for Halloween or a big cosplay event, here's the winning formula for creating the most exciting outfit of the party! Let's see how to dress up as Seth from Superbad.
Outfit Guide For COSPLAY & HALLOWEEN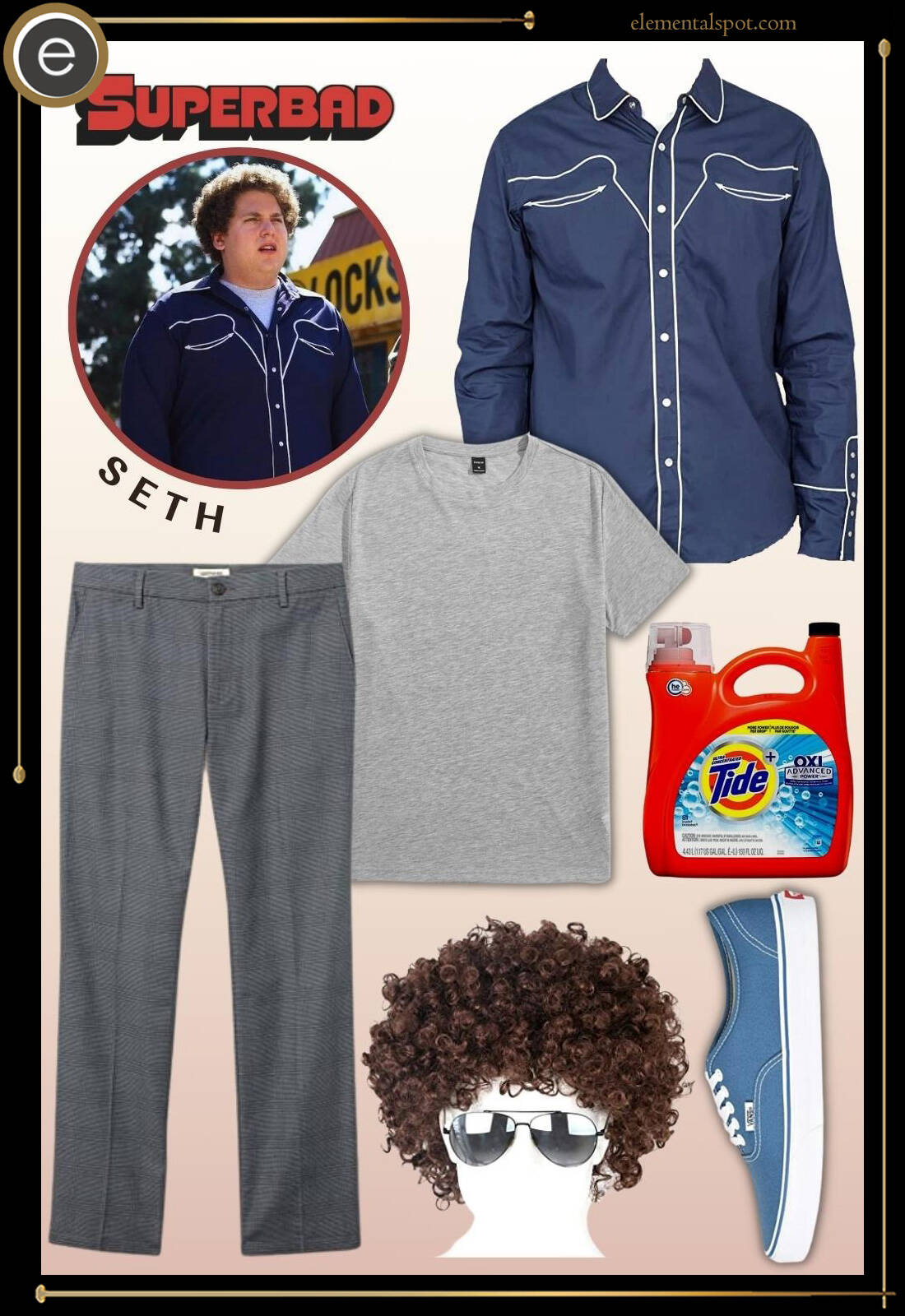 Seth from Superbad Outfit Guide
Shopping List for Seth from Superbad Costume & Outfit
Superbad is a 2007 comedy film that follows the adventures of two high school seniors, Seth and Evan, who want to lose their virginity before graduation. Seth, played by Jonah Hill, is a loud-mouthed and crude character who is loosely based on the life of cowriter Seth Rogen.
If you want to dress up as Seth from Superbad for Halloween or any other occasion, here are the items you need for your costume:
Seth Shirt: Seth wears a distinctive green shirt with yellow stripes and a red collar. You can find a similar shirt online or at a thrift store, or you can make your own by sewing or painting the stripes and collar on a green shirt.
Curly Wig: Seth has curly brown hair that is often messy and unkempt. You can buy a curly wig that matches his hair color and style, or you can curl your own hair with a curling iron or rollers. You can also use some gel or hairspray to make your hair look more disheveled.
Plaid Pants: Seth wears gray plaid pants that are slightly baggy and have pockets on the sides. You can find plaid pants at a clothing store or online, or you can use an old pair of pants and add some plaid fabric or patches to them. You can also wear a belt to hold up your pants and add some detail to your outfit
Blue Vans Shoes: Seth wears blue Vans shoes with white laces and soles. You can buy Vans shoes online or at a shoe store, or you can use any blue sneakers that look similar. You can also customize your shoes by adding some stickers or drawings to them.
Tide Detergent: Seth carries a bottle of Tide detergent with him throughout the movie, which he uses as a cover for buying alcohol with his fake ID. You can buy a bottle of Tide detergent at a grocery store or online, or you can use an empty bottle and fill it with water or another liquid. You can also attach a string or a strap to the bottle so you can carry it around your shoulder or neck.
Grey Shirts: Seth wears two different grey shirts under his green shirt in the movie. One is a plain grey t-shirt, and the other is a grey polo shirt with a blue collar. You can find grey shirts at any clothing store or online, or you can use any shirts that are similar in color and style.
With these items, you can easily dress up as Seth from Superbad and impress your friends with your hilarious costume. Just remember to act confident and funny like Seth, and maybe avoid getting hit by cars or chased by cops.
Looking to expand your Superbad cosplay? Check out our guide on how to dress up like Seth from Superbad and complete the iconic du
Missing an Outfit Inspo? Submit your idea and we'll make it happen!
Monthly Newsletter
Subscribe and get your Halloween costume ideas from us each year.