Dress Up Like Ronald McDonald
If you are looking for a good Ronald McDonald costume for Halloween or a big cosplay event, here's the winning formula for creating the most exciting outfit of the party! Let's see how to dress up as Ronald McDonald from .
Costume Guide For COSPLAY & HALLOWEEN
Ronald McDonald from Costume Guide
Shopping List for Ronald McDonald from Costume & Outfit
He's an icon to children around the world… Ronald Mcdonald's huge smile and red nose have conquered the planet, making him one of the most famous characters worldwide. His goofy outfit is extremely recognizable, so a Ronald McDonald costume is the perfect choice for a Halloween party or cosplay event!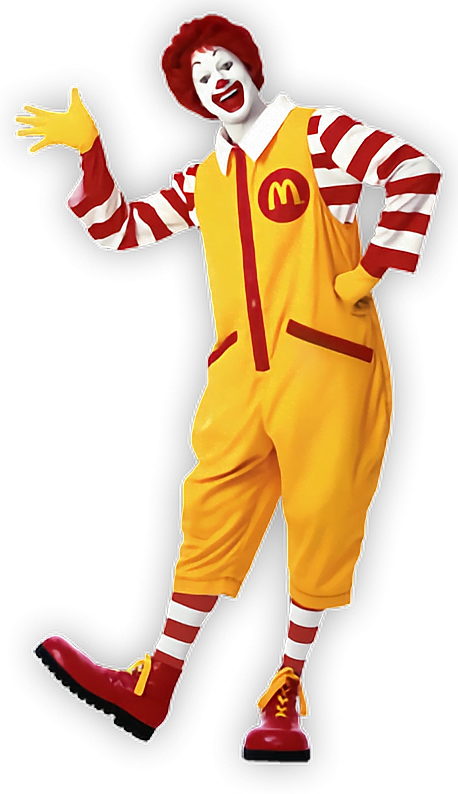 Who is Ronald McDonald?
Ronald McDonald is a fictional clown character used as the primary mascot for the fast-food restaurant chain McDonald's. The character was created in 1963 and has since become an iconic figure in popular culture, often representing the McDonald's brand and appearing in advertising campaigns, television shows, movies, and video games.
It all started in 1963, when actor Willard Scott was hired to portray McDonald's new mascot, Ronald McDonald, in the first three television commercials featuring the character.
A whole troop of characters from "Ronald Land" was developed to accompany Ronald. The clown's first appearance, according to Business Insider, was rather ridiculous:
Ronald McDonald costume and accessories
In order to channel Ronald's iconic look, you will need to mustard yellow overalls, a red and white striped shirt, a pair of long red and white striped socks, as well as a goofy pair of bright red clown shoes. Don't forget to also put on a pair of yellow gloves, and Ronald McDonald's emblematic puffy red hair. 
You will also need to put on clown makeup to replicate Ronald's look. Start by using a black pen to draw a circle on your nose and the outline of a huge smile around your lips. Then evenly apply some white body paint all over your face. Using a black eyeliner, draw two little upside-down triangles under your eyes, and use it to create high exaggerated eyebrows on your face. Finally, use red paint to color your nose and the big smile you previously drew on. And you're done!
Don't forget to put on a bald cap as well, before carefully putting on your Ronald McDonald red hair wig. With this great outfit and perfect makeup, everyone will instantly recognize your Ronald McDonald costume!
Missing an Outfit Inspo? Submit your idea and we'll make it happen!
Monthly Newsletter
Subscribe and get your Halloween costume ideas from us each year.