Dress Up Like Burger King
If you are looking for a good Burger King costume for Halloween or a big cosplay event, here's the winning formula for creating the most exciting outfit of the party! Let's see how to dress up as Burger King from .
Costume Guide For COSPLAY & HALLOWEEN
Burger King from Costume Guide
Shopping List for Burger King from Costume & Outfit

Like many other chain restaurants such as McDonald's, Wendy's and DunkinDonuts, Burger King is another popular fast food restaurant that everyone knows and is incredibly aware of. It's one of the most popular fast food restaurants to date and especially as of late with its recent jingle that's been a common trend in the latest TikTok scene. As well as its mascot, The Kin, who is such a silly but fun person to cosplay!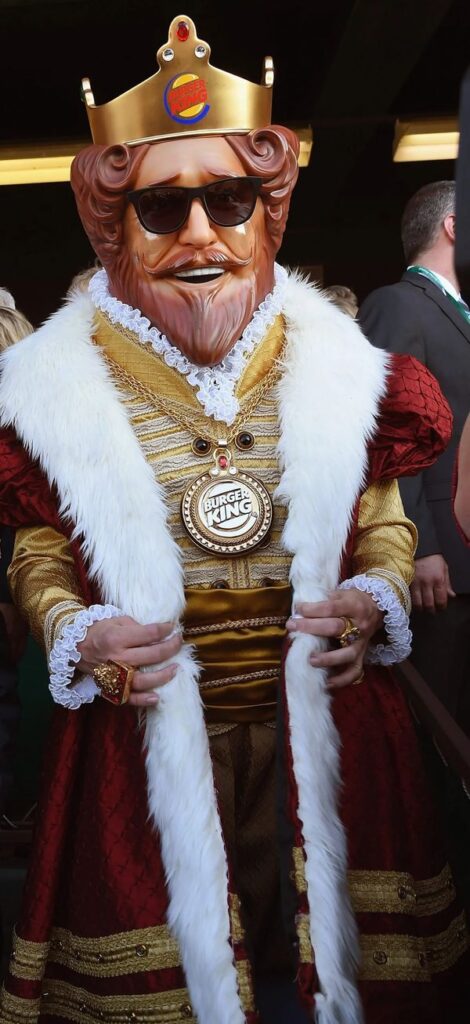 The Strange Origins of the Burger King Mascot: A Bizarre Journey Through Fast-Food Advertising
If you're familiar with Burger King, you've likely seen the chain's mascot: a creepy, large-headed king with a plastic mask that fits awkwardly over a human body. But did you know that the story behind the mascot is even weirder than you might imagine?
To understand the origins of the Burger King mascot, we have to go back to the 1970s, a time when fast-food chains were experimenting with all sorts of gimmicks to attract customers. One popular trend was to hire entertainers, including magicians and costumed characters, to keep kids amused while they ate. At some Burger King locations, a person dressed as a king would perform tricks and hand out balloons to the children.
To fit with this theme, large plastic king heads were made to cover the helium tanks that inflated the balloons. But what does this have to do with the mascot we know today?
The Revamp: Burger King's Search for a New Image in 2000s
Fast forward a few decades to the early 2000s, and Burger King was looking to revamp its advertising image. The chain hired a marketing firm, Crispin Porter + Bogusky, to come up with a new concept. During their research, one executive stumbled upon an old helium tank cover on eBay and decided to incorporate it into the new campaign.

And so, the big-headed king was born. The new mascot made its debut in 2004 and has been a fixture of Burger King advertising ever since. But while the story behind the mascot is bizarre, it's also a testament to the power of creativity and innovation in advertising. By taking a quirky idea from the past and giving it a modern spin, Burger King was able to capture the attention of a new generation of customers.
Of course, not everyone is a fan of the Burger King mascot. Some find it unsettling or downright creepy, and the chain has even faced criticism for its use of the character in advertising. But whether you love it or hate it, there's no denying that the mascot has become an iconic part of Burger King's branding.
So, the next time you see that big-headed king staring out at you from a billboard or TV ad, remember the strange journey that brought him to life. And maybe, just maybe, you'll appreciate him a little bit more.
We have already explained in detail how to Dress Up Like Ronald McDonald or Wendy's
In the following, we will show you how to create a convincing Burger King costume. Have fun!
Why Burger King's Costume?
The Burger King mascot costume is an instantly recognizable and iconic image in popular culture, making it an excellent choice for Halloween or cosplay. With its large, plastic head and oversized robes, the costume is both attention-grabbing and eerie, making it the perfect outfit for anyone looking to stand out at a party or convention. Additionally, the costume's relatively simple design and easy-to-assemble components make it accessible to even novice cosplayers or Halloween enthusiasts. With the right makeup and accessories, anyone can transform themselves into the creepy king of fast food.
Stealing the King's Look
If you didn't want to feel like royalty, then you chose the wrong costume. The King represents his crown in every way that you would expect and flaunts his kingly status proudly.
To start, go ahead and throw on some white leggings and then slide on some red pants over top of them. Slide into a gold, long-sleeved shirt with ruffles to really sell that prestigious look. Add to that rich impression with a love maroon, gold, and white tailcoat, to really establish your status.
Not enough for you? Add a gold necklace around your neck to flaunt your burger royalty and some black pilgrim shoes along with tall white socks if the leggings aren't enough. The King wouldn't be a king of course if he didn't have his golden crown or the beard and mustache combo that we all know him by.

Satisfied with your kingly appearance? Well, you can thank Crispin Porter agency for the design of your Burger King Costume. It'll have you feeling like proper royalty and it's time to show everyone who the King really is with your royal cosplay!
Missing an Outfit Inspo? Submit your idea and we'll make it happen!
Monthly Newsletter
Subscribe and get your Halloween costume ideas from us each year.