Dress Up Like Major Bedhead from The Big Comfy Couch
If you are looking for a good Major Bedhead costume for Halloween or a big cosplay event, here's the winning formula for creating the most exciting outfit of the party! Let's see how to dress up as Major Bedhead from The Big Comfy Couch.
Costume Guide For COSPLAY & HALLOWEEN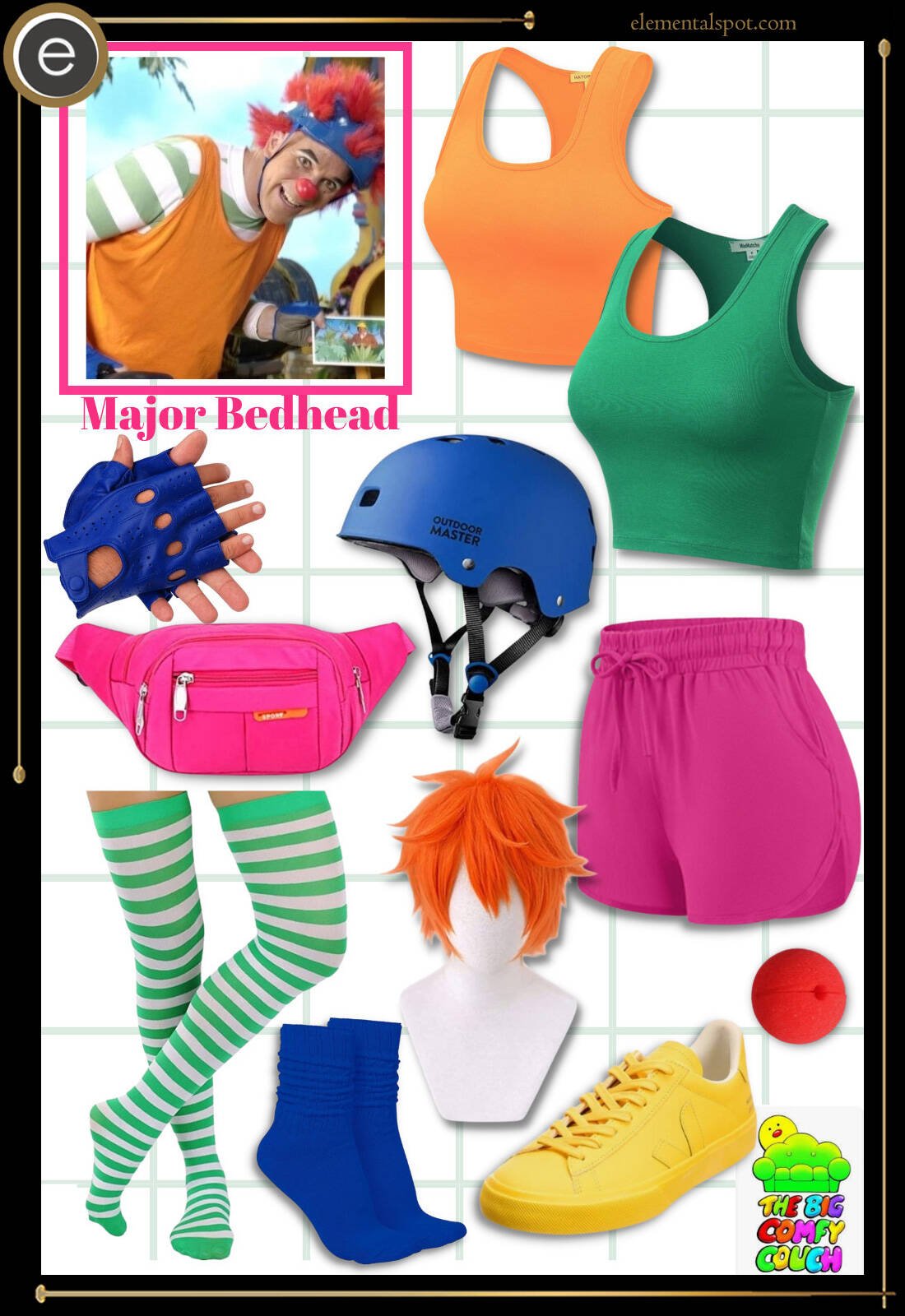 Major Bedhead from The Big Comfy Couch Costume Guide
Shopping List for Major Bedhead from The Big Comfy Couch Costume & Outfit
If you are looking for a fun and colorful costume idea for your next dress-up party, why not try dressing up like Major Bedhead from The Big Comfy Couch? Major Bedhead is a clown who delivers the mail on his unicycle in the popular Canadian children's show from the 90s. He is a goofy and clumsy character who loves to chat with Loonette (here is the guide on how to create her costume)and Granny Garbanzo, and he has a unique and vibrant outfit that you can easily recreate with some DIY skills. In this article, we will show you how to make your own Major Bedhead costume with some simple steps and items.
Who is Major Bedhead?
Major Bedhead (played by Fred Stinson) is a recurring character on The Big Comfy Couch, a Canadian children's television series created by Cheryl Wagner, that aired from 1992 to 2006. The show is about a clown named Loonette and her doll Molly who solve everyday problems on their big comfy couch. Major Bedhead is the local mail-delivery clown who stops by to give Loonette postcards from her Auntie Macassar or Uncle Chester. He also visits Granny Garbanzo's garden, where he encounters Snicklefritz, Granny's cat.
Major Bedhead is a friendly and cheerful clown who has many clowning skills such as juggling, pogo sticking, and unicycling. He also likes to play games and tell jokes with Loonette and Molly. However, he is not very responsible or punctual, as he often spends too much time chatting with his friends and neglects his mail delivery duties. He also tends to be clumsy and accident-prone, often bumping into things or falling off his unicycle.
How to Make Your Own Major Bedhead Costume
Here are the steps to follow:
Put on the blue bicycle helmet and attach the orange spiked wig on top of it. You can use glue or pins to secure the wig to the helmet.
Put on the red clown nose and the blue fingerless gloves.
Layer the orange tank top over the green tank top and tuck them into the hot pink bicycle shorts.
Wrap the purple fanny pack around your waist and the pink fanny pack around your chest.
Put on the men's blue socks and the yellow sneakers.
If you have a unicycle, you can ride it as part of your costume. Otherwise, you can carry a toy unicycle or a mail bag as props.
And that's it! You are now ready to deliver some laughs as Major Bedhead from The Big Comfy Couch! Have fun and be careful not to fall off your unicycle!
Missing an Outfit Inspo? Submit your idea and we'll make it happen!
Monthly Newsletter
Subscribe and get your Halloween costume ideas from us each year.