Dress Up Like Gomez Addams from The Addams Family
If you are looking for a good Gomez Addams costume for Halloween or a big cosplay event, here's the winning formula for creating the most exciting outfit of the party! Let's see how to dress up as Gomez Addams from The Addams Family.
Outfit Guide For COSPLAY & HALLOWEEN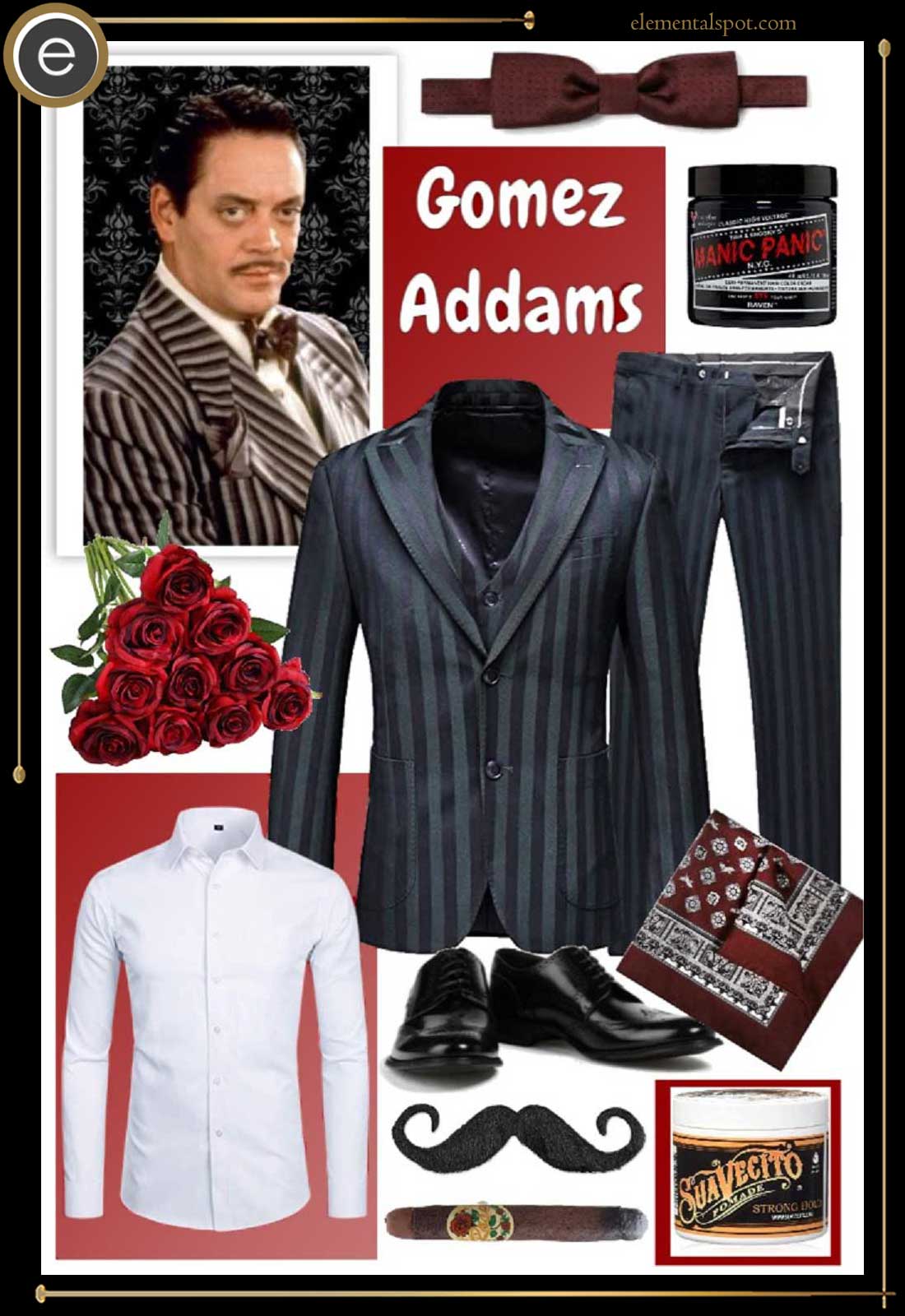 Gomez Addams from The Addams Family Outfit Guide
Shopping List for Gomez Addams from The Addams Family Costume & Outfit
The Addams Family is still to this day one of the most beloved Halloween movies ever created. Gomez, the loving patriarch of the family, is a romantic and funny character that has become iconic. No Halloween party would be complete without a Gomez Addams costume!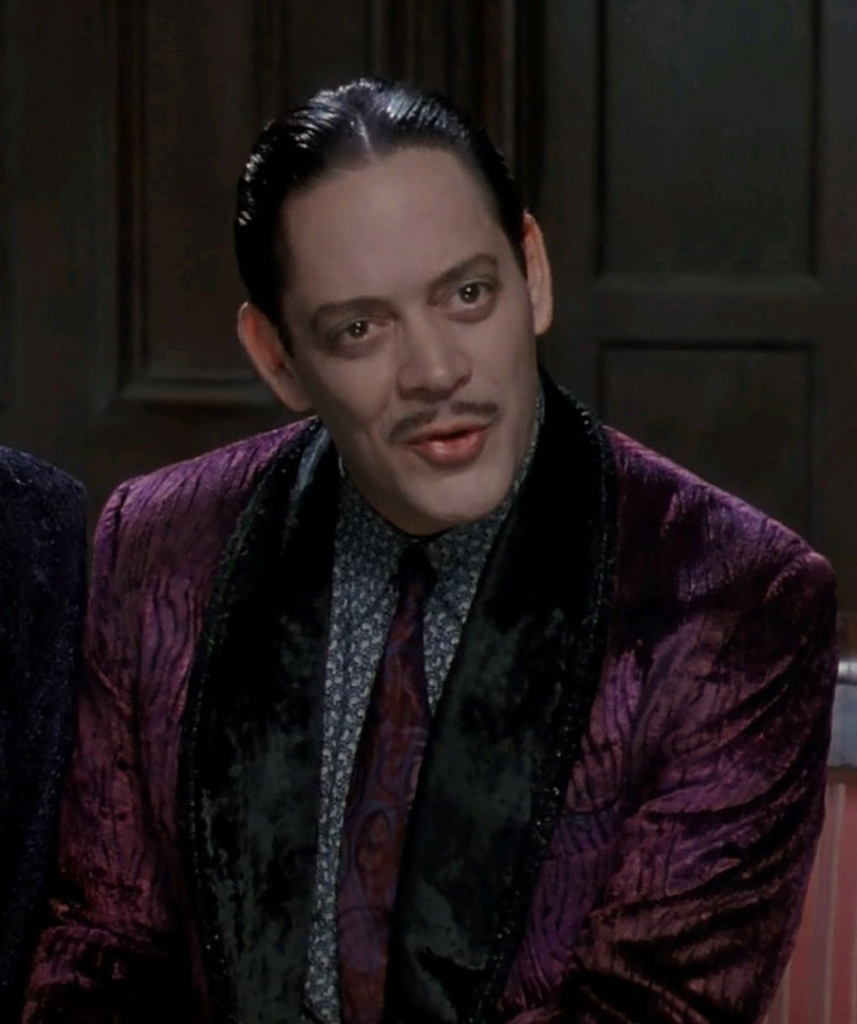 Who is Gomez Addams?
Gomez is the cigar-smoking patriarch of the Addams family, a strange, macabre, and totally kooky group of characters. The Addams clan includes Gomez' wife, the elegant Morticia, their weird son, and their somber, sadistic daughter, Wednesday. The family's life is turned upside down when their lawyer cooks up a scheme to steal their fortune. The morbid yet completely surreal adventures that follow have given the family cult status in popular culture. The Gomez and Morticia couple has especially been praised for its healthy portrayal of romantic relationships.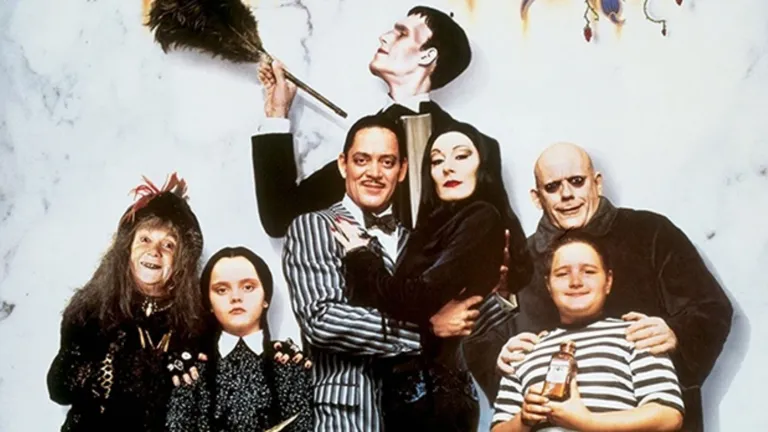 Gomez is a suave, moustache-wearing gentleman who has become known for his signature seductive look. The 1991 film's costume designer, Ruth Myers, created a lavish and eccentric wardrobe for Gomez. He often wears colorful costumes with a mix of patterns and textures, which makes him stand out from the rest of the family and balances out Morticia's exclusively black wardrobe.
Gomez, portrayed by Raul Julia, boasts a lavish and eccentric wardrobe, featuring an array of colorful costumes that stand out amongst the family. He expertly blends different patterns and textures to create a unique and elegant look, fitting of a wealthy leader of the crew. Costume designer Ruth has incorporated a variety of pieces such as tunics, suits, and robes, and has utilized a range of luxurious fabrics including velvet, stripes, and florals. Gomez's wardrobe serves as a perfect complement to Morticia's predominantly black attire, and together they have become a timeless couple.
"Women are beautiful props all the time. Quirky teenagers, all the time. But to have men … with that sort of male elegance, it was a very fun job."

Costume Designer, Ruth Myers. The Rogue Runway.
Getting The Gomez Addams look
To slip into the skin of the elegant Gomez, you will have to don a white dress shirt and a three piece suit, as well as a tasteful pocked square and a dark red bowtie. Match your outfit with stunning black formal shoes. Slick back your hair with some pomade for that suave Gomez hairdo, and put on a little black moustache to really nail the look. Don't hesitate to be invest in a bouquet of sensual red roses to carry around: when it comes to Gomez, it's best to go all out. Puff on a little cigar from time to time while walking around like you own the room and that's it!
If you want to perfect your costume with some makeup, put on a pale shade of foundation to reflect Gomez' livid complexion. Make your eyes pop by adding some black eyeliner to your lower lid, then draw on a little moustache with a black felt eyeliner pen. This will make your costume look even more realistic, and you will be sure to be the most elegant person in the room with this Gomez Addams costume!
Missing an Outfit Inspo? Submit your idea and we'll make it happen!
Monthly Newsletter
Subscribe and get your Halloween costume ideas from us each year.