Dress Up Like Glitchtrap from Five Nights at Freddie's
If you are looking for a good Glitchtrap costume for Halloween or a big cosplay event, here's the winning formula for creating the most exciting outfit of the party! Let's see how to dress up as Glitchtrap from Five Nights at Freddie's.
Costume Guide For COSPLAY & HALLOWEEN
Glitchtrap from Five Nights at Freddie's Costume Guide
Shopping List for Glitchtrap from Five Nights at Freddie's Costume & Outfit
Embrace the Darkness
The infamous Five Nights at Freddy's took the gaming scene by storm when the original was first released. Even its sequels and spinoff games received notable attention and praise from the community and the collection of fans that it acquired and Five Nights At Freddy's VR: Help Wanted, is no different. Especially for its antagonist, Glitchtrap. Which makes it such an easy decision to throw together the perfect cosplay for Glitchtrap, right? Lets make the Glitchtrap Five Nights at Freddie's costume!
Who is Glitchtrap?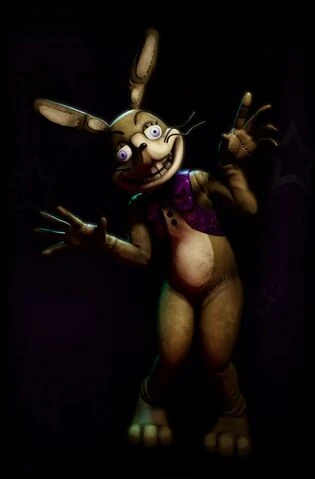 Glitchtrap is a sentient virus from the programming of old animatronics. Its sole desire is to merge itself with one of the beta testers of the game before it releases to escape into the real world and break a part from the game that binds it. Other than that? Not much is known about Glitchtrap because of the fact that it's only a virus, so there isn't a lot to it other than that.
Crafting the Perfect Glitchtrap Five Nights at Freddie's costume
As we all know, Glitchtrap is pretty much like every other Fazbear animatronic and is in a one-piece animal suit that looks slightly offputting. Maybe it isn't the most offputting one of the bunch but it definitely isn't the least. That being said, you'll want to start with a simple body suit to capture the same aesthetic as the costume. Over the top of the body suit, be sure to add a light purple vest and a matching bowtie. If you have the ability to use a bigger bowtie, that's even better. Although Glitchtrap may be creepy, he's surprisingly well-dressed. Adding to that, give yourself some brown bunny ears and bear or bunny slippers to slide on your feet. The only thing left is to add a pair of purple contacts and if you really want to, paint on some whiskers to really make the costume pop.
Joining the Dark Legacy
That's really all it takes to be a virus, apparently but this entire serious was made and developed by Scott Cawthon! Scott's made plenty of these games and each one of them has held up just as well as the least. The story's so successful that it's now being made into books. So make yourself a part of the ever-growing series by sporting an amazing Glitchtrap cosplay!
Explore More FNAF Cosplays
If you're a fan of the Five Nights at Freddy's universe, there are other captivating characters you can bring to life through cosplay. Check out these additional costume tutorials:
Unleash your creativity and immerse yourself further into the eerie world of Five Nights at Freddy's with these captivating costume ideas.
Missing an Outfit Inspo? Submit your idea and we'll make it happen!
Monthly Newsletter
Subscribe and get your Halloween costume ideas from us each year.