Dress Up Like Ed from Ed, Edd n Eddy
If you are looking for a good Ed costume for Halloween or a big cosplay event, here's the winning formula for creating the most exciting outfit of the party! Let's see how to dress up as Ed from Ed, Edd n Eddy.
Costume or Outfit Guide For COSPLAY & HALLOWEEN
Ed from Ed, Edd n Eddy Costume or Outfit Guide
Shopping List for Ed from Ed, Edd n Eddy Costume & Outfit
Three's company!
Ed, Edd n Eddy was possibly one of the more creative shows to appear on Cartoon Network. It had a very simple concept but the style was very unique and the plots were usually all over the place but still fairly entertaining at the time. One of the most notable characters was of course, one of the Eds, Ed himself. Knock them dead in your new Ed cosplay!
How did it start? The Origins of Ed
Ed has never really been the brightest but he's always had a very positive attitude and a very kind and good-natured soul. Despite being absent-minded and naive, he often sees the good in everyone, even his little sister Sarah, that seems to like abusing him whenever she has a chance, or Eddy, who loves to pull scams. Ed is also very invested in low-budget horror movies and comics as well as an animal lover. An unexpected talent of Ed's is actually his ability to play the flute, something that may or may not have been influenced by his parents.
Becoming Ed: Ed Edd n Eddy costume
Ready to become a part of the gang? It's pretty simple and Ed's gear is about as simple as it gets. There's no need to space out about this one, it's an easy find. Start with a red and white striped shirt, with short sleeves and a round collar. If it weren't for the rest of the outfit, someone might think you're Waldo sporting a nice summer shirt rather than the usual long winter sweater. Next, you'll want to add a pair of purple pants. It doesn't look like Ed is much of a jeans person, so enjoy this opportunity to break out a pair of sweatpants to lounge around in. It seems like comfort is above all else when it comes to Ed.
Throw on a green tracksuit jacket but don't bother to zip it up. Ed usually wears it without being zipped and likes to show off his shirt in the middle. Lastly, slip on a pair of black, low-top shoes and you're ready to become a part of the Ed gang!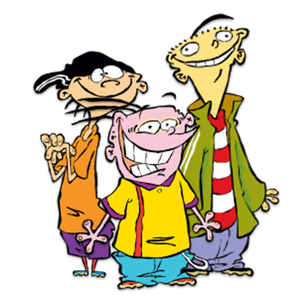 This show was put together by Danny Antonucci and thank goodness they did! This isn't a show that many people forget and a majority of people have definitely grown up watching something that most would consider a classic. His animations could be seen in many other shows, for example in Scooby-Doo. (We explained how to dress up like Velma Dinkley and Daphne Blake from Scooby-Doo.)
So get out there and make sure you show off your new Ed costume!
Missing an Outfit Inspo? Submit your idea and we'll make it happen!
Monthly Newsletter
Subscribe and get your Halloween costume ideas from us each year.