Dress Up Like Chief Brody from Jaws
If you are looking for a good Chief Brody costume for Halloween or a big cosplay event, here's the winning formula for creating the most exciting outfit of the party! Let's see how to dress up as Chief Brody from Jaws.
Costume Guide For COSPLAY & HALLOWEEN
Chief Brody from Jaws Costume Guide
Shopping List for Chief Brody from Jaws Costume & Outfit
Not all Halloween costumes need to be of a scary villain, sometimes you just want to dress up as the hero of the story and who would be better than Amity Chief of Police Martin Brody. Take inspiration from Robert Ellsworth, the costume designer who handled the male cast in Jaws (1975), and create your own Chief Brody costume for your next event.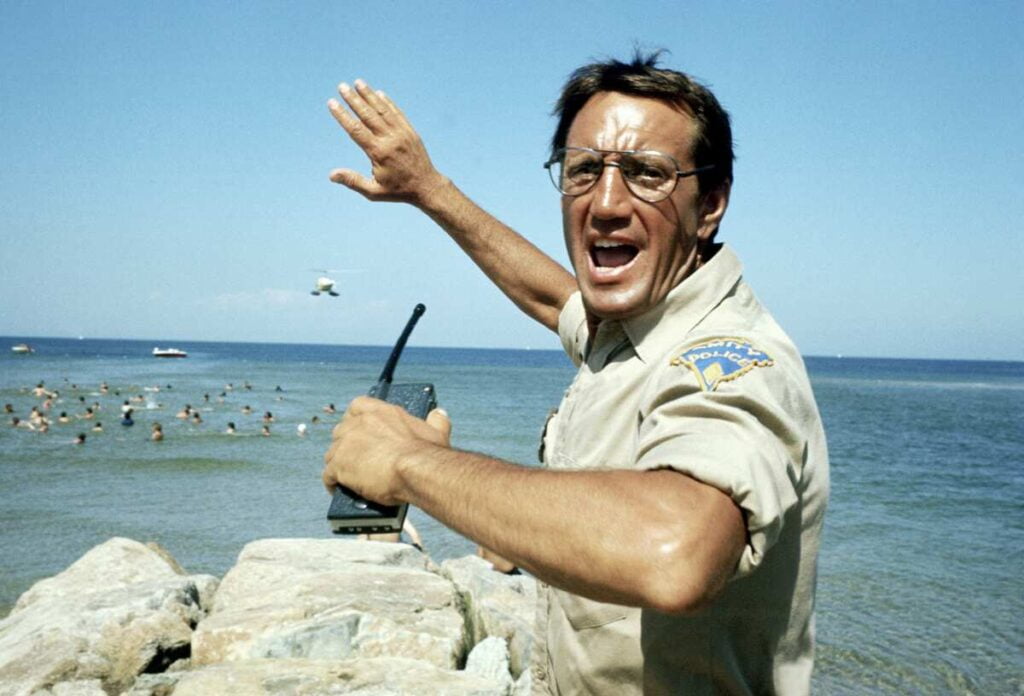 Steven Spielberg's 1975 movie Jaws, set in the summer of the mid 1970's, tells the story of a rogue great white shark hunting near the town of Amity. Known for its beaches, the town takes a financial hit when the shark starts terrorizing the swimmers, and the towns Mayor is eventually forced to accept it isn't going anywhere on its own. Step in Chief Brody and his two companions, experienced fisherman Quint and oceanographer Matt Hooper to hunt down and kill the shark.
How to get the Chief Brody's Look?
Our Chief Brody Costume is based on his Police uniform from the beginning of the movie, before he becomes a fully fledged shark hunter.
Start your outfit with a matching pair of beige trousers and police uniform style shirt, with a plain grey short sleeved t-shirt underneath. Add a pair of black lace up shoes, and that will complete the main look for the costume.
Get an Amity police patch and attach it to the left sleeve, just below the shoulder, of your beige uniform shirt. If you aren't any good with a needle and thread, use a glue gun or better yet some bondaweb to stick the patch on. Don't forget to carry your Amity Police I.D badge, issued by the town's Mayor Larry Vaughn, on your Chief Brody costume. Clip it to your uniform so that everyone knows you are on official town protection duty.
Make-up and Chief Brody Accessories
Dont worry about hair or make-up, Chief Brody was a relatable guy from a small town who had a very simple style. Maybe tousle your hair a little bit, because being in charge isn't easy. But instead get a pair of wire rimmed round glasses the same as our hero, to really add to your Chief Brody costume.
Finish off by getting a tactical belt and strapping that on to your beige trousers, with a walkie talkie set, so you can be the first one to warn everyone as soon as that shark appears. Remember that your Chief Brody Costume will have everyone nervous about going in the water, so maybe stick to towns and cities rather than going to the beach.      
Discover the remarkable costumes from Steven Spielberg's cinematic universe. Explore articles showcasing the iconic attire of characters like Indiana Jones delving into the captivating world of Spielberg's film wardrobe.
Missing an Outfit Inspo? Submit your idea and we'll make it happen!
Monthly Newsletter
Subscribe and get your Halloween costume ideas from us each year.