Dress Up Like Candyman from Candyman
If you are looking for a good Candyman costume for Halloween or a big cosplay event, here's the winning formula for creating the most exciting outfit of the party! Let's see how to dress up as Candyman from Candyman.
Costume Guide For COSPLAY & HALLOWEEN
Candyman from Candyman Costume Guide
Shopping List for Candyman from Candyman Costume & Outfit
Candyman, candyman, candyman, candyman…
All the best horror stories start with an urban legend. So this Halloween when looking for inspiration for your next dress-up idea why not follow our guide and go in a Candyman costume. Just don't say his name five times into the mirror while you are getting ready.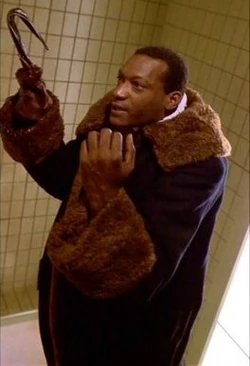 Who is the Candyman
Candyman, the 1992 gothic horror movie tells the story of University of Illinois Chicago graduate student Helen Lyles who decides to write her thesis on the idea of local legends and myths. When she hears of a string of murders being attributed to the Candyman, who myth says will appear and murder you with his bloody hook if his name is repeated into a mirror five times, she naively believes the locals are just looking for excuses.
Daniel Robitaille, who becomes the Candyman, was played in the movie by Tony Todd. Attacked by a lynch mob for a forbidden 19th-century interracial love affair, it was the cutting off of his right hand with a rusty saw and being attacked by a swarm of bees that turns him in to the legendary figure of nightmares. 
How to get the Candyman's Look
It was costume designer Leonard Pollack, who was incharge of creating the perfect costume to show off our 19th-century killer.
So to start your own Candyman costume you will want to first get yourself a brown fur trimmed overcoat. You are ideally looking for one that is made of wool and has fur on the collar and cuffs, with a button front closure and finishes below the knee.
Pair your wool overcoat with some black dress pants and black leather loafers. Tying a white silk scarf around your neck, knotting it at the front and tucking it below the collar of your closed coat, before moving on to styling your costume.    
Adding the Bees
Your Candyman costume requires very little in the way of styling, with no specific hair or make-up, instead to get an authentic look you will need to add some fake blood and a few honey bees, preferably fake also.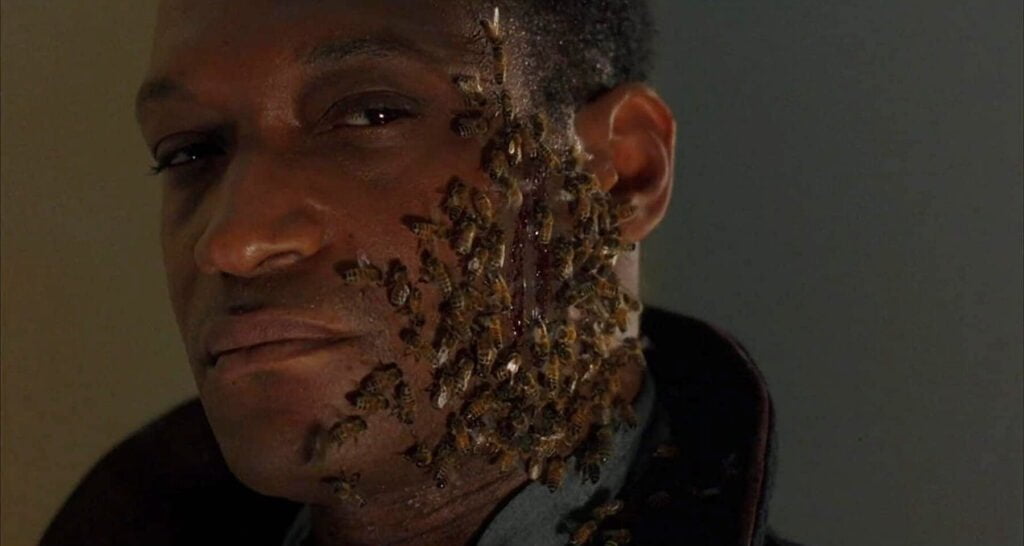 So let's start with these honey bees. During the filming of the Candyman movie, they used over 200,000 bees to film the required scenes, something that took a lot of planning, as discussed in this FSR article. Although actor Tony Todd who would be the wearer of the bees was clever enough to hedge his bets and negotiate a $1000 bonus per sting he received, netting him an additional $23,000. 
To get the look for your Candyman costume, take some fake craft bees and stick them to your face around your jaw and cheek, with a few crawling up the side of your face towards your forehead. Add a couple stuck to your clothes like on the collar and shoulder of your jacket and you are ready for the last piece of your costume.
A hook for a hand
When Daniel Robitaille's right hand was sawn off, as Candyman it was replaced with a hook. So purchase a fake hook, such as for a pirate costume, and wear it over your right hand. But before you put it on, finish your Candyman costume by applying fake blood to the hook and right sleeve cuff off your jacket and you are ready to terrorize anyone stupid enough to say your name five times into the mirror. 
If you loved the Candyman costume and want something equally spooky and iconic for Halloween, here are five recommendations to consider:
Missing an Outfit Inspo? Submit your idea and we'll make it happen!
Monthly Newsletter
Subscribe and get your Halloween costume ideas from us each year.