Dress Up Like Ali G from Da Ali G Show
If you are looking for a good Ali G costume for Halloween or a big cosplay event, here's the winning formula for creating the most exciting outfit of the party! Let's see how to dress up as Ali G from Da Ali G Show.
Outfit Guide For COSPLAY & HALLOWEEN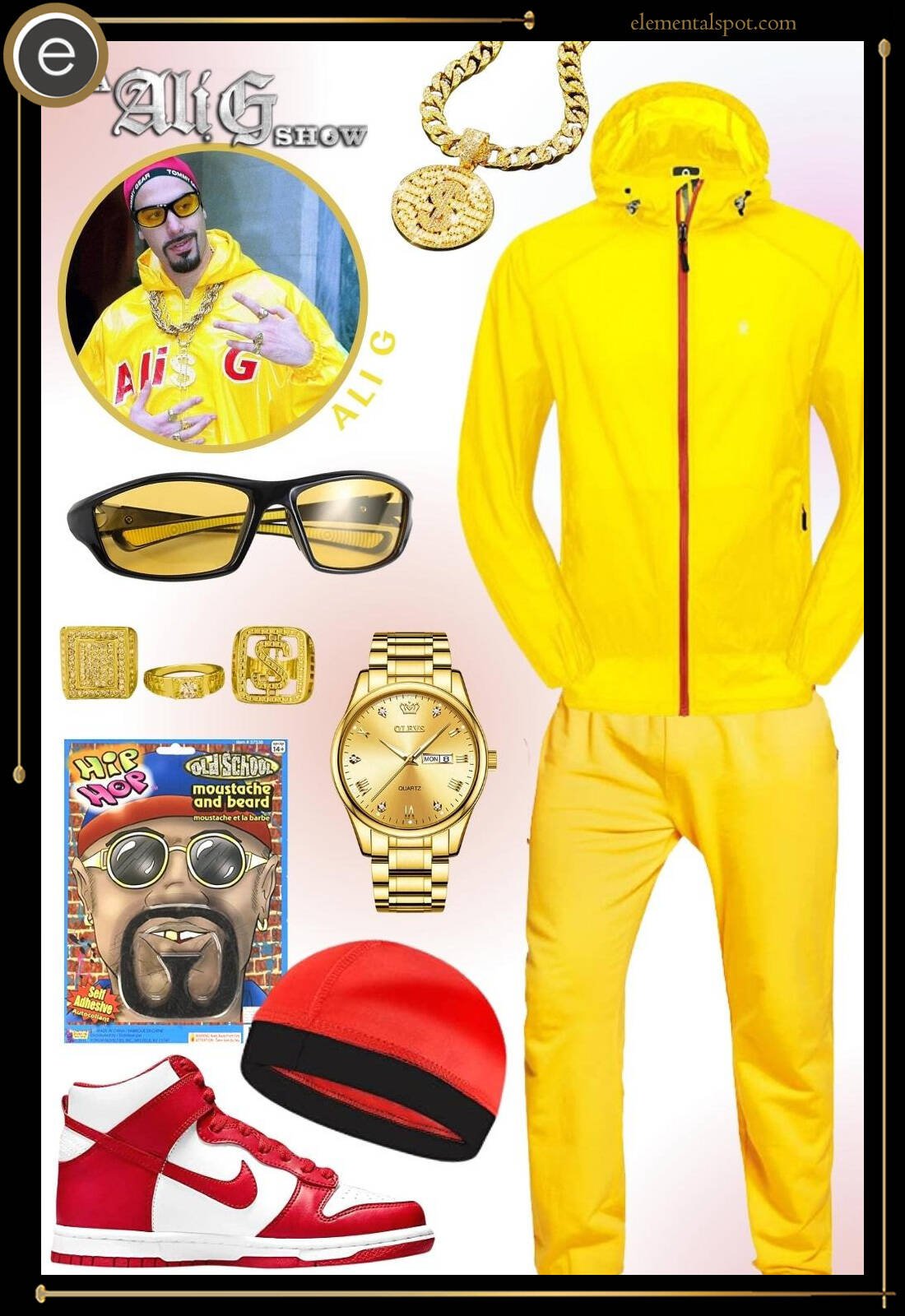 Ali G from Da Ali G Show Outfit Guide
Shopping List for Ali G from Da Ali G Show Costume & Outfit
Step into the sneakers of the iconic and hilarious character Ali G from the classic TV show "Da Ali G Show". Whether you're dressing up for a Halloween party or a cosplay event, this DIY costume guide will walk you through all the steps to get the perfect Rapper Ali G look. So, are you ready to add some humor and energy to the scene? Read on.
The Hilarious Origins of Ali G
Before we dive into the details of the costume, let's take a quick look at who Ali G is and where he comes from. Sacha Baron Cohen is the mastermind behind the character of Ali G, a British comedian and actor who first introduced Ali G in the late 1990s. The character was a mock interviewer who posed as a wannabe rapper, with a thick accent and a unique fashion style. With his humor and wit, Ali G quickly gained a massive following, and the show soon became a hit.
Borat character and here is the costume guide.
Get Your Groove On With an Ali G Costume
Now that we know a little bit about the character, let's move on to the fun part – the costume! Here's what you'll need to create the perfect Ali G look. With the items shown in the collage above, you'll be ready to bring the Ali G character to life. Let's go through each item in detail and see how you can create the perfect Ali G outfit.
The Ali G Yellow Jacket
The yellow jacket is the cornerstone of the Ali G costume, and it's essential that you get the right one. Look for a bright yellow bomber jacket that fits well and is comfortable to wear. You can also opt for a custom-made jacket if you want to get an exact match to the character.
The Red Dome Cap
The red cap is an essential accessory for the Ali G costume. It is a simple red cap that fits nice and tight on the head. You can also add some gold details or logos to make it look more like the Ali G character.
The Rap Star Mustache
The rap star mustache is a key part of the Ali G look, and it's essential that you get it right. Look for a fake mustache that is easy to apply and stays in place throughout the night. You can opt for a pre-made mustache or create your own using some craft materials and glue.
The Polarized Yellow Sunglasses
The polarized yellow sunglasses are a key accessory for the Ali G costume, and they add a pop of color and style to the look. Look for a pair of sunglasses that are comfortable to wear and have a good fit. You can also opt for a custom-made pair of sunglasses if you want to get an exact match to the character.
The Gold Chain Necklace and the ring
Gold necklace and ring are simple but important accessories for Ali G's costume. There is no rule – the exaggeration is what you need here. So, the most important thing – do not be discreet, but on the contrary. The golden fat fake necklace is a must. The same applies to the ring. (or even better – rings)
White Red Sneaker
Ali G's iconic style is not complete without a pair of white and red sneakers. Choose a pair of sneakers that have white as the main color and have red accents. Make sure the sneakers are comfortable to wear and have a sturdy grip. You can find sneakers that are similar to Ali G's style at most sportswear retailers.
Gold Watch
To complete the look of a rap star, you need a gold watch. Ali G is often seen wearing a large, flashy gold watch on his wrist. Choose a watch that is bold, has a large face, and is made of (fake) gold. You can find gold watches props at online retailers
Now make it your own Ali G costume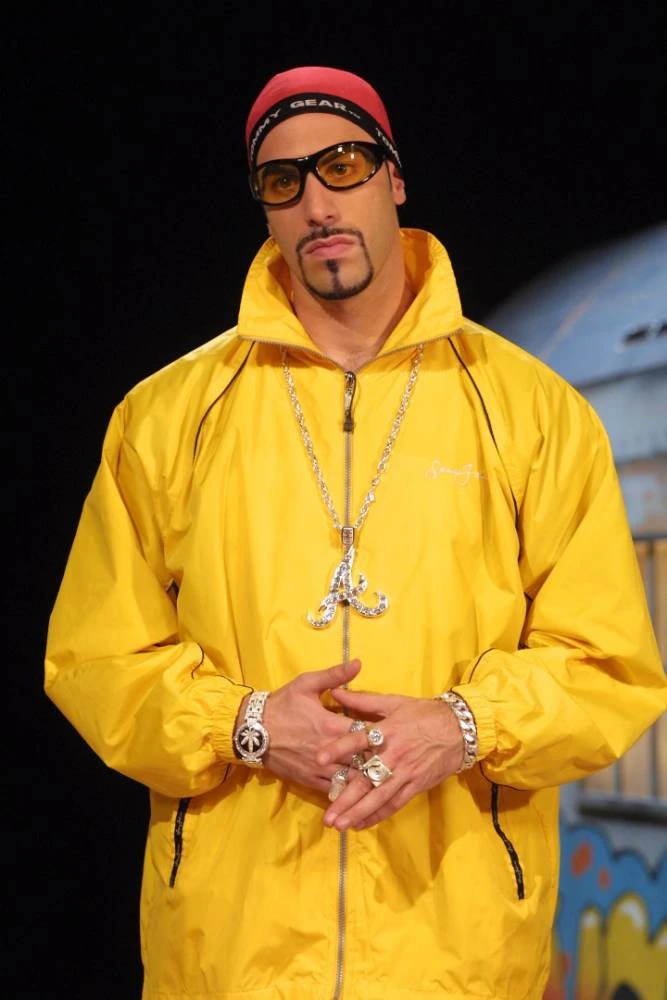 Now that you have all the items you need for your Ali G costume, it's time to put it all together.
Start by putting on the yellow jacket, the red dome cap, and the white and red sneakers. Make sure the cap fits nice and tight and the sneakers are laced up.
Then put on the polarized yellow sunglasses and the gold chain necklace. Finally, add the finishing touches with the gold rhinestone ring, gold watch, and the rap star mustache.
If you are having trouble finding all the items you need, you can always make your own. For example, you can make a red dome cap by using a red hat and some foam. You can also make a gold chain necklace by using a gold chain and some rhinestones. With a little creativity and effort, you can create your own Ali G costume that is just as good as the real thing.
Wrap It Up
In conclusion, dressing up like Ali G from Da Ali G Show is a fun and entertaining way to show your love for the character. Whether you choose to buy all the items you need or make them yourself, you are sure to turn heads and be the center of attention at any dress-up party. So, put on your rapper costume and get ready to embody the spirit of Ali G!
Missing an Outfit Inspo? Submit your idea and we'll make it happen!
Monthly Newsletter
Subscribe and get your Halloween costume ideas from us each year.